The Scandinavian look is still one of the most popular home decor styles. Many people have decorated their day-to-day living spaces in this way, and they are now choosing to do the same for their bedrooms!
If you want to transform your bedroom into an oasis of calm and Scandinavian chic, we are here to show you how. Here's how:
Get the Color Palette Right
The first step is to choose a neutral color to use on your walls and ceiling.  It is vital that you achieve a crisp and clean finish. Therefore, before you start it is important to run your hand over every part of your walls and ceilings and use a pencil to circle any imperfections. If there are a lot of them, you may want to consider having the entire room skimmed by a professional plaster, or opt to do the work yourself. Starting with a clean canvas is the best way to get a nice crisp finish.
Invest in Good Quality Bedding
You should also look for high quality bedding sets. Again, consider using neutral colours. It is important to get the fit right, and buy something that is easy to iron, and keep looking good. If you are a fan of color and pops of fuchsia, then you may want to consider decorating a girly room instead. Scandinavian style is all about being calm, and neutral.
If you can afford to do so, invest in some luxury bedding. It will look and feel great, and, it will last far longer. Provided you shop during the sale days, you can usually afford to buy some nice luxury bedding to achieve the look you are after.
When buying bed linens, thread count matters, but is only part of the story. You need to look for sheets that have a close weave and feature longer fibres. Pure cotton is nice, but sometimes it is better to buy something made from a mix of natural and manmade fibres. This type of fabric will be far easier to keep looking pristine.
Opt for Wooden Flooring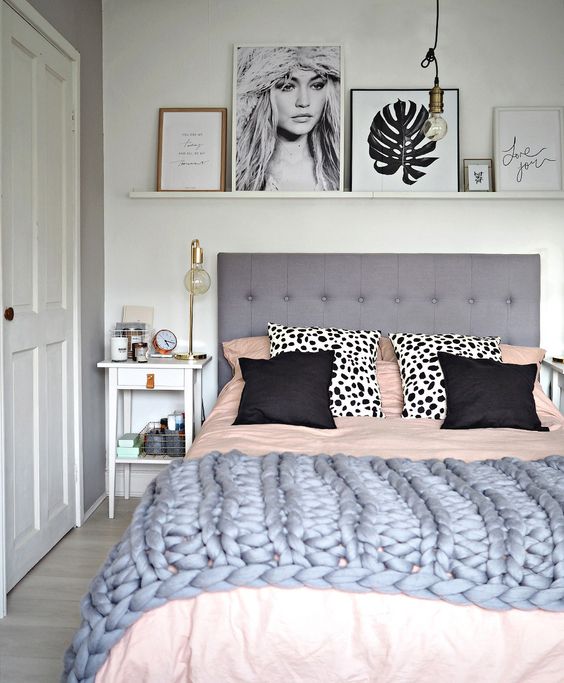 Photo: Lust Living
Flooring makes up a high percentage of any room, so it is particularly important to get this element right. Wooden flooring is usually the best option for a Scandinavian style room. If you are worried about it being cold underfoot, you need not be because real wood does not get too cold.
Have Lots of Lighting
Let as much natural light into your bedroom as possible. You can do this by opting for blinds instead of curtains that will inevitably partially obscure your windows. You just need to make sure that when the blinds are down, that all of the light is kept out, so that you can fall asleep OK, and not be woken too early.
If the windows are not very big, it is worth considering installing a frosted skylight window above your bedroom door. You can also install an opaque glass door between your bedroom and your en-suite bathroom. Letting natural light in means that you will enjoy staying in bed late, to read and eat breakfast, and so much more!