When most people think about gardens, they envision plants, flowers, and stones. All these things can be used in many ways, but it's important to not forget the value of good lighting!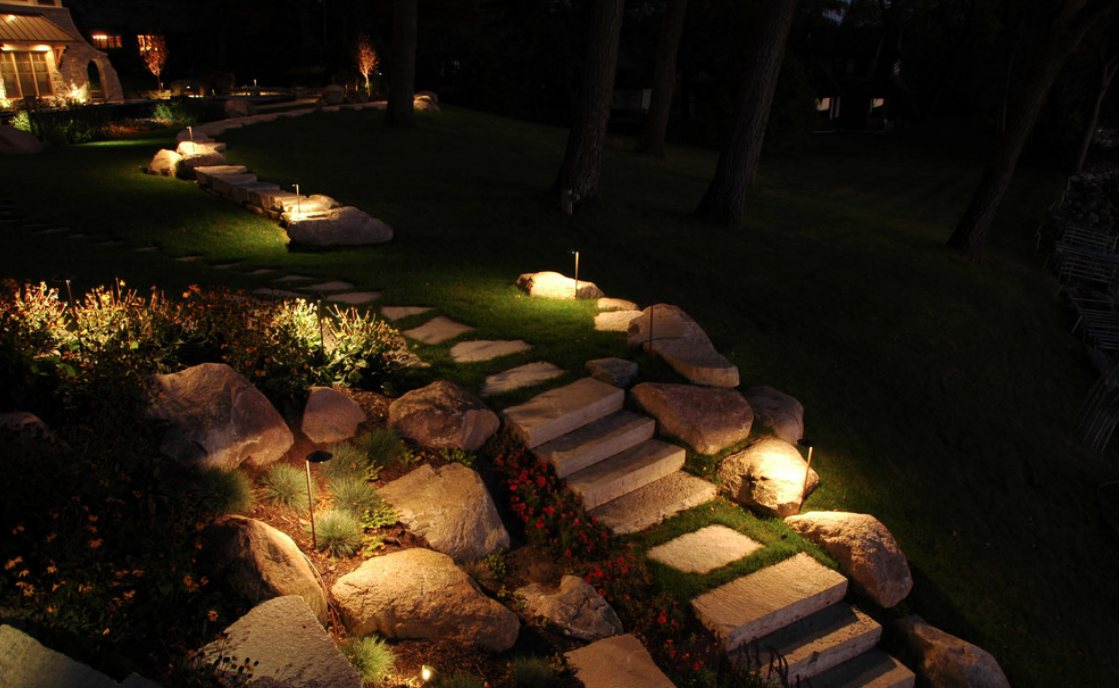 Photo By: TouchStone Accent Lighting, Inc.
A few strategically placed outdoor lights can transform your garden into a verdant paradise. There are other benefits to using lighting in your yard. The key is knowing how to arrange lights for maximum effect. There are two main things you'll want to focus on: beauty and security. Connect Electric wants to share a few easy methods you can use when designing this year's garden beds.
Plan Ahead Before You Build or Install
It may be tempting to dive right into building a garden with outdoor lighting. Remember to plan each part of the project before you begin. You may have your garden beds mapped out already, but it's important to do the same for everything else. Having a plan will help you locate areas you may have missed before you put the work in. It also helps you identify obstacles that could cast shadows or cause a problem if you plan to run wire or hang décor.
Brighten Pathways and Steps for Safety
One of the first areas you should install lights in are those that will see more foot traffic. That includes sidewalks, pathways, and stairs. A path lined in lights looks gorgeous, but it also serves an important purpose. It prevents people from accidentally stepping on your buds and blossoms. It reduces the chances of tripping hazards. Also, light up any places where there is a change in elevation. Stairs can be a big problem in the dark. Even a single step can cause someone to fall and injure themselves. Make sure these spaces are well lit.
Showcase Your Garden's Focal Points
Most gardens have at least one focal point. It may be one large display in the center or a few bigger arrangements in key areas on your property. Make sure these get maximum visibility by showcasing them with light. You can display a light in front that shines back at the arrangement or work the lighting into the plants or shrubs. You can also use this method to highlight your favorite garden décor. Do you have a statue or bush you particularly love? Maybe a trellis that's doing particularly well this year? Shine a light on it! Illumination draws the eye and enhances the texture and shape of the display.
Use Energy Efficient Solar Lights
Use more lights in your garden but balance out the energy cost by choosing solar accessories. These lights work well and cost nothing to operate. The best part is that they don't require any wire or separate power source to use. As long as they can collect sunlight, they will turn on. Many manufacturers produce solar lights that collect energy all day then automatically turn on at night. You can create a beautiful garden and never worry about forgetting to switch on the lights to show it off.
Light Up Social Spaces with String Lights
String lights are very popular right now. There are so many styles, ranging from smaller fairy lights to larger Edison bulbs. Nostalgic designs are made with modern LEDs, so you get the visual effect you want with the efficiency of modern technology. Hang string lights over entertaining areas to create an inviting space. This could be along a fence or wall near a picnic table or from branches or the eaves over a patio or deck.
Every garden is unique, which is why you have to consider your needs and expectations to figure out the best way to light it up. Experiment this year and discover the many ways that lighting can transform your yard into a spectacular place to relax and entertain guests.