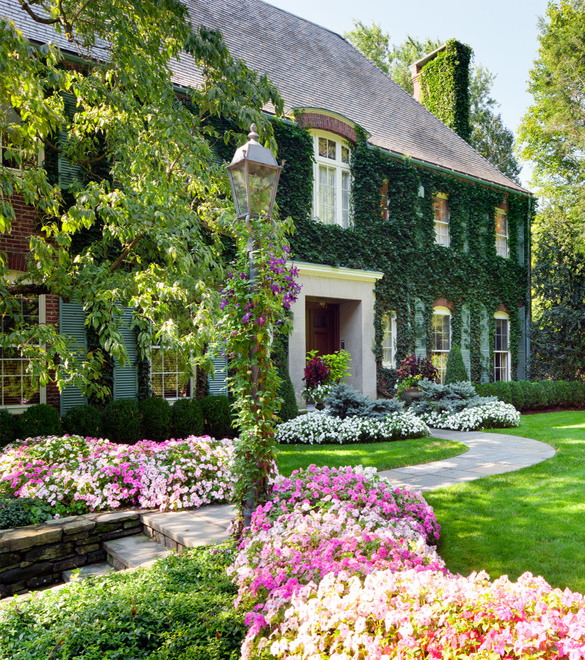 Spring is almost here! You would be amazed at was a perfectly manicured lawn can do to your home's curb appeal and not to mention your mood when you wake in the morning to take out the trash, get the paper, or to walk your kids to the school bus stop. Lining your walkways with the perfect blooms and overloading planters at your doorstop are just some of the things you can do to make your home burst with color, energy, and life. Here are our top 5 favorite pink flowers you've got to get planting this spring:
Peonies
These pink flowers are outrageously beautiful when in bloom and will stay as lush flowers all summer long. Plant them once, and they will bloom every summer – some are known to thrive for well over 100 years. To give your back a break, they require little maintenance and make the perfect borders for lining your walkway, driveway, or garden.
French Tulips
Tulips bloom in the spring and grow from bulbs that form beautiful flowers in a wide variety of colors except for blue. These are one of the first flowers marking that spring has official arrived – what a way to greet the season! They thrive in long, cool springs and dry summers. Plant them in the late summer, or autumn for best results.
Sweet Pea
These tiny flowers are native to Silicy in Italy and form fragile; seductive little flowers with an alluring fragrance. They make great bouquets and grow in a wide range of colors suitable for a garden border, fence, or arch.
Spray Roses
Cheryl from lamour et fleurs gave me the wonderful idea about planting miniature roses. They aren't like your regular roses, these miniature roses are typically smaller and produce lush, rich flowers. Unlike larger roses, these flowers produce more blooms and can be easily transplanted and used for decorations in pots or for bouquets. You can also plant these if you are looking for a rich cluster of flowers to cover a large area with minimal planting required – these roses bloom like crazy and are a great wonder to have in the garden.
Ranunculus
If you've never heard of Ranunculus, it's time you plant them in your flowerbed. They have incredible colors, straight long stems, and are great for bouquets since they have a long vase life and long-lasting blooms. The leaves look like lace and are perfect to incorporate in your garden landscape design as borders or even for fresh flower arrangements throughout your home costing you pennies!