A positive and productive work station is an absolute must in every home. Whether you run a business from home, or you need somewhere to keep ontop of all of life's admin, ensuring that your home office is ready for action will guarantee that your working life is streamlined and super-efficient!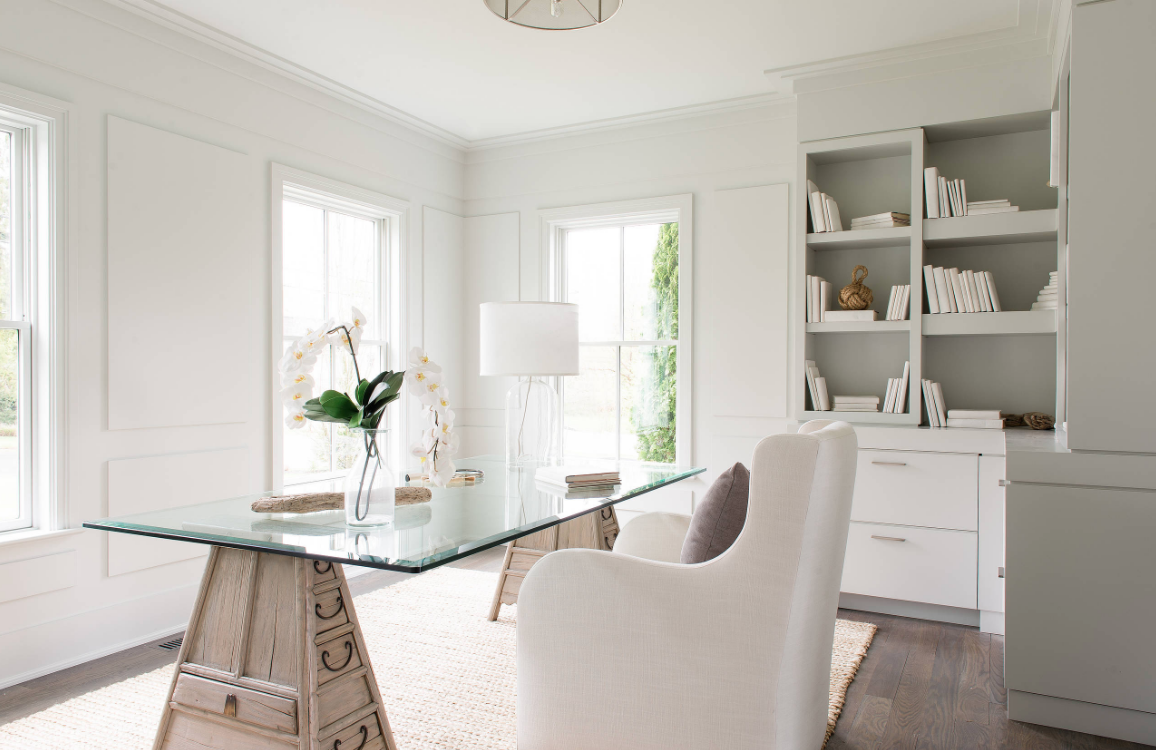 Photo By: Hogue Interior Design LLC
Making your workspace work for you, will increase your productivity, allow you to get on with your work and even reduce your stress levels! Wondering how you can achieve a productive yet stylish home office? Read on for 5 simple tips. 
Banish Those Dull Elements 
Tired walls, peeling wallpaper and drab skirting boards. If your office looks tired and dreary, how can you not expect to feel the same when you're in there? Updating your walls and skirting boards can be done in a cinch. Check out skirtings r us for the latest in skirting board design and styles or, alternatively, a quick lick of paint will instantly refresh any dull and dreary looking walls! Set aside some time to refresh and rejuvenate your office space. 
Invest in a Good Office Chair
Who says your office chair has to be ugly? You'll find a wide range of stylish office chairs online, available in a huge variety of colours, styles and designs. When looking for an office chair, it's important to choose one that is ergonomic and will support you whilst you're at work. Especially if you are working or even studying at home a proper chair is a must. If you are spending gruelling hours studying or looking for custom term paper writing service consider something like write my paper for cheap to help you along the way. Regarding a good office chair, the better supported your back, neck and wrists are the less likely you are to have an injury such as spine injuries and posture problems. If you're comfortable, then you're more likely to work for longer periods!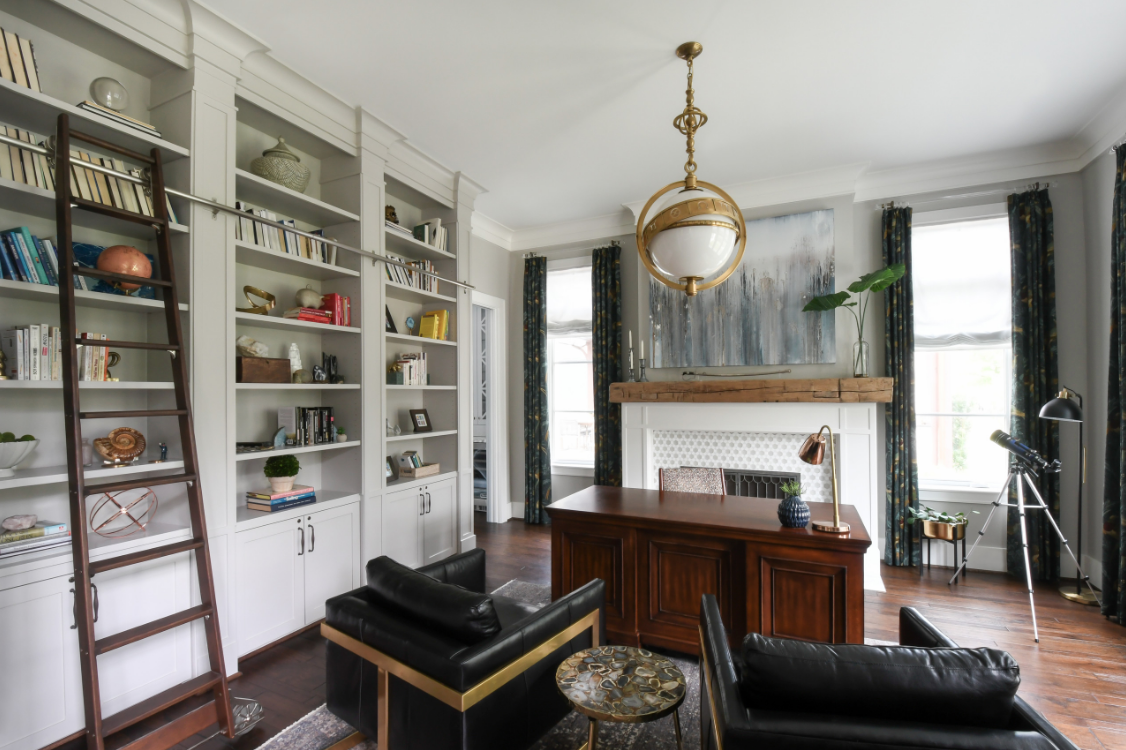 Photo By: Brickmoon Design
Cut Back on Clutter
When it comes to productivity, clutter is not your friend. Clutter is stressful, makes everything hard work and looks unsightly. Not exactly the stylish vibe you're going for… Clutter can be anything, from old documents and post it notes scattered everywhere, to yesterdays lunch plate or coffee mug, if your stationary doesn't have a proper home then it'll only add to the clutter on your work station. Spend at least 10 minutes each morning, organising your work station and ensuring that it is clutter free. Treat yourself to some stylish stationary and document holders or filing systems to keep everything streamlined and productive.
Make Space for Reflection
Its easy to think that sitting at your desk all day will get plenty of work done, however sitting rigidly and forcing yourself to work without a break will only reduce your efficiency. Incorporate an area in your office where you can take a break. An arm chair, sofa or even a space where you can partake in some light exercise is ideal!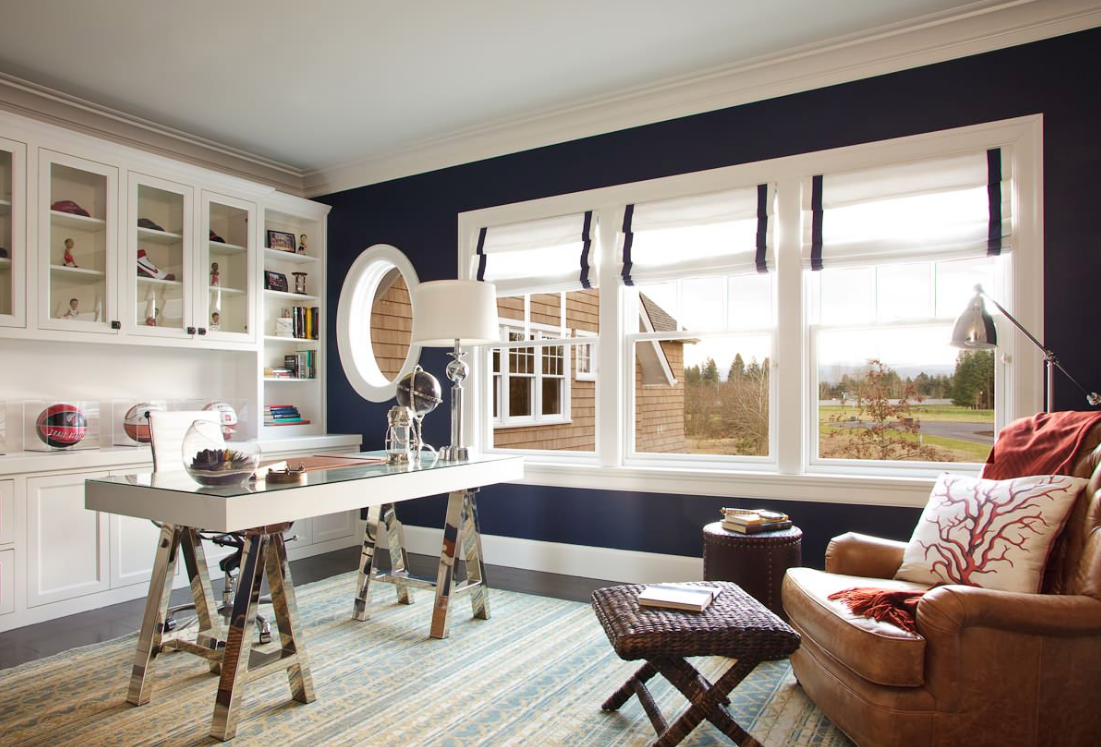 Photo By: Garrison Hullinger Interior Design Inc.
Choose the Right Colours
When decorating your office space, it's important to keep your colour palette in mind. Rich, warm colour like deep reds, golds and purples usually evoke a sense of relaxation and comfort – perfect for a living room or bedroom, but not necessarily ideal for a productive space. Instead, opt for bright, fresh colours like fresh whites, zappy yellows and olive greens, they'll bring out your productivity, efficiency and brighten your mood on those manic Mondays.