Make your rental unit's bathroom stand out with these ingenious ideas!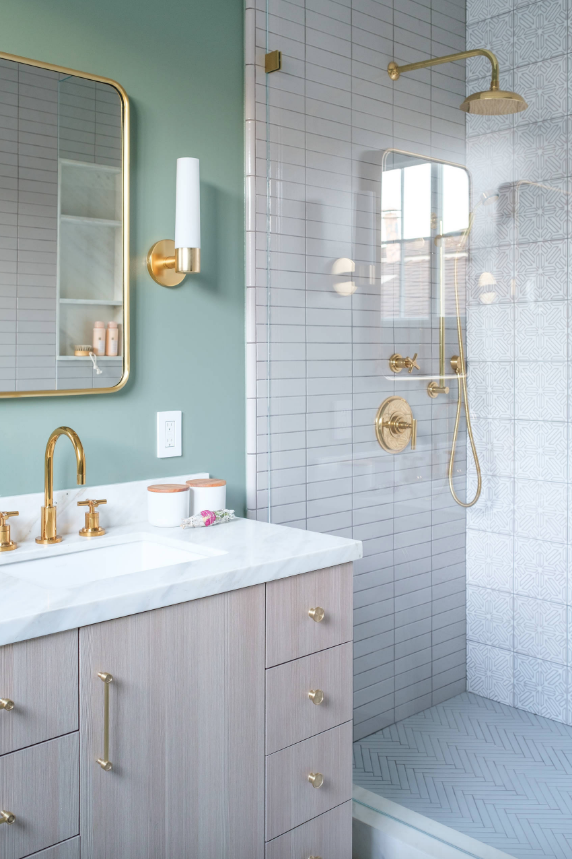 Photo: J Reilly Construction
Many of us will have rented a property at some time in our lives. So you'll undoubtedly understand all the positives and negatives versus owning your own home. On the up side, renting a flat or house can allow you to be flexible, especially if you're not settled in one location, however, it can also mean limited possibilities to be creative, especially if you are on a long-term lease.
When it comes to decorating a rental property, unless it is specifically high-end, your landlord won't have spent a massive amount of his or her budget on furnishings and décor. The colour scheme will usually be a safe mix of whites and neutrals with modern fixings and fittings.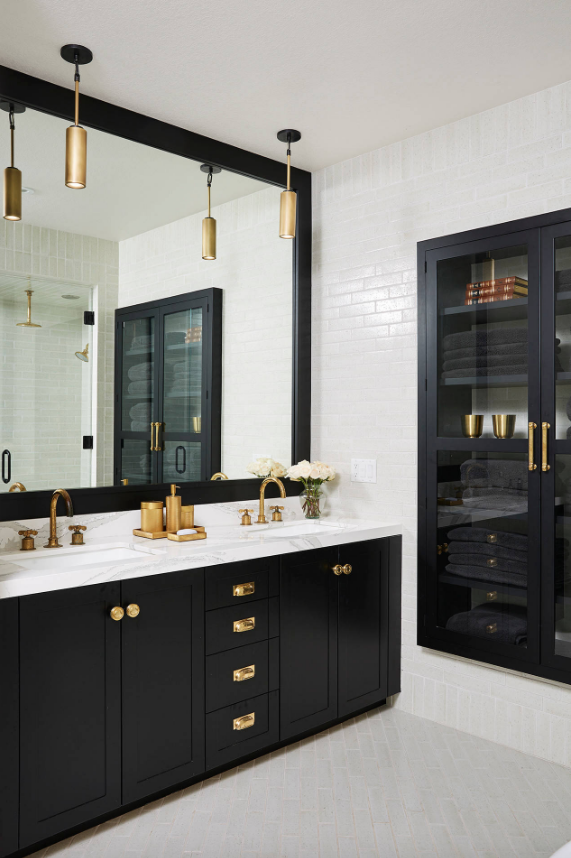 Photo: North Star Kitchens
If you don't mind living in a sea of beige, this type of décor is ideal, however, if you like to add a touch of personality to your surroundings, then things can start to get tricky.
One space in which it is often hard to make your mark is the bathroom. Usually consisting of a good quality toilet and basin suite with a bath and/or shower, plain white tiles and the odd accessory, it can make for a sterile and uninviting environment.
The good news is, if your landlord is open to some minor improvements, there are plenty of easy ways to personalise your bathroom space and add some genuine character.
Get that Paint Roller Out
The great thing about a rental bathroom is, with all that white space, you have the perfect blank canvas on which to work a masterpiece. A lick of paint can ultimately transform the look and feel of any bathroom space. But which shades should you select?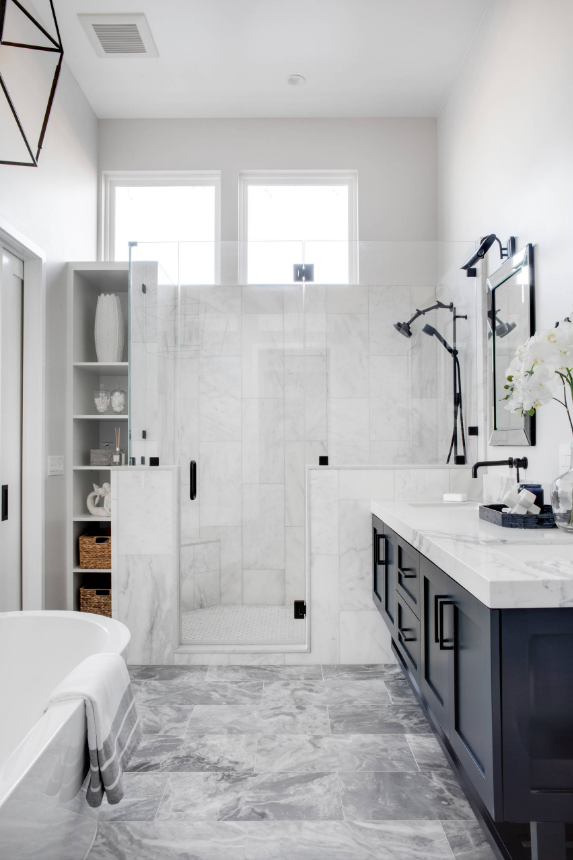 Photo: Three Salt Design Co.
Well, grey is still the No 1 colour of choice when it comes to bathrooms but there are other, more cheerful shades that have seen a rise in popularity. When Pantone named Living Coral as colour of the year, many interior designers jumped at the chance to add a bit of blush to their décor. Other on-trend colours include honey yellow, ultra-violet and raspberry red.
There are, of course, other ways in which you can inject a dash of colour into your bathroom design without breaking the bank. Accessories and soft furnishings can all fit in with your chosen colour scheme.
Style it Out
When appealing to potential tenants, your landlord will most probably have chosen a fairly modern look for your bathroom, right down to the type of taps and even the mirror above your basin. Modern style, or contemporary style as it is often known, is characterised by simple shapes and clean lines.
The alternative is a traditional style bathroom, which features classic, timeless elements like bevelled edges and embellishments. If you are renting a Victorian property or something that is slightly more rustic, this type of style would certainly be more fitting.
Try and stick to one of these styles when choosing items for your bathroom. You can mix and match to create a more eclectic look, however it is much harder to achieve this type of design without it looking haphazard.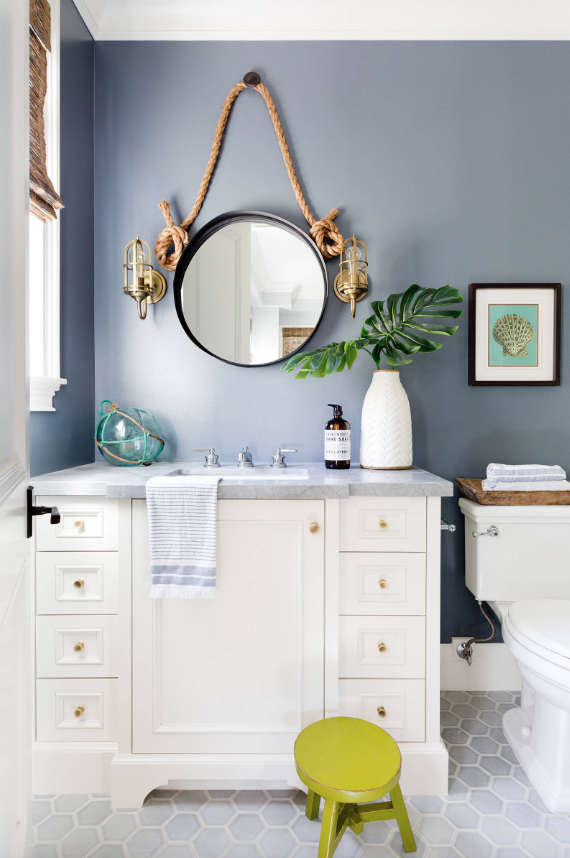 Photo: Kate Lester Interiors
Accessorise, accessorise, accessorise 
With a new colour palette and style in mind, the next step is to go out there and accessorise to your heart's content. Just like matching a tie with a suit or matching a cocktail dress with the perfect little clutch bag, accessorising your bathroom is great fun.
To begin with, have a think about all those vital necessities in your bathroom, like a towel rail, toilet brush and holder and somewhere to place your toothbrush. Whilst you may be tempted to buy everything individually, a coordinated set of accessories will bring a more coordinated and cohesive look to your bathroom. Plus, if they work well with your chosen colour scheme, you're well on your way to making your bathroom your own.
Go Green
Another neat way to get in on the latest trend is to add some flora to your room. House plants are big business these days, so why not pick out a selection of shrubs to bring a touch of greenery to your indoor space. Put trailing plants on a high shelf and select some larger plants for your floor space.
If your bathroom is a little on the small side, you may need to get creative. Why not make a macramé plant hanger, which can be suspended from your ceiling?
<iframe width="560″ height="315″ src="https://www.youtube.com/embed/Sh5Ovx9Vkg8″ frameborder="0″ allow="accelerometer; autoplay; encrypted-media; gyroscope; picture-in-picture" allowfullscreen></iframe>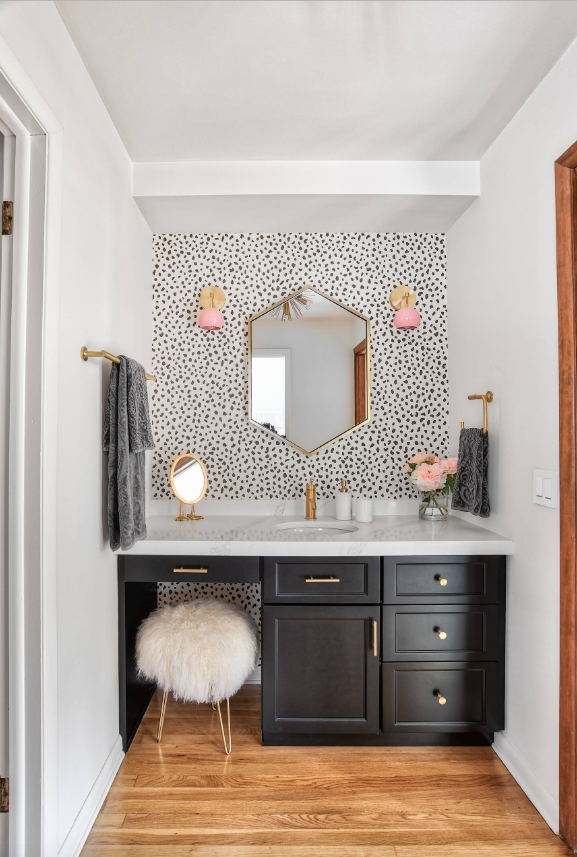 Photo: Kraftmaster Renovations
Declutter with Furniture 
One of the major bugbears of renting a home can simply be lack of space, especially if you're living in an apartment. To ensure your bathroom is given space to breathe, it may be worth investing in some furniture.
A quick and easy way to increase your shelving space is to add a ladder storage unit. Simple to install, ladder storage can be leaned up against a wall providing room for towels, toiletries and treasured possessions.
If the opportunity exists, you could add some wall hung units like a mirror cabinet. However, you will need to check that your wall can support this type of load beforehand. Plus, get your landlord's permission, as he or she might not be thrilled when you drill extra holes into the wall.
Don't Limit your Creativity
If your landlord is open-minded, he or she may even allow you to fully refurbish the bathroom. After all, this will add value to their property and give you a space which matches your personality. Everyone's a winner! A full bathroom suite can cost less than you'd think and, if you're willing to roll up your sleeves and pitch in with the DIY, you could fit the whole thing on a small budget.
As with all these tips, it is always best to chat with your landlord and see what types of improvement he or she is happy for you to make.