Do you love bamboo flooring? You're in luck, this fabulous home decor trend looks like it's here to stay! Keep reading to find out why interior designers are in love with this sought-after trend…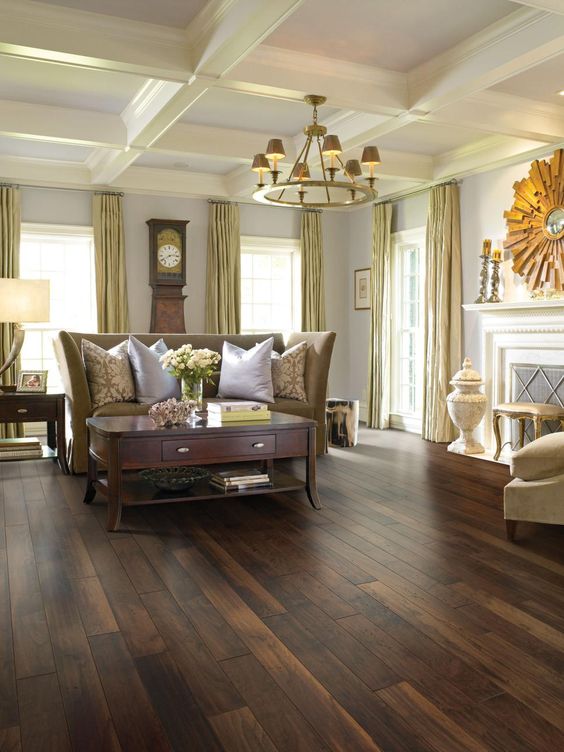 Photo: HGTV
There was a time when having a bamboo floor in your living or dining room was kind of a novelty. People were fascinated by the idea that something like bamboo — which is a grass, after all — could be transformed into something that's so similar to traditional hardwood flooring. These days, though, bamboo floors have ceased to be just a trend and have morphed into a wise choice for savvy homeowners and business owners alike. Why is that? A closer look at the benefits of bamboo flooring reveals some surprising answers to that question …
Strand Woven Bamboo: The Hardest Wood Floors On The Market
A strand-woven bamboo floor is hard. No, we mean really, really hard. (And you thought traditional hardwoods had the corner on that claim!) In the flooring industry, there's a way to measure the hardness of a floor. It's called the Janka Hardness test, and after a piece of wood is tested, it's rated on the Janka Hardness Scale (naturally!).
The test was the brainchild of Austrian wood researcher, Gabriel Janka, who conceived it at the turn of the twentieth century. The test so reliably measures a wood's hardness, that it's still the industry standard more than a hundred years later. (Great work by Gabe, don't you think?)
Strand-woven bamboo is made by heating long strips of bamboo, which are pulled apart into strands, woven together and then compressed under extreme pressure and heat. The result — as the Janka Hardness Scale shows — is a super-hard floor that's child and pet-friendly and suited for anyplace that sees a lot of foot traffic — including commercial spaces. Strand-woven bamboo floors are incredibly resilient, and suitable for active family lifestyles so there's no reason to tiptoe or make your family or guests leave their shoes at the door to protect the beauty of the floor.
Click here to see a picture of the Janka Hardness Scale. Notice where on the scale strand-woven bamboo is? Uh-huh. It's at the very top of the scale – and many of the woods on this scale aren't even used in flooring. (We told you strand-woven bamboo is really hard!) Now take a look at where popular hardwood flooring choices fall on the Janka Scale. Hmm … They're not as hard as you thought, we'll bet!
The truth is that the hard-as-nails surface of strand-woven bamboo flooring is what makes it so durable, dent-resistant, and long-lasting.
Huge Variety of Colors and Surface Finishes
Okay, so you're convinced that a strand-woven bamboo floor is hard and durable, but what about its appearance. Well, if you're like most people who walk on one every day, we think you'll agree that strand-woven bamboo floors gives a traditional hardwood floor a real run for the money in terms of beauty. And just like a hardwood floor, a bamboo floor can be sanded and refinished when needed to restore its beauty to the same level as the day it was installed.
Strand woven bamboo floors are offered in a wide array of surface styles and colors such as
Handscraped
Wire brushed
Antiqued
Wood grain
Flat/Smooth
Ultra matte
Engineered
Solid
Click Lock
Additionally, bamboo floors come in a multitude of colors, from white to almost black, and everything in between. The natural color of bamboo is a beautiful light and refreshing blonde color that resembles maple or pine. The carbonization of bamboo (a heating process) turns this natural blonde color into a deep, rich and warm brown. These two base colors can be stained and crafted into an amazing assortment of colors and finishes.
Strand woven bamboo floors can be refinished 2-4 times throughout the life of the floor, but due to their hardness bamboo floors usually never require refinishing in residential installations. But wait, a strand-woven bamboo floor has more than just strength, durability and good looks going for it! If you care about preserving the planet, bamboo flooring is a very responsible choice. Why? Well, consider how long it takes to grow a hardwood tree like an oak or a maple. We're talking decades! (It always seems a shame to cut down one of those lovely old trees, too!)
Sustainably Farmed and Reduces Deforestation of Long Growth-Cycle Forests
Bamboo grows really quickly. What's quick? Well, here's a clue. Bamboo is one of the fastest growing plants on earth. Some species can grow 3 to 5 feet in height per year and up to dizzying heights in no time. That makes it a truly sustainable choice for eco-minded consumers!
Most high-quality bamboo flooring brands offer FSC-Certified and Lacey-Act Certified floors, which means you can rest easy knowing you've made a "green" choice to preserve forests for your grandchildren and their children.
Compared to Hardwoods, Bamboo is More Affordable
In today's tough economy, this may be the major reason bamboo hardwoods aren't going away any time soon. You can purchase high quality, premium wide plank bamboo floors, all in 6 foot lengths (not heard of with traditional hardwoods), for between $3.50-$5.00 per square foot. Comparable dimensions in hardwood flooring will cost you anywhere from $5.00-$15.00 per square foot. Homeowners save money on their hardwood floor that they can divert towards other improvements.
5 Plank Types for Different Installation Methods
Just as with a traditional hardwood floor, there are different options available in bamboo flooring — 5 to be precise:
Solid-Strand Tongue and Groove – nail or glue down and refinish up to 4 times depending on thickness.
Engineered Strand Click-Lock – easy to install, has a thick and durable wear layer that you can sand and refinish twice.
Engineered Strand Tongue and Groove – glue the planks together and float them over any subfloor as long as it's dry and flat.
Solid-Strand Click-Lock – easy to install, meant for stable indoor humidity environments, floats on top of the subfloor and can also be refinished up to 4 times depending on thickness.
Horizontal/Vertical Bamboo – the old "traditional" type of bamboo flooring, softer than strand woven but still beautiful. Horizontal strands laid flat or vertical strands laid on edge;       modern aesthetic, can still be refinished up to 3 times for a long and beautiful life)
Easy to Care For and Clean
Just damp mop your floor with an approved cleaning solution like Bam-Brite Bamboo Floor Cleaner (which is eco-friendly too!) or any good hardwood floor cleaning system like Swiffer Wet-Jet for hardwood floors or a Bona hardwood floor cleaning product. As with any hardwood floor, you'll want to keep your home's humidity levels between 30 and 50 percent and mop up any spills without letting them sit too long. Other than that, all you'll need to do is give it a once-over with a dry mop as needed.