Here's how you can transform your extra room in your home into a home theater!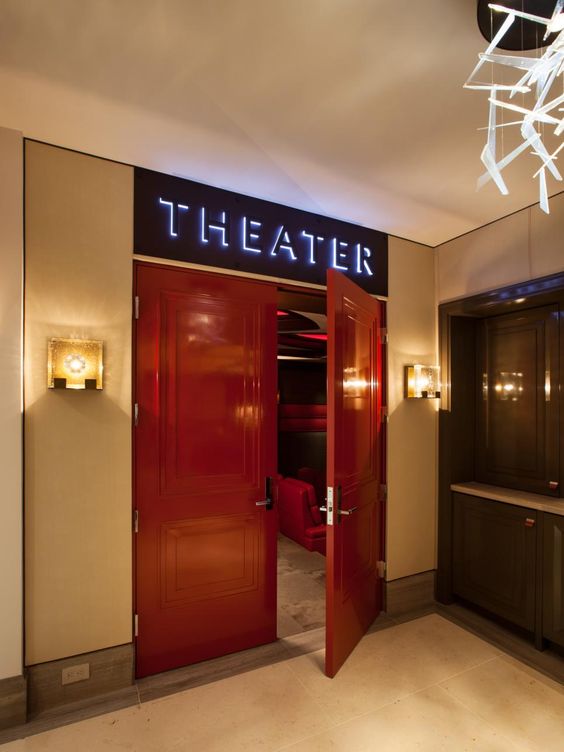 Photo: HGTV
Having a home theater truly is a luxury addition to any home. But what if you could create one yourself without having to pay for custom woodwork, special surround sound, lighting, and carpeting? It's actually easier than you think to create your own home theater room, and it's a bonus if you have an empty room that's not getting much use. Follow our easy guide to making your own home theater without breaking the bank:
Choosing the Right Room
If you have more than one room in your home to turn into a theather, it might be tricky to pick between the two. A room that is a rectangular shape works best as well as one with the least doors and windows. You want to try to make your room as dark as possible, and if possible have it away from any bedrooms to avoid bothering other family members.
Pick a Wall for Your Television
Ideally, the wall where you install your television or projector screen should be as big as possible or not directly across a window. It's also a good idea to install it on a wall where there is already an existing closet, which makes for great storage for electronics.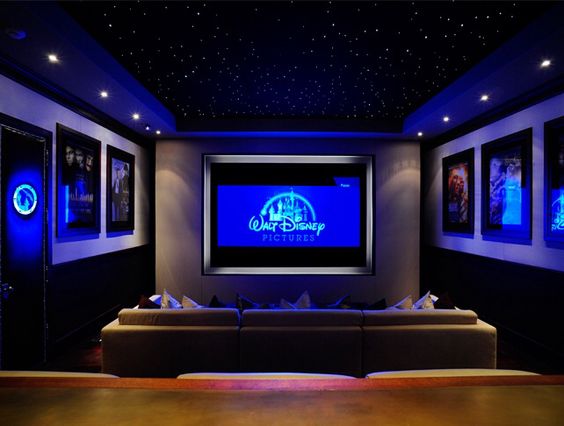 Photo: Roberto Rodriguez
Go Wireless
Every home theater system needs to have surround sound, but installing a wired system can become expensive and complicated. Now, there are lots of options available on the market for wireless surround sound that can give you great sound, but also a very easy way to install!
Choose Comfortable Seating
Making your home theater the best it can be, all starts with comfortable seating. There are tons of home theater seating furniture available that offer reclining Octane theater seating, cupholders, and so much more. Consider how many family members you have and how many people you are expecting to have over at once and choose the right amount and size seats that will fit your space.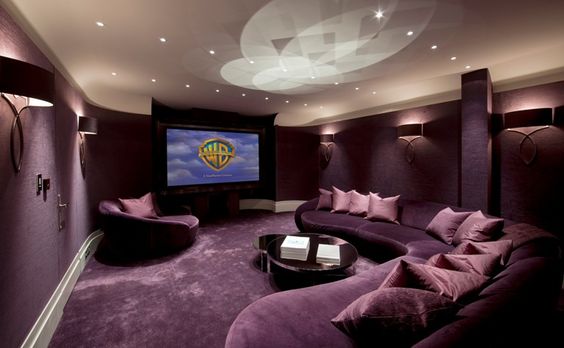 Photo: Aston Chase
Seating Distance
You may have not thought about this, but the distance between your home theater seating and your television plays a big part in the overall movie experience. If your screen is 60 inches wide, your seating should be double the distance, at 120 inches. Many people are tempted to put their seating closer, but you shouldn't. You won't be able to see the build-up structure of the image, lowering your overall experience.
Don't Forget Decorating
Just because this is a home theater, doesn't mean you can't keep up with the latest decorating trends. Treat your theater like an extension of your home and make your existing decorating seamlessly flow in with your theater decor.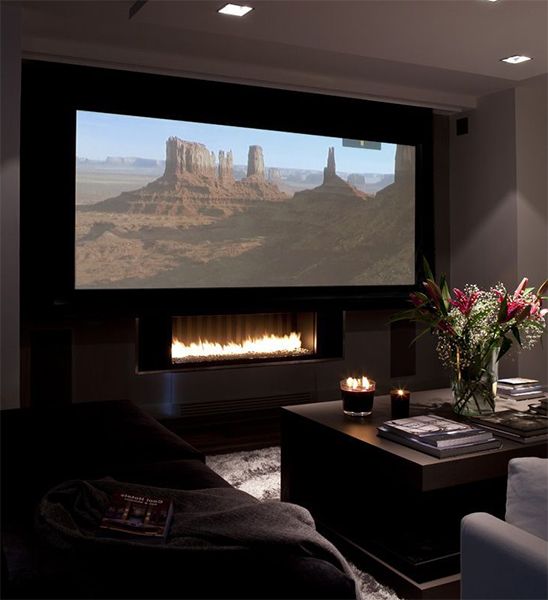 Photo: Decorola
Hide Cables and Wires
When preparing your home theater, you'll definitely find that you will have a lot of cables and wires. This can start to look cluttered, especially since most cables are white and your room is so dark, so it's best to hide them away. Avoid installing these under carpeting at all costs, and instead run cables along baseboards. You can easily camouflage them with cable covers.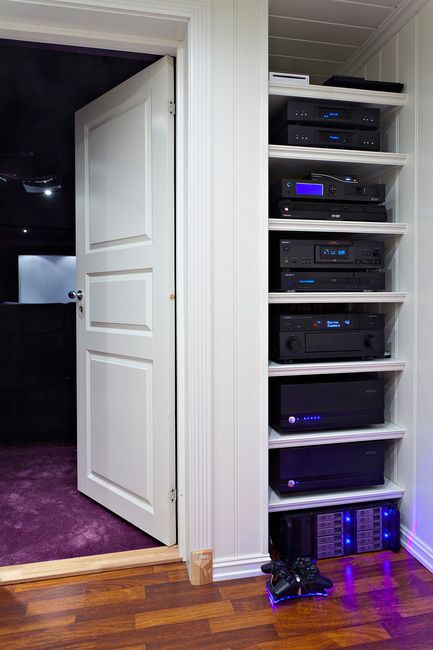 Photo: Home Theater Shack
Paint Walls a Dark Color
You may have noticed that all movie theaters are painted in dark colors, there is definitely a good reason for that and it's not about keeping up with the latest decorating trends. Media rooms should always be painted a dark color to help the television or projector image have the strongest colors and contrast. Paint all of your walls black, grey, or dark red color.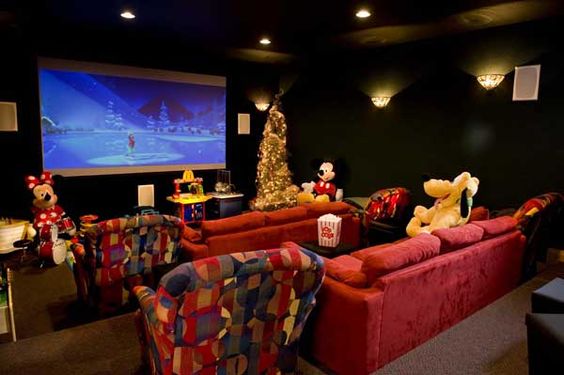 Photo: Log Home
Hang Dark Curtains
To block out as much natural light as possible, purchase black light blocking curtains. If you can't find these in the store, you can easily make them yourself or layer two types of curtains to get a heavier look. This will make sure you will not have a glare on your television that will ruin your overall experience.
Think About the Future
Before you go spending thousands of dollars on your new home theater renovation, consider what the future will hold for this room in your home. If you plan on selling your home in the future, or even are expecting a child, think about how you may be using this new room. Don't invest too much in any permanent instalments that will be expensive to remove like moldings, platforms for seating, and so on.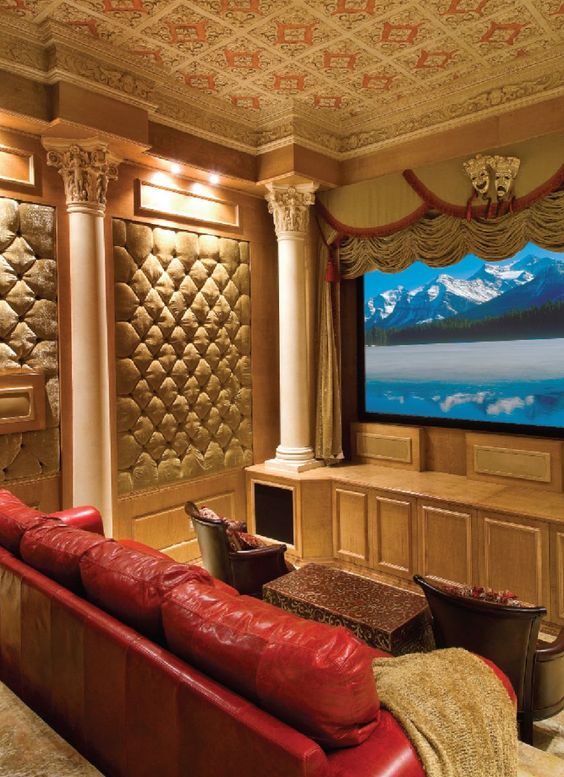 Photo: A Sea of Luxury Tumblr