With Christmas around the corner, it's time to start planning your feast for the big day. Christmas dinner doesn't need to be daunting – and it won't be, if you have prepared well in advance.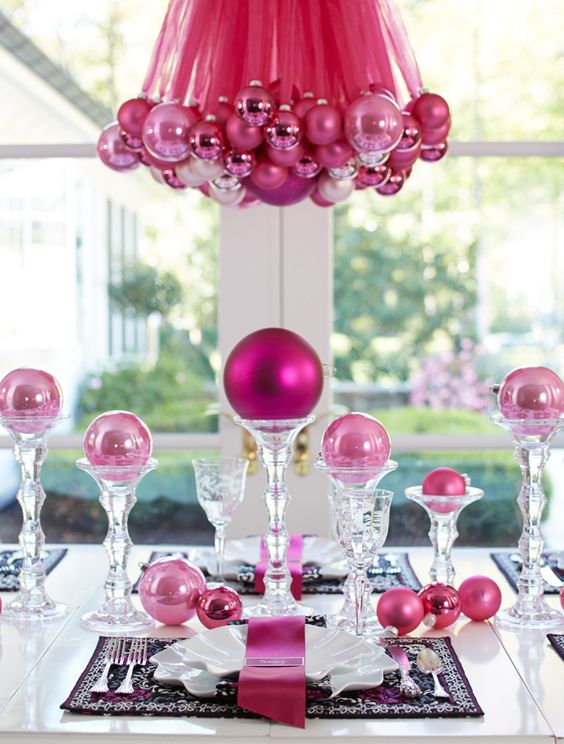 Photo: Bloglovin'
Follow our easy step-by-step guide to help you plan your fabulous dinner with all the trimmings and minus the fuss!
Your Guests
The most important thing, and the first step in our plan, is knowing how many people to cater for. Once you know this, everything else will fall into place. You also need to find out about people's food preferences and if any of your guests have allergies, so you don't have any grumbling or unexpected hospital visits on December 25th!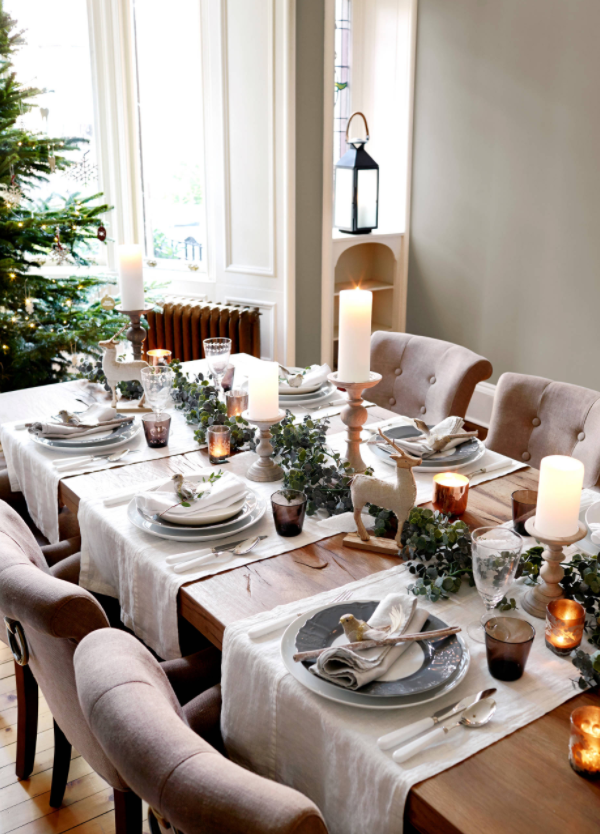 Photo: Occa-Home
Pre-dinner Prep
Once you know who is coming, you can start to plot out your seating arrangements. Is your dining table big enough for everyone to comfortably sit around it – and have you got enough chairs? Is it a case of emergency chairs or can you borrow or buy seats?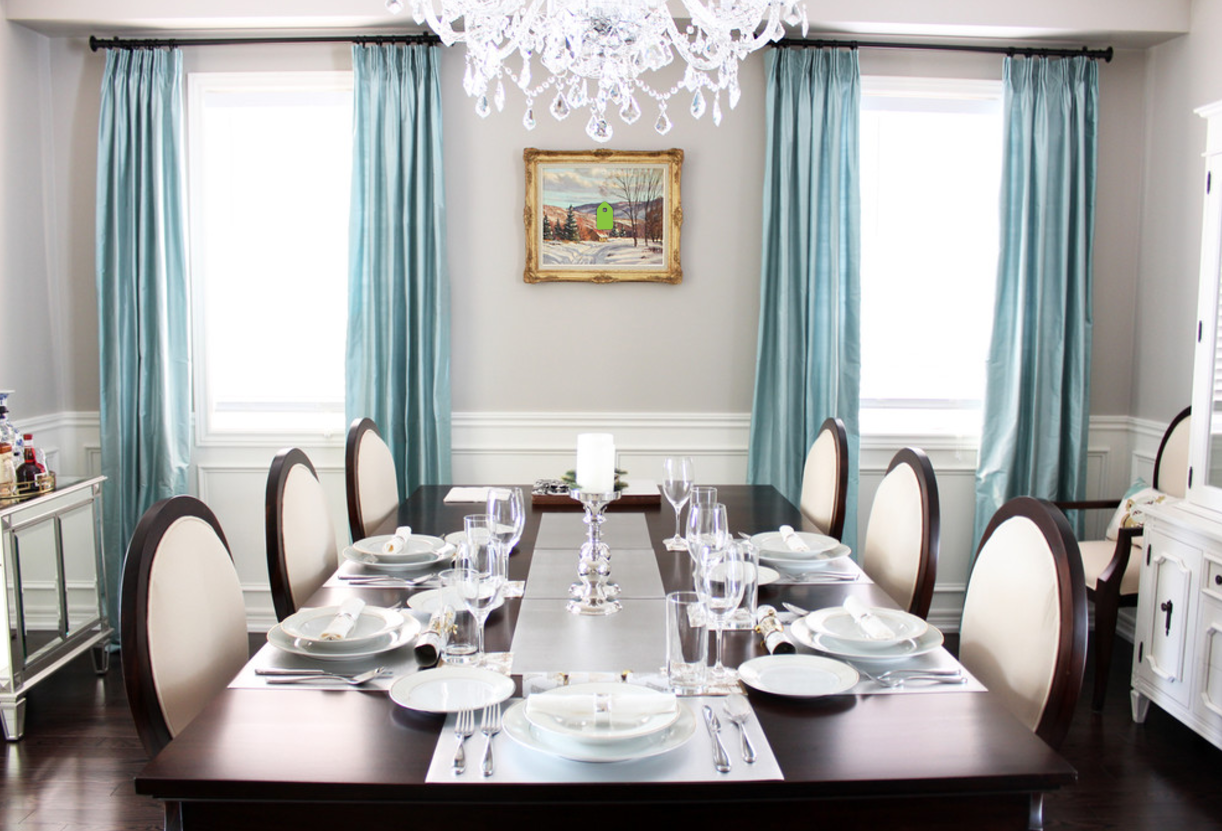 Photo: AM Dolce Vita
[perfectpullquote align="full" cite="" link="" color="#f71e5b" class="" size=""]BDB Tip: You may also want to consider what type of decorations you will have on the table, which may interfere with your dinner. A large floral centrepiece may not be such a great idea if you have a tight table. Re-think your decorations and make sure everyone comfortably fits.[/perfectpullquote]
It's also a good idea to check your home appliances ready for the big day. For example, is your oven clean? Are your hobs up to scratch to cook your Christmas meal or do they need to be repaired?
Make a First Impression
The first thing your guests will see when they arrive to your home is the front entrance and foyer room. To achieve the perfect front door this Christmas, take a look at our post here. To get your entrance in tip-top shape, de-clutter and remove any furniture or knickknacks that you may not need or will interfere with your décor. If you have an old shoe rack, a worn out rug, and a whole wall hanging with dog leashes, it may be time to stash this in the laundry room until the holidays are over.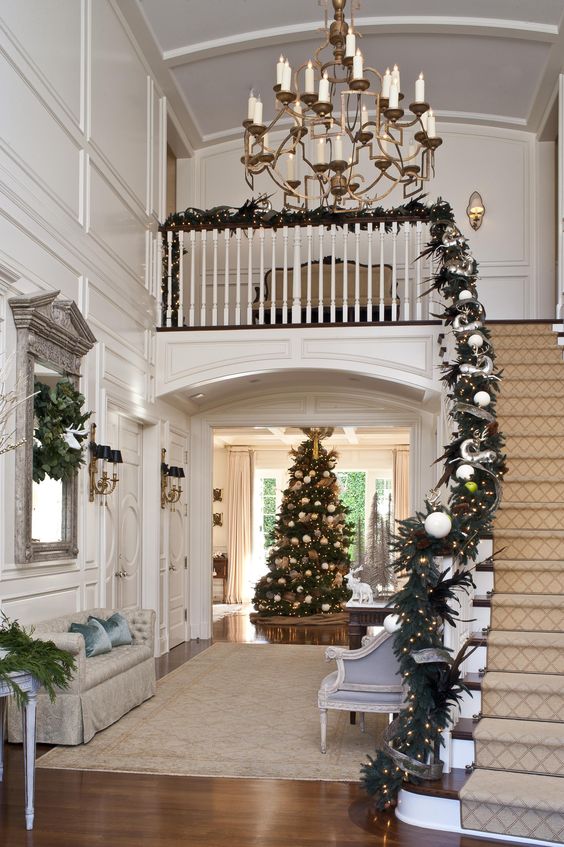 Photo: Traditional Home
Next, decorate your entrance in a holiday spirit but make sure to keep it tasteful not tacky. Stick to designer approved Christmas decor, such as a trendy color scheme like white, grey, and silver to keep things looking chic and stylish. Garland draped around a large mirror at your entrance and even icicle ornaments hanging from your chandelier add a nice, festive touch to welcome your guests.
Defrosting Your Big Bird
If you bought your turkey in advance and froze it, you will need to allow plenty of time to defrost it. Don't think you can get away with taking the turkey out to defrost on the big day. Allow a defrosting time of around 11 hours per kilogram of meat and if you need to keep it in the fridge, allow two days for it to defrost. Make sure to place your turkey at the bottom shelf so that any juices do not drip and contaminate other foods in the fridge.
Christmas Eve Prep
When Christmas Eve arrives it's time to kick back with a drink and watch some festive TV. However, you can't escape chores completely as you want to spend as much of Christmas Day as possible with family and not trapped in the kitchen or decorating.
Trimming sprouts and peeling potatoes can be done on Christmas Eve and stored overnight in your fridge. You could save even more time by getting out your best crockery and setting the places around the table.
Suzy's Tip: Thinking of placing fresh arrangements around the house? Fresh evergreen branches look best when picked or bought the day in advance. Hang them around your front door frame, wrap them around your stair's banister, and even place them above your kitchen cabinets and let them hang slightly at the sides.
Christmas Day
With all your preparation work complete, cooking Christmas dinner and welcoming your guests should be easy.

Photo: Michelle Jennings Wiebe
Always preheat the oven at the required temperature and leave your turkey outside of the fridge for around 30 minutes before placing it in the oven. After the turkey has been roasting for around a quarter of an hour, begin to prepare your tasty treats such as mini sausages wrapped in bacon, Christmas biscuits, and stuffing cakes, before placing them in the oven for around half an hour.
After all that's complete, you can relax as dinner is served! Merry Christmas!