Your garden doesn't have to be a no go area in the winter months, in fact with a little planning and creativity you can create your own winter garden wonderland that the whole family can enjoy!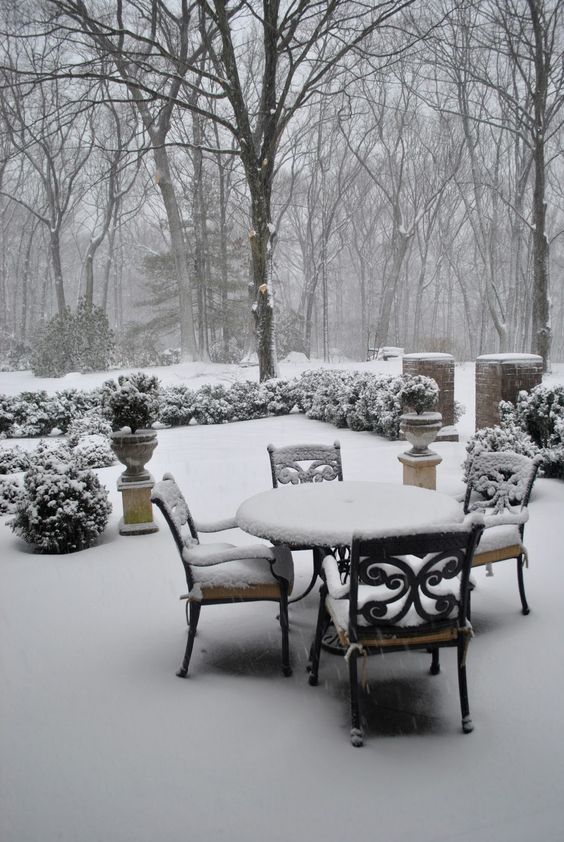 Photo: The Enchanted Home
In the winter months, our gardens usually go neglected until the start of spring. I actually had no idea you could even put your garden to use in the winter months, but there are so many ways to create a festive wonderland for the holidays! Here are some ingenious ideas that will help you enjoy the outdoors even in the chilling winter months:
Garden Layout
Having the right garden layout from the get go is the most important thing, not only for the summer months when the flowers are in bloom but also the winter as the plants start to die off. If you plan your garden well, you won't be able to see bare bones and bald patches as plants dry up during the winter months. Wall gardens, hedges and raised flower beds are all great ways of adding structure to the garden, providing designated areas for different activities and can be repurposed for different times of the year.
Creating Outdoor Living Spaces
There are lots of ways you can enjoy your outdoor garden without having the freeze outdoors! Building a well insulated shed with large windows or even an outdoor garden room like those from Oeco Garden Rooms is a smart way to create a living space in your garden. A small crackling fire, warm blankets, and a nice view into your garden is a relaxing way to spend your holidays! Have a sunroom instead? Check out this post on how to transform your sunroom into a winter garden!
Adding Seasonal Colours to Your Garden
During the summer months flowers explode in an array of bright and colourful blooms, but that doesn't mean that your winter garden can't be extraordinarily beautiful too Adding seasonal colours such as red and white will make the garden more inviting and flowers such as Hellebores are a great choice.
Plant flowers such as the Christmas rose, which are pastel pink and white in colour and produce big leaves that fill up space in your garden. They flower for a long time as well, generally lasting between late winter and early spring.
Another white flower to consider is Clematis Jingle Bells; these flowers have a bold white colour and typically flower from December to January. Clematis Jingle Bells will need some pruning to keep the size down as they can grow up to five metres high.
Fir trees are the quintessential winter wonderland accessory especially when it snows; they are evergreen and require very little maintenance, but be sure to choose a small species of fir tree as some can grow up to 80 feet tall.
BDB TIP: For a festive touch in your garden, why not opt for a holly tree. Make sure that you get a male bush are these are the ones that produce those signature red berries. For those who do not have the space for a Holly tree, Cotoneaster horizontalis or Pyracantha are a great choice for adding a pop of colour to the garden.
Decorate Your Wonderland
Your winter garden wonderland wouldn't be complete without some decoration. Fairy lights and lanterns are a great way of creating light in an outdoor space and can be hung on trees, draped over bushes or hung from outdoor structures like sheds, garden rooms and decking.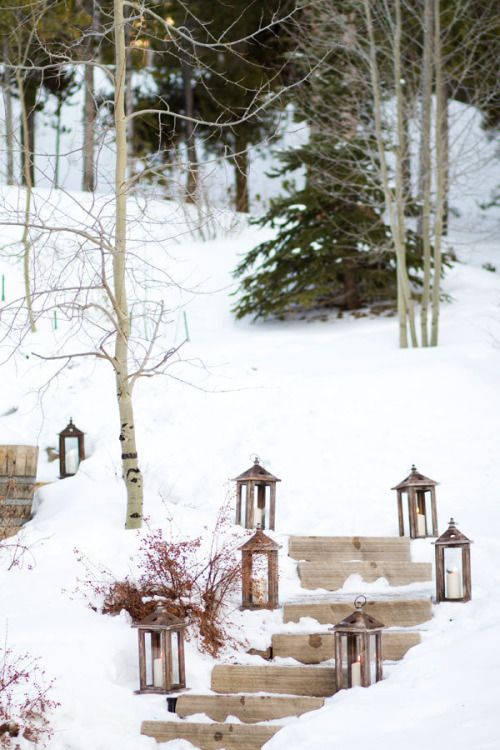 Photo: Disorganized72.tumblr.com
For those on a budget, there are plenty of things to do that won't cost a lot of money including tying festive ribbons to tree branches, hanging wreaths around the garden and decorating trees with baubles and tinsel.
Build a Fire Pit
Many people give the garden a miss during the winter months because of the cold, but adding a heat source is easy and cheap and provides an outdoor space that can be used all year round. Patio heaters and chimera's are a great way of adding heat to the garden, and building your own fire pit is a cheap way for the whole family to gather around and enjoy.
Attract Robins to Your Garden
If there is one bird that evokes a winter wonderland, then it's a robin redbreast. These majestic birds are strongly associated with Christmas, taking a starring role in many festive cards since the mid-19th century.
Robins will often come when other birds are around, so make sure that you put plenty of food out for all the birds. Black sunflower seeds and seed balls are great for attracting various species of birds, but be sure to avoid dried lentils as only certain birds can eat them. Robins are also fond of crushed nuts so placing some on a bird table or bird bath is sure to get them knocking.