These simple bathroom decorating ideas will transform your bland space into a private luxury retreat!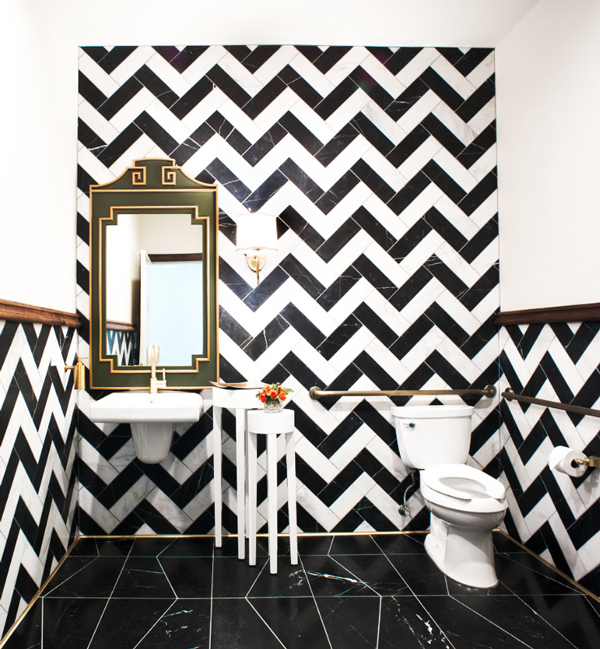 Photo: Form Design Studio
It's easy to make a small space like a bathroom look good, if you know exactly how to do it. Designers swear by numerous tricks that make bathrooms look bigger, cleaner, more open than crammed, and turn them into living spaces rather than simply: shower and get out. So how do they do it? With the help of high-end bath furnishings brand: WETSTYLE, I'll be sharing some tricks I've used for years in making bathrooms look there best:
A Floating Vanity
What's a better way to make your space look bigger than with a floating vanity? These vanities are easy to clean around since they don't connect all the way to the floor. They also make your space look sleek, airy, and more modern. This 30" Element Vanity from WETSTYLE is not only gorgeous but it also features a larger sink area that is modern and spacious. This store features tons of bathroom products that I simply love.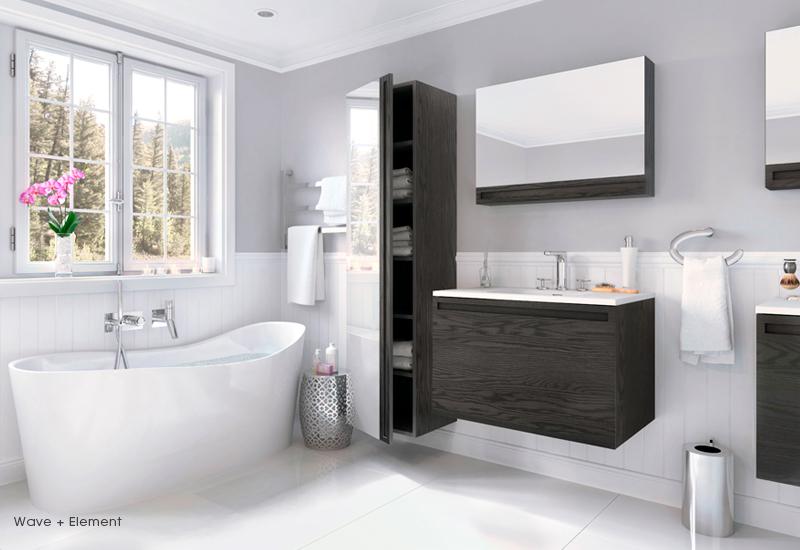 Top to Bottom Marble
Marble has always been thought as luxurious and expensive. In bathroom decorating, this trend it going stronger than ever and designers are using it all over the bathroom from top to bottom. This designer used a combination of a small marble mosaic trim, marble subway tiles, and then a beehive marble floor. To stick to the marble trend and tie the whole look together, they inserted a marble vanity with exposed chrome pipes and a light grey wallpaper. Simply beautiful!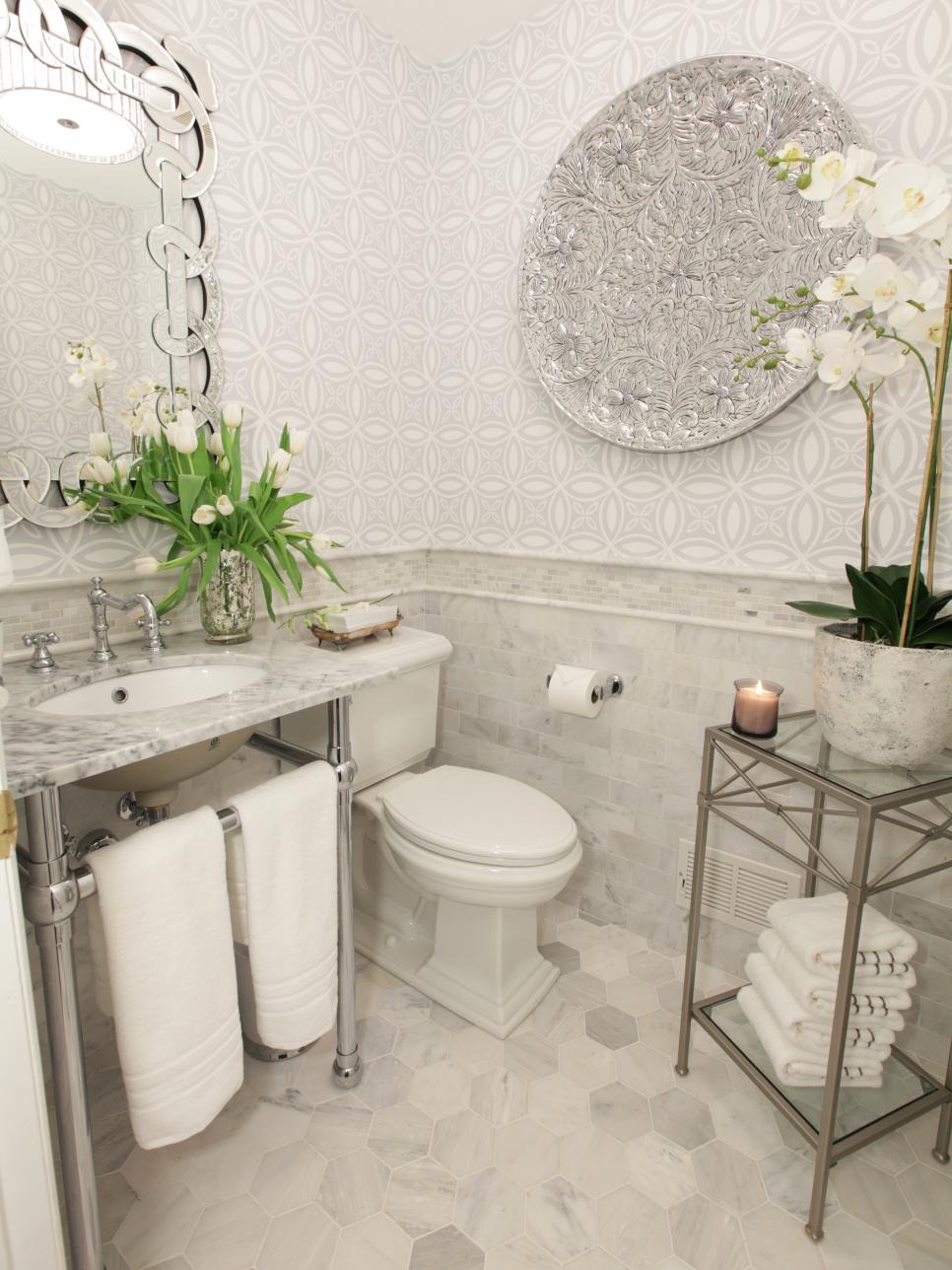 Photo: Todd Plitt
Bring on the Mirror Tiles!
If you still don't know, making a mirrored feature wall is an old trick to make a space look double the size. It may be a pain to clean, but at Better Decorating Bible we can't resist but sacrificing practicality for style! A mirrored feature wall in the bathroom looks AMAZING and so chic! I just love this look, especially when the tiles are arranged in a diamond shaped pattern. You can easily do this look at home: simply go to your local glassware shop and tell them to cut out mirrors in your desired size. Stick them on with mirror adhesive and viola – a bathroom that looks 2x the size!

Photo: Tracery Interiors
Dress Up Your Bathtub
There are tons of ways to make your bathtub stand and turn it into the focal point of your bathroom. A pretty curtain, a chandelier propped right above your bathtub, or simply choosing a glamorous enough bathtub to stand on it's own can make your bathroom look glamorously decorated. This cloud bathtub with a base from WETSTYLE looks as if it has a built-in molding trim circling all around the tub. With a pretty bathtub like this, you really don't need to do too much dressing up.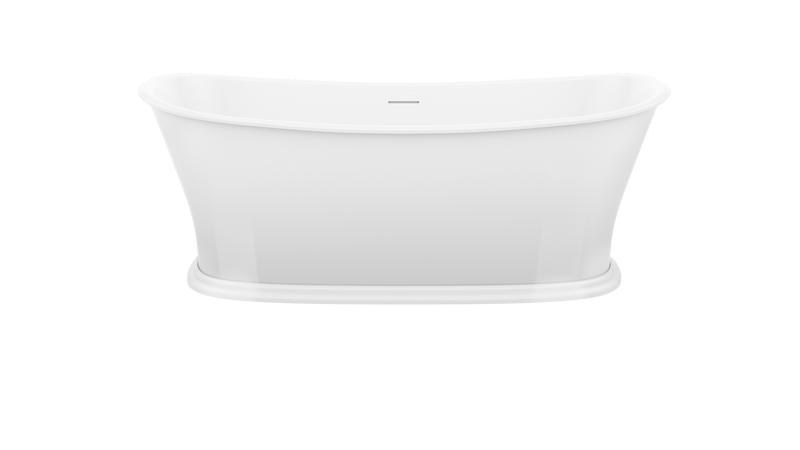 For more decorating ideas check out WETSTYLE's Twitter and Pinterest page. Happy bathroom remodelling!
This is a sponsored conversation written by me on behalf of WETSTYLE. The opinions and text are all mine.