Get your sofa into the Christmas spirit with these fast and easy decorating ideas!
A comfy couch is the heart of every living room, so make sure it's comfy, cozy, and looking it's best this Christmas. A plain sofa looks boring, washed out and un-festive – but that doesn't mean it can't be dressed up. Think of it as a blank canvas waiting for some creativity! Here are 6 really easy ways you can bring some color and Christmas spirit to your sofa in minutes!
Add Some Sparkle!
Christmas is all about twinkling lights, shiny ornaments, glitter, and sparkle! You can make your sofa light up with sequin pillows that practically reflect every light bulb, flickering candle, or twinkle light like a disco ball. Just don't over-do it, one or two smaller sized pillows can make a big statement on even a larger sized sofa.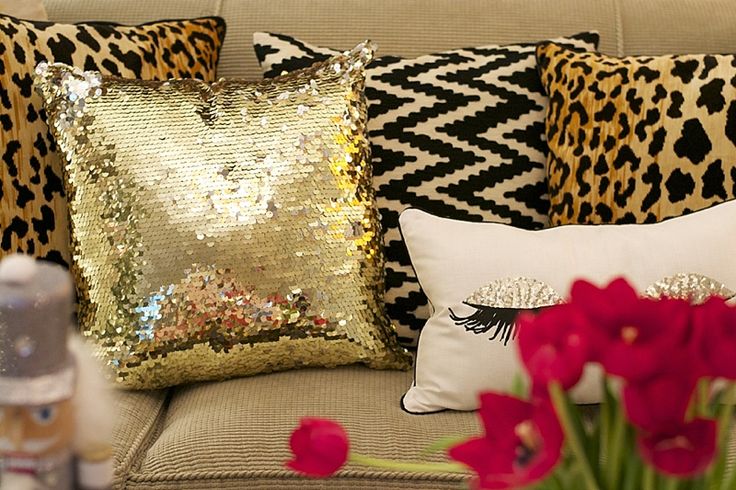 Photo: Lo Murphy
Color Is Everything
Draping bursts of color over your sofa can make it take on a whole new look in seconds! Drape a deep red throw blanket over the top or even running along the middle of the sofa to ignite it with some holiday hues.
Hang up a Wreath!
You don't even need to touch your sofa to dress it up this way! Place a festive wreath right above your sofa and tie a big red bow to tie the whole look together. When it comes to holiday wall decor, there is nothing better than a nice juicy wreath!
Cozy Up With Fur
Fuzzy fur makes everything seem more cozy and warm! The holidays are all about snuggling up with loved ones and most of the time is spent in the living room. Throw on a few sheepskin hides over your sofa or even a few fur pillows to make your seating area look more inviting and intimate. Even if your couch looks plain and boring, you'd be surprised at how just adding a few cute accessories can really give it some life!
Wrap up Pillows
Turn your couch into a giant Christmas present by wrapping up you pillows like presents using ribbon and tying a big bow in the center. This way, you don't even need to buy new cushions, just dress them up and they will dress up your sofa!
Stick to Traditional Textiles
Plaid has always been looked at as a holiday textile and really makes a mark that the holiday season is finally here! Mix in plaid into your decor with plaid cushions and throw blankets all over your sofa to get the Christmas cheer going. This chesterfield sofa looks glam on its own, but will a little help from some festive pillows it definitely turned Christmas-ready!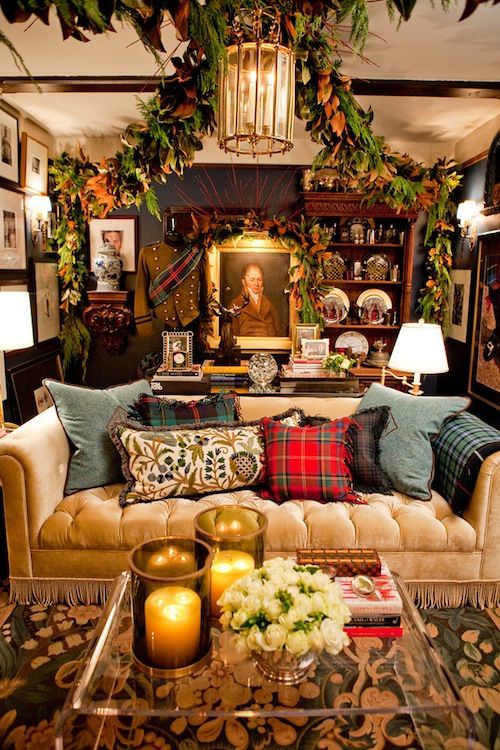 Photo: PlushPalate.Blogspot