In the same way as architects put in a lot of effort into designing interesting and unique residential properties, pool designers are creating memorable concrete designs!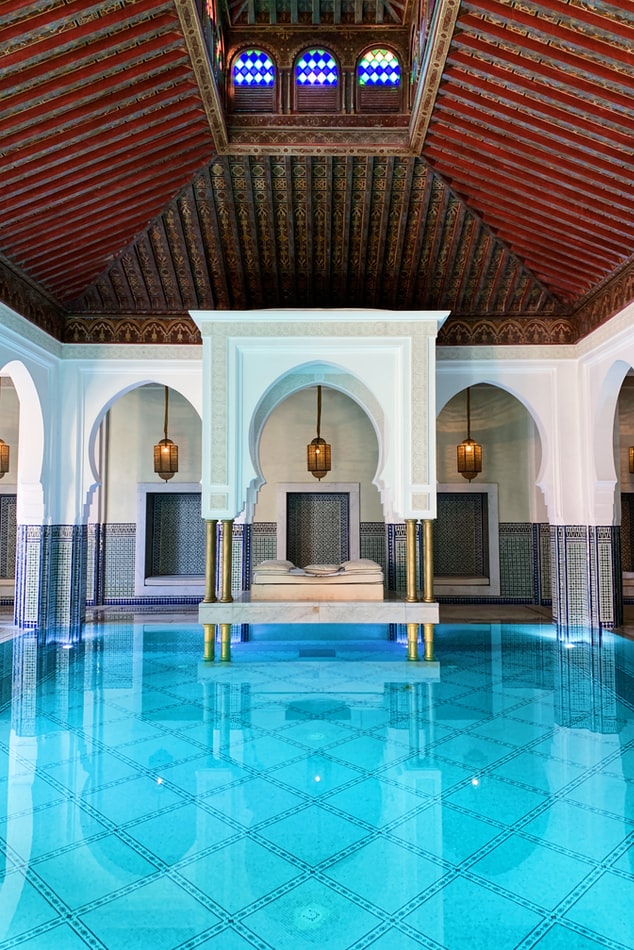 Photos By: Unsplash
Some splashing areas are designed purely for recreational use and to provide pleasing aesthetics to an outdoor or indoor area. Whilst others are designed to be used for hydrotherapy or athletic training.
If you are living in the gorgeous Perth, then you'll understand the importance of a swimming pool. The Australian heat can become unbearable and there's nothing quite like cooling down in crystal clear cool water.
For those who want to redesign their existing pool or install a new concrete pool, there are loads of interesting designs you can consider. Entrusting a company like Oasis in Perth with your new design, is also a great idea in executing it perfectly. This will not only make recreational swimming so much more enjoyable, but it will also add style and uniqueness to your home.
Here follows a list of concrete pools that will definitely blow your mind:
Above the Ground
Not all pools have to be sunk or built into the ground. When a great mass of water sits on top of the ground it can look quite inviting and appealing. It's the perfect solution to home owners who don't want to go through the excruciating digging process. Or homes that are built on very hard foundations like rocks and hard soil.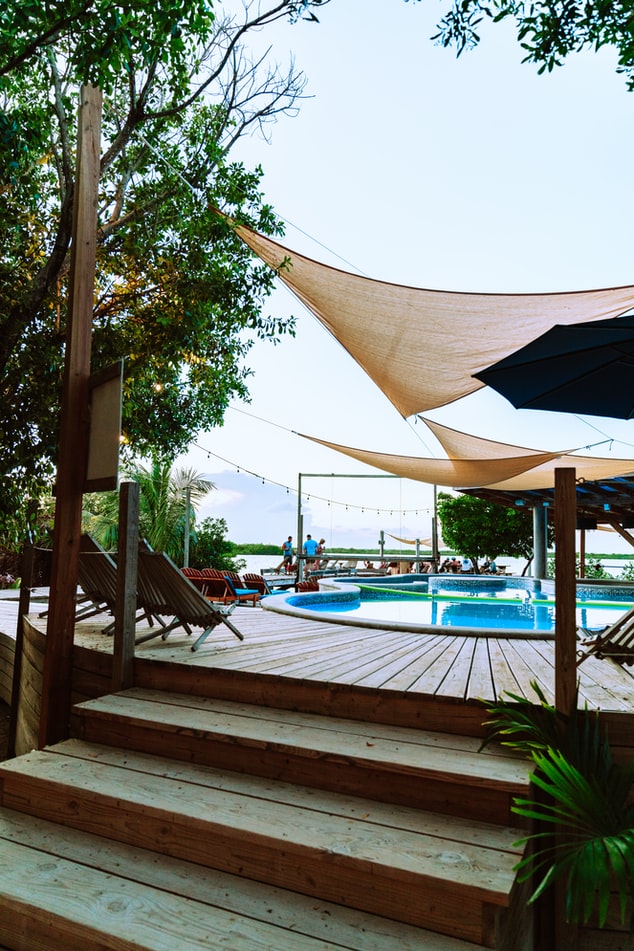 Adding a deck to the overall design will be much more affordable while still looking incredibly stylish. It's also a solution to families with young children who are afraid that they might fall into the water.
Kiddies
Nothing can be more stressful than being an owner of a very deep pool and having children. Parents all over the world have ended up barricading their pools and adding nets and covers to protect their families. There is a solution to this problem though. When remodeling, you can consider adding a shallow-end area where children can safely play. This part can be separated from the adult area for extra safety.
Artificial Waves
When it's holiday, you don't have to travel all the way to the beach to experience the waves. Now, you can have the waves coming to you. The world's first artificial wave pool in someone's backyard has been recently installed. But this isn't an uncommon occurrence. World famous surfer, Kelly Slater, installed an artificial wave pool on his 155-acre ranch in Lemoore, California, check it out here.
Sure, this isn't a very cheap endeavor, but if you don't have a budget then it's worth considering.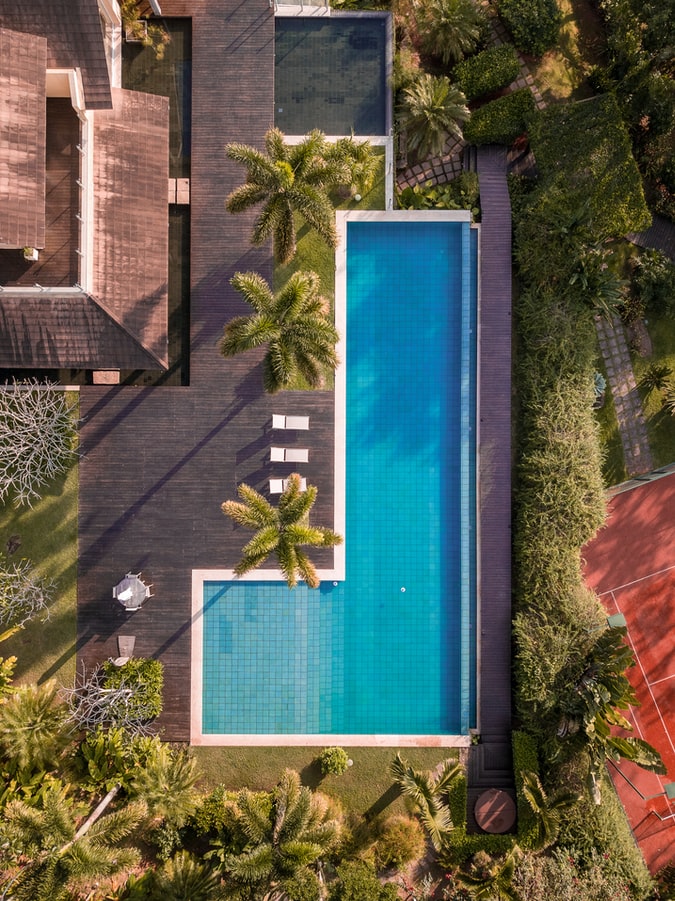 Glass Indoor
No matter whether it's rain or shine, you can enjoy all the benefits that indoor pool comes with. Instead of building an indoor model that's covered with a ceiling and walls, home owners are no opting for a style where the entire concrete pool is surrounded by glass walls. This will allow you to heat up the pool during cold winters and enjoy swimming, water aerobics, and relaxing after a long day's work. These pools are also much easier to maintain than those placed outside.
Infinity
A design that is high on our list of mindblowers is the infinity. Also known as the vanishing edge, negative edge, or zero edge design, this pool can be custom-built to fit your exterior. When executed correctly, the design creates an illusion of a waterfall on the edges of the pool. It's an amazing option for any house with a beautiful view and doubles up as the perfect background for photo sessions.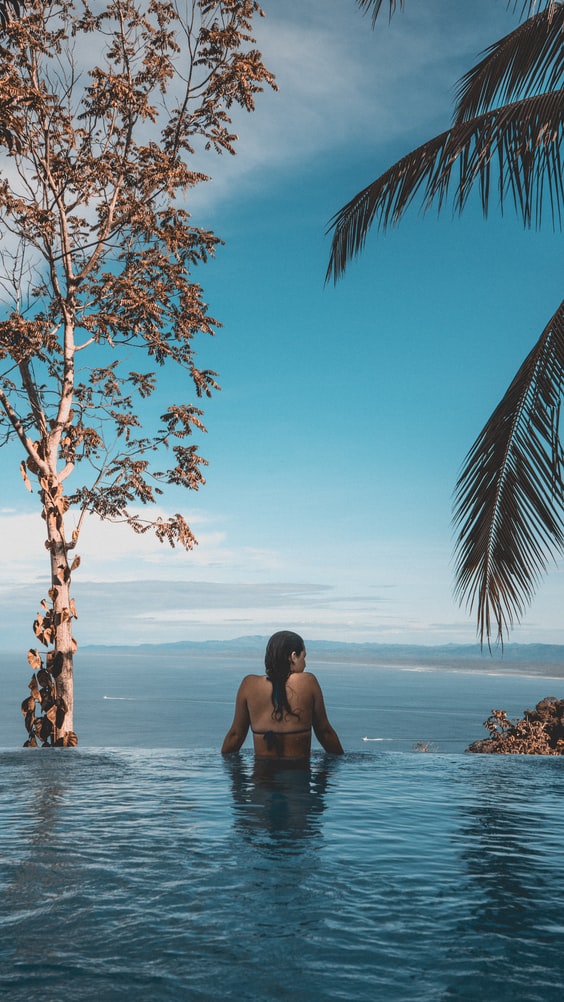 Naturally Beautiful
There's a misconception that concrete pools only need to be designed in one specific style, a traditional square or rectangle surrounded by non-slip tiling. This isn't true. If you want a more natural design to fit into your backyard, you can consult with your installation company to create a natural wonderland. The Playboy mansion's grotto swimming pool is a great example of a rock formation design with waterfalls. These concrete pools can resemble that of a real natural river surrounded with big rocks and gorgeous waterfalls. Not only is this a tranquil design option for home owners but it will also create the illusion of being in a rainforest.
Thin Lap Pool
For homes that don't have a lot of back yard space, the thin lap pool is the perfect solution. This design features a long strip in a rectangular shape, usually measuring up to 15-18 meters. Making it perfect for anyone who enjoys swimming laps for fitness.
Some of these designs might even have added features like strong water pumps that can cause resistance for agility and strength training. To add style and design, this model can include a gorgeous water feature on the shorter side to create an accent.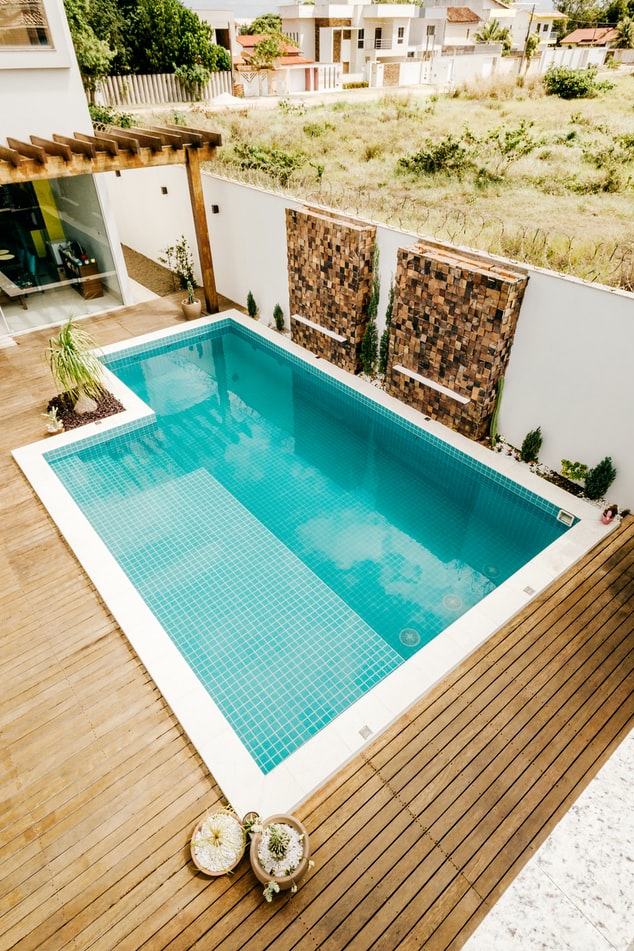 Saltwater
Another excuse to bring the ocean into your backyard is adding saltwater instead of fresh water. Even though this isn't a design option, it surely is something that blows our minds. Saltwater pools have been popular in New Zealand and Australia for a very long time because saltwater is known for its healing powers. The salt is good for relieving pain in joints as well as swelling.
As long as you add a saltwater generator or chlorinator, your model will be salty just like the ocean. Remember, that any pool looks better when it's maintained and looked after. Check out this list of tips on how you can keep your water crystal clear and inviting.
Spool
Not to be confused with a jacuzzi, the spool is the perfect solution for people with small back yards or limited space. They are mini units that are affordable to install and provides a cool down area in your yard. Home owners can add extra features like massaging jets, jet sprays, and lights to create an atmospheric water experience.
These pools are easy to maintain and not too expensive to build. Smart reinforcement accessories such as concrete shuttering reduce the time it takes to lay concrete, reducing cost.As long as you keep your budget in mind and find a credible and experience concrete pool installation company, you'll be able to choose a design that's best fitted for your home.