A farmhouse sink is an excellent choice if you have space and skillset necessary for installation.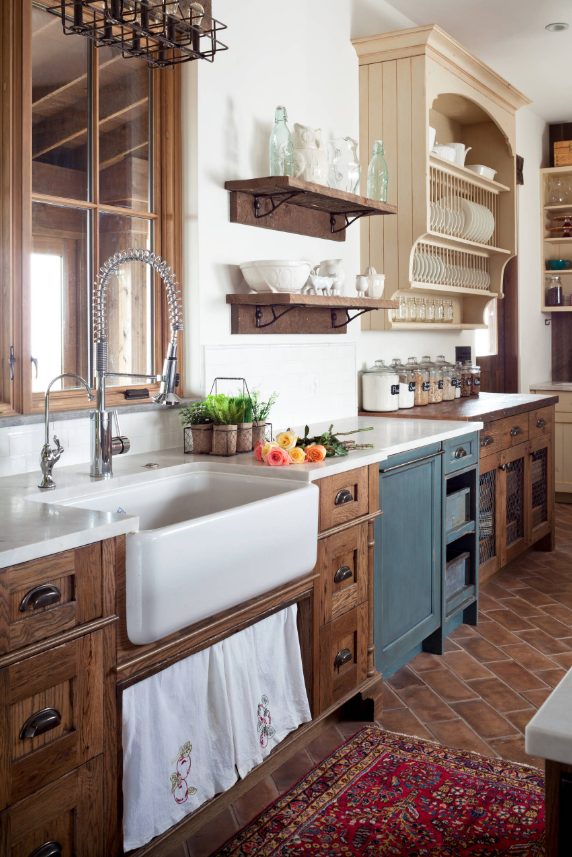 Photo by Dragonfly Designs
Top-mount farmhouse sinks might be easier to install as compared to undermount farmhouse sinks, but they are not as aesthetically pleasing. The correct installation, correct material choice, and size of your apron front sink can enhance the complete look of your kitchen.
Farmhouse sinks have been gaining steady popularity for the last ten years. Some of it might be due to their prominence in home décor magazines, while most of the rise in demand is due to its high functionality. These apron sinks are still new in comparison to the traditional single bowl, and double bowl sinks that home kitchens have brandished till date.
Each day, home decoration experts and contractors face some questions that homeowners have regarding the buying process, material choice, maintenance and installation of these apron front sinks. So, we have compiled a list of the most frequently asked questions and their answers in the following section for everyone interested to learn more about their elegance and functionality –
Are all Apron Front Sinks Single Bowl?
That is the first question almost every homeowner asks, especially, if they have been using double bowl sinks till date. Well, traditional farmhouse sinks are a single bowl, and that's their unique charm – one massive basin with impressive capacity. However, modern apron front sinks can be double bowl too. The flexibility in design stems from the use of stronger materials, including granite composite and stainless steel. See the enormous variety in design and style of farmhouse sinks right here https://www.kraususa.com/kitchen/kitchen-sinks/apron-front-sinks.html.
How Can I Make do with a Single Bowl Sink?
Many 21st century homeowners use double bowl sinks. One bowl for soaking and the other for scrubbing and rinsing. Others use one side for meal prepping, including peeling veggies and draining water from boiled food. However, single bowl sinks are just as functional. You can use a temporary washbowl or rinsing tub for soaking the dishes and the remaining part of the sink for scrubbing and rinsing. It is a smart way to make use of the extra space, especially if you don't have to wash many dishes regularly. You can remove the tub when you need to soak and wash larger pots and pans.
How to Minimize Scuff Marks on my New Farmhouse Sink?
Farmhouse sinks come in many materials. Fireclay, stainless steel, and granite composites are ideal if you don't have much time for post-installation maintenance. Although almost all three options take some additional skill during installation, all three are highly resistant to chipping, scratching, and cracks. Unlike them, porcelain sinks are delicate. It is possible to hack and scuff them quite easily. Stainless steel sinks may be somewhat susceptible to scuffing and scratching if you leave out other stainless steel cutlery in the bowl or use a stainless steel scrubber to clean the sink.
One of the surest ways to prevent any scuffing irrespective of sink material is by investing in a sink grid. A few models in the market come with the right-sized sink grid, but if your sink does not come with one, buy it from a reliable hardware store online or offline. Additionally, a sink grid can create a gap of about 0.5 to 1-inch between the dirty dishes and the sink bottom. This gap can be instrumental in draining the sink quickly and adequately without any grime buildup.
Should I invest in a fireclay, stainless steel, or a porcelain sink?
If you are going for a completely traditional look for your kitchen, porcelain should be your sink of choice. However, you should remember that it is much easier to damage enamel than other material choices. Stainless steel is an affordable, sustainable, and durable choice for all kitchen types. You should check out stainless steel farmhouse sinks with rounded front if you want to impart a futuristic but seamless look to your kitchen workspace. It is perfect for multiple interior décor themes, just like fireclay. Fireclay sinks are durable and long-lived. You can also explore a wide range of color options, size choices, and basic designs for this material.
What is the Right Size of Farmhouse Sink for my Kitchen?
Farmhouse sinks are great for almost all types of kitchens as long as it is proportionate to the counter size, cabinet height, and it has the capacity to accommodate your daily load of dirty dishes. One of the surest ways to find the right-sized kitchen sinks is by measuring the largest pot, pan, or baking tray you use more than once per year. Any kitchen sink that can accommodate it should be good enough for your family kitchen. However, farmhouse kitchen sinks are deeper than the standard undermount and top-mount sinks. So, you will need to measure the space available on top of your under-the-sink cabinet before purchasing one. Additionally, you should check the height of your sink drain and the pipes in the wall to see if you can use the existing drains or you need to call a plumber.
Can I Upgrade my Farmhouse sink by Attaching it to my Existing Garbage Disposal?
It is a critical question, but the answer is not a simple "yes." Farmhouse sinks have thicker flanges as compared to the standard sinks. You may need to invest in an extended flange to setup your garbage disposal for your fireclay farmhouse sink. There is a good chance you may not need the expensive, extended flange if you are installing a stainless steel one or replacing an old apron front sink. To be sure, complete your measurement before you complete the purchase of a farmhouse sink.
Investing in a kitchen sink might not seem like a big decision. However, the make and model of your kitchen sink will determine the entire look of your kitchen. Always talk to an expert, follow discussion forums, and explore multiple sink options before you find the one sink that will remain in your kitchen for at least the next one decade.