Are you thinking of redecorating your kitchen? Check out these trendy but easy kitchen decorating ideas!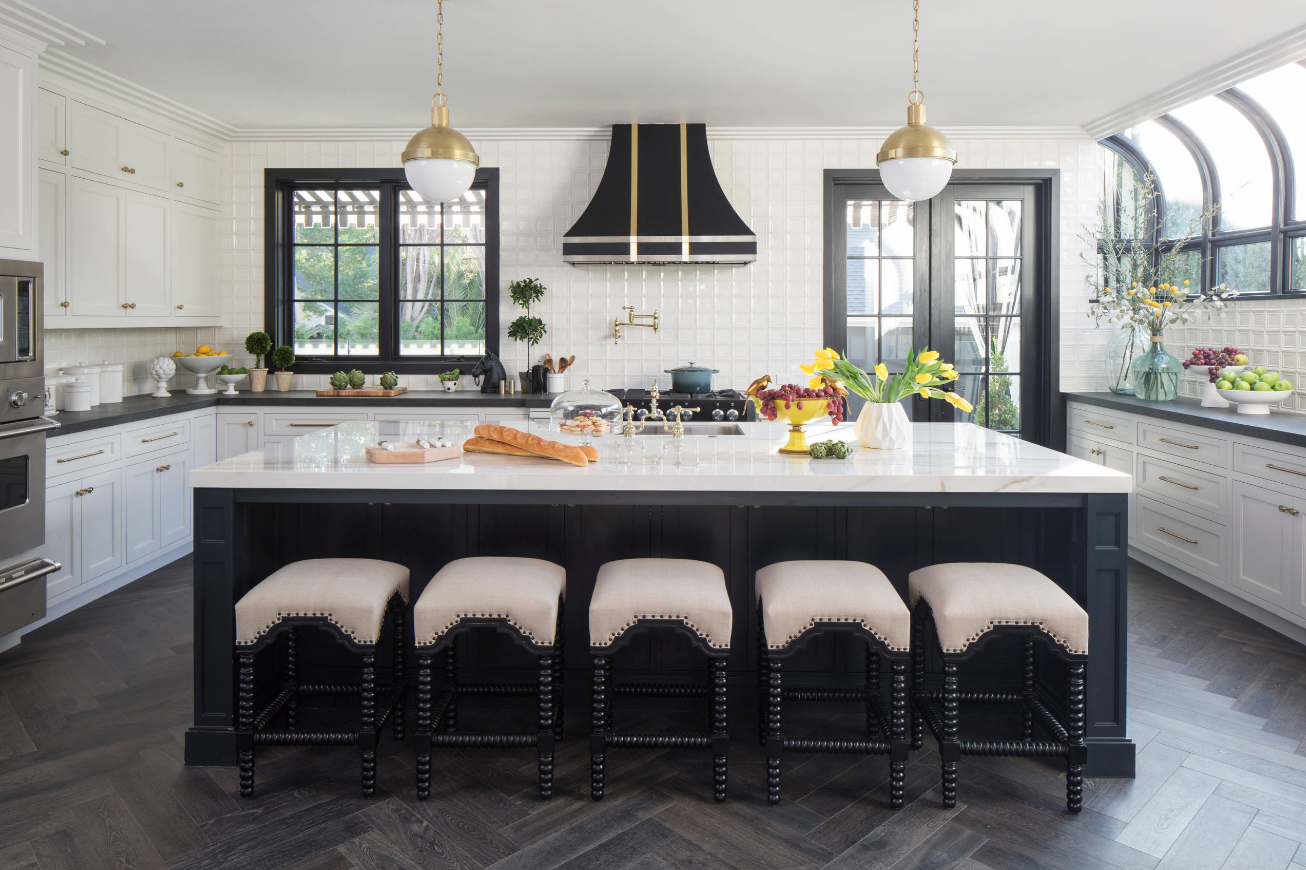 Photo: Breeze Giannasio Interiors
Once there was news that daughter of Bill Gates demanded $45,000 to decorate her kitchen and Bill Gates refused to give that much amount, well, if Bill Gates think that it was too much for a small place like a kitchen, you should also keep in mind that you don't need a massive amount of money to decorate your kitchen as per your dream inspiration.
You can get some smart ideas to decorate your kitchen even in the low budget. Here are some of the ideas you can try.
Neutral and Elegant
If you want the elegant touch when renovating your kitchen, keep the color scheme neutral. For flooring, you can use the marble and same for the shelves. If you don't want the expensive marble flooring and kitchen shelves, then you can go with the subway tiles. Use light or even white color for kitchen cabinets. It will give your kitchen a spacious, brighter and neutrally elegant look.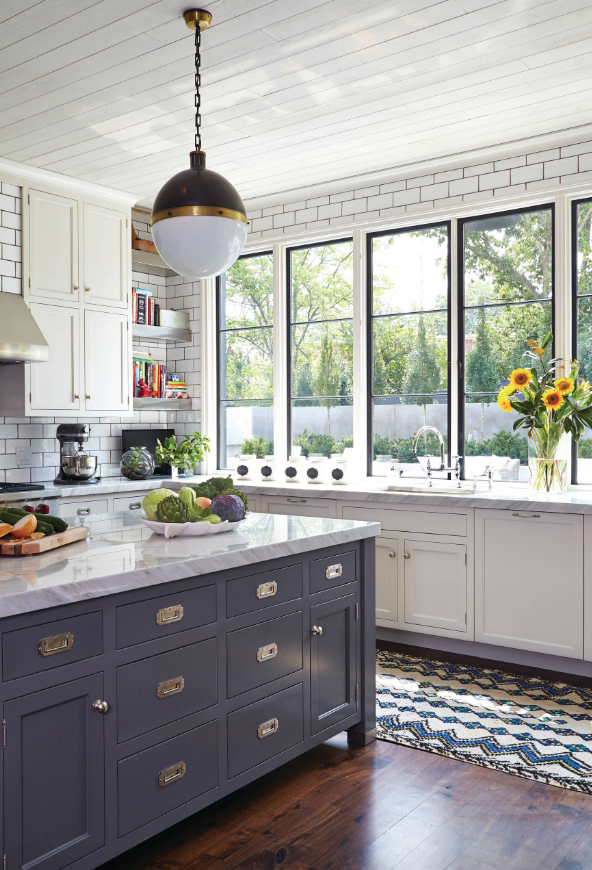 Photo: Marvin Windows and Doors
You can put a rustic wooden table in the middle. You can place bowls and even decorative items on it. You can put natural or even plastic fruit basket to give it a luxurious look. Leave some space on the table so that you can use it while cooking something. But yes you can't use it as kitchen dining table, nor it was meant to be for that purpose.
For lighting up your kitchen, you can use stylish lighting hanging from the roof. You can rely on single one which is not actually preferable. The better idea is to use multiple hanging lights from the ceiling so that you may control the light as per your need.
To add the natural and green touch, you can use the table you placed in the center of the kitchen. Place a big vase in the middle and plant some natural plant with branches or you can go with the idea of the plastic version as well. Well, the aim is to give your kitchen a green touch.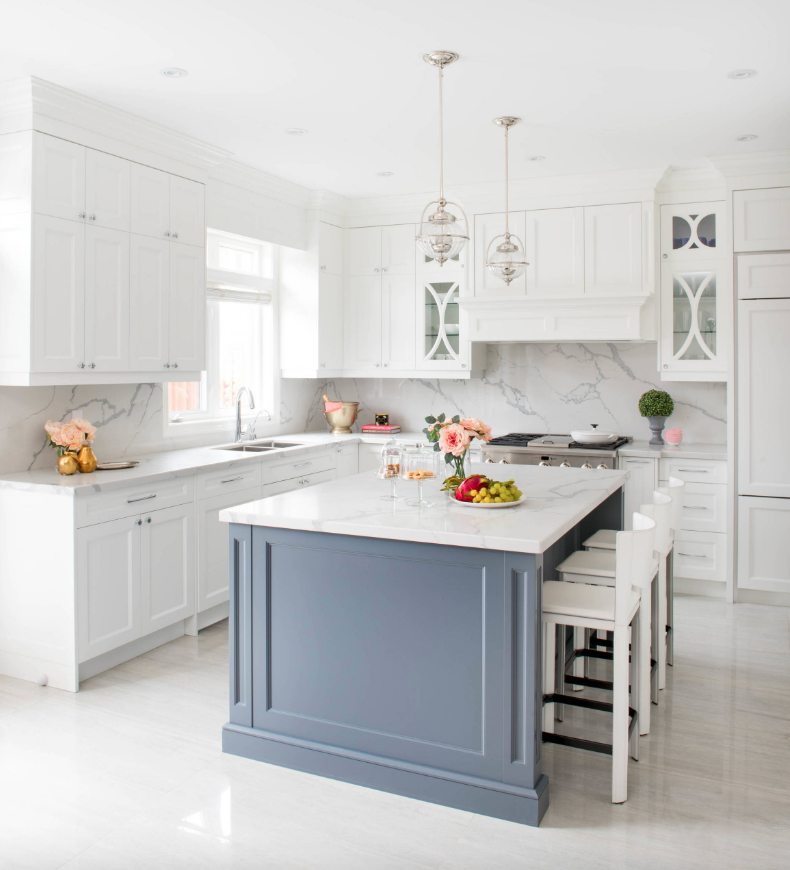 Photo: Quartex Surfaces Inc.
Give it Bright Airy and Spacious Look
Give your kitchen a bright, airy look. Don't overload your kitchen makeover with too many wooden cabinets. Go for the idea of the spacious look. The kitchen cabinets give your kitchen a bulky and shadowy look which must be avoided. The kitchen should be a place where you should feel like you are in some brighter and spacious place.
Use proper light panels to keep it bright. Don't use the dark colours for the walls instead you can choose some amazingly designed kitchen wallpapers. There's an online store where you can check out this kitchen wallpaper which may suit your needs. Choose the light colours with eye-catching patterns.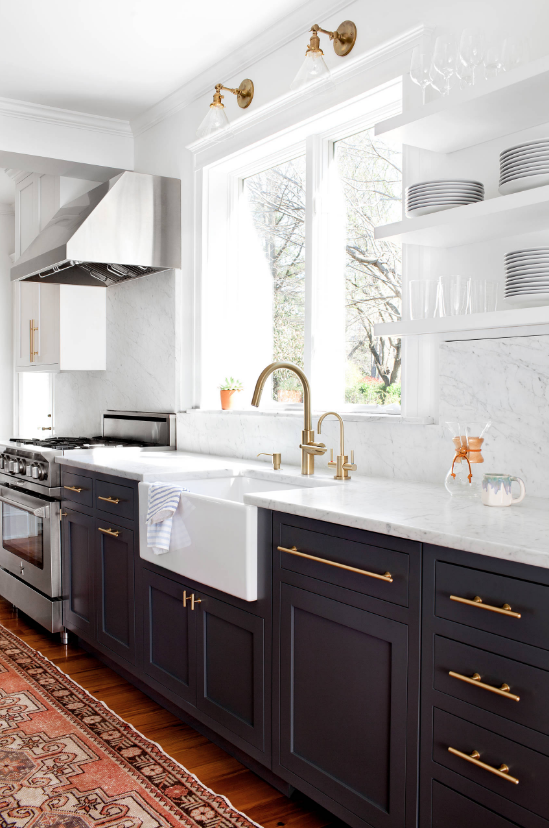 Photo: Elizabeth Lawson Design
Painting your wall is not a good idea because it may require a right amount of work. You will have to cover up everything. You will have to tape and wrap the portions where you don't want to paint, and after paintwork, a lot of cleaning work will be required. So, kitchen wallpapers are the better idea for you because installation is easy and you don't need to take the hassle of covering and wrapping everything to keep paint stains away.
Remove the extra cabinets and go with the idea of open shelves. Put everything on the shelf that you can put. Leave cabinets just for the things which you can't keep in the open. It will give your kitchen a spacious look, and you will feel better in the kitchen. You can put a couple of kitchen stools at on the side of the table just in case you are tired of standing while cooking so that you may take a little rest for a while.
Add a Charming Touch
If you are getting bored of pure white and grey shades in the kitchen, then you can add some sweet and spicy touch to it. Add some colours like yellow, orange or even blue. These little touches will change the mood entirely. It won't disturb the airy and brighter look, but it will add a little bliss and smile on your face as you will enter your kitchen.
Are not you happy yet? So let's add something more rebellious. Mismatch the furniture from the entire theme of the kitchen. Use some contrasting colours, and you will see an entirely different look of your kitchen. To some, this look may not appeal that much, but if you want some charming touch, you can go with these rebellious ideas to decorate your kitchen.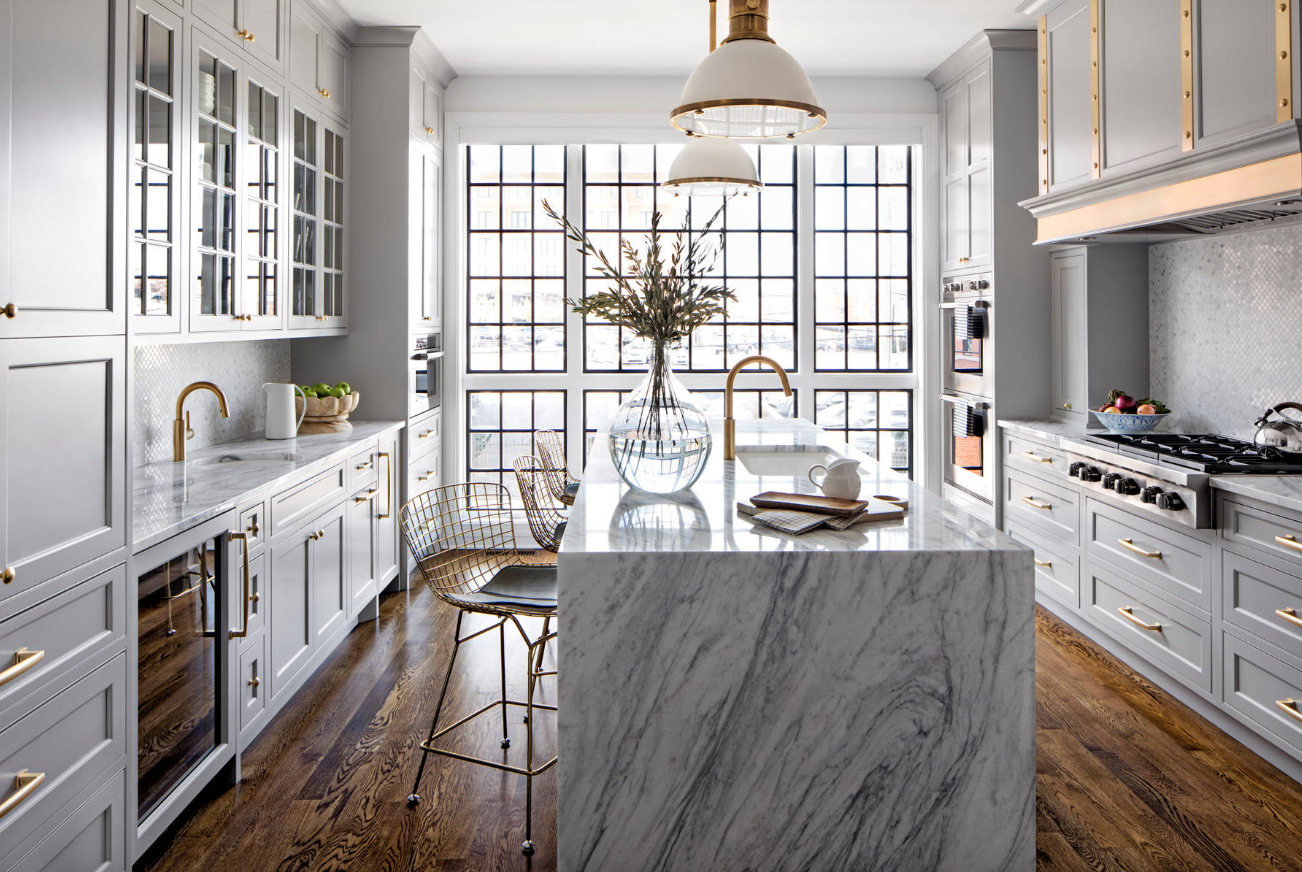 Photo: Bria Hammel Interiors
What about Retro Touch?
Why not add this brighter looking kitchen some classic retro touch? You don't need much to do this. Nor you need to invest any money to add this touch. You might have some old-fashioned coffee mugs or kettles. You can put these things in the centre table. If the centre table is already loaded with other stuff, you can just put these pots, mugs, and kettles at some shelf from where it can have been seen easily.
Apart from the mugs and kettles, there are some old style kerosene lamps. You can mount these lamps painted in bright colours. You can add some electric bulbs in it to use these lamps properly. These lamps can give your kitchen a fantastic look. You might have some old plates as well. You can paint these plates with some retro style print, and you can use these plates as wall hangings.
So from the ideas discussed above, you might have cleared the concept in mind. You actually don't need a considerable amount of money when planning your kitchen decorating. You can use the stuff readily available at your home to give your kitchen an amazingly elegant look. Just use your brain, research on the web, and you will find some fantastic ideas to decorate your kitchen. Just little tweaks can change the entire ambience and mood. So keep exploring and trying new ideas whenever you get time because the kitchen is the place where you want to spend most of your time.