Fit for a Princess: Decorating a Girly Princess Bedroom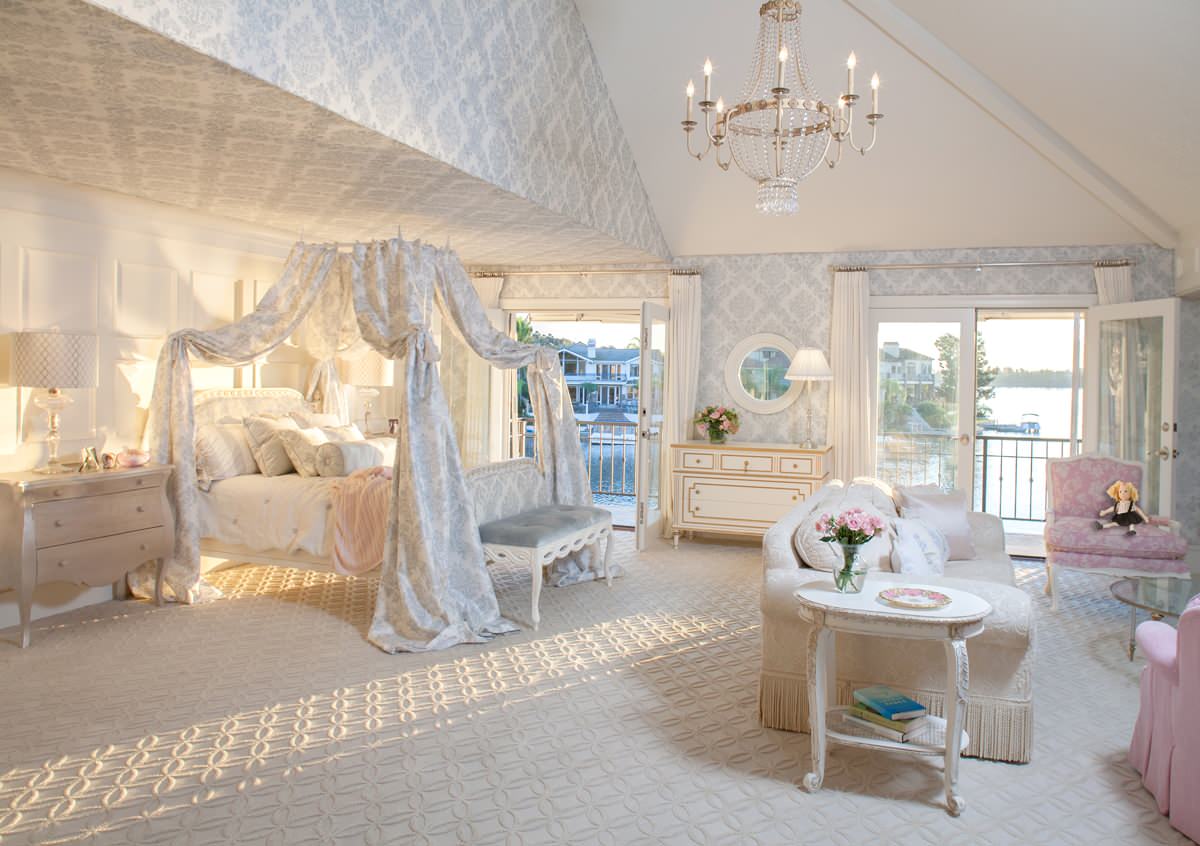 If you are a girly girl then show off your feminine side through your decorating with some of our princess bedroom decorating ideas!
Your bedroom should be your own personal sanctuary where you relax, read, sleep, and even hang out with friends! If you are girls' girl and like to feel pampered up, follow our guide on how to decorate your princess bedroom without covering everything in ceiling to floor pink!
Choose a Luxurious Headboard
To make your bed the prima donna of all beds, it all starts with an amazing headboard. Think Louis XVI or even victorian age styles with beautiful wood carvings, embellishments, tufting, and luxurious fabrics. If you can't find exactly what you are looking for, search online! There are tons of tutorials where you can make your own custom double mattress or single mattress headboards using some simple wood working skills and materials all from your local hardware shop. Now that's what I call the ultimate princess bed!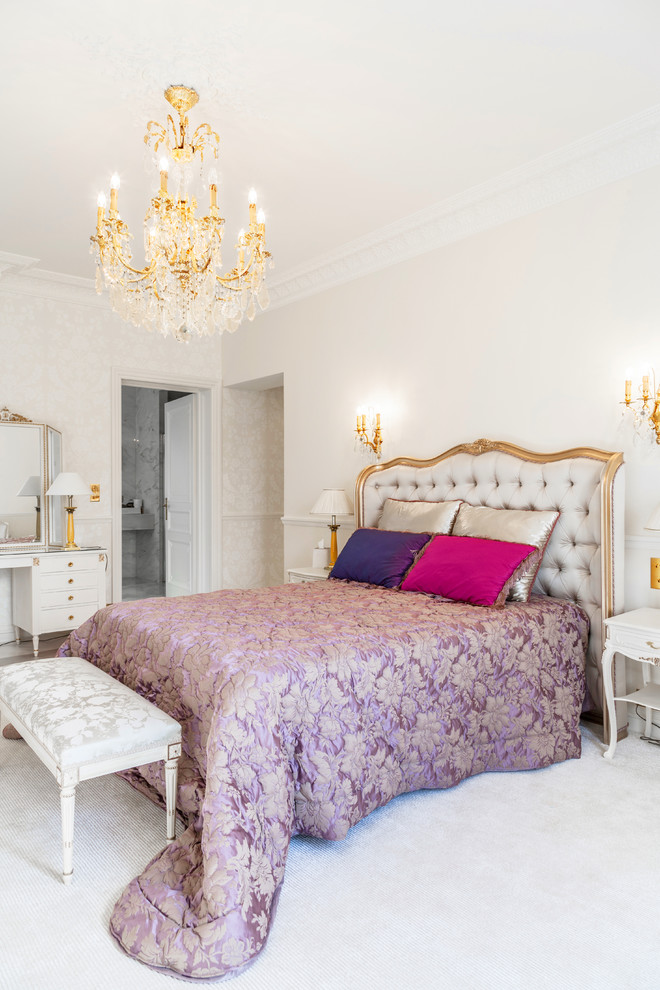 Photo: Bush Architecture
Create a Half Tester Canopy
A "half tester" is a form of a canopy bed which differs from the traditional "four poster" canopy bed. This canopy is only attached to the headboard, not the foot board. If you've always been longing for a canopy bed you can make your own half tester canopy by constructing a wooden rectangular frame, attaching it to the wall, upholstering it in beautiful fabric and then attaching curtains.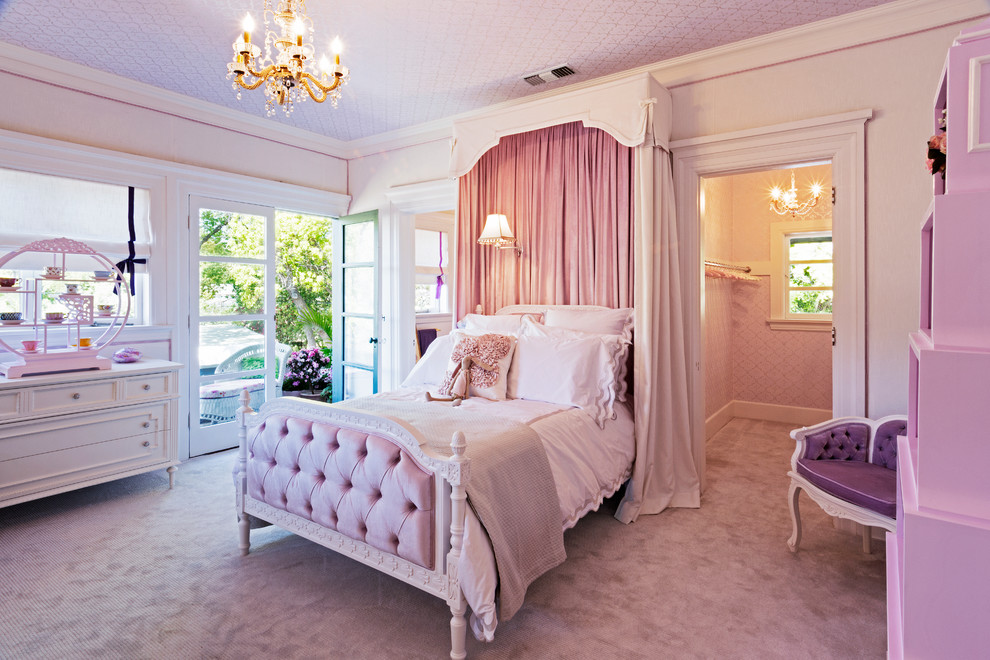 Photo: Carolyn Reyes
Hang a Chandelier
Just switching up your lighting can make a huge difference in transforming your bedroom form a regular room to a complete princess themed bedroom. Choose a chandelier loaded with crystals to reflect maximum light all throughout your room.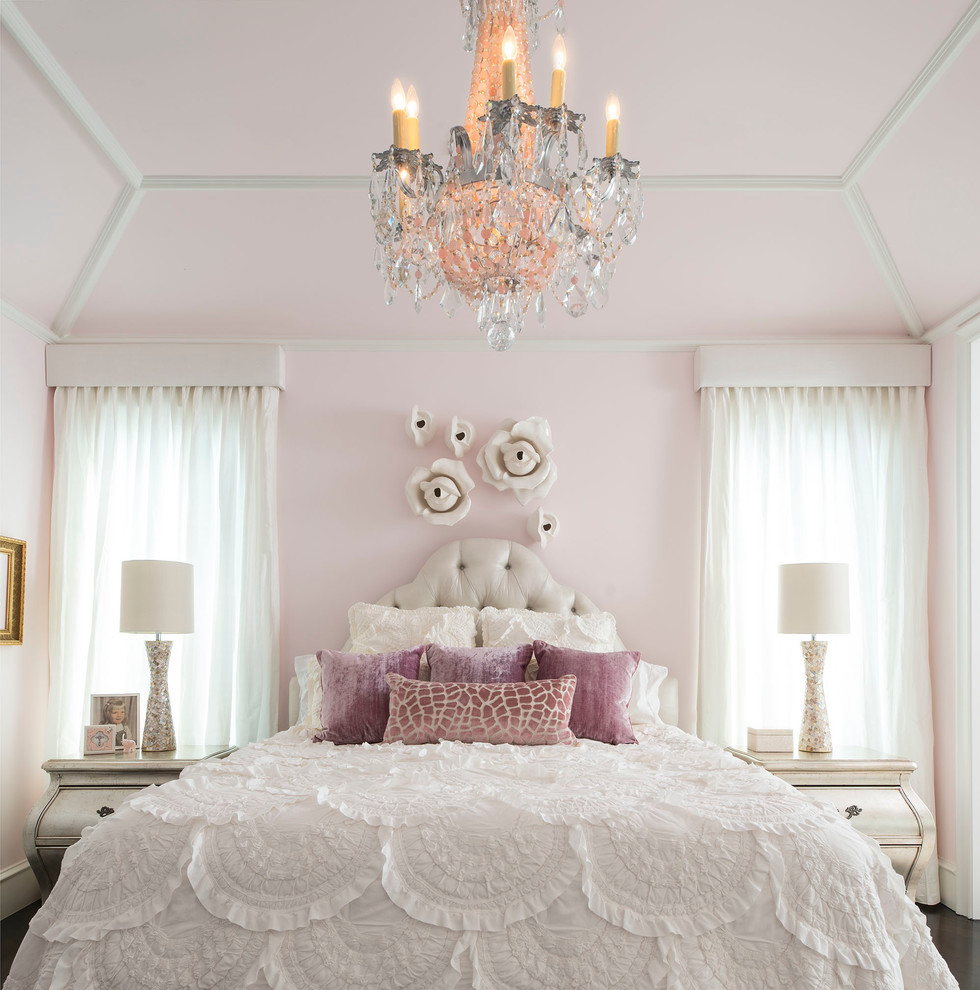 Photo: CDA Interior Design
Choose Wallpaper and Paint
Wallpapering a whole room can make it seem smaller, tighter, and a little démodé. What's really hot right now is wallpapering half of your room in a romantic damask and then painting the adjoining wall a similar shade. You'll be surprised at how chic and modern it looks!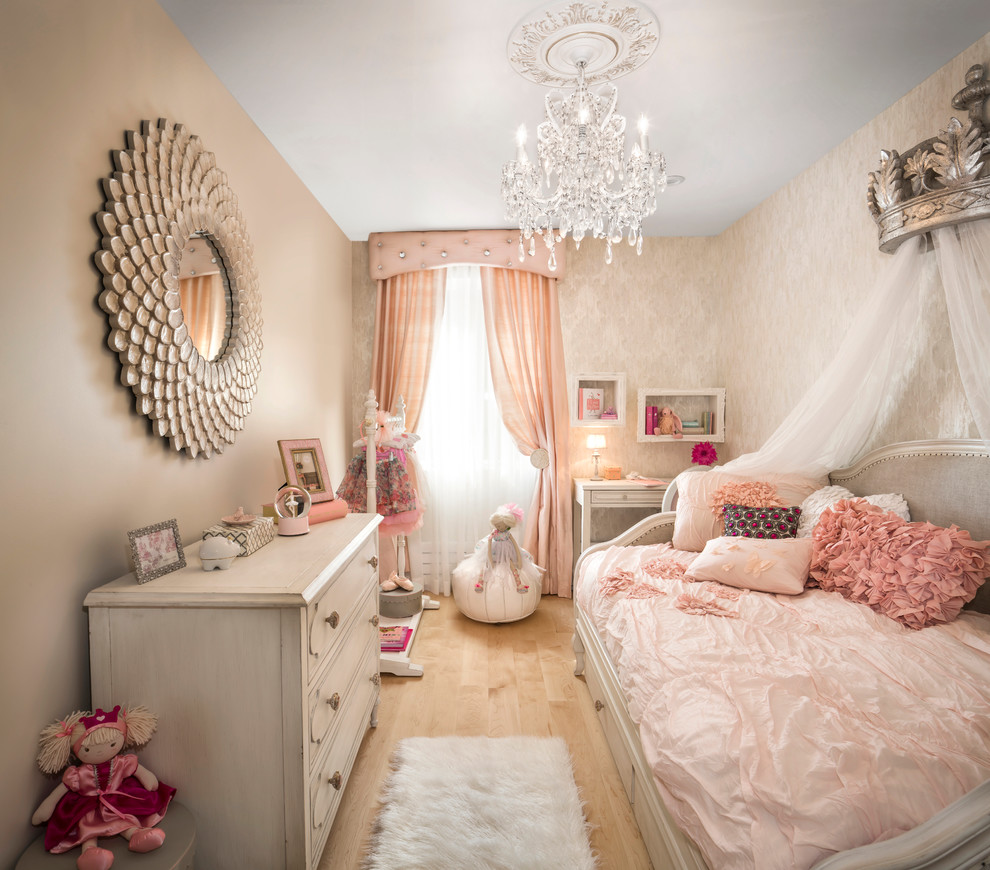 Photo: Vi-Design
Go All Out with Blue
A princess bedroom doesn't mean everything should be pink, in fact we like blue hues even better! This teenage girls room really looks like it's fit for a little princess with everything painted in cool blue, white and silver tones. Stick to a few shades of blue for your walls and fabrics, and then add cool streaks of silver with your chandelier and furniture.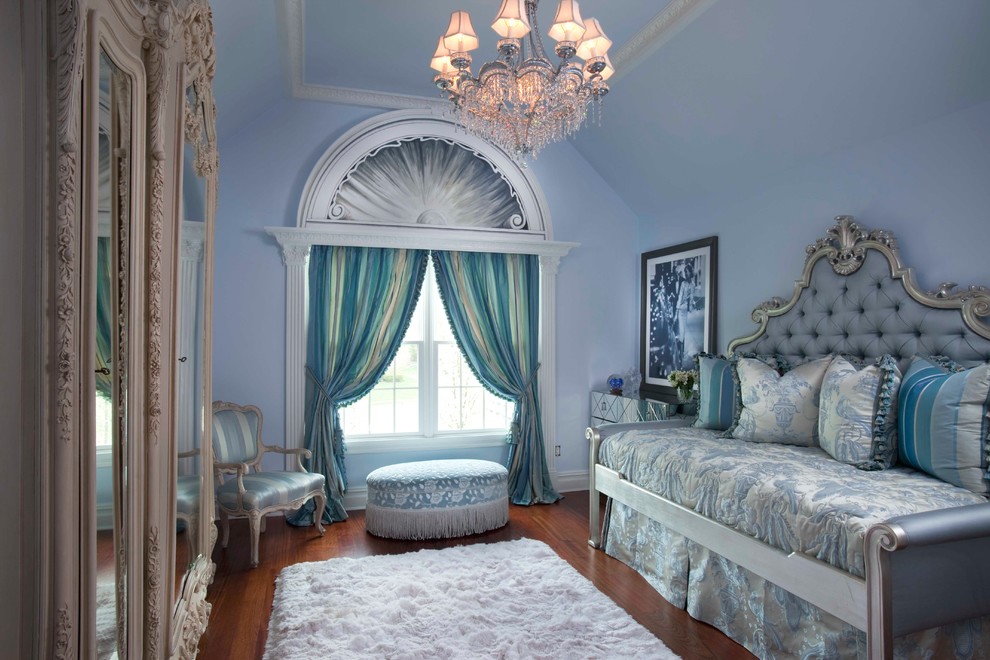 Photo: Evelyn M.Designs
Create a Seating Area
If you have enough space to do so, transform your bedroom into a whole multi-concept room. Choose a section in your room for a seating area fit with two arm chairs and even a small sofa if you have enough room. Back in the Medieval days, real Kings and Queens actually lived like this. Their bedrooms all had a seating area where they could eat their breakfast, and relax next to a crackling fire!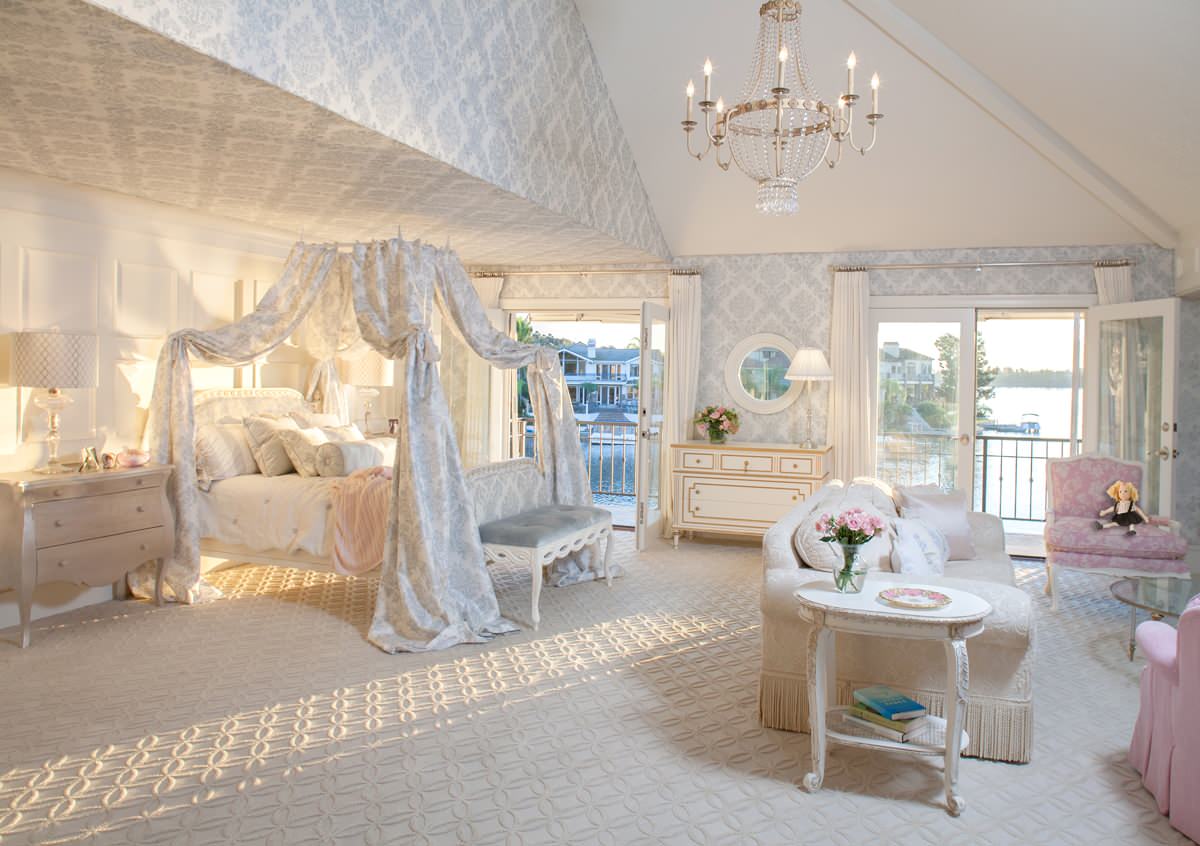 Photo: AFK Furniture
You might, as an alternative, seek the assistance of a professional interior designer in order to obtain the girly princess theme for your room and spare yourself some time.