10 Ideas for Making Your Home Office Truly Professional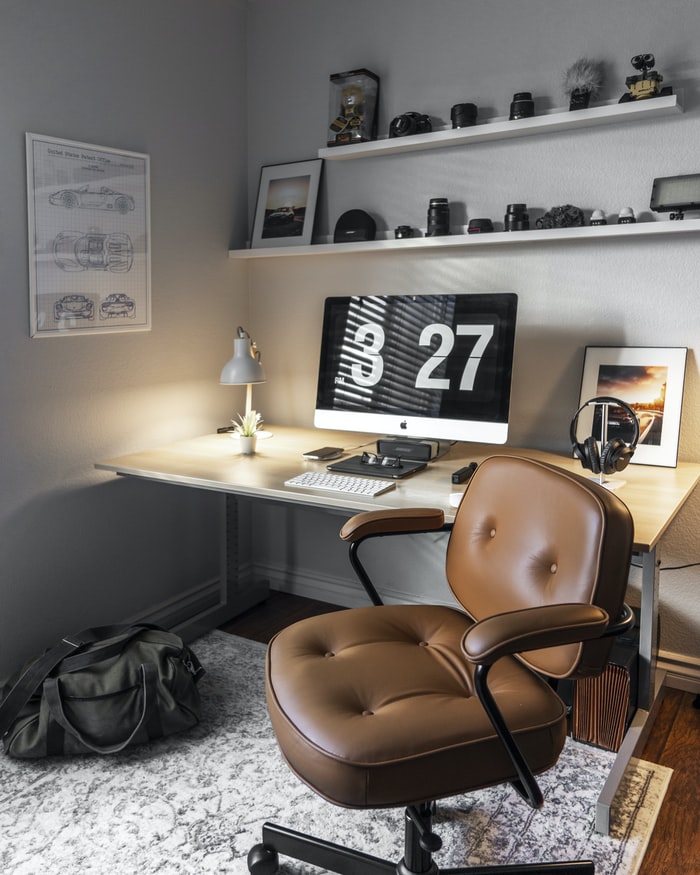 In the wake of the ever-lingering COVID-19 pandemic, an unprecedented block of the workforce has now made the shift to full-time remote work!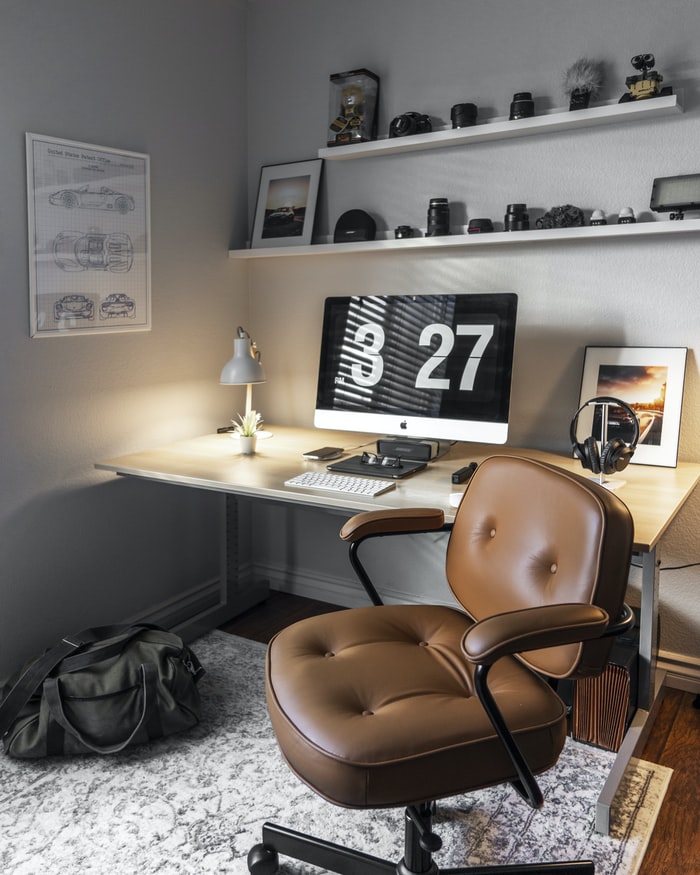 Photos By: Unsplash
In fact, nearly half—about 42 percent—of the labor force in the U.S. is now cranking out their hours from the home office. But, despite this, many of us are still taking calls from the dining room table and posting up with our laptops on the couch. And we all know these solutions aren't viable in the long-run!
Luckily, there are a few simple things you can do to transform your home workspace into a highly professional oasis of productivity. Here are some quick, easy and highly effective ideas.
1. Create the Perfect Video Backdrop
Video calling is the new norm, so the first thing you want to do when spiffing up your home office is to create a comfortable, professional place to take your Zoom calls. There are so many great ways to create a video conference backdrop that commands attention and helps your co-workers take you seriously. Consider hanging peel and stick wallpaper or inspirational wall decals to create a fun yet professional look behind you. Curtains and room dividers can work well, too. Don't overwhelm the frame. Keeping it simple and tidy will show that you're on top of things! Consider reading some writing services reviews and essay pro reviews to find an essay writing service that could make your life a little easier!
2. Use Room Dividers for Different Workspaces
Speaking of room dividers, they can do wonders in helping you create well-designed spaces for every task. For example, you can divide a big office into areas for video-conferencing, reading, working on the computer or doing hand work, such as sketching at a drafting table or easel. This will help you create designated nooks where you can focus on the task at hand without getting distracted.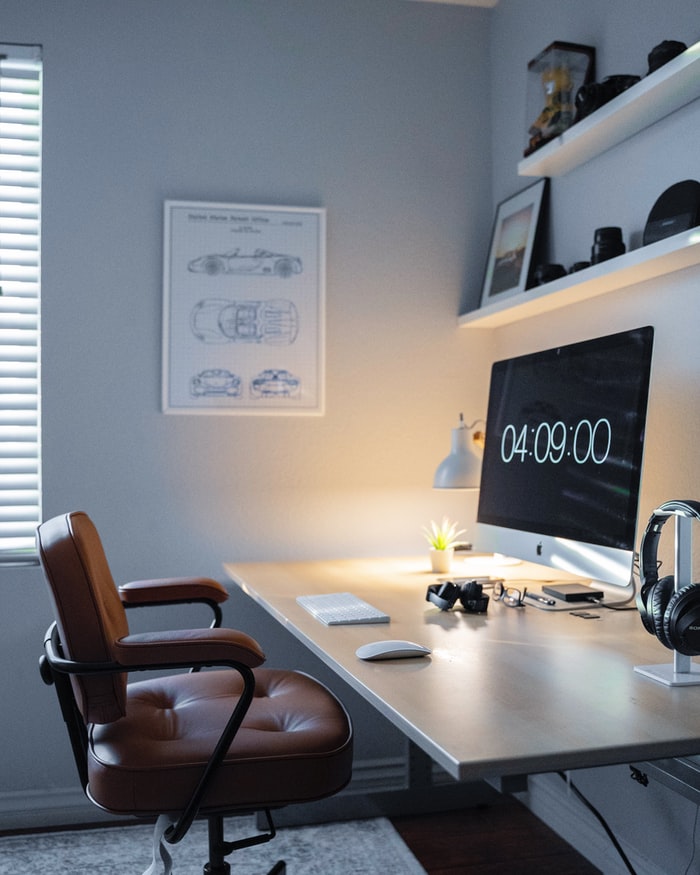 3. Choose Colors with Intention
Did you know that in corporate environments, décor schemes are often chosen with color psychology in mind? Indeed, the pros say that certain paint colors can elicit specific responses that can help you leverage your environment for good. For example, blue can help you be more productive and may even enhance mental focus and clarity. If your workspace should encourage creativity, a crisp, clean palette can help your best ideas flourish without distraction. On the other hand, a bright and fun scheme may get your wheels turning.
4. Hang Your Diplomas and Certifications
When working from home, it's easy to forget how much you've accomplished to get where you are professionally. Hanging your framed diplomas and any special certificates or awards can really help give your home workspace a professional, accomplished aesthetic. Pro tip: Make sure you hang your most impressive documents so they're clear in the background when taking video calls!
5. Hang Functional Wall Art
Stay on top of every task and make your walls more vibrant at the same time with functional wall art. Some of our favorite ideas include hanging a custom whiteboard or calendar to keep track of tasks and installing multiple world clocks so you can see time zones across the world. You can even order custom wall decals that are tailored to your specific needs to help you stay on top of your professional goals.
6. Invest in New Lighting Solutions
If you tend to do a lot of work off the computer-such as reading hard-copy books, putting together prototypes, sketching out ideas or looking at tactile samples of things—then you need to invest in good-quality task lighting. This can make a massive difference in the quality of your work because the right lighting can illuminate tiny nuances while also easing stress on your eyes.
7. Bring in the Coffee Maker and Snack Drawer
You don't want to get into a position where you don't take breaks from the office—occasionally, stepping away from the computer is very important to your productivity! However, if you tend to drink multiple cups of coffee or snack a lot throughout the day, it may save you some time and effort to move your coffee maker and snack stash into the office so you have immediate access to vital sustenance throughout the workday. Just remember to take periodic breaks, too! Neighborhood walks or quick stretching sessions are crucial to your success.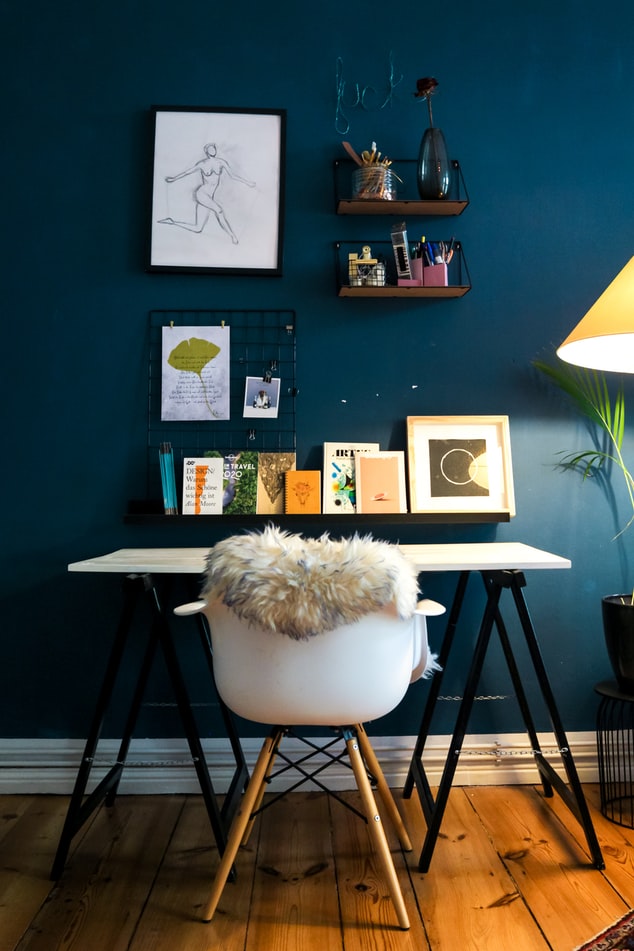 8. Make It Private and Soundproof
This is so important for those of us who work with children at home and live in bustling neighborhoods. Nothing says unprofessional quite like screaming, banging or loud music in the background, so you want to do your best to soundproof your space. There are a few simple ways you can do this without spending thousands of dollars, including caulking spaces in your drywall and adding acoustic boards. You also want to make sure your space is private enough so that roommates and family members don't disturb you when you're working on important things. A simple "do not disturb" sign may be all you need!
9. Fill the Shelves with Resources
At work, you probably have access to tons of professional resources, including books, magazines, manuals and software. Work on building your own professional library within your home office, stocking your shelves with the industry essentials and references that you use every day. This is another great way to create a professional video backdrop that will impress the higher-ups at work!
10. Ditch the TV and Comfy Furniture
Nothing says "unprofessional" quite like having a big-screen TV and an oversized sofa in the background of your video conference! Make sure your home office is made for working, not lounging, so you're not tempted to slack throughout the day.
As the year comes to a close, we may not have many answers about the future, but we do know one thing is for certain: Working from home is probably going to be a big part of it. Whether you go back to the office part-time or plan to stay fully remote for the foreseeable future, having a comfortable, productive office space at home can help ensure that you reach your professional goals, no matter where you work.