Accessorizing for a French Country Farmhouse Feel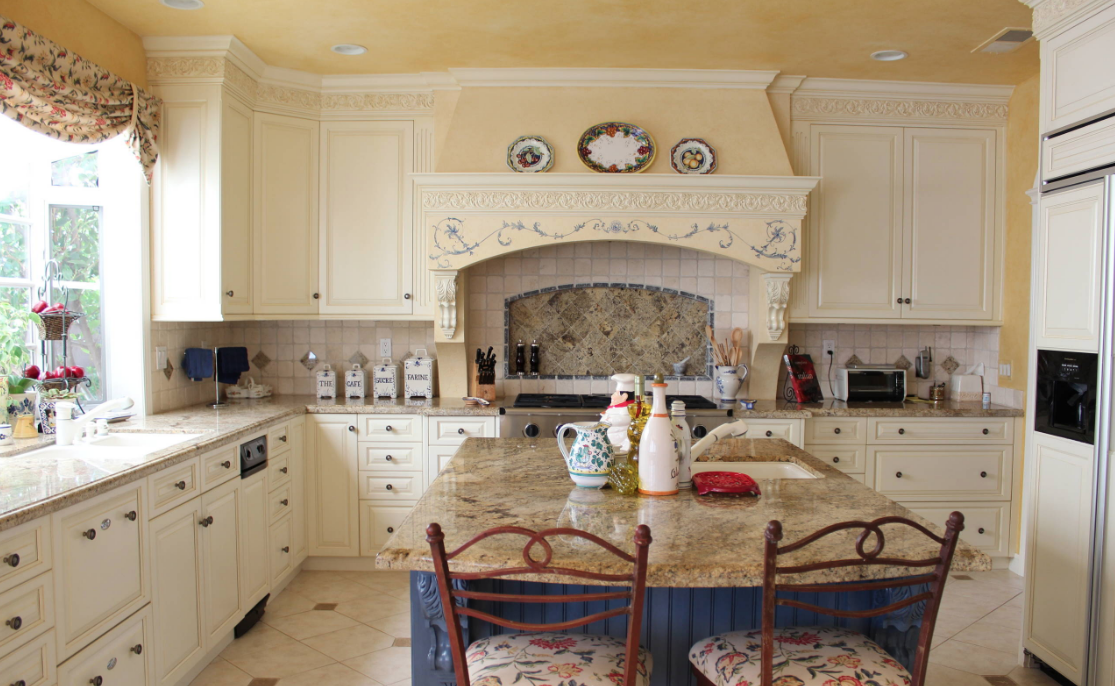 The French style is meant to reflect the pastoral colors and feelings of the French countryside. Pale, subdued colors mix with organic details such as stone and wood to create a natural, relaxed design that maintains sophistication and charm.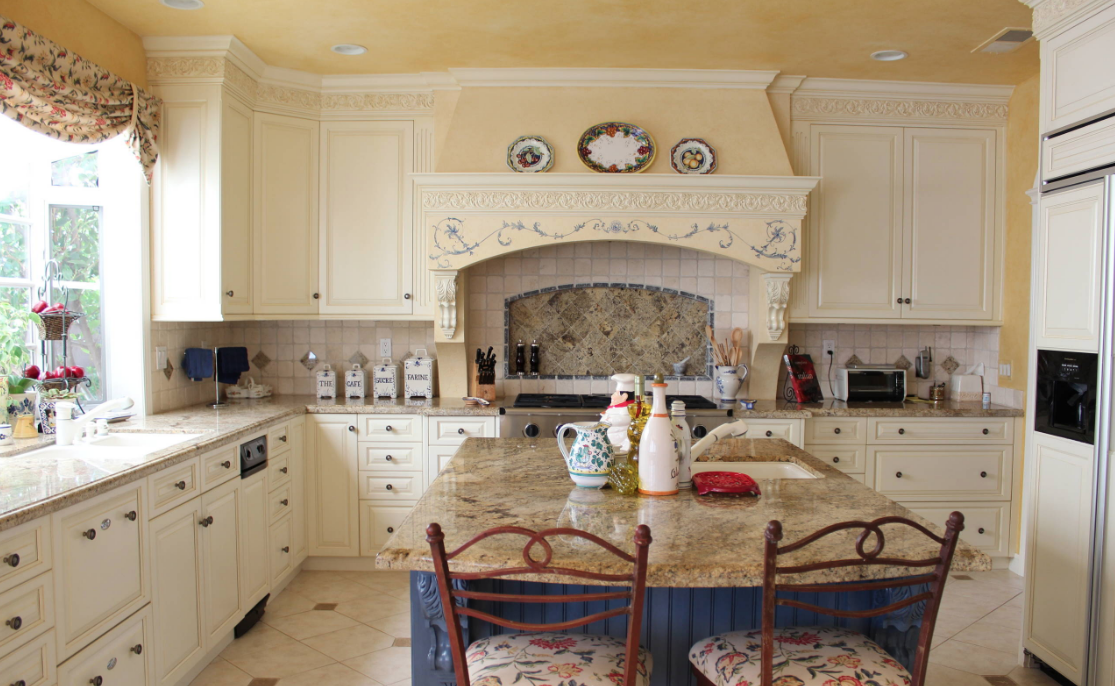 Photo By: Houzz
These foundational elements can be carried through the entire house. However, there is still plenty of variation so each room has its own personality. Here are some simple ways to add the French country style into any home.
1. Accessorizing the Kitchen
A French country kitchen is imbued with an effortless elegance mixed with the rustic elements of county living. There are many design choices that mimic the alluring and homey feel of a cottage out on the French countryside. The unique appeal of copper pots and pans adds a French flair to any kitchen. Displaying the cookware overhead or hanging it on the wall can emphasize the arcadian charm. High ceilings accentuated by exposed beams open the room up for a spacious and classy look. The addition of an island in the middle of the kitchen promotes a sense of familial closeness. An island with a soft color contrast can also break up the room and be used to highlight the overall design. The French style stove is often reminiscent of family gatherings around the fireplace so it can be accented with stone or brick and a decorative hood to really round out the history of country living. Finish the look with tastefully placed flowers and crown molding around the ceiling.
2. Accessorizing the Bedroom
The appeal of a French country bedroom lies in its gentleness and muted textures. Ornate details in lamp bases and mirror frames add a touch of refined elegance and interest. Vintage chandeliers and bed canopies can add a unique charm supplemented by layered pillows and soft colors. Often pale blues and peaches are used along with toile patterns of red and cream or blue and cream. White or natural wood furniture with a delicate curve and weathered ceiling treatments provide a relaxed sophistication. The tastefully layered fabrics and muted colors come together for a restful environment.
3. Accessorizing the Bathroom 
Wall sconces and chandeliers are great for lighting up the bathroom and maintaining a French country style elegance. Like the copper pots and pans, a copper bathtub adds distinction to the room and can end up being a very nice design centerpiece. Clawfoot tubs also fall under the French style and certainly have a polished charm. Floral arrangements and antique furniture finish up the look and can flow nicely with rustic elements in other rooms.
Overall, the French look is light and airy; it has a very relaxing energy and a simple grace. The natural elements can be rejuvenating, much like a leisurely stroll across the French hillsides. It is a timeless style that works in any room while maintaining individuality. No matter where a house is situated, adding a bit of French style can give it a cozy essence and bring touches of nature indoors.