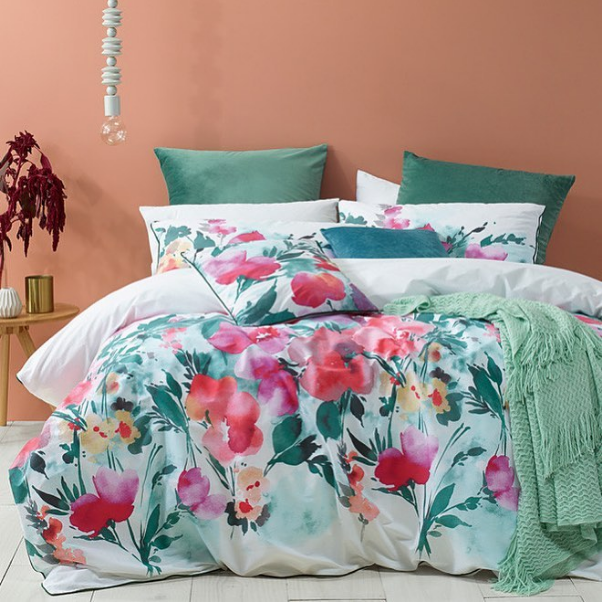 Think of a quilt cover as the centrepiece of your bedroom. The eye is naturally drawn there as someone enters the space. Whether you've chosen it first and built around it or added it in as your last style choice, there are many aspects to consider that will help you decide which quilt cover is right for you. While it's important for the doona cover to work with your bedroom, it doesn't have to be too 'matchy matchy'. Before getting started, a note on quality: if you've got a nice mattress and bed frame, you don't want to let your room down with a cheap, poor quality doona cover, so check out Manchester Warehouse for the best quilt covers Australia has to offer.
What's Your Style?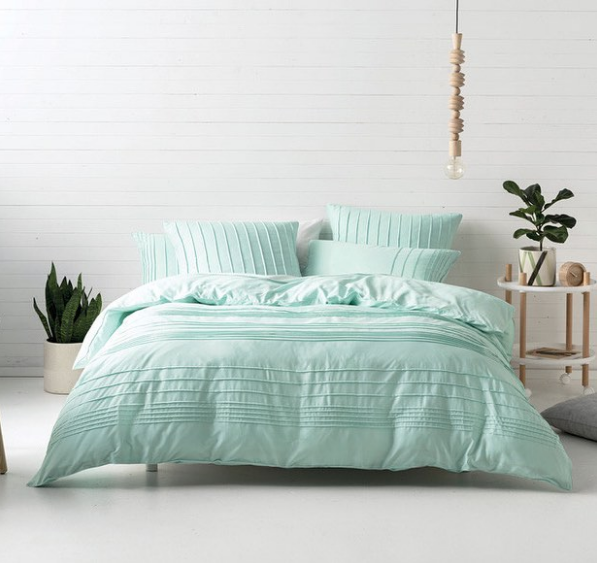 Before you begin shopping for quilt cover sets, assess your bedroom's (or future bedroom's) style and think about what would suit. If you have a modern chrome bed, for instance, you probably shouldn't have a frilly turn-of-the-century floral bedspread reaching down to the floor. Consider if you want to go edgy, bright, eclectic, provincial, moody, urban chic or something else entirely.
Your cover shouldn't clash with your style so before you begin shopping, develop an idea of what you want. If you have a relatively blank room or no real concept of what you like, look on sites like Pinterest and develop a mood board to gather images of the kind of quilt covers you like. Take note of any trends in your board like a colour, fabric or feature (i.e. tassels) that keeps repeating – this should give you a starting place when shopping.
Pairing Colours and Patterns like a Pro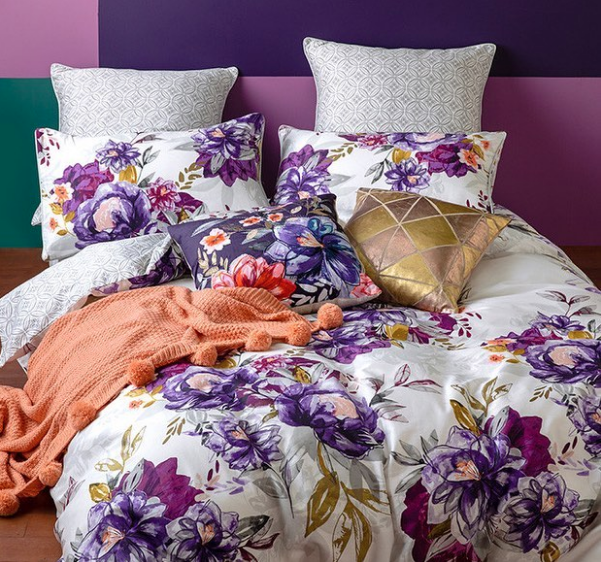 Complementary colours are tones that sit on opposite sides of the colour wheel and look good when paired together. You should roughly aim for these combinations but there's no need to spend hours studying a colour wheel. Consult a friend or look at home design magazines and websites to find colours you like and see what they're paired with. Some trusty colour combinations are:
Navy and blush

Yellow and light grey

Khaki and white

Coral and turquoise

Forest green and lavender
Think about the colours and patterns currently in your bedroom to make sure your decorate your bedroom the right way. Consider the textures of your bed frame. Is it fabric, wrought iron, wood or chrome? Do your curtains make a statement or are they subtle? For a room with patterned carpet or walls, we recommend a block colour quilt cover to balance out the space. If your room is fairly neutral, make it look designer created by adding an element of texture or pattern. The aim for each room you design or decorate should be to achieve balance.
Texture and Size: Getting it Right the First Time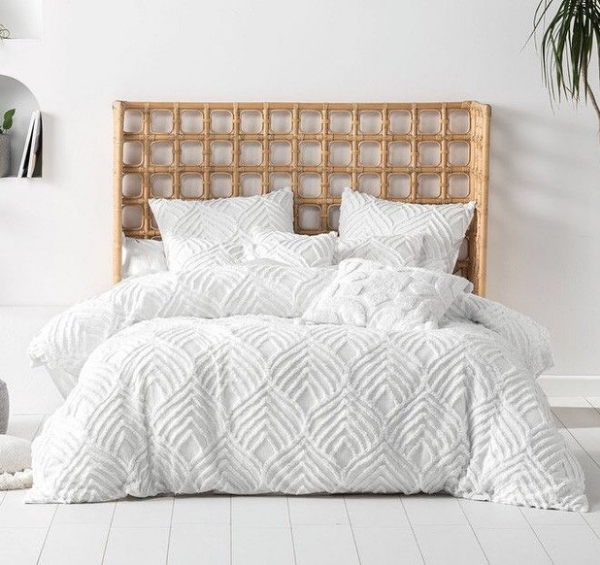 Regardless of your bed's dimensions, it's always advisable to go up a size for your doona cover to hide the sides of your bed as well as giving a feeling of luxury. A potentially great bedroom can be ruined by oversized furniture or simply too many items crammed into a small space. Consider what will look natural in your room. Can it realistically fit a king or super king bed? As a rule, remove anything from your bedroom that doesn't have to be there (except for decorations). An overcrowded room eliminates the sense of sanctuary and repose that should be an integral part of a well thought out bedroom.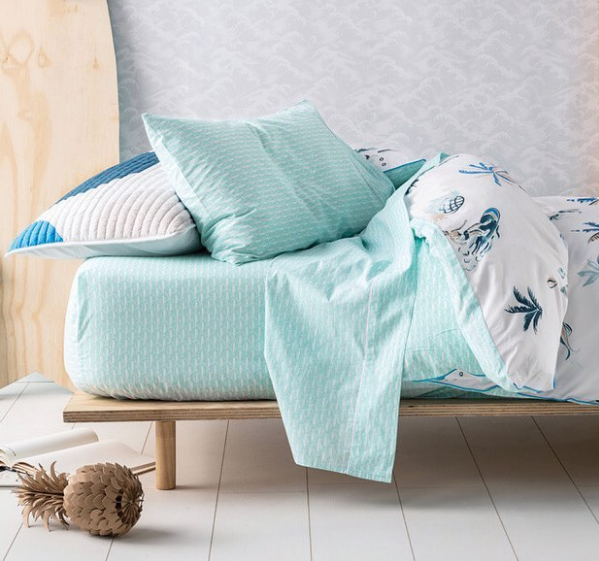 While more subtle than colour, texture can go a long way to revamp your bedroom and  add depth and interest to your room, creating a more sophisticated look when different textures are expertly layered. Get yourself acquainted with good examples of texture layering by browsing a range of styled bedroom photos from Manchester Warehouse. If you are shopping in store, don't hesitate to double check your colour and texture choices with the sales assistant, or if shopping online, it's okay to follow similar combinations to what pictures have suggested.
Accessorising Your bed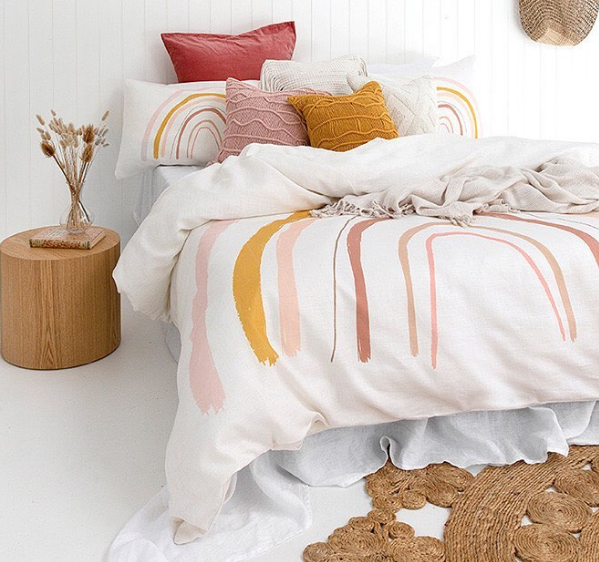 Decorating your bed is one of the best parts about getting a new quilt cover and it can literally transform your bedroom. Start with your basic cushions and throw rug, using the tips above to determine flattering colours. The smaller the bed, the less pillows you should have. The arrangement doesn't have to be symmetrical or overly neat, but should match your overall bedroom style. For a child's bed you can add stuffed animals, themed sheets or even a canopy.
Equipped with these pointers, choosing the right quilt cover for your space should be a breeze. Start shopping now to find your perfect match!