12 Clever Tricks for Organizing Your Garage
Spring is around the corner meaning its time for decluttering and cleaning out the garage!
The U.S. Department of Energy found 25 percent of those with a two-car garage have such a cluttered space they can't park a car. When your garage is that cluttered, it's hard to know where to start with organization. Fortunately, there are some smart organizational tips to help you get the clutter cleared and everything in a specific place.
1. Reclaim Wasted Space Above Your Garage Door with Ceiling-Mounted Tote Bins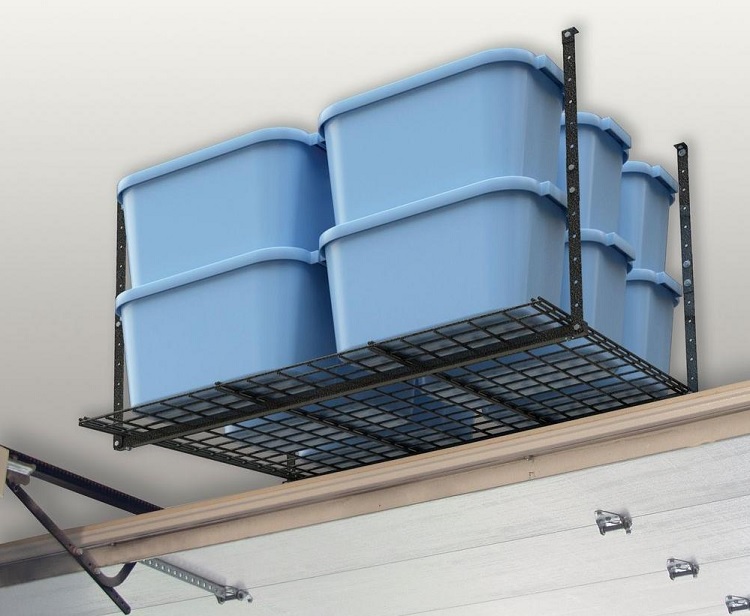 Store items you infrequently use in mounted tote bins. For example, you might put seasonal decorations or camping equipment up high, especially during the offseason. The Home Depot sells a ceiling-mounted tote bin system that installs in one afternoon.
2. Draw a Garage Layout on Graph Paper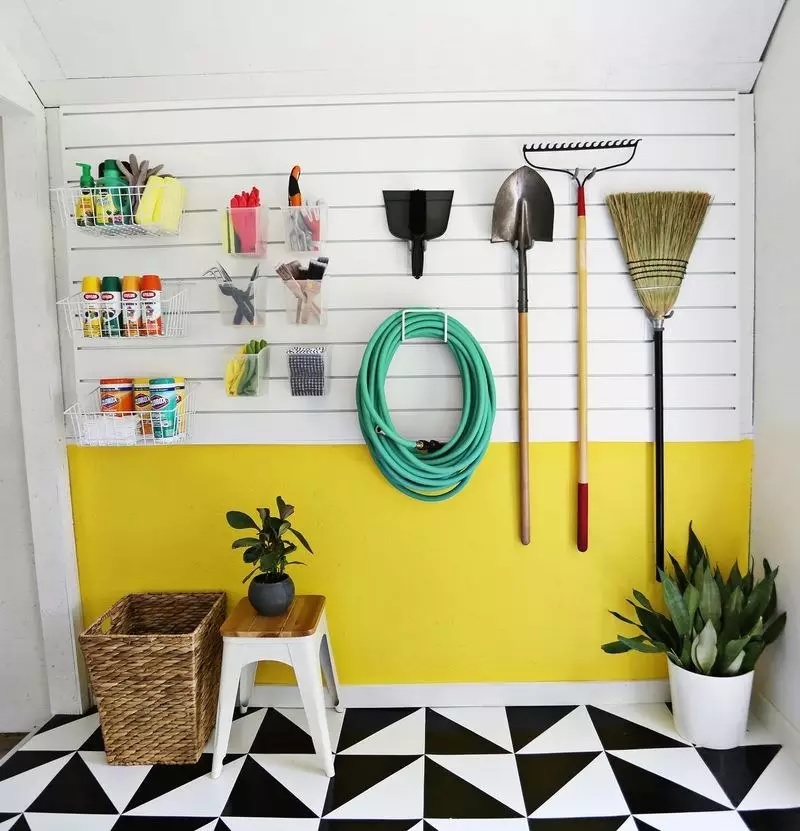 Elsie Larson, co-founder of A Beautiful Mess, suggests creating a garage layout for better organization. Knowing where everything goes before putting it there shows you when you should move items to a new location or even give things away to charity. Grab some graph paper and draw your garage. Plan where you'd like shelving, peg boards, workbenches and other elements. Laying out where items go ahead of time helps avoid mistakes that harm the flow of movement around the area.
3. Corral Sports Equipment into a Flexible-Sided Bin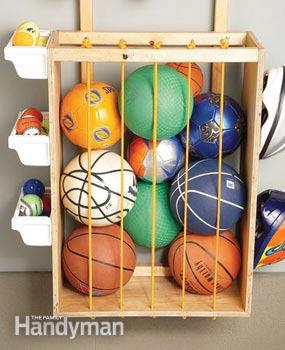 Do your kids come in from play and throw their balls in the corner? The neverending battle of balls rolling around on the floor or scattered where you can't find them when it's time for team practice is maddening. Use a quick wood and bungee cord hack from Family Handyman to clean up the sports equipment clutter. The bungee-cord cage holds larger, loose balls and shelves store shoes, helmets, and smaller supplies. Never experience the frustration of having to jump out of your car while pulling into your garage to move a stray basketball or kickball again!
4. Make a Workbench out of IKEA Odds and Ends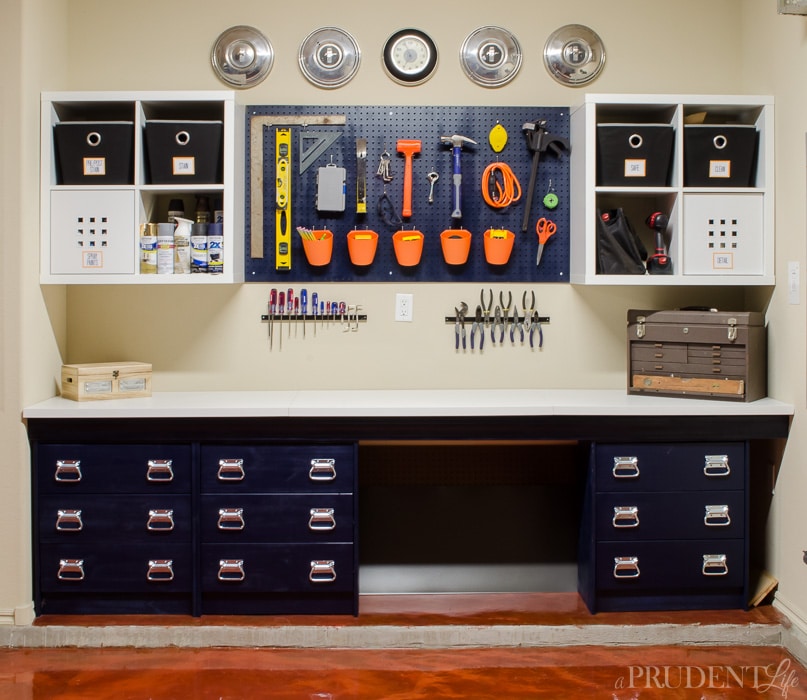 An old chest of drawers becomes a workbench with a few adjustments. You can purchase a workbench, but building your own saves money. A workbench with drawers underneath gives you space for storing tools and work items, such as gloves and extra rags.
Making the workbench is as easy as placing the drawers where you'd like, measuring a worktop and attaching it to the dresser by going up through the top of the chest and into the workbench from underneath. At Polished Habitat, they used discounted laminate countertops and cut them to size.
5. Categorize Items with Plastic Storage Bins and Labels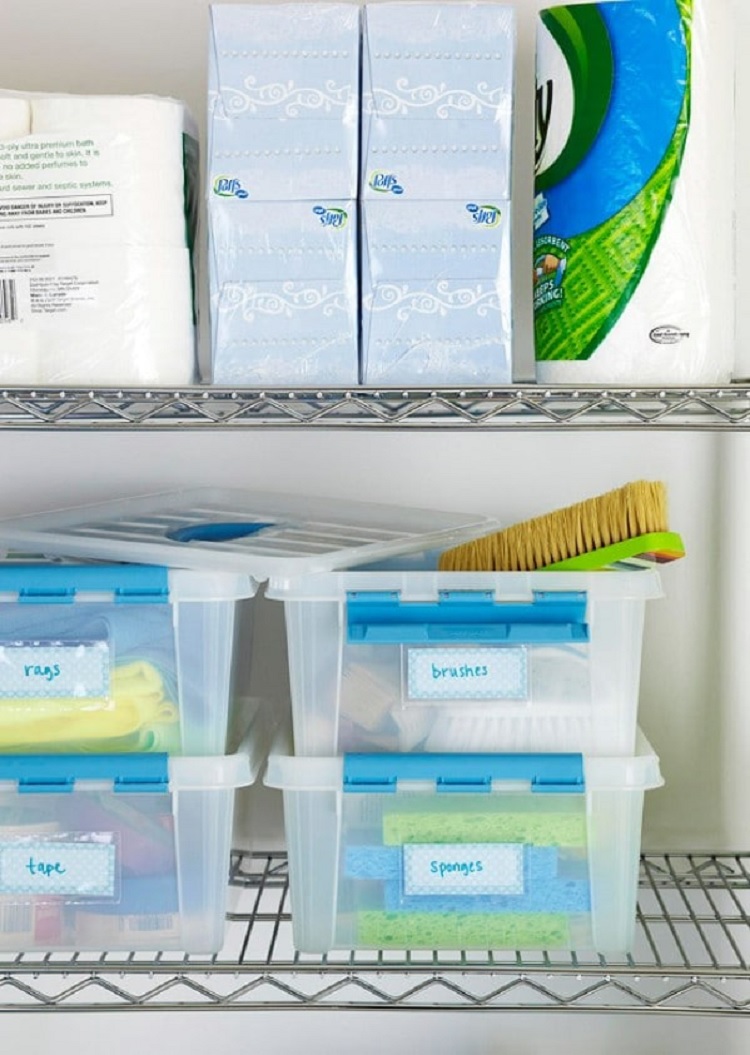 Label everything, so it's easy to find. Clear plastic storage bins on shelves show what's inside at a glance. Labels add to the organization because you always know where to return an item and where to find one. Make sure you turn the clear bins so the label faces outward. DIY & Crafts suggests placing the plastic containers on modular wire shelving, but you could also stack them against one wall. Shelves make each bin easier to access.
6. Add a Pegboard Wall with Hooks and Baskets
A pegboard wall gives you a place to store tools and miscellaneous garage items, such as masking tape. Use hooks and baskets to hang things from. With a permanent marker, outline different tools and label the wall itself. If you don't replace an item right away, you'll see where it goes.
You'll need two-inch wood screws, two pegboards and three 48-inch 1″ x 2″ wood planks. Place the first piece of wood at the horizontal center of where you want your pegboard, making sure you secure it with screws into a stud. Use a level to ensure the board is straight. Place the other two boards at the top and bottom of the area you'd like to put your pegboards. Keep in mind you want to secure each piece to studs, so you may need to move the base slightly in.
Positively Splendid suggests horizontal placement and securing the pegboard with wood screws to the base every few holes around the edges.
7. Hang a Garden Tool Storage Rack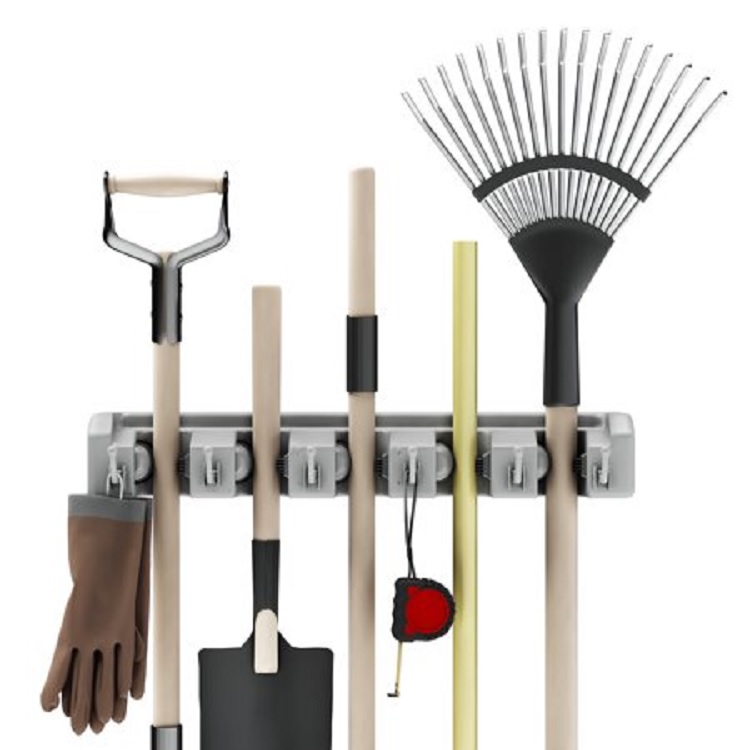 Walmart and other home-improvement stores sell space-saving storage racks for gardening tools. Screw the rack into the wall and hang your yard tools, such as rakes, shovels and garden hoes.
8. Store Fishing Rods on the Back of Your Garage Door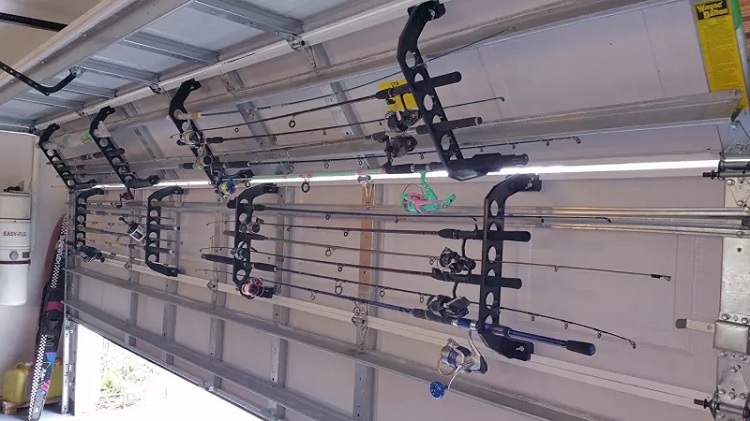 One brilliant space-saving hack is to maximize underused areas. The back of your garage door is an excellent location for storing long items such as fishing rods. If you don't want to use the racks on the back of your garage door, they also work on a standard wall. This garage rack from Amazon clamps on the back of the door, making it easy to install and remove without any tools involved.
9. Add Storage Lockers Near the Entry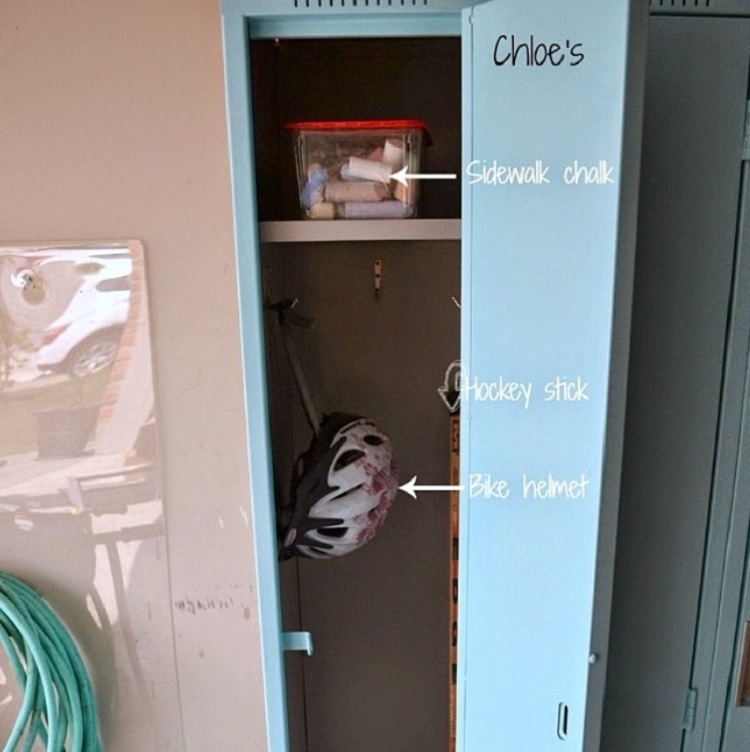 Garages often get messy because kids run in from sports practice or school and dump everything at the door. Organize the entry area by adding storage lockers for each kid. The locker might be messy, but closing the door hides the clutter away. Get ideas for where you might place items inside the lockers from an Instagram post by 100 Things to Do.
10. Hang Bikes From Ceiling Hooks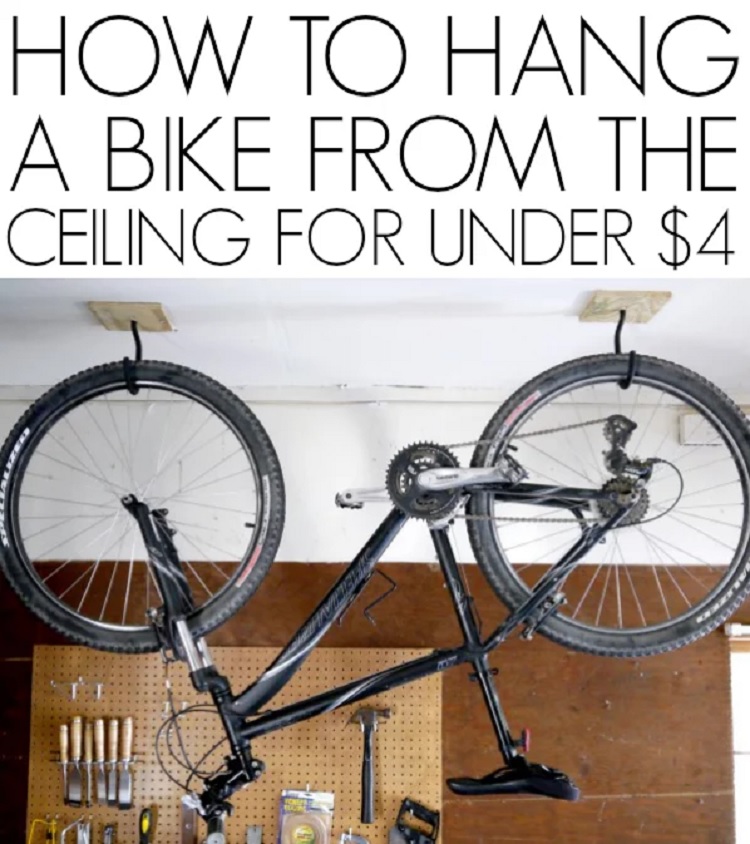 Bikes take up a lot of floor space unless you hang them from the ceiling. You don't have to spend a fortune to get the bikes up out of the way. A couple of inexpensive hooks work well for moving them up and over to the side of the garage, as this tutorial by Creating Really Awesome Fun Things demonstrates. You could also choose a spot on the wall and hang bikes down the wall for kids and other people who would have trouble reaching them up high.
11. Organize Screws and Nails With Gum Containers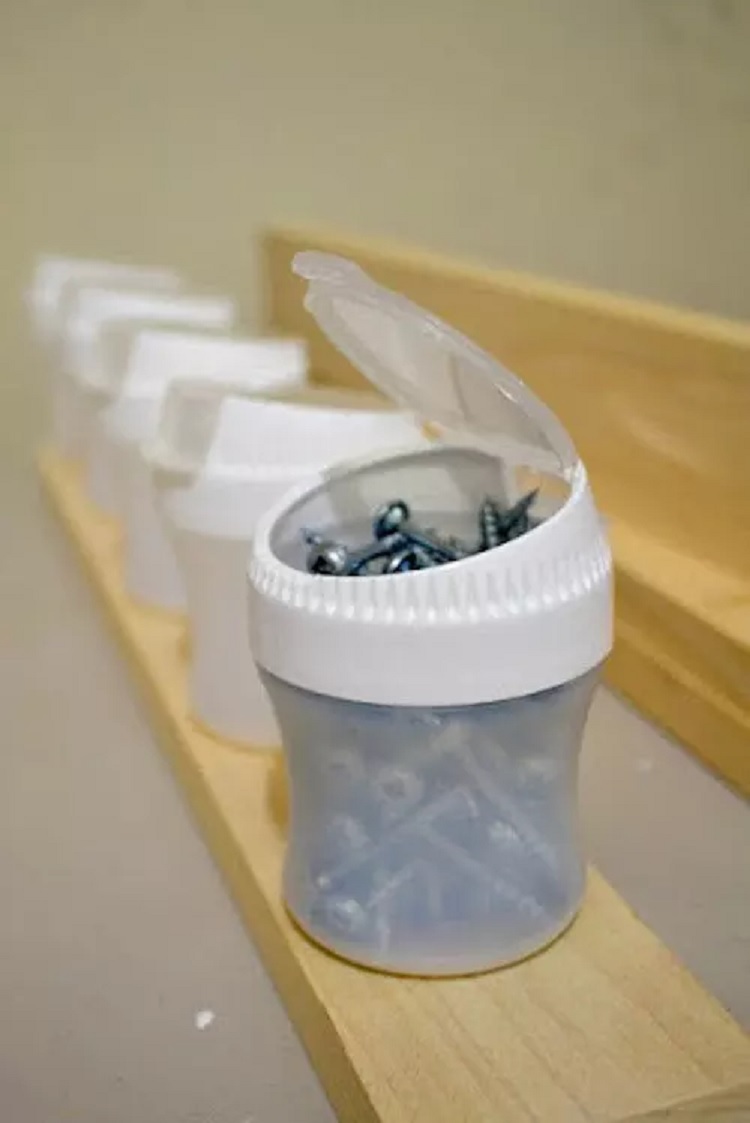 Save gum containers and use them to organize screws and nails. Label each container with a permanent marker to show the size and what the item is. Labeling allows you to see what you have at a glance when working on a project. The Ugly Duckling House blog recommends using large, round gum containers for even more storage.
12. Store Paint and Cleaners in a Shoe Organizer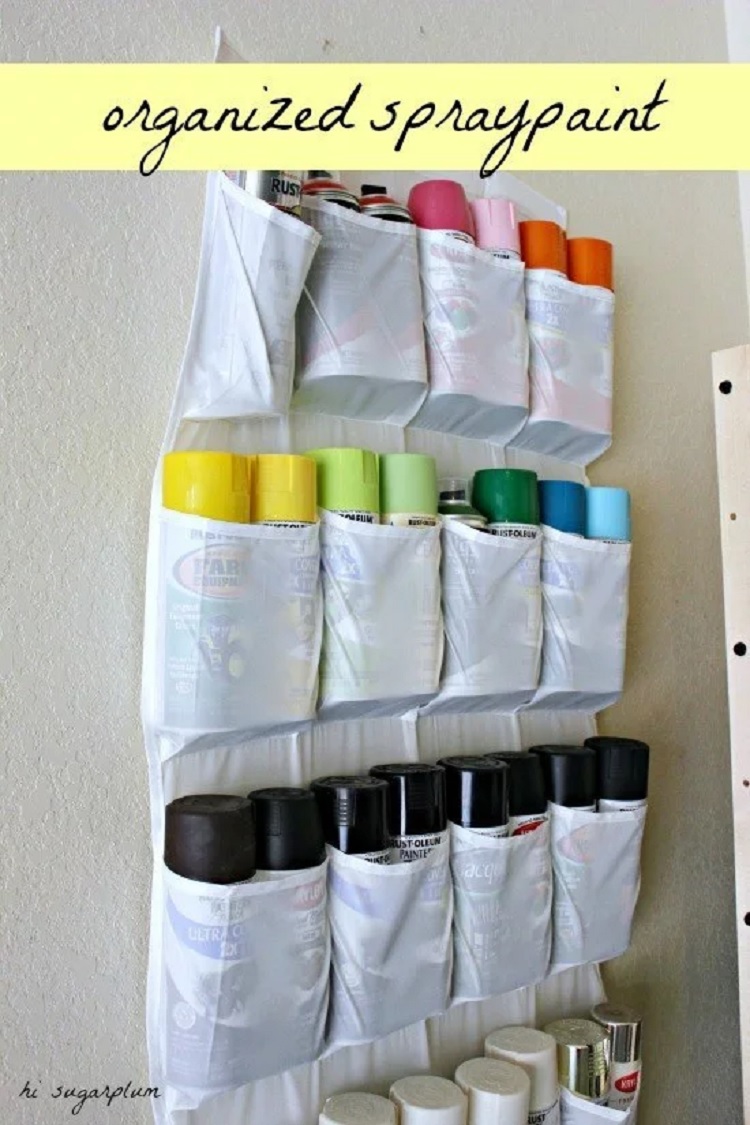 A hangable shoe cabinet, like in this idea from Hi Sugarplum, gives you a place for storing cans of spray paint and cleaners. Hang the organizer on the wall or the entry door to the garage. The back of a cabinet door is also a great storage place for an organizer.
Get Creative
Look for ways to store items in creative ways without spending a fortune. Use old crates turned on the side as a shoe rack or turn cut PVC pipe into holders for rakes and other yard equipment. Organizing your garage probably isn't a weekend project, but an ongoing effort that evolves over time.