5 Unique Lighting Ideas for Your Kitchen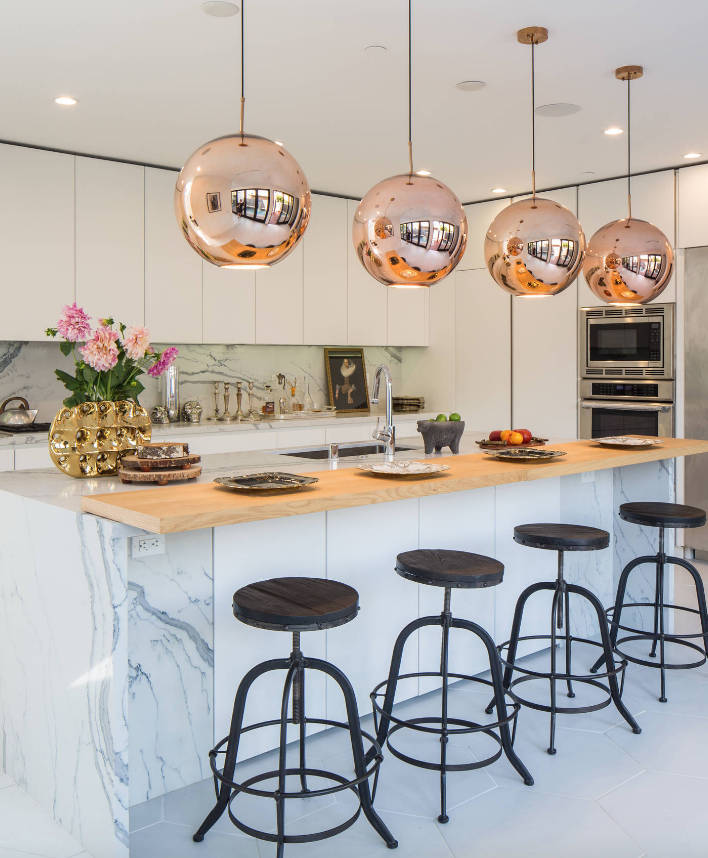 These beautiful lighting ideas are bound to change the way you feel in your kitchen. Keep reading!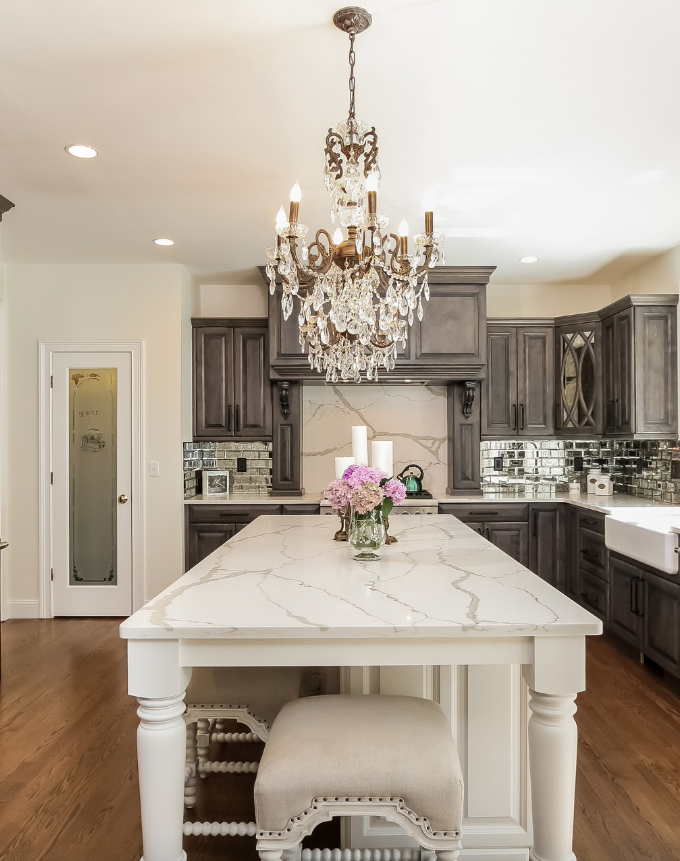 Photo: EHL Kitchens
Your kitchen is the hearth of your home. It's where you spend a large amount of your time, and is a gathering place for your family. So it only makes sense to invest in making your kitchen one of your favorite rooms in the house. Lighting can play a big role in the aesthetic and design motif of your kitchen. Here are five unique kitchen lighting fixtures & ideas for you to try in your home.
Chandeliers
Chandeliers are the ultimate accent lighting piece for your kitchen or dining area. Chandeliers make a statement no matter what they look like, and there are a number of different styles you can choose from. To find the right chandelier, first you need to determine your style. Most chandeliers contain glass, crystal, and, of course, light, but they can be glamourous, classic, decadent and so much more. Or, some chandeliers have more rustic features, like wooden accents, or metallic framing for a luxury kitchen look. No matter what kind of statement you're looking to make in your kitchen, you'll be able to find a beautiful chandelier to complete your dream.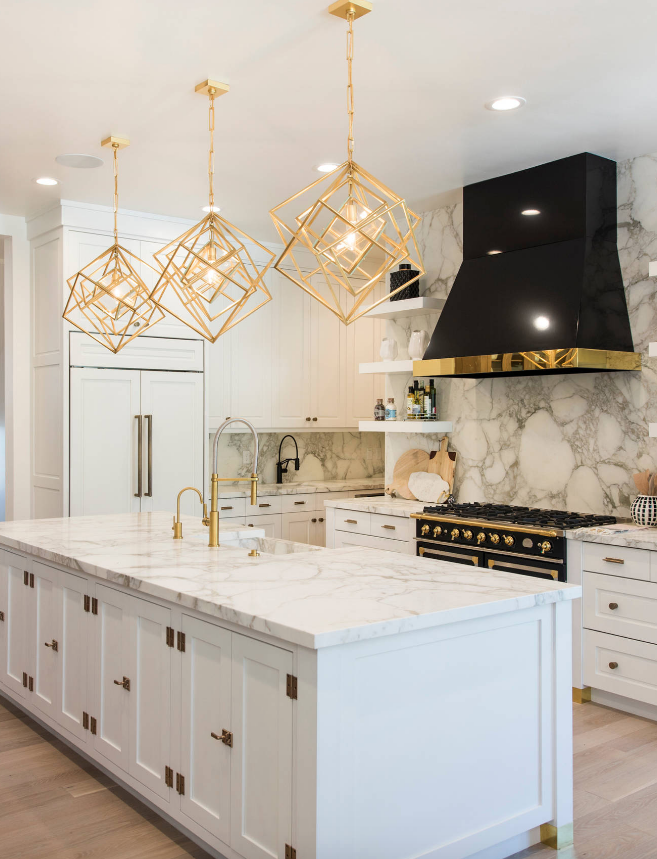 Photo: Designs by Craig Veenker
Under-Cabinet Lighting
If you want to modernize your lighting without doing a major design overhaul, then under-cabinet lighting, or task-lighting, is an excellent option. A perfect option is a black track lighting that offers a great contrast to the ceiling. Under-cabinet lighting is easy to install, and can be placed under any cabinets in your kitchen area. You definitely want to make sure you place it near primary food preparation areas, as well as near the oven and stove. Under-cabinet lighting is a completely non-invasive lighting fixture option, and can be installed in your home in less than a day.
Pendant Lighting
Pendant lighting is another trendy option in kitchen designs of today. Pendant lighting works best when its hung over key focal areas, such as a dining room table, a kitchen island, or a bar.
Pendant lighting is available in a variety of sizes in styles. You can use one big fixture to light a focal area like the dining room, or a number of smaller fixtures to light counter space in the kitchen itself. Pendant lighting naturally has a more modern look and feel, so if that's the design aesthetic you're going for in your kitchen, they may be a perfect choice for you.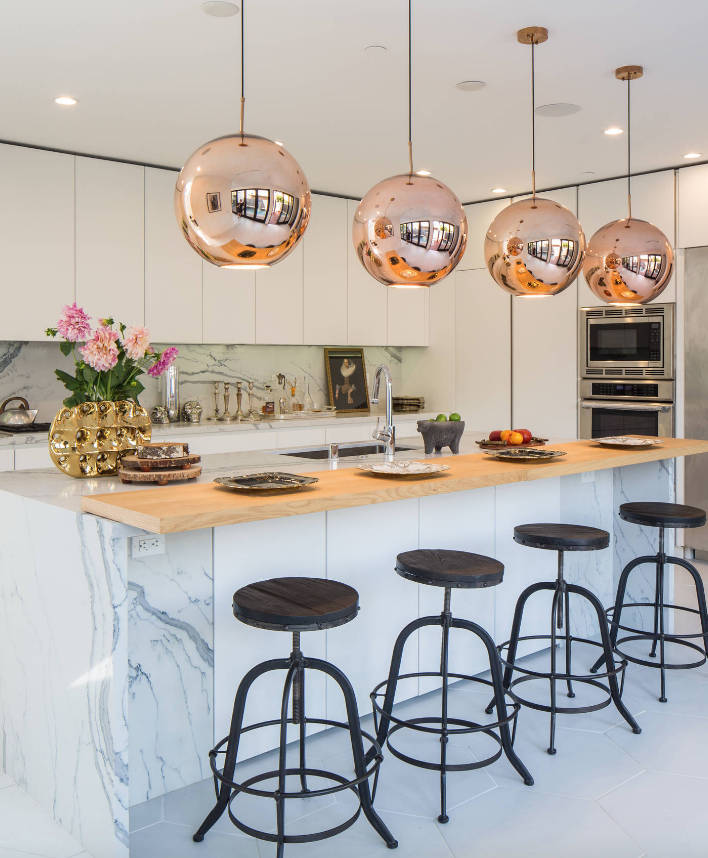 Photo: Jennifer Giersbrook Interior Design
Rustic Bulbs
Another kitchen lighting fixture option that's becoming more and more popular are rustic bulbs that almost look as if they were taken directly from a farm. This style of lighting has become highly popularized in recent years due to its frequent appearance on design TV and home renovation programs. These old-style light fixtures can add some character to your kitchen, and are well complemented by pretty much any design elements. They will make your kitchen look truly unique.
Recessed Lighting
Recessed lighting is a classic kitchen lighting option. It's great for a minimalist aesthetic, since the lights "recess" into the ceiling and do not take up any extra space as a pendant or chandelier light would. Many recessed lighting fixtures also come equipped with dimmer switches, so you can light your kitchen to varying degrees depending on your mood and the time of day.