How to Choose the Right Type of Décor for Your Bathroom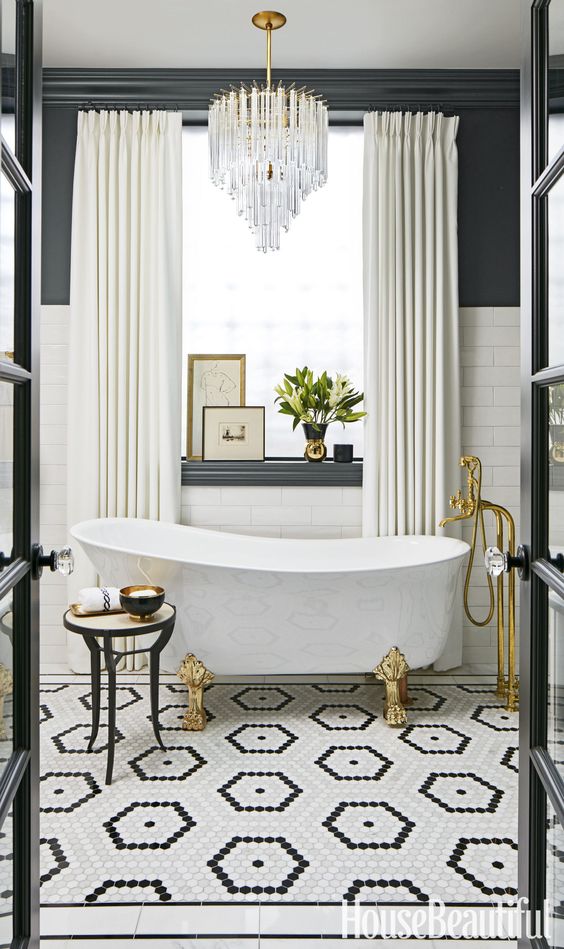 If you are looking to redecorate your bathroom this spring, follow our five steps to a comfortable, stylish, and modernized bathroom!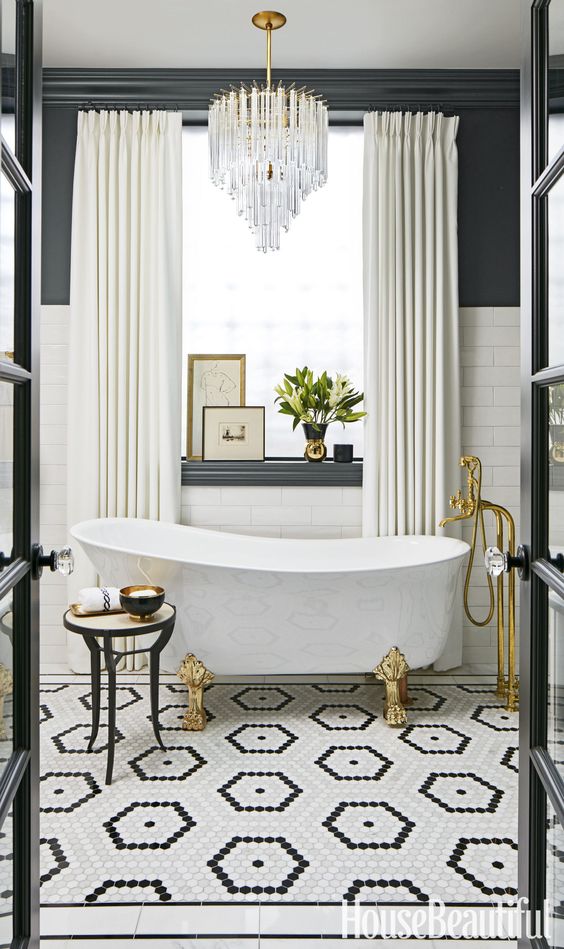 Photo: House Beautiful
If you think about it, our bathrooms are one of the most used spaces in our home. From taking a shower every day, to brushing our teeth, and using the toilet, the importance of our bathroom should never be underestimated. If your bathroom is in need of a little TLC, follow our five steps to a newly re-decorate sanctuary you will love to enjoy!
Choose New Bathroom Instalments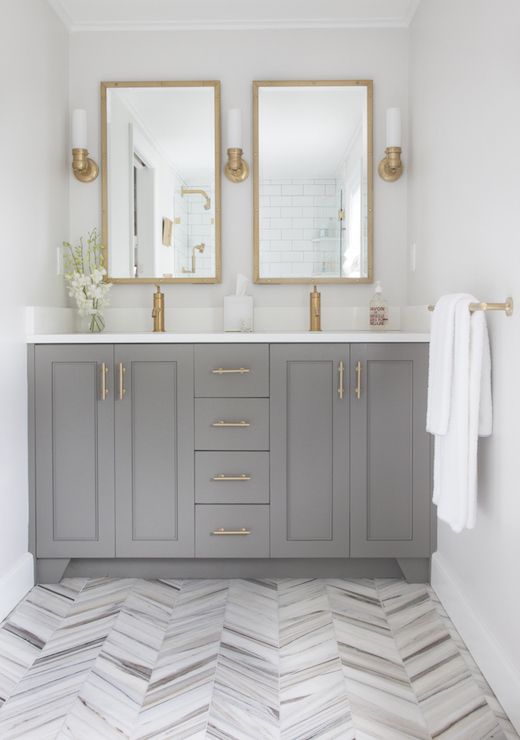 Photo: Decorify
If your vanity, toilet, and shower system are old and out-dated, it may be time to rip them out and install modernized systems that look stylish and also conserve more water. Keep in mind that you can purchase a full bathroom suite or a full shower enclosure with numerous essential accessories included in your package, which may be the cheaper route instead of buying everything separately. My fave place to purchase these things are at Hudson Reed.
Conserve Water and Electricity

Since you are already remodelling your bathroom, why not educate yourself about modernized bathroom systems that will actually help you save more money in the long run? There are tons of options like combi boiler systems that heat water as and when it is needed, and then feed it directly through to the faucet or shower head. There are also systems that work at low water pressure which means you won't need that extra water pump to enhance your home's pressure capabilities.
Accessorize your Bathroom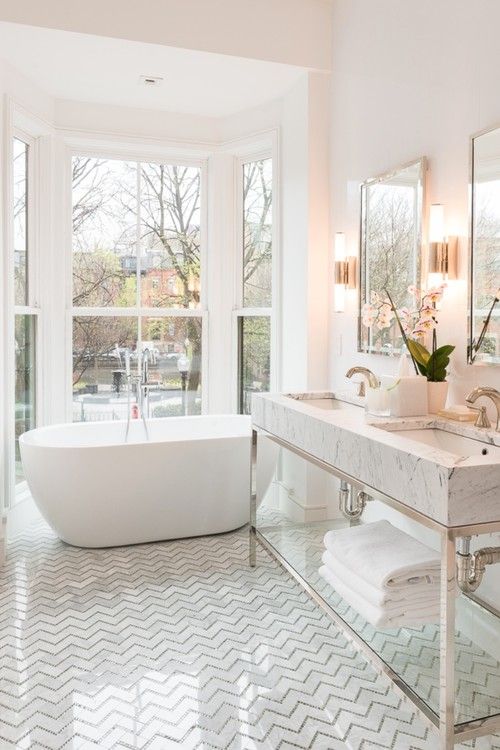 Photo: Bloglovin'
This year, it's all about showing off your metals. That means exposing the pipes under your sink, installing a shiny chrome shower head, as well as adding details like vanity handles and brass chandeliers. Adding a few shiny details to your space is definitely one way to transform your bathroom into a luxurious private sanctuary.
Choose the Right Tiles and Flooring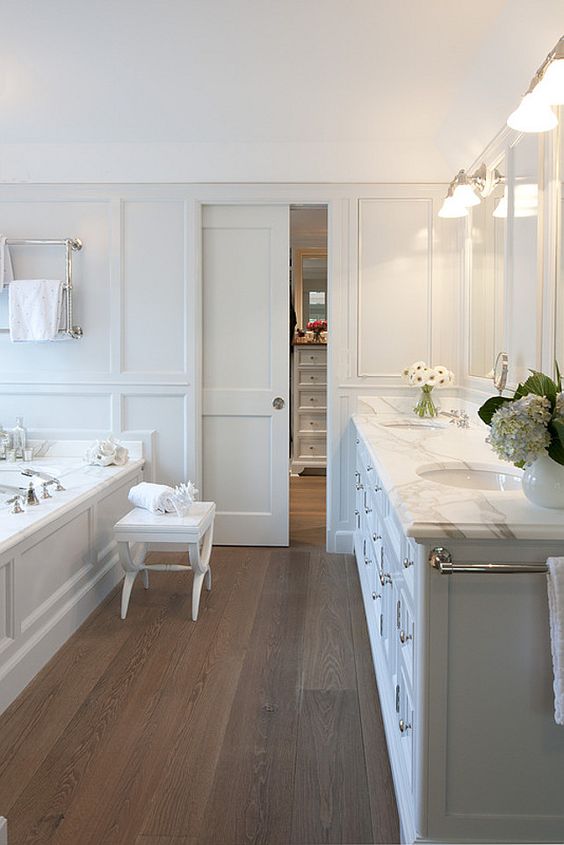 Photo: Decozilla
To make sure your bathroom stays relevant and stylish for a few years, choose monotone hues for your wall and shower tiles such as white and grey marble paired with dark flooring. Dark hardwood flooring has been in style for years and we are seeing it being used more and more in the bathroom. To make this trend work, consider installing laminate flooring that can withstand moisture and humidity far better than real hardwood. This way, you can make sure to extend the lifetime of your flooring.
Choose Monotone Wall Colors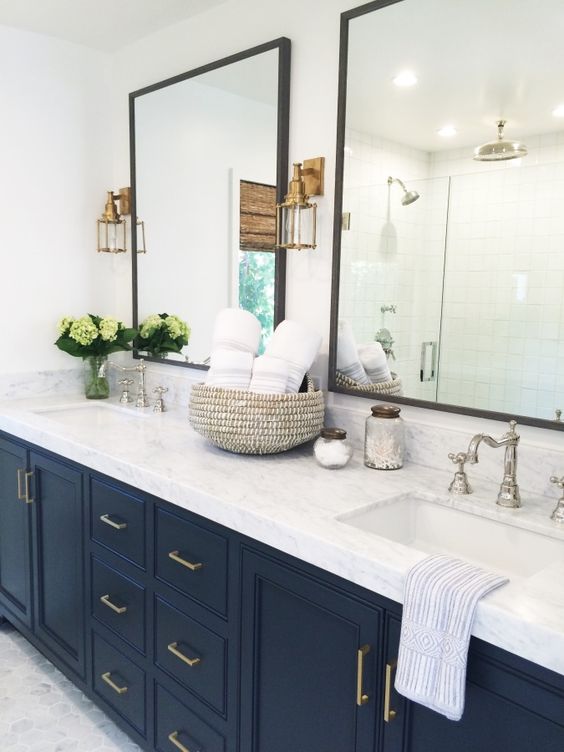 Photo: Style me Pretty
This is one low-cost bathroom upgrade that will work miracles. A thin coat of paint is a great way to refresh your bathroom on a budget and make a HUGE difference to your overall look. Pair your walls with your neutral tiles, choose off-white or dove grey paint and your wallcolor. It will look stunning with black flooring and a beautiful chrome chandelier hanging above. Stay away from wallpaper in the bathroom, it doesn't make a good mix with humidity and it's not very of-the-moment.
Remember to have fun with your décor and not skimp out on luxurious pieces. Marble may be expensive, but when you have little square footage to cover it doesn't end up so expensive after all. Splurge and make this sanctuary your favourite place in your home!