Want to Find Unique Items? Do Your Shopping Online and Support Small Business' + Check out My Fab Finds!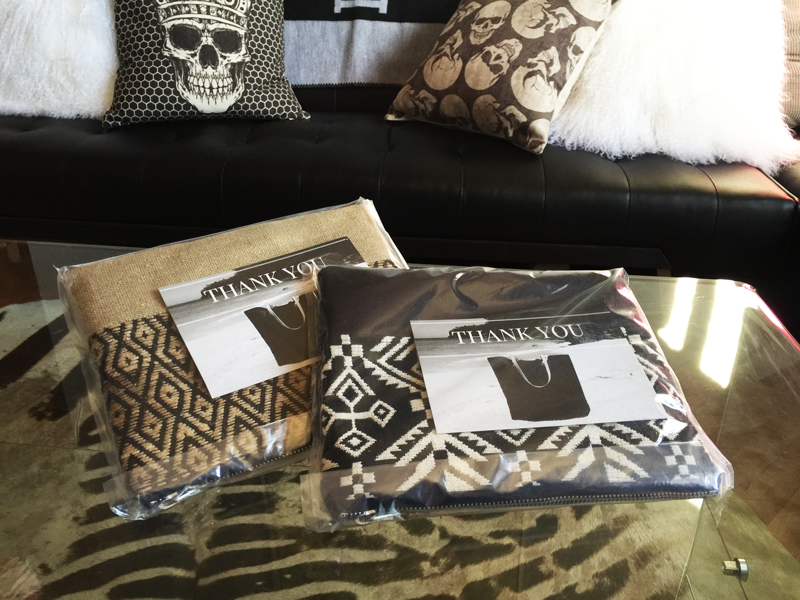 Find unique items by shopping online at small business boutiques! This holiday season, I scoured the web in search of something unique and exclusive. Check out what I came across!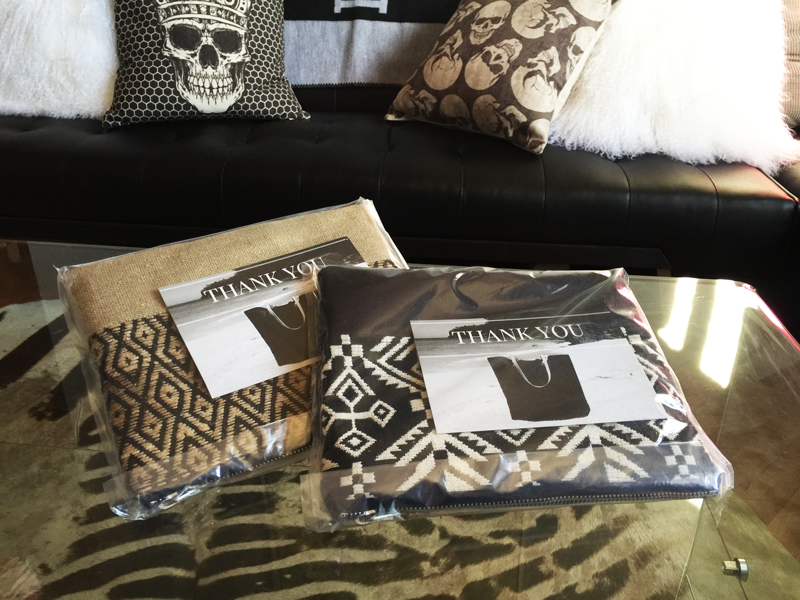 I am always on the look out for something that can't be bought at retail stores and something that doesn't look mass-produced. This holiday season, instead of shopping at large retailers I decided to support PayPal small merchants to purchase my gifts and holiday essentials like new clothing, home items, and accessories.
Shopping online at small, privately owned shops is so convenient and it's a great way to support the economy. Why purchase your gifts at large retailers (that everyone else has!) when you can buy unique, handcrafted items at privately owned online stores? From housewares, clothing, accessories, and even jewelry, there are a ton of small businesses offering these things.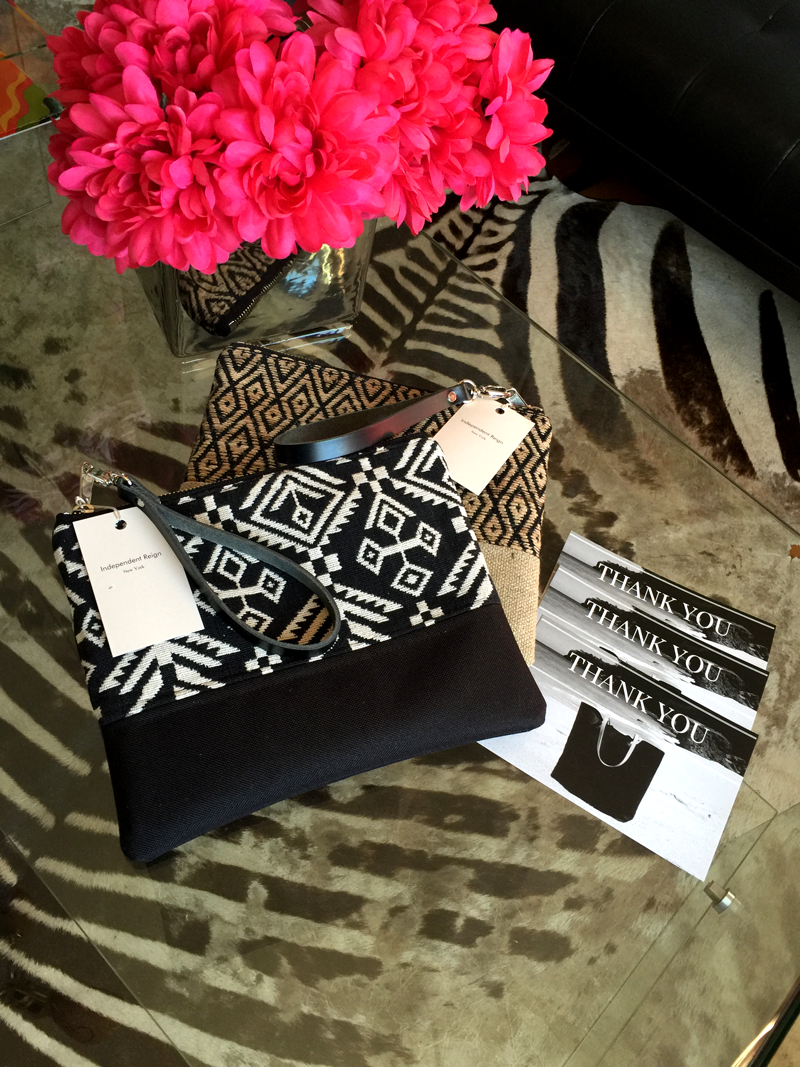 So I stopped at Independent Reign – a small boutique based in New York City. They carry tote bags, wristlets, bucket bags, leather bags, and small leather accessories. All of the items are hand made by the (very friendly!) shop owner, Janine. After browsing her beautiful store I decided to order two gorgeous clutch bags.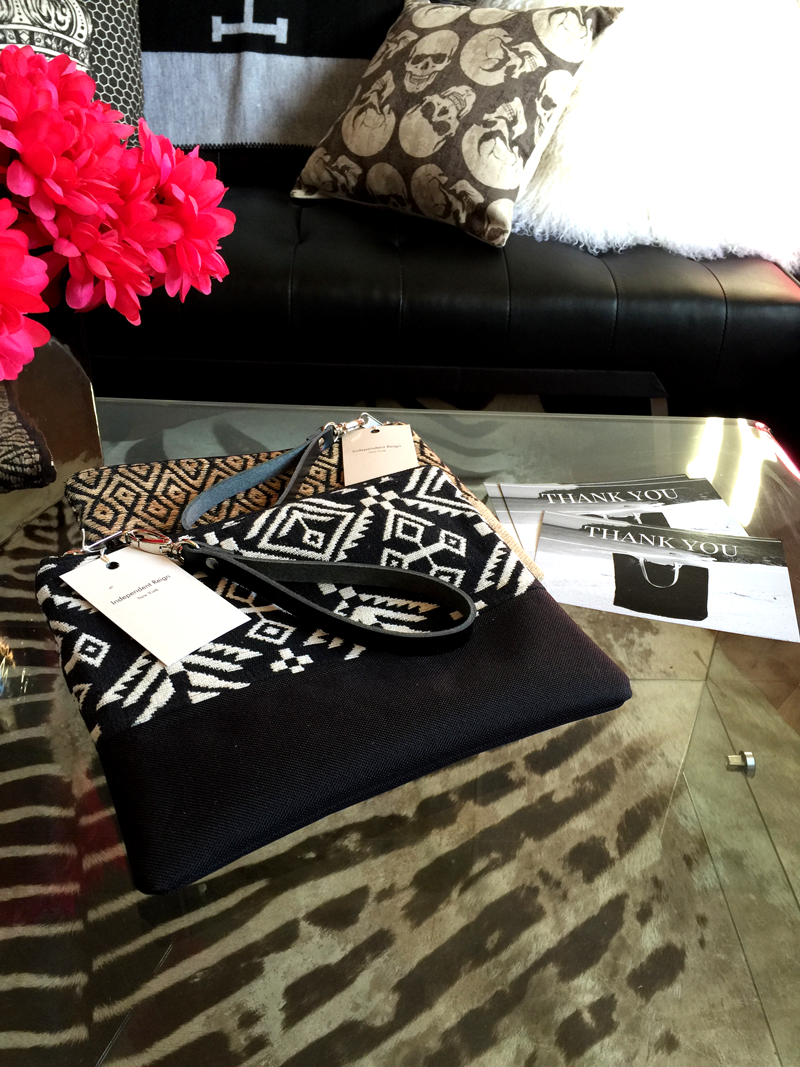 [perfectpullquote align="full" cite="" link="" color="#fa4da7″ class="" size=""]The ordering process is pretty straightforward: type in your shipping details, then login to your PayPal account, confirm your shipping details and finally click to make a payment. That's it! Shortly afterwards you will receive an email confirmation of your order detailing your checkout total including shipping, order number, item name, and quantity.[/perfectpullquote]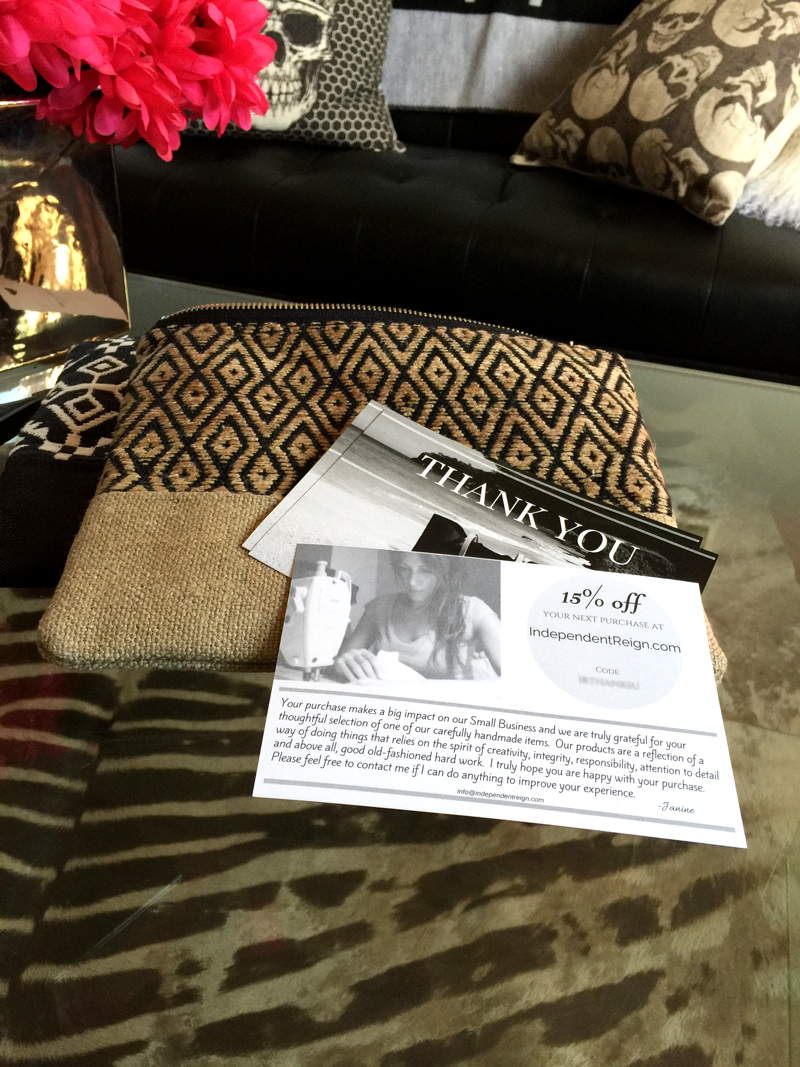 When I received my purchase, the packaging was a well-padded plastic envelope. Inside, each bag was carefully sealed in a clear plastic bag and came with two thank you post cards and a sleek Independent Reign tag. On the post cards was also a 15% discount on my next purchase! (I blanked it out to be fair to shop owner Janine.)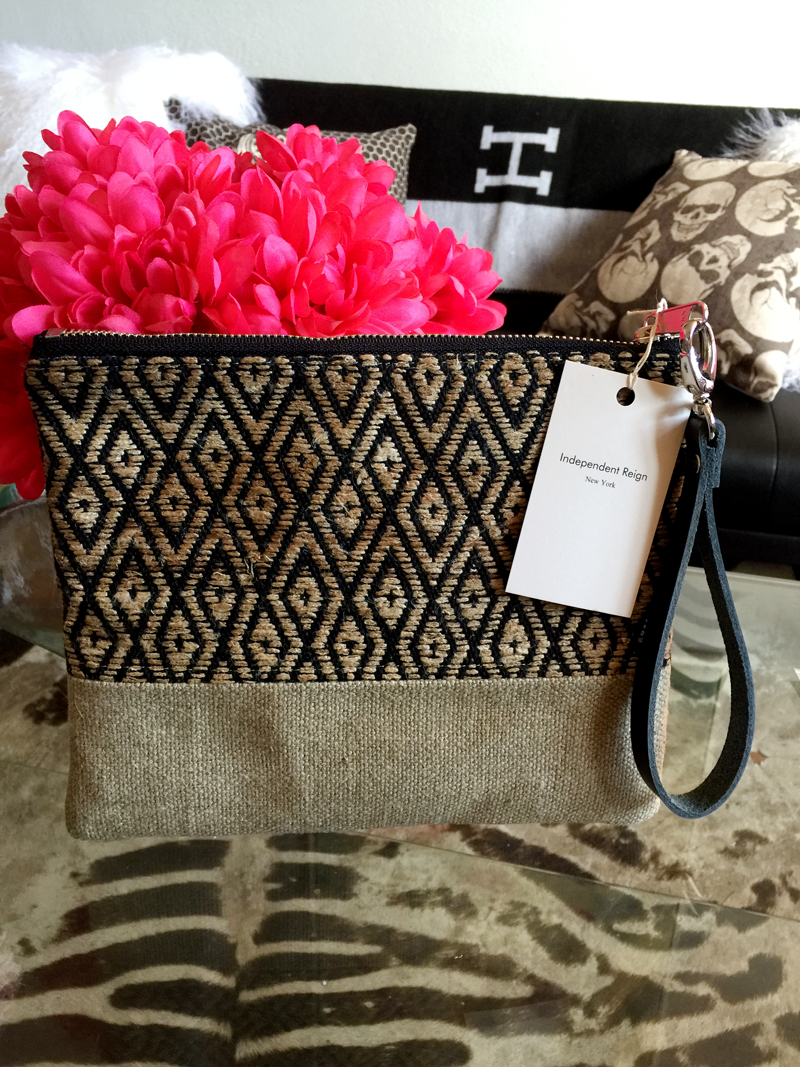 The first is a stunning woven summer clutch bag that really reminds me of summer! It's made of a woven jute type fabric and comes with a detachable and practical leather wrist strap. This makes it convenient to be worn as a daytime wristlet and an elegant evening clutch bag.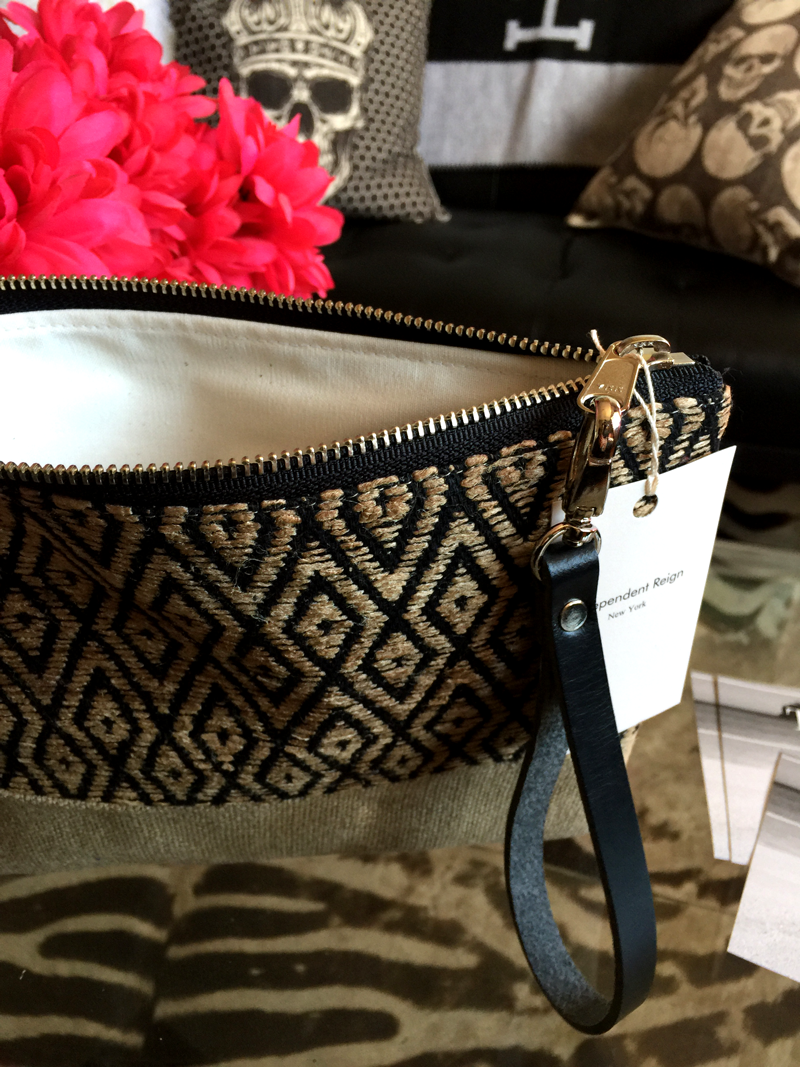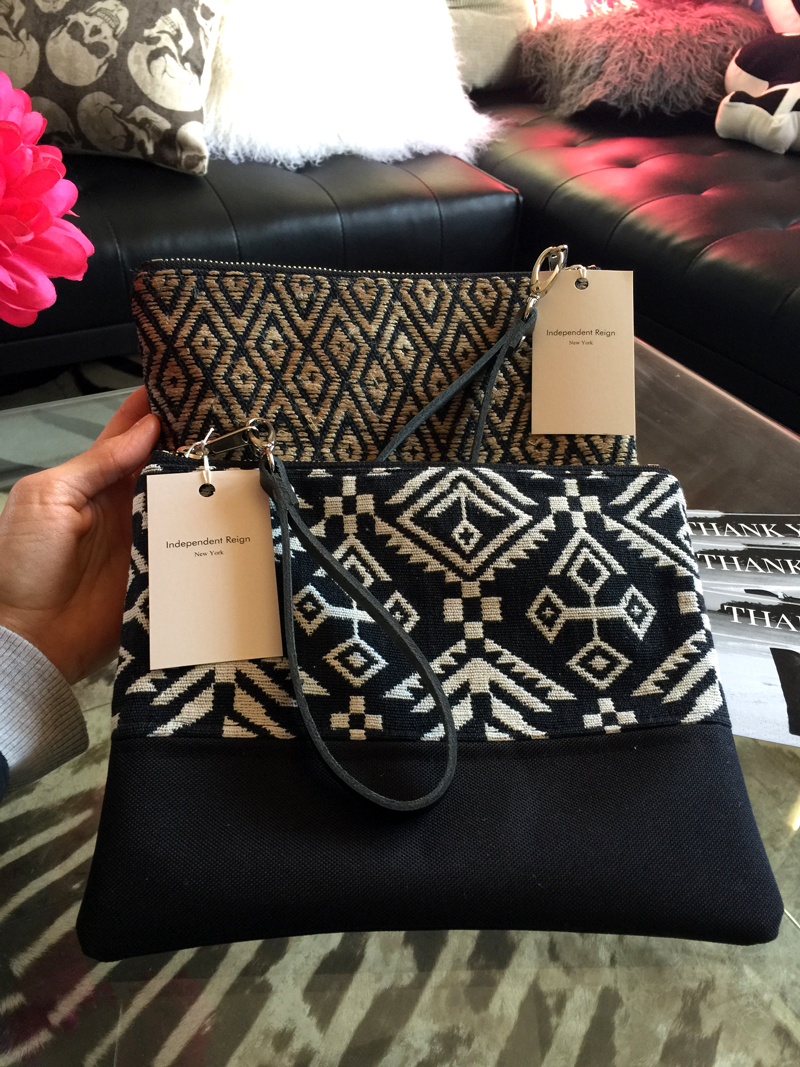 My second purchase was a black and white Aztec clutch bag, which screams "bohemian-worldly chic"! This is also a woven bag with a beautiful graphic weave. I love these bags and what's even better is that they are not slouchy like most poorly made clutches. At the bottom they have a heavyweight-textured nylon that resists tears, stains, and adds structure.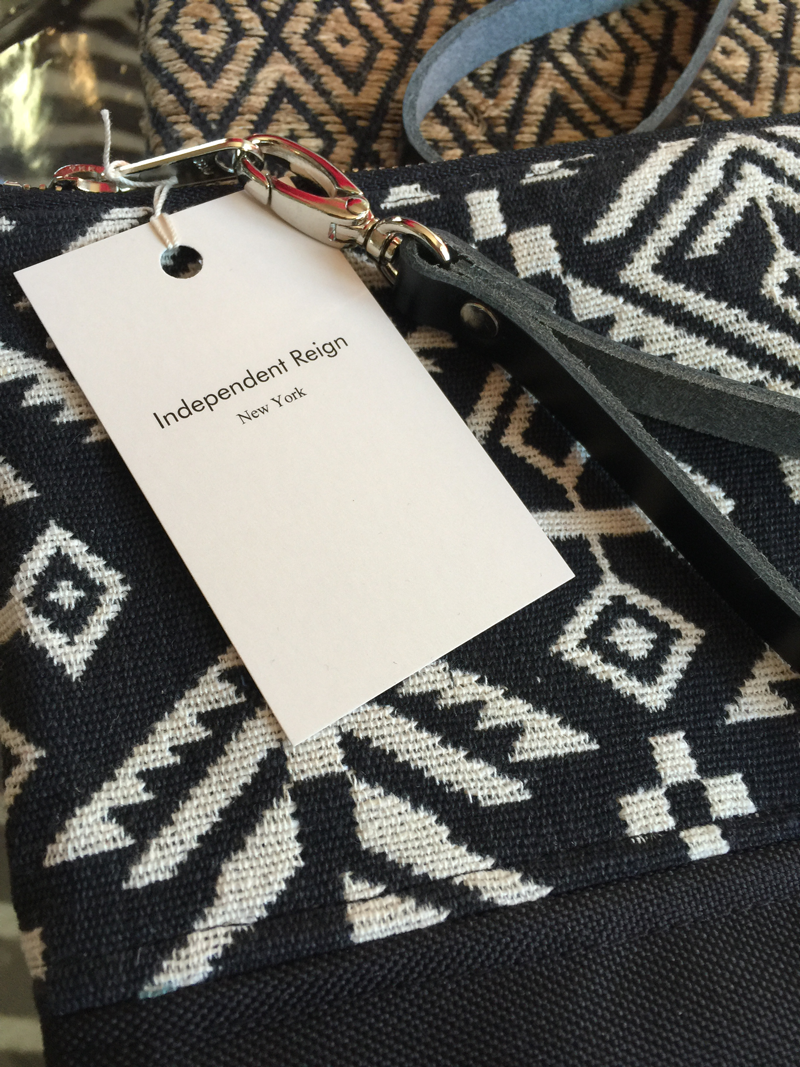 [otw_shortcode_quote border_style="bordered" background_color_class="otw-pink-background" color="#ffffff"]One thing I noticed about shopping at these small PayPal merchants is that they offer a more personal shopping experience. I enjoy chatting with shop owners who actually handmade the items themselves or invented the actual products. You can get a one-on-one shopping experience and feel like you are buying something made with love rather than something mass-produced overseas.[/otw_shortcode_quote]
Another great thing is that you don't need to go anywhere! You can do all of your shopping online and pay using PayPal as your payment choice. Remember, you don't need to have a PayPal account to make a payment over PayPal. All you need is your credit card to make a secure, online payment that can be easily refunded if for some reason you do not receive your item. Whenever I shop online, I always try to make a payment using PayPal whenever I can. They offer buyer protection that gives me sense of security incase something goes wrong.
Like my purchases? Head on over to Independent Reign to see what else is in store!
I was selected for this opportunity as a member of CLEVER and the content and opinions expressed here are all my own.