Decorating with Chandeliers: 10+ Amazing Ideas to Make Your Home Look Glamorous!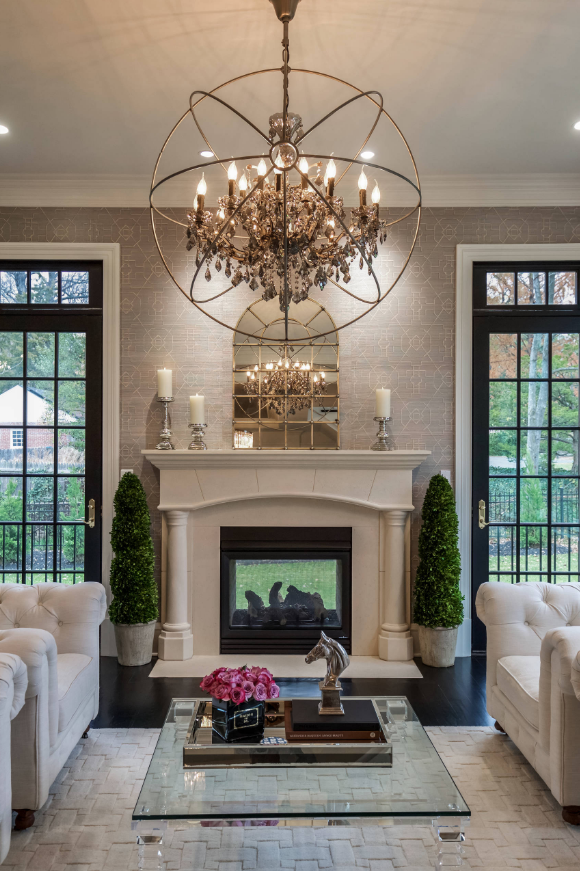 Chandeliers are a perfect way to tie your space together and add that posh seal of approval. Here are some beautiful ways you can use chandeliers in your home to make your guests drool!
Making a space sparkle all comes down to great lighting. Believe it or not, lighting alone can be a strong design element, and can make or break your home's decorating. If you are leaning towards that classy, sophisticated look, chandeliers are your perfect choice – no other lighting source can make the same design statement. With their thousands of tiny crystals sparkling and reflecting light all throughout the room, you can't beat the complex, and magnificent design of a chandelier.
Here are a ton of glamorous ways you can use chandeliers as elegant lighting to decorate your own home, no matter the style or space – chandeliers look great just about anywhere!
1. Orb Chandeliers
Make a design statement in your home with not only a chandelier, but a chandelier inside a metal orb frame! 2016 is full of industrial-chic pieces, making this the perfect example of an industrial and regal collaboration. This chandelier looks without a doubt stunning, and you almost can't take your eyes off it!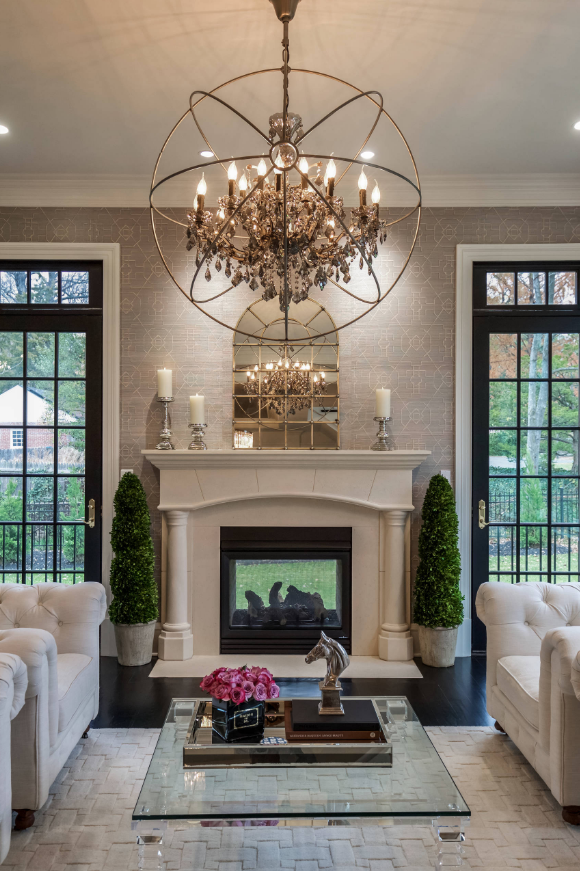 Photo: Castlewood Custom Builders
2. Watch Out for Reflection
To make the most out of your new stunning light fixture, it all comes down to how and where you hang it. An ingenious way to double up the glam-appeal is to hang it directly infront or facing an oversized mirror on the wall. For example, hang a large mirror above your fireplace and conveniently hang your chandelier straight vertical infront of it. The result? A beautiful reflection of your chandelier right in the mirror, adding even more sparkle to your room!
3. Go Multi-colored
Usually chandeliers are finished off in either metallic silver or metallic gold, with glass, crystal, or even clear acrylic drops. To kick things up a notch, designers have lately been adding colored jewels to add some more bedazzle to chandeliers. Pops of colored crystals add some energy to a space and also give off an artsy feel.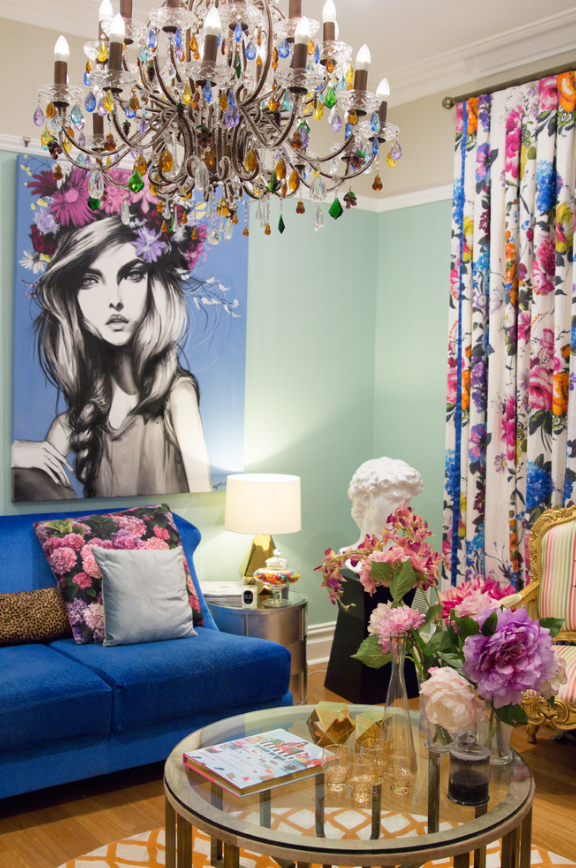 Photo: Indie Style Interiors
4. Go Big or Go Home!
When it comes to chandeliers, we like them the bigger the better. Don't skimp out on space and choose a small chandelier for a dining room, go big and bold. Dining rooms deserve more credit these days and should definitely not be neglected. Make your formal space come to life with a large, enchanting chandelier like the one seen below. If your fixture feels too large, a quick fix is to hang it a bit closer to the ceiling so it doesn't feel overwhelming.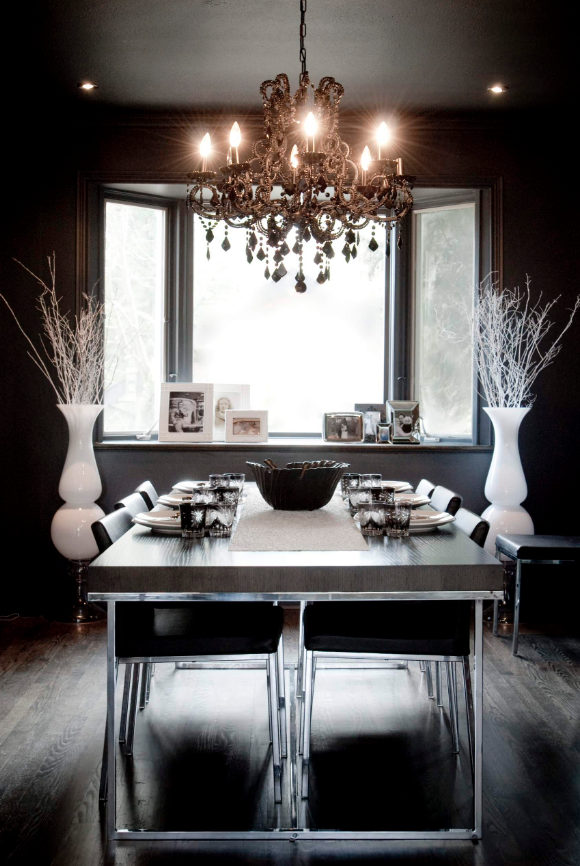 Photo: Galie Guevara
5. More is More
Don't limit yourself to one chandelier in one space, you can easily decorate your room with two smaller sized chandeliers for the same impact. This goes for any space in your home: entryway, living room, and even dining room.
6. Take it Outdoors
We are all about brining the indoors out, and the outdoors in! Chandeliers look just as amazing when hung outside, so opt for a more rustic, outdoors-y style. These natural wood chandeliers perfectly complete this patio and make it feel cozy and warm.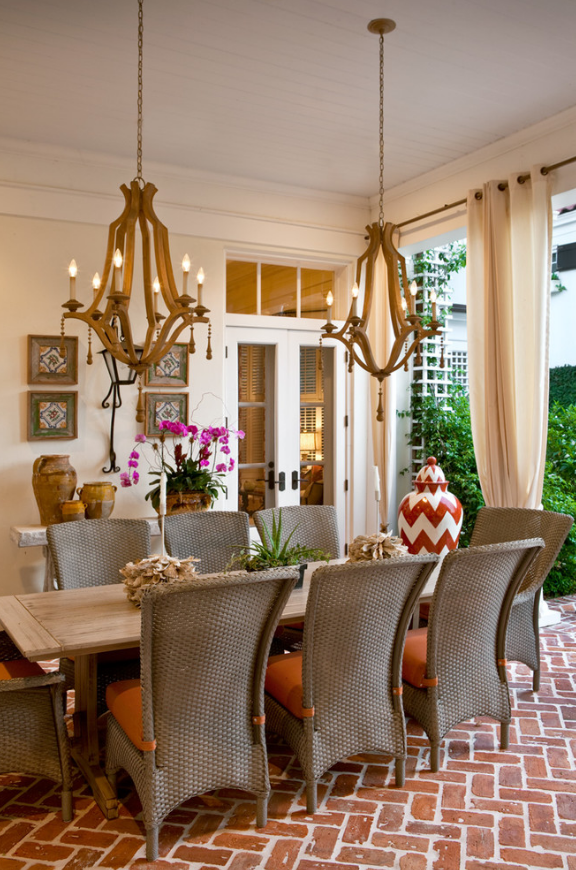 Photo: LGB Interiors
7. Play with Colors
Turquoise chandeliers are all the rage this season and add a fresh, beachy vibe to a space. If you are considering hanging a colored chandelier, tone down your decorating to neutral white, grey, and muted beige. This way an eye-popping light fixture like this one will really make a bright, bold statement!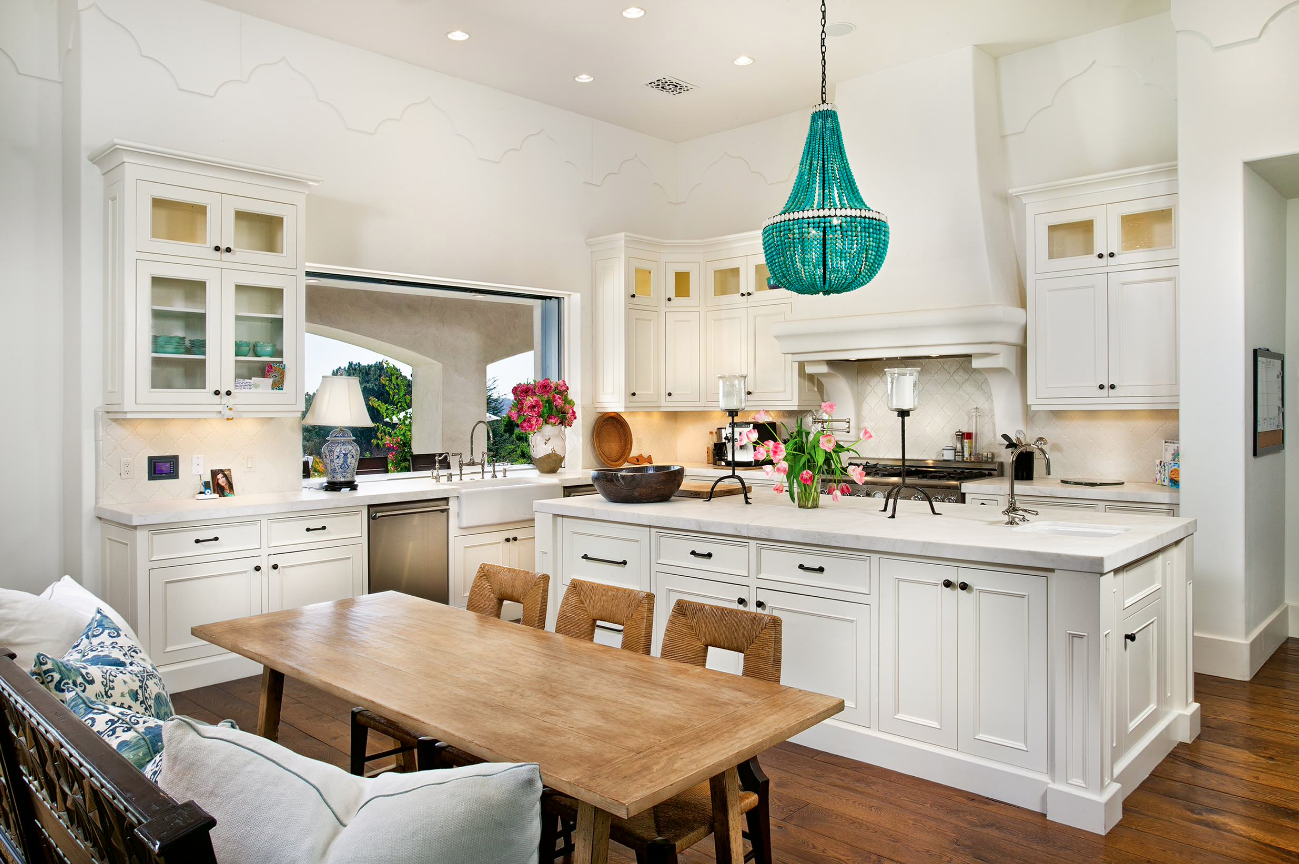 Photo: Laura Rosenthal
8. Experiment with Styles
Break the decorating rules by mixing and matching the style of your furniture, accessories, and lighting fixtures. Don't be shy of experimenting and clashing styles. An uber modern chandelier may look stunning in a room full of antique pieces, meanwhile a vintage antique chandelier can look terrific in a contemporary room.
9. Create Ambience
Believe it or not, the key to good design is all in the lighting! Lighting can actually make or break your decor, so it's vital to get it right. Gloomy lighting can make your space look dirty, dimmed lighting can feel cozy, while bright lighting can light up those dark corners in a space and make it seem even bigger! To easily change the mood of your room, make sure to install dimmer switches on all of your chandeliers.
10. Go All Out With Metals
Brushed bronze, silver, gold leafing; metals are everywhere this season and we love them! If you are out shopping for a new chandelier and want to stick with trends, choose a metal finished chandelier. Using metal as the material for traditional piece is unique, and a little avante garde; so take the plunge decorating and don't forget to have some fun!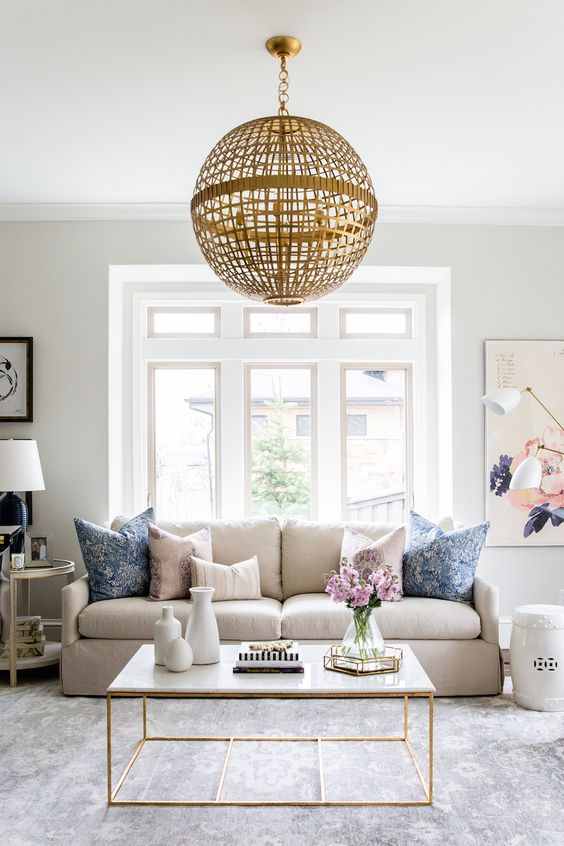 Photo: Style Me Pretty