Spotlight On: Jeff Andrews – The Interior Designer for the Kardashians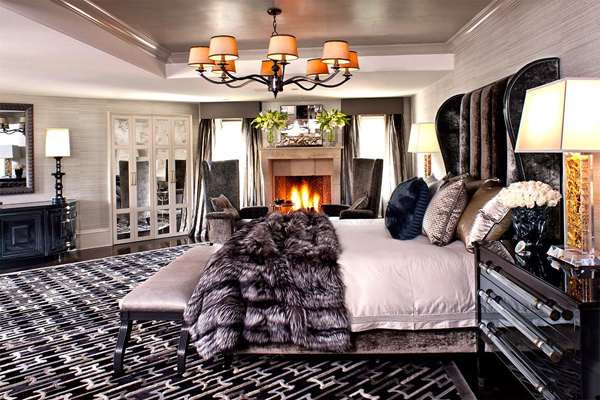 Jeff Andrews, the interior designer behind the Kardashian klan is now in our spotlight, and we love his work more than ever before!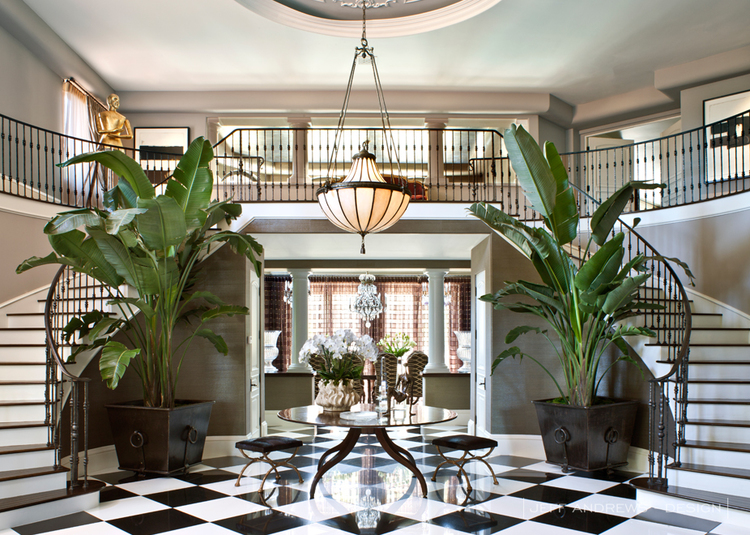 Jeff Andrews, a former choreographer turned interior designer has definitely caught our eye with his dramatic, bold, and uber modern interiors. He first designed for Khloe Kardashian, then Kourtney, and then the woman behind it all – Kris Jenner, the mother and manager of the Kardashian sisters.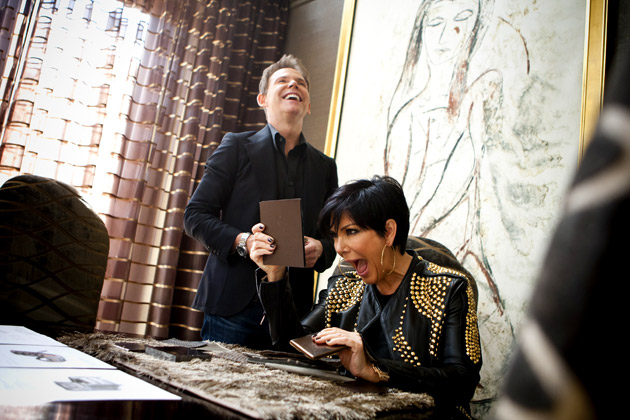 Photo: LA Times
Jeff redesigned all 6,000 square feet of Kris's Calabasas home including a formal living and dining room, family room, office, guest suite, the regal black-and-white foyer, and the site of much Kardashian drama, the kitchen. Much of the decor is black and white since Kris is a huge fan of black, skulls, and metallics. Jeff likes to off-set her love of black with charcoal hues, and adding softness with shaggy rugs and fur throws. Here is a quick sneak peak into some of his amazing work for the Kardashians, and some tips on how you can get the look at home!
Kris Jenner's glamorous home office has a LOT of glitz and glam going on! Mirrored shelving, a glass desk, chandeliers, and metallic accessories all help bring this look together. Another Jeff Andrews must have? Fresh flowers!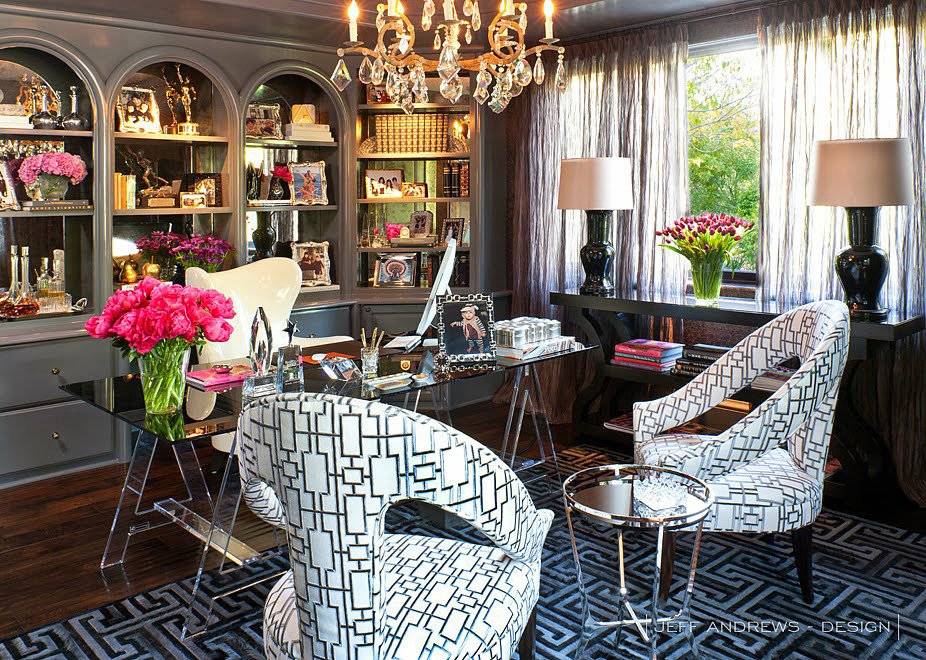 This office designed by Andrews is SO easy to get the look at home. To add glitz, dimension, and visual interest to the shelves in Khloe's office, Jeff added an antique mirror to the back of the shelves. You can do this with any budget with a quick trip to the glass store. The chandelier was also customized with black crystals that were purchased separately to maximize the effect. Khloe also wasn't a huge fan of the vintage chairs, but they were reupholstered and took on a whole new look.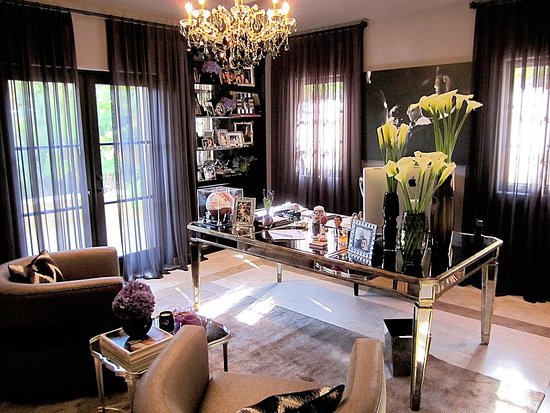 This is a great way to make a space feel larger – add mirrors to the doors! I love this living room, so modern, opulent, and dramatic.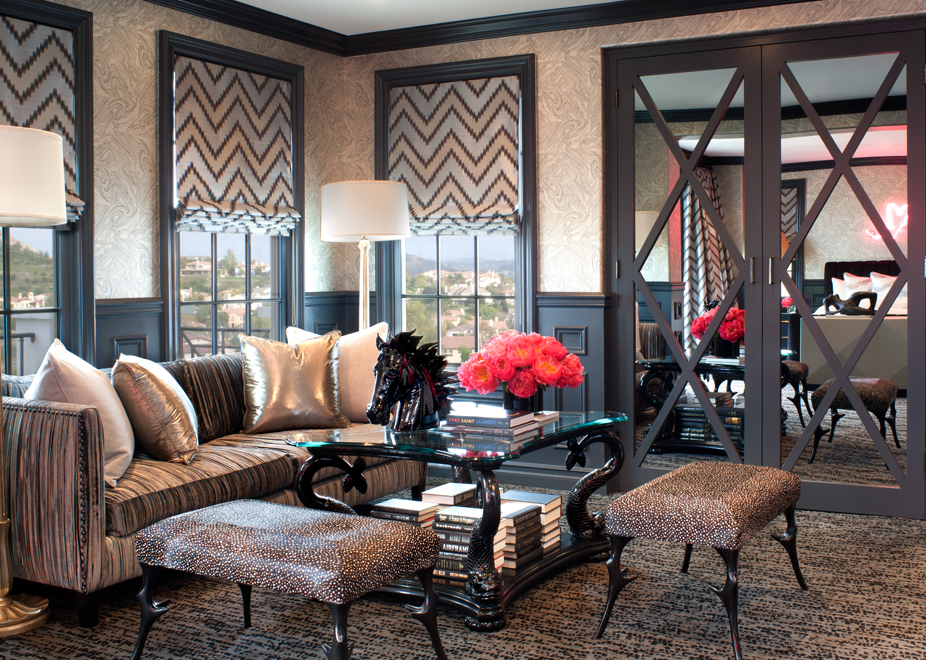 Khloe Kardashians walk-in mega closet: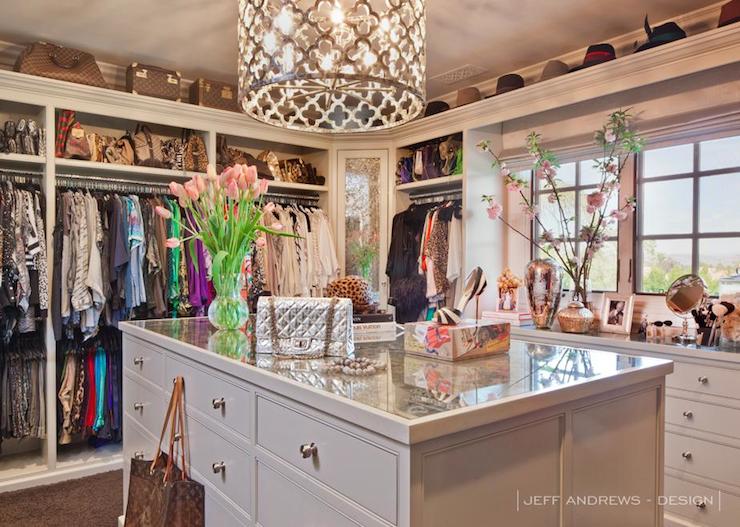 The bathroom at Kris Jenner's home is very expansive, and features a TV, seating area, as well as a full-on dressing room and makeup room.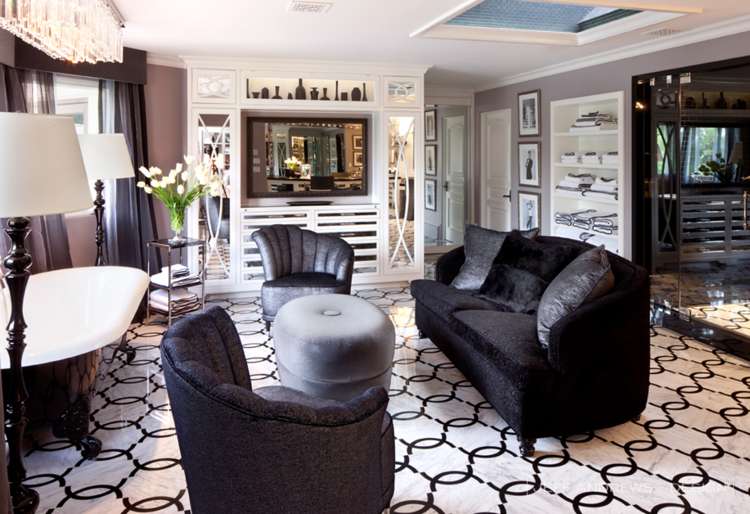 The iconic glam room at Kris Jenner's house. I LOVE that flooring! This is actually an extension to the bathroom above and is where the Kardashians get glammed up to film their show.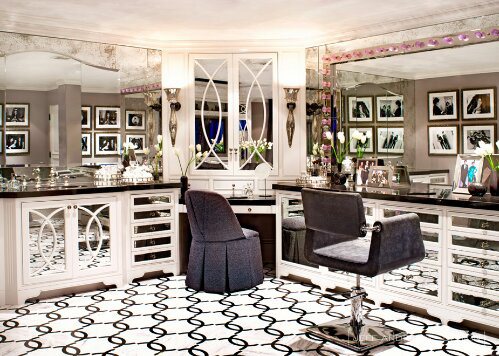 And last but not least Kris Jenner's glammed out bedroom! Even though, most of the interiors are filled with dark gray, charcoal, black, and velvet, Jeff knows how to make it all work. Using different kinds of textures is key – think velvet, fur, and metallics to make the look work and not look too cold. What do you think about the Kardashian's interior designer? Would you ever like your home or be able to live in a home designer like this?