Rustic Luxury – How to Get this New Décor Trend at Home!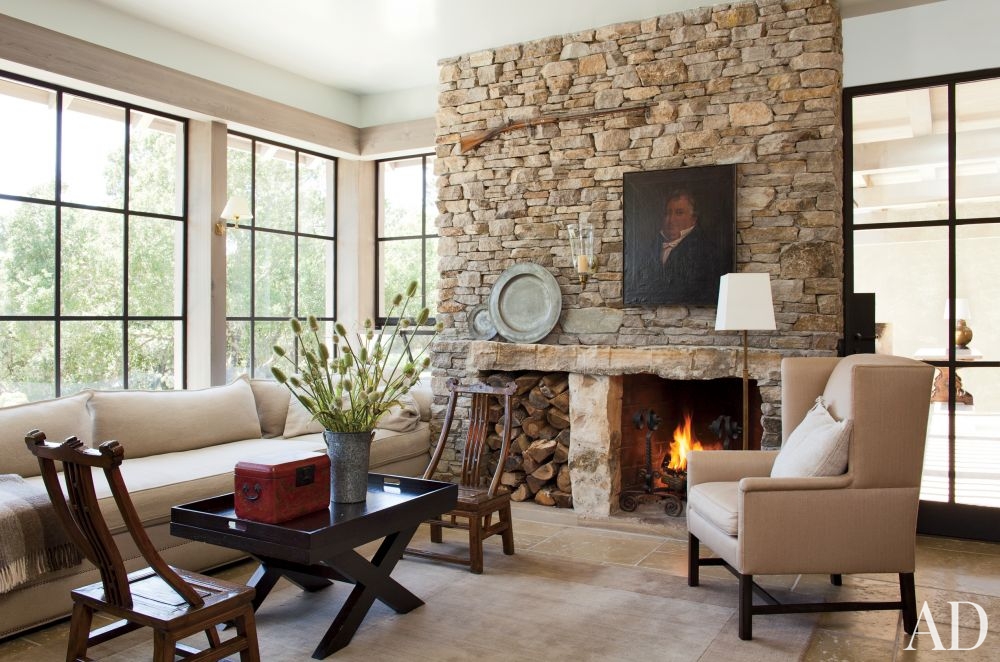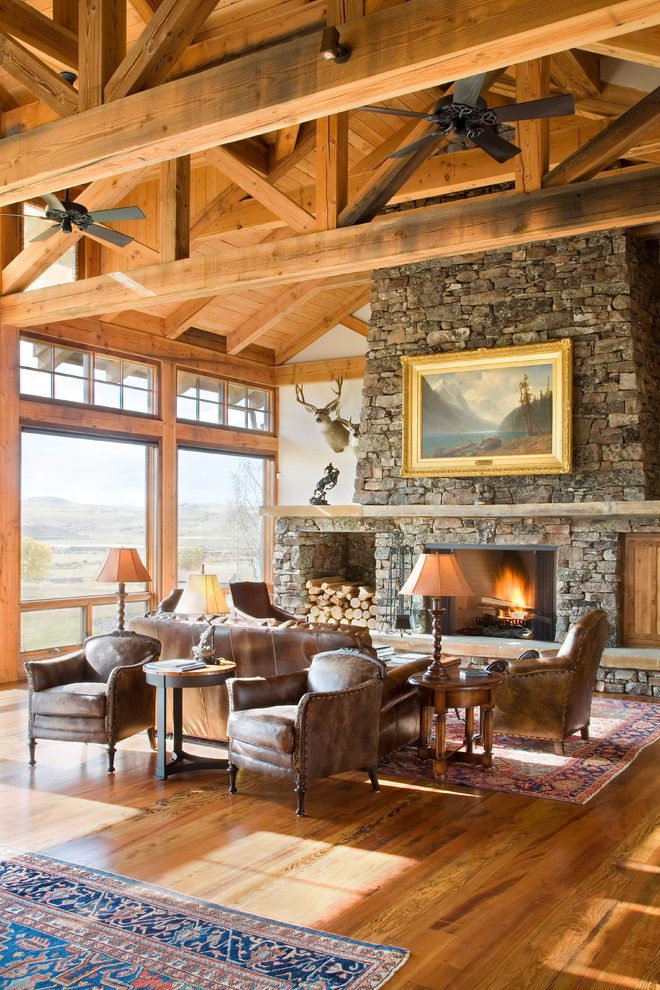 When we think of rustic design and home décor, we usually picture a small log cabin, tucked away deep in the forest or perched on a mountain hill. However, your roof doesn't need to be covered with moss and your windows don't need to be looking out on a glacial lake to consider adopting the trendy rustic style in your home.
Even if you have a modern style home you can mix in rustic and primitive décor with your smooth walls or polished wood and STILL manage to recreate the romantic atmosphere of a mountain retreat or a barn. These clever combinations of rustic style décor and luxury elements will give your home a whole new vibe for 2015:
The Artisan Fireplace
Nothing screams rustic or luxury louder than a fireplace, which we traditionally associate with both. To improve on the wood-fed conventional rustic fireplace, consider a gas-fueled artisan alternative that is still designed with rustic elements, such as rocks and rough wood.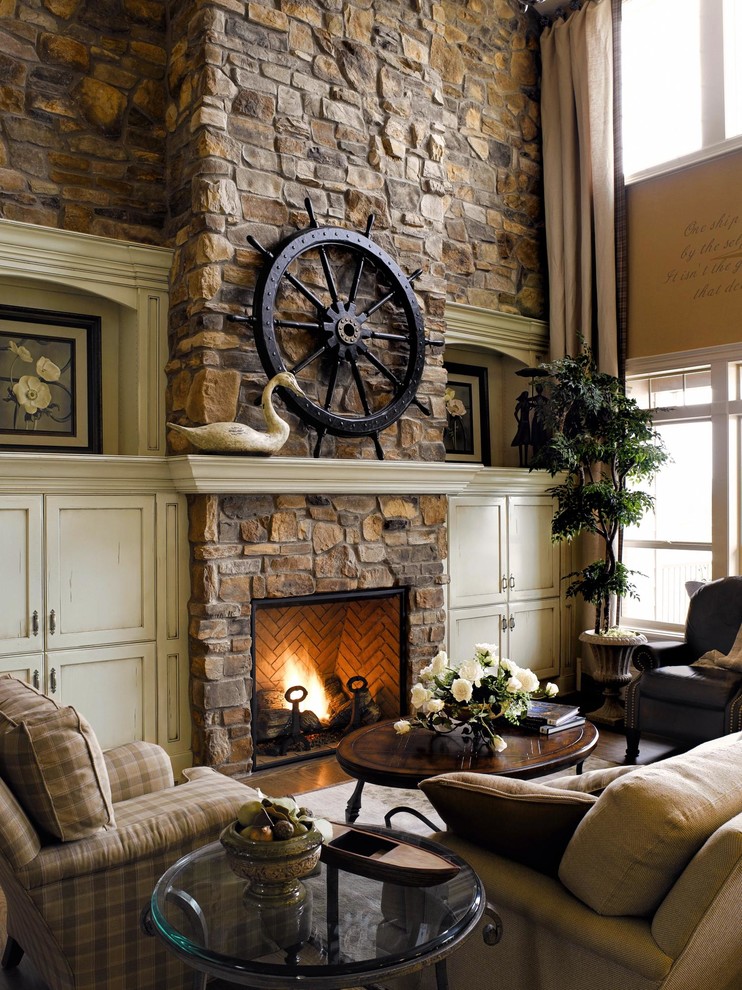 The River-Stone Bathtub
Rather than going for traditional tile or smooth surface, think about dressing your bathtub in rough river stone or granite pieces to complement a wooden wall, ceiling or vanity top. This will give your bathroom a whole new rustic look that's tied in with nature and the wilderness.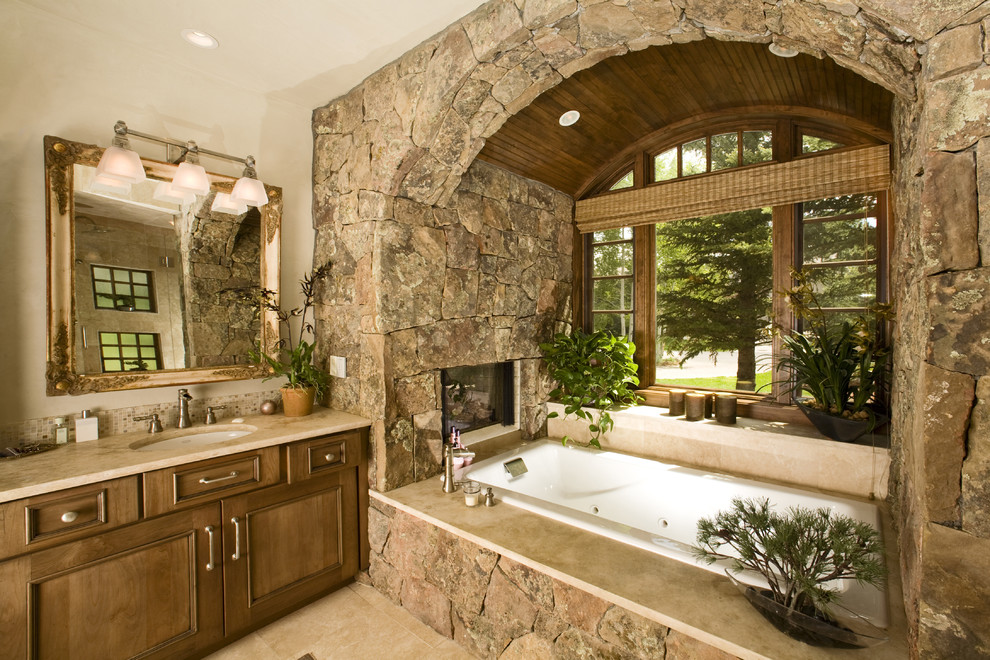 Katy Allen
The Alternative Kitchen Countertop!
There is a lot you can do to play with rustic décor in your kitchen, such as replacing the sink with a copper one as well as installing a large stone slab in place of a regular counter top. For a full luxury rustic finish, add a weathered metal faucet, complete with a stone backsplash.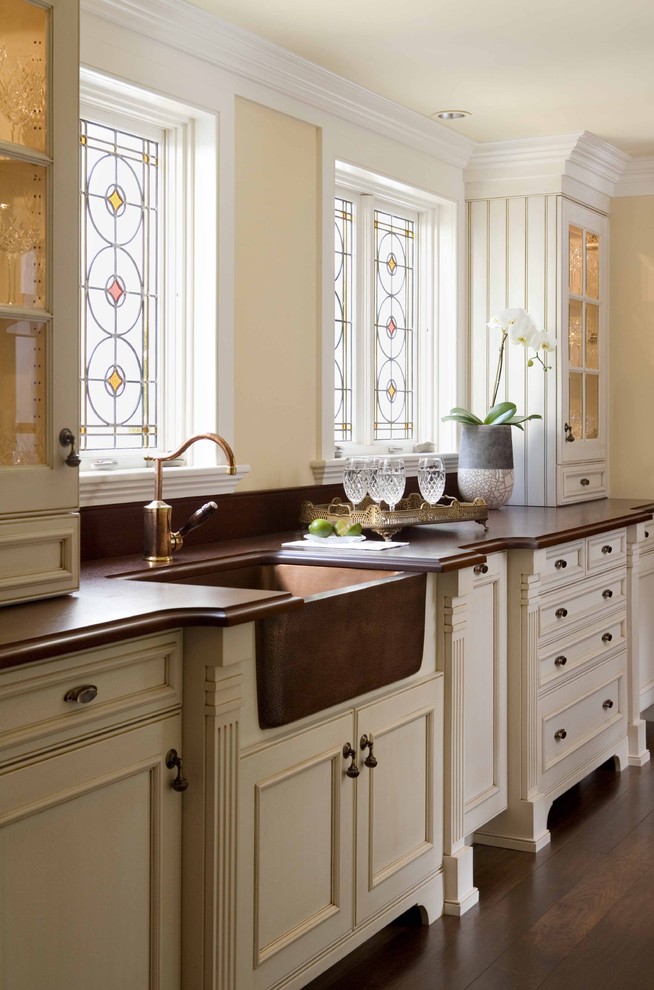 The Rustic Canopy Bed
Bring the warm and cozy feeling of a wooden cabin bedroom with a natural wood canopy bed. The canopy bed has long been a staple of luxury décor, but you can surely maintain its status by picking high-quality ornamental wood in artistic natural shapes for its crown. This designer stuck to a more sleek shape to seamlessly blend in with the dark, rustic wall panels.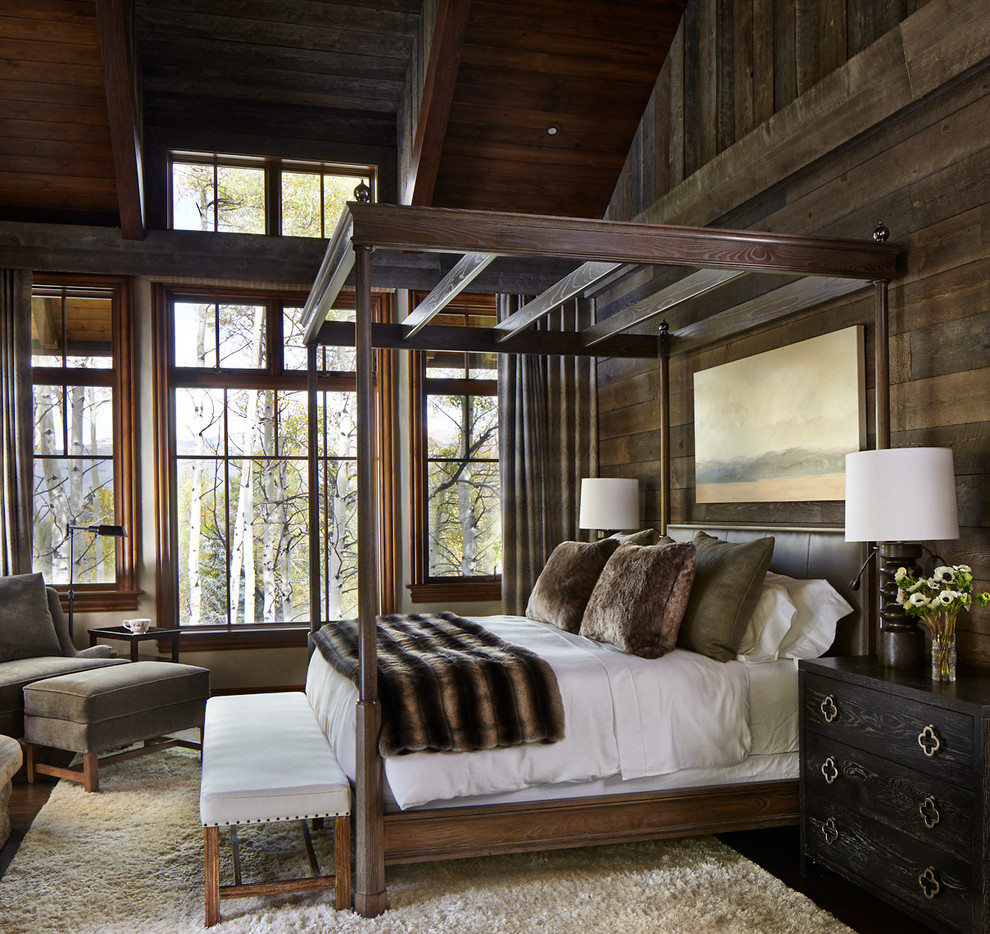 Greenauer Design Group
The Natural Color Textures
Rich, soft wools, authentic rugs and organic textured draperies in warm earthy tones will momentarily increase the level of comfort and coziness. A lacquered tree trunk with a glass top makes a wonderful coffee table and perfectly mixes in rustic with luxury. Also consider natural shapes, materials and colors when picking out the art for the living space as well.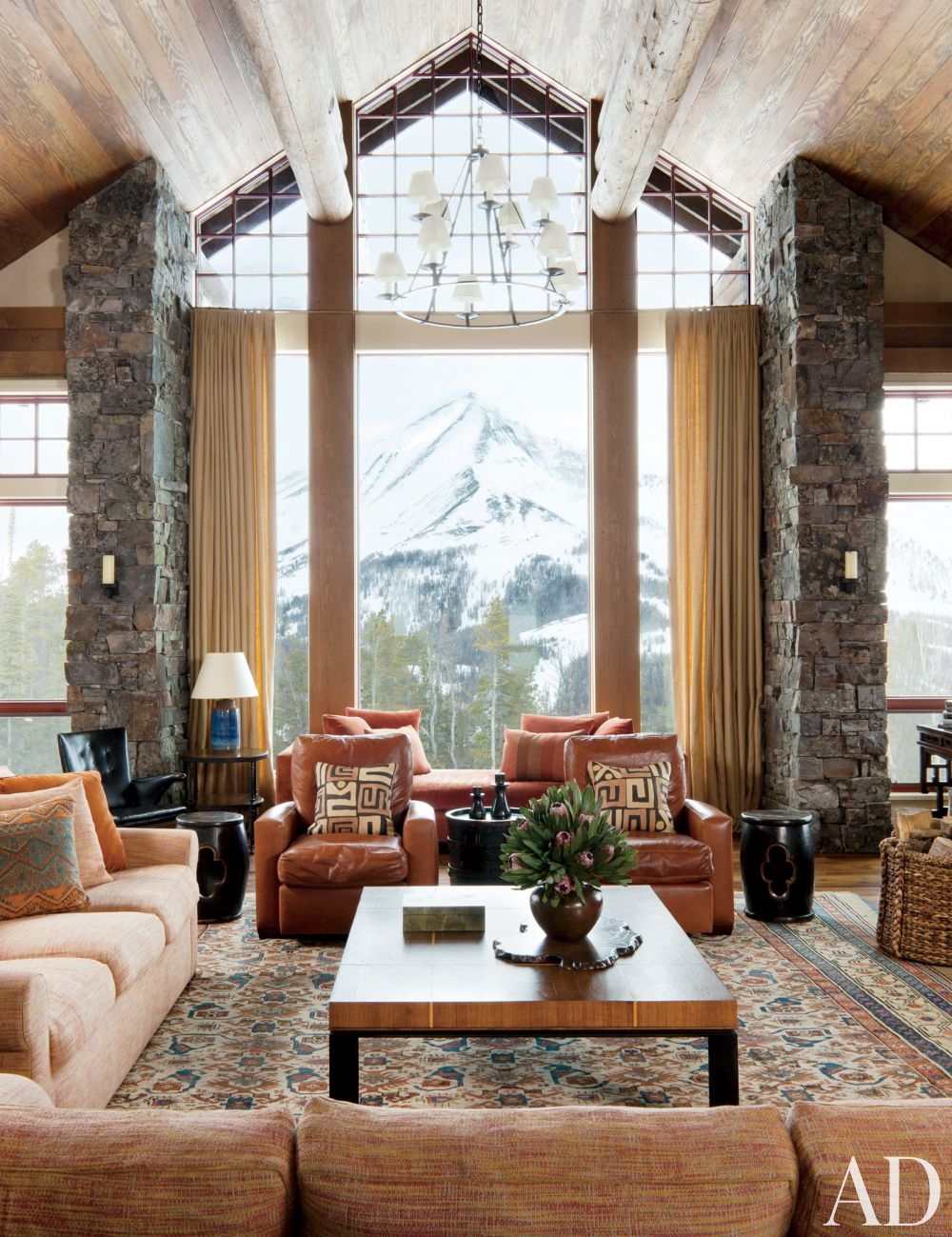 The Effective Chandelier
Just like with the canopy bed, we are accustomed to thinking about luxury décor when we picture chandeliers. As long as you stick to nature's elements, you will have an element of extravagance that perfectly fits your rustic design concept. What's super popular is antlers turned into chandeliers or even a big wagon wheel wrapped with twinkle lights makes the perfect lighting fixture.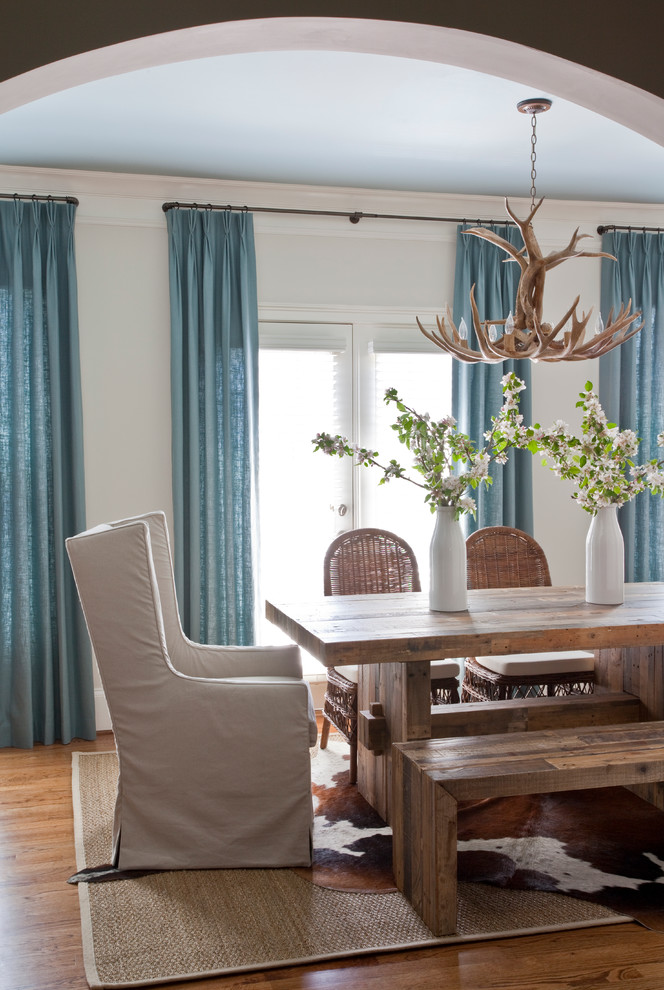 With these key rustic elements you can easily bring in a dash of rural style to your home without sacrificing luxury and comfort. If you already have conceptual interior design at home that leans towards modern luxury, but you would like to tie in a few rustic details, you can always rely on rough wood, organic shapes, a rich earthy palette and distressed metals to achieve the effect.
Are you a fan of rustic interiors yourself? Where do you draw your inspiration from when it comes to décor? Comment below!