Step Up Your Home Decor Game with Ladder-Inspired Designs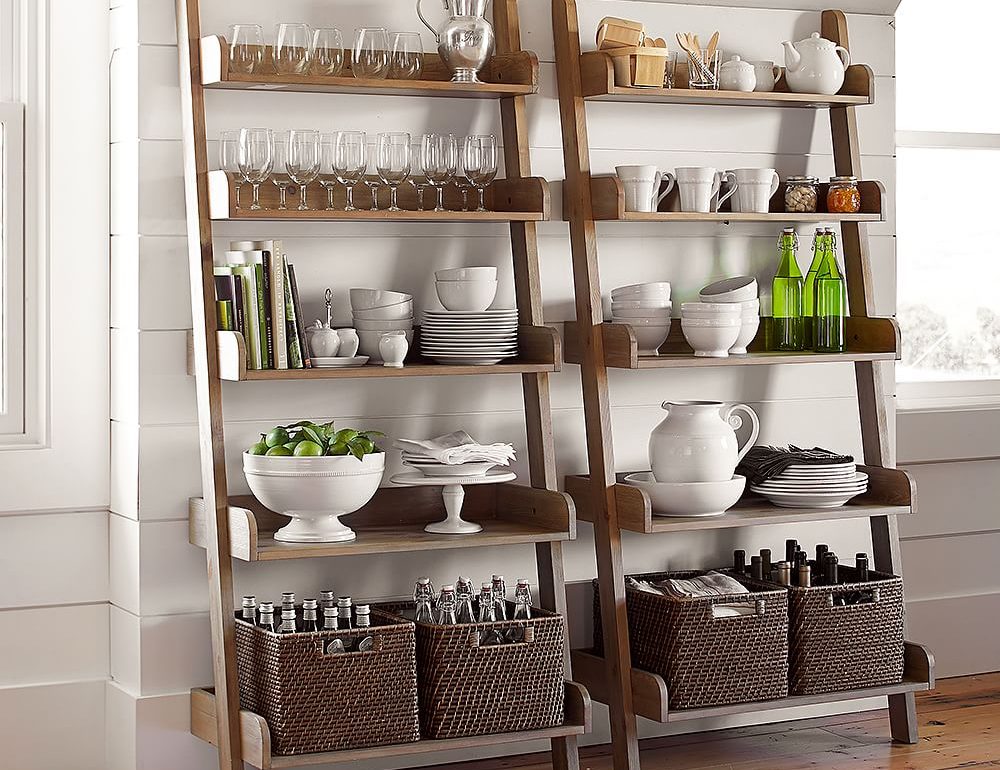 If you're redecorating your home and you need to a bit of extra reach to get the job done, ladders are invaluable. Whether you're using a step ladder or extension ladder, a work platform or a stool, ladders are definitely a necessity for any home renovation project… but what if there were other ways in which ladders could help you to level up your home decor game?
Although ladders are a practical tool that can help you carry out your DIY tasks, what if the ladders themselves became the DIY task?
We've put together a collection of some of the most inventive and creative ways you can use ladders to level up your interior design – join us on a tour of the house as we share different ways ladders can be used as interior design tools in various rooms.
Bedroom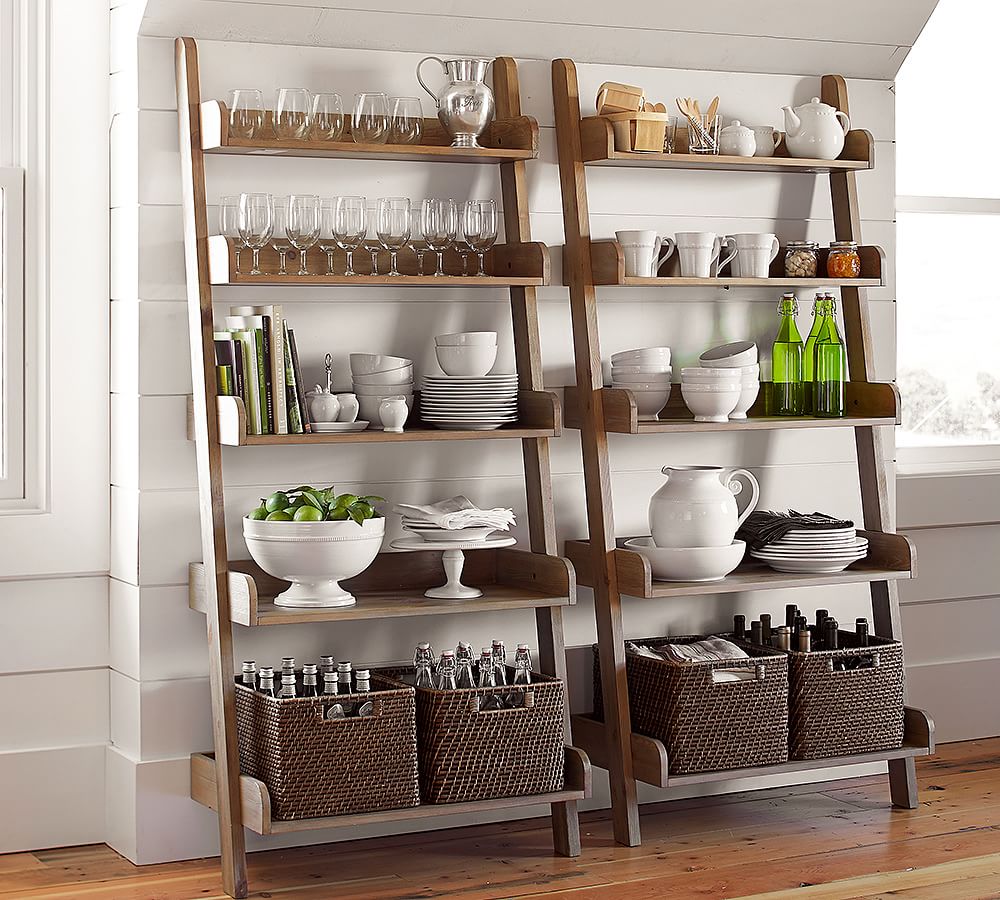 Photo via: Pottery Barn
Somewhat an oldie but a goldie, the good old-fashioned ladder shelves are a simple yet effective way you can use a ladder in your bedroom.
One of the great things about ladder shelves is that they can be altered to fit any aesthetic; if you're going for a more modern, contemporary, or industrial aesthetic in your home, you can achieve that with a metal ladder shelf. If you're looking for a more boho-chic, cottagecore, or overall rural interior design vibe, why not go for a more traditional wooden ladder? You can also paint or stain the ladder to match the colour scheme of your bedroom to create a cohesive look.
Garden
There are so many fun and creative ways you can use a ladder in your garden, such as using it to make a stunning plant rack. Lean the ladder against a wall or fence and place potted plants on each rung. This vertical garden not only saves floor space, but also adds a touch of greenery to your outdoor space.
If you like the aesthetic of hanging plants, you could even fix the ladder to the wall horizontally to create a stunning wall garden. Placing different plant varieties at varying heights can create a visually appealing display.
Shed
Need a new tool rack? No problem! Ladders can be used for all kinds of shed storage – from wall-leaning shelves to suspended roof rack, you can hang your gardening tools, hoes, rakes, and shovels on the rungs to keep everything organised and easily accessible.
Not only does this clear up valuable floor space and help you make the most out of your shed space, but it also helps ensure that your tools remain in good condition.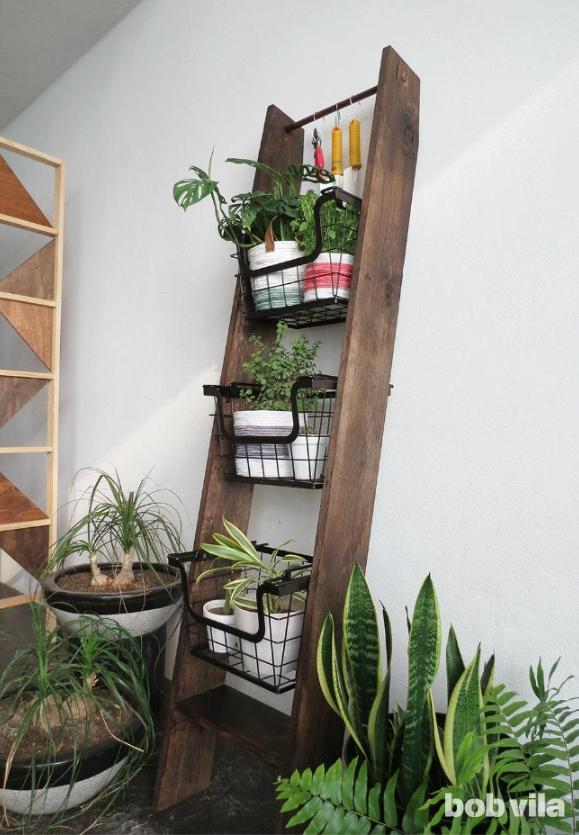 Photo via: Bob Vila
Utility Room
For a unique laundry room solution, consider installing a ladder-inspired pulley-airer. This ingenious design allows you to hang and air dry your clothes efficiently.
If you use a wooden ladder for a pulley airer, we'd advise against placing damp clothes onto the ladder directly as it could cause the ladder to become damp – rather, hang the clothes on hangers, which you can then hook on the ladder.
Kitchen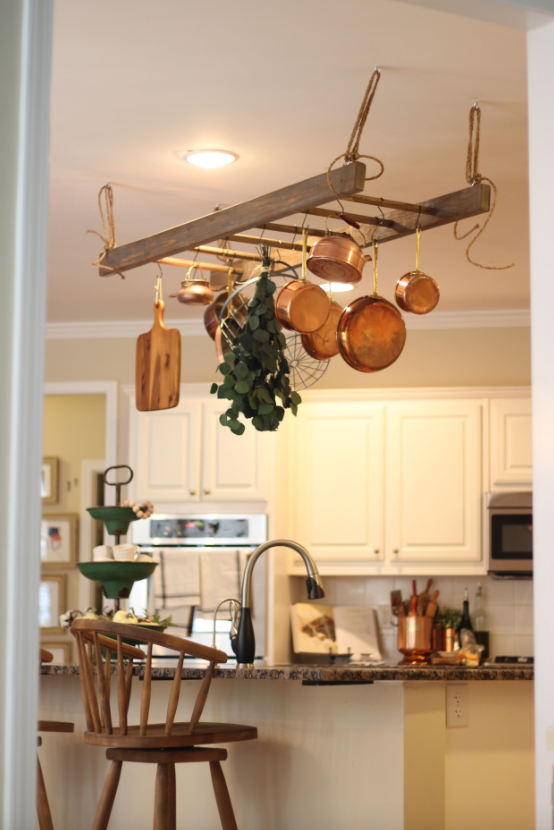 Photo Via: The Birchwood Blog
In the kitchen, a suspended ladder can be repurposed into a pan holder or overhead herb drying rack. Hang it from the ceiling, and you'll have a stylish and space-saving solution for storing your cookware or herbs.
This not only adds a rustic charm to your kitchen, but also keeps your pots, pans, herbs, and spices within arm's reach for easy access during meal preparation.
Bathroom
Say goodbye to cluttered bathrooms with chic ladder towel storage racks! You can store folded towels or baskets with toiletries in the rungs, or hang towels or bathrobes on the side. This design not only adds a spa-like feel to your bathroom, but also keeps everything organised.
If you use a wooden ladder as a bathroom storage solution, we'd avoid using it as a towel drying rack or for storing anything wet since the wood might become damp.
*
And there we have it! Six unique and creative ways you can use a ladder to take your interior design game to the next level. We hope this blog has got you feeling mad inspired, and ready to start your next interior design project!