With more and more people choosing to work from the comfort and convenience of their home, the question of how to design a home office is becoming quite the popular topic!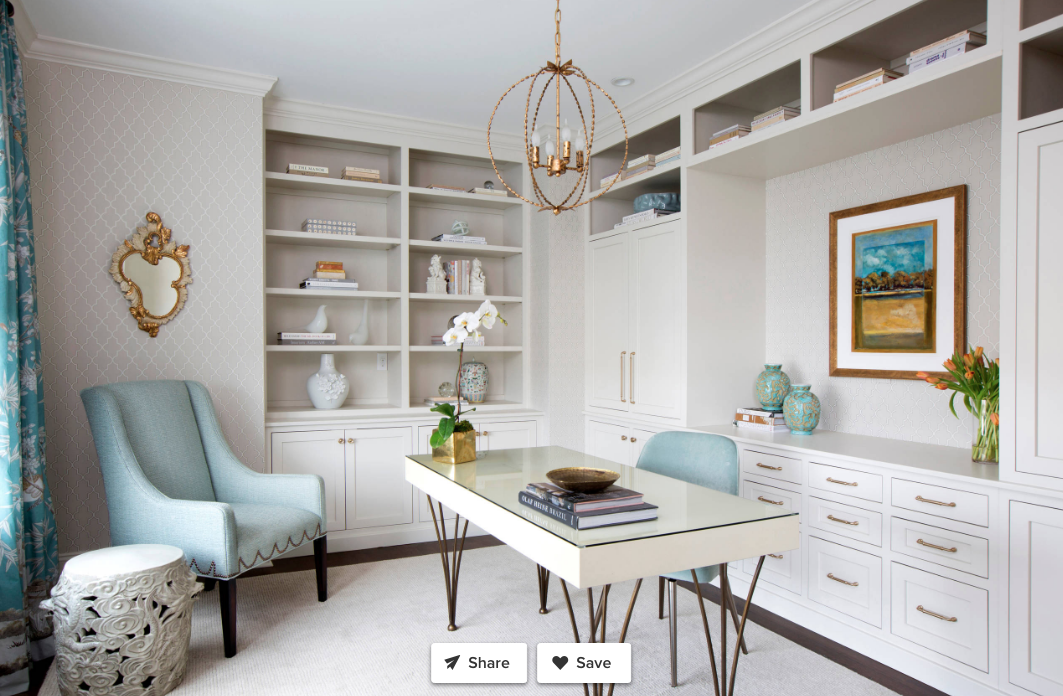 Photo: AJ Margulis Interiors
The goal is to design a space that is both comfortable and that encourages productivity. But redesigning a room in your home, or even just a small corner, can be an expensive and complicated endeavor. The best solution? DIY projects that you can do, on your own, using furniture that you have on hand or can pick up for cheap at a second-hand store or garage sale. So keep reading and find out how to design a space where you can work conveniently, comfortably and efficiently from home sweet home.
Desks
A proper surface space to work on, also known as a desk, is perhaps the most important aspect of your home office. (Well, for most people at least). The best home office desks will provide enough space to not feel cluttered, no matter how many utensils are required as part of your profession. Have a look at some of the following desk hacks that will help you achieve the style that will fit your work and life.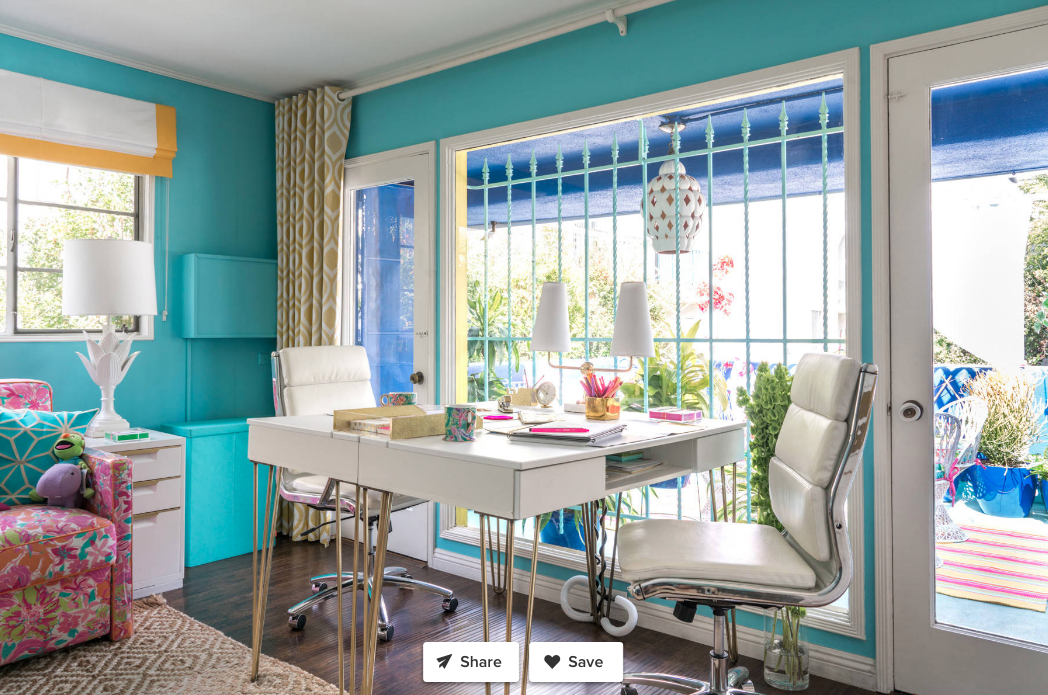 Basic Desk
Especially if you've got a small office space, you'll want have a pretty basic desk. Most of us can find a flat piece of wood with four legs connected to it lying somewhere around the house. And if you can't you can head to pretty much any furniture store and pick one up for under $100. You'll want to start with an unfinished, basic dining-sized table.
If you're familiar with woodworking, you can create a trellis design to decorate the sides and back, otherwise, an open plan keeps it elegantly simple. Fill in any holes or cracks with paintable caulk, making sure to smooth it down before it dries. Then give it a good sanding over, and cover it with three to five coats of glossy white paint. Make sure to let each coat dry completely before a new application.
Glamour Desk
If basic isn't your thing, and you require something that really screams luxury and glamour, then how does a little gold leaf sound? Gold leaf may sound like a rare find, but if you're familiar with the craft scene, then you probably know it can be found in lots of specialist craft stores. To make your glamorous desk, try finding a basic, either unfinished or white desk that has a transparent glass top surface placed over a shallow storage compartment or shelf. The idea is that you want to be able to see the interior of the shelf through the glass top. If you're starting with an unfinished desk, make sure it's smoothly sanded down and then paint it with high-gloss white paint. Again, you'll want to apply a few coats, and make sure that each coat is completely dry before applying the next coat.
Once that's done, apply an adhesive to the inside of the shelf/storage compartment and press the gold leaf all over the inside. Then spray on clear acrylic to make sure the gold leaf stays put.
Photo By: Aubrey Veva Design
Storage
If you're working from home, then you know that the only person who's going to keep you organized is you. There are no secretaries or office managers to keep your papers all in one place. If you are studying from home, proper storage is also something that will be super important to you. Especially if you are writing an essay yourself, or you can consider getting help from https://collegeessaywriter.net or https://researchpaperhelper.org. This means one of the most important aspects of your home office, especially if it's your first home office, is making sure you have plenty of convenient storage that makes you actually want to use it.
Side Tables
You probably have a small side table lying around somewhere, and if you don't, again, you can head to any furniture store and pick one up for less than $50. Basic square side tables are extremely versatile and can be easily turned into handy storage. The easiest way to turn them into storage is by stacking one on top of the other and placing it next to your desk and voila! You've got yourself two tiers of open shelves.
You can also saw a few centimeters off of the legs of one of the tables, and then place it on top of the other (attaching with screws) and you'll have two-tiered shelves but with different heights. Want even more versatility? Add castors to the bottom of a small side table and it becomes a rolling shelf that can tuck away under your desk—a must for home offices with limited space.
Storage Boxes
If you fancy an artistic, or even abstract approach to your storage concept, consider using storage bins. You'll need multiple boxes without lids, preferably of different sizes. Paint the insides of each box a different color, or the same color if you'd like a more cohesive look. Then gather large binder clips, you know those black ones with the two arms that snap down to keep papers in place. Use one binder clip on each edge of the box that you want to connect with another edge. You'll want to make sure to have a strong base of four or five boxes, and then you can build up from there. Just make sure to keep heavier items in the bottom row of boxes.
Seating
This project is so simple and so worth it. Buy an elegant and comfortable fabric office chair with a standard five-star rolling base. It's best if you can buy the chair unassembled, so the base is detached from the seat. Choose a metallic spray-paint, ideally gold or bronze, and spray-paint the base of the chair. Now you've got a super luxe office chair!
Decor
One of the best parts of working from home is that you can really decorate it any way you want to. It can be hard to get the creative mind going though, so if you're stuck, here are some great home office décor hacks.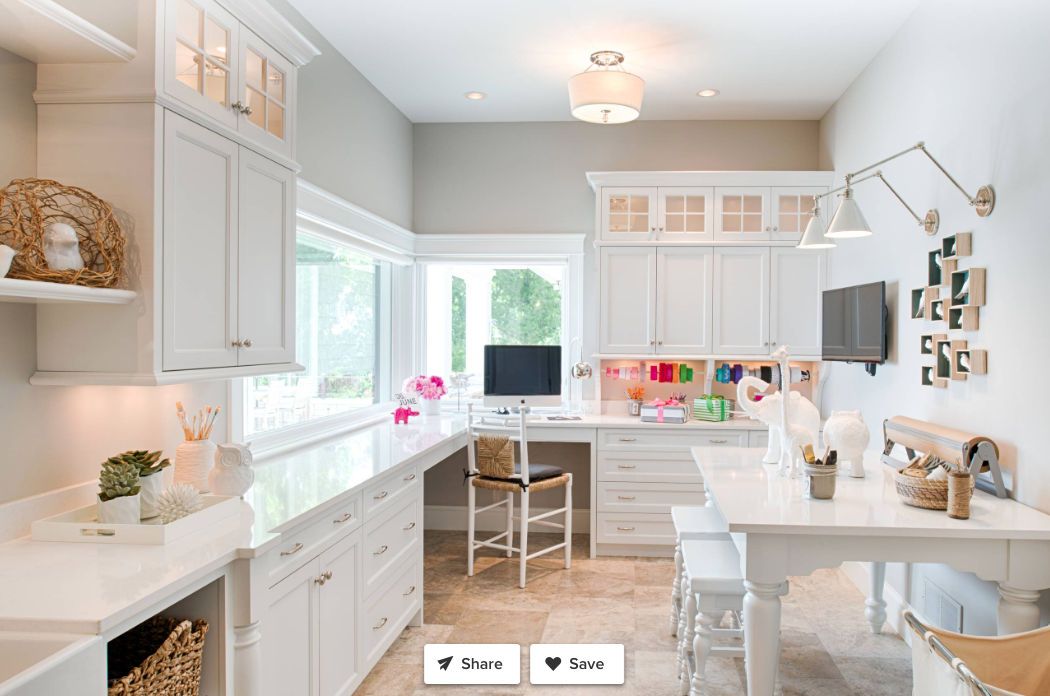 Photo By: Studio M Interiors
Chalkboard Mirror 
Who in the world doesn't have an unused mirror lying around somewhere in their home or their garage? Any mirror will do, because you can change the color with the paint you're going to apply. Use high-gloss white for a chic look, or gold spray-paint for super luxe style. The most important part: remove the mirror from the frame before you paint the border. Spray the mirror with chalkboard spray paint. Once both the mirror and the frame are dried, reinstate the mirror and write your daily reminders on your new chalkboard.
Message Board
To create a large, visible and decorative space to post reminders, inspirations and artwork, all you need is a large piece of MDF. Choose a couple of colors, no more than three, and paint a different section of the MDF surface for each of the colors. Then all you need is some fun design masking tape and you can easily attach and detach any photos or documents you'd like.
Whether you are a small start-up or a seasoned freelancer, it's imperative to have a home office space that inspires your creativity, enhances your efficiency, and also lends a sense of comfort and wellbeing to your professional life. It can be difficult to figure out exactly how to transform your space, but DIY projects with furniture you probably already have lying around are the perfect way to start. You can cater your projects to your specific style and space needs, whether it's updating your desk or adding storage space to help you stay organized.