5 Tips to Matching Your Artwork to Your Furniture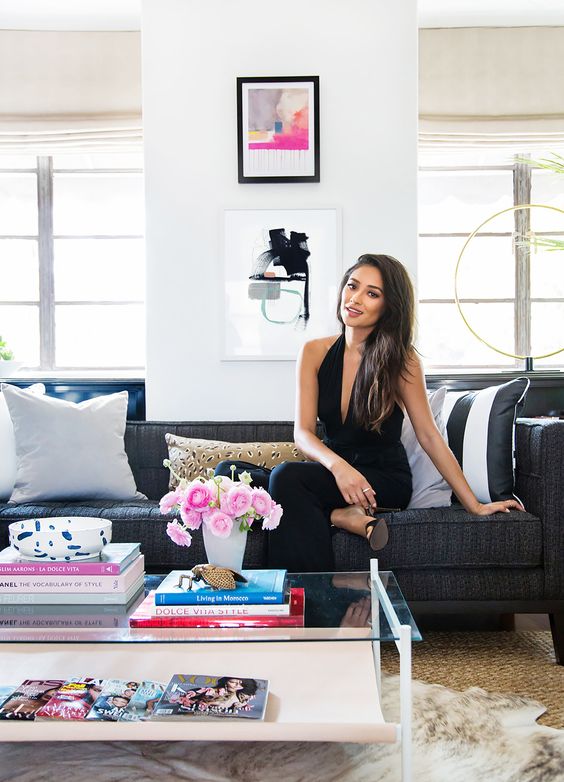 Make your home stand out with beautiful artwork. Here's exactly how to match your artwork to your home's decor and furniture!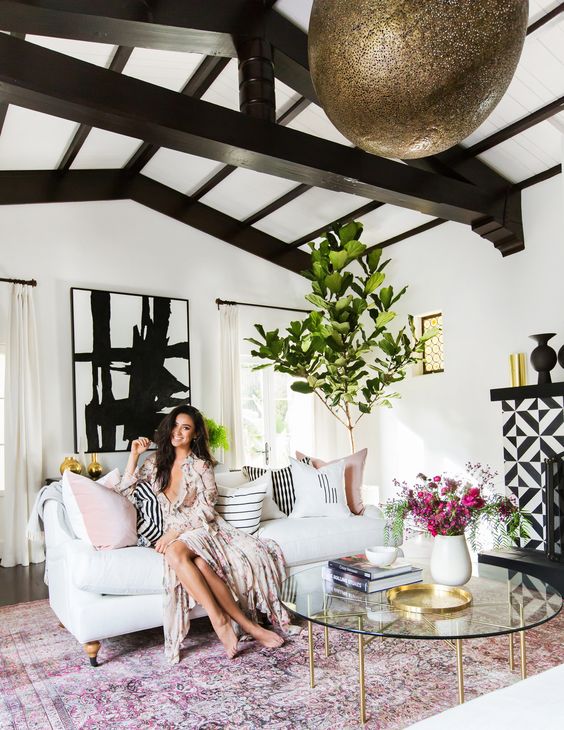 Photo: Architectural Digest
Art supports imagination and skill exploration. It creates attractive thought-invoking objects and experiences with the capability to evoke emotions and create 'wow' moments! Artists express their emotions and convey messages through art since the early prehistoric art periods.
Similarly, you can express your needs, personality and who you truly are through home interior décor. With wall art, you can create visual interest and a focal point indoors, giving your home beautiful finishing touches with emotive, modern accents. Artwork can also give your home an instant color palette and add texture, transforming your living space.
Pick a piece of art that supports your interior decor. Selecting the right art piece to revamp your interior space isn't easy. With so many artwork pieces to choose from, you can be spoilt for choice. Here are 5 tips to help you pick artwork that doesn't just suit your taste, but also matches with your furniture:
Buy What You Love & Intrigues You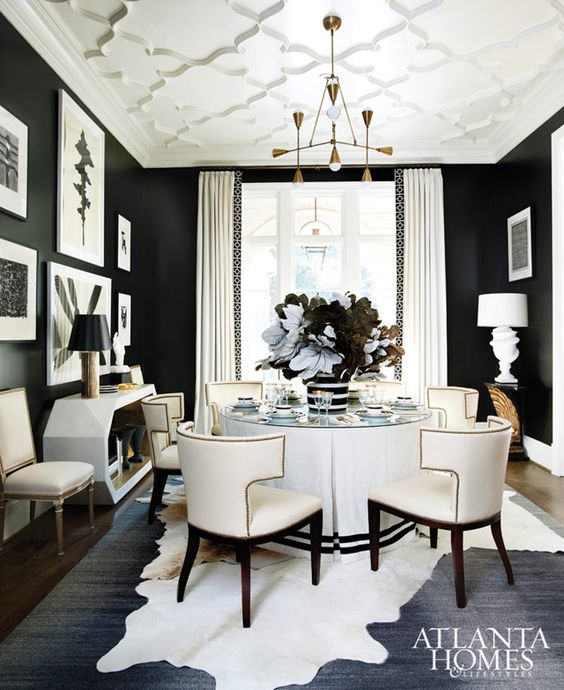 Photo: Atlanta Homes
First, buy artwork that you love! Pick a piece of art that intrigues you and will thrill you every single day. It doesn't matter whether your artwork is cheap or expensive, mass-produced or original. What really matters is how you feel about it and the kind of emotions it evokes in you.
Original artwork can give your home a unique look and character, but it can be costly. Don't simply look for value and originality in your artwork as you might end up spending lots of money on something that you don't find meaningful. Find a piece of art that makes you smile and happy each time you glance at it.
Check out local art/craft shows or sites such as Etsy for something you like.
Line & Color Repetitions
Choose artwork supported by your home furniture, and room in general. Look for lines and curves in your furniture upholstery to echo in your artwork. For instance, black and white upholstery with lines can match with a black and white piece of art featuring conspicuous lines.
Repeat the colors on your artwork to enhance its impact in your room. Whether you're considering having the artwork over your sofa or in the bedroom as a headboard, there's no better way to visually strengthen your art than echoing its colors. Consider cushion or pillow accents to repeat colors on your artwork.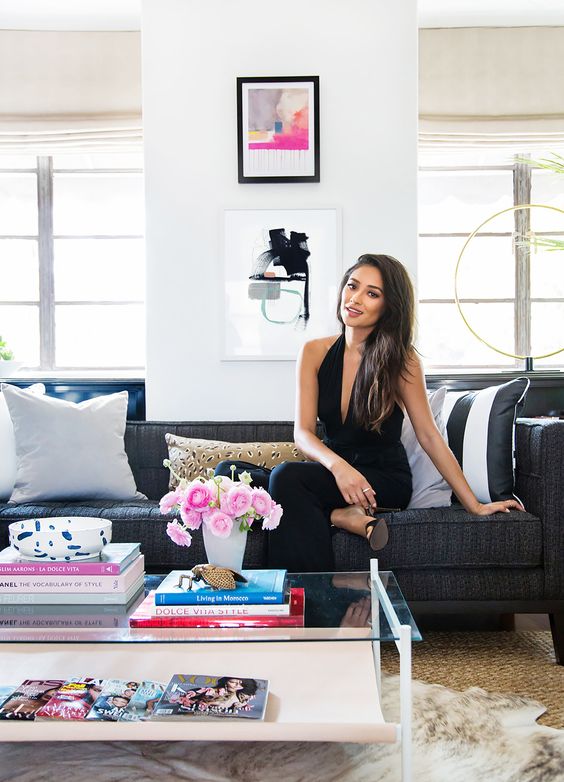 Photo: My Domaine
Matching undulating lines of tall vases with elongated shapes on a piece of art can also enhance its visual appeal. Try incorporating vintage furniture into your home if your artwork looks like it could be from that era. Consider an elongated and curvy dining table to match an artwork with lines of curvy, splashed colors. A vase of flowers in matching colors placed on the table completes the look.
Multiple Artworks
Create a greater impact by matching your furniture with multiple pieces of art by the same artist or those of a similar style. For instance, if you like minimalist decor, balance black horizontal lines on one piece of art with black vertical lines on another, creating an appealing look. Make sure all the artwork match your furniture in any one of the ways discussed in this article.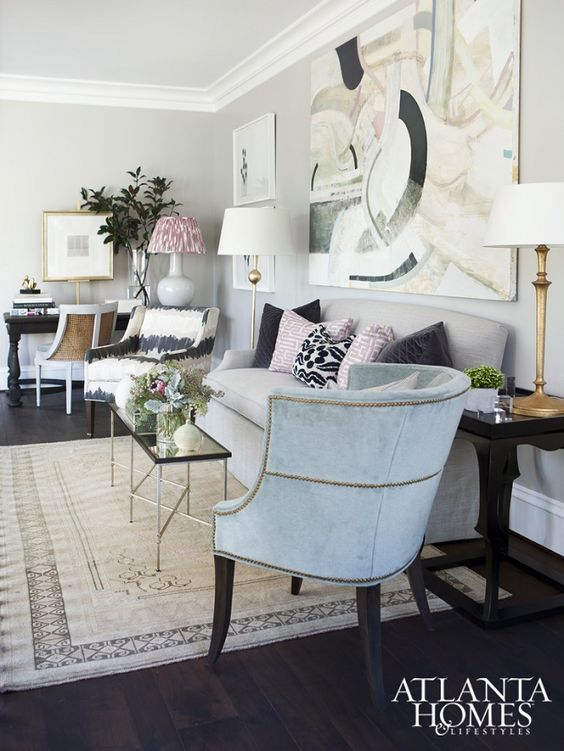 Photo: Atlanta Homes
Balance Colors
Just as with using lines to create a matching look, colors work just as good. For instance, if your artwork features black and red colors in different proportions, make sure your sofa also has the same colors. Your furniture can be black with red cushion accents, or vice versa. Add furnishings with a pint of the colors to spread the influence of those colors throughout your room.
Strategic Furniture Placement
The way you place your furniture around your artwork can also make a difference. Placing your furniture below your piece of art gives it an underlining and greater emphasis.
Ceiling and wall mirrors can also create dramatic looks of your artwork and furniture, creating an impression of the items existing in multiple numbers. Contrasting your furniture with artwork, using color palettes, lighting, humor and similar or different design styles can also help match your furniture with your artwork.
Contact James Picard for an artwork customized to suit your taste and blend into your existing interior decor