As you begin planning your holiday decor, it's helpful to first identify your personal holiday aesthetic. Doing so helps to give your space a more guided vision so that the finished product is more polished and put-together than if you were to make one-off decisions on the fly.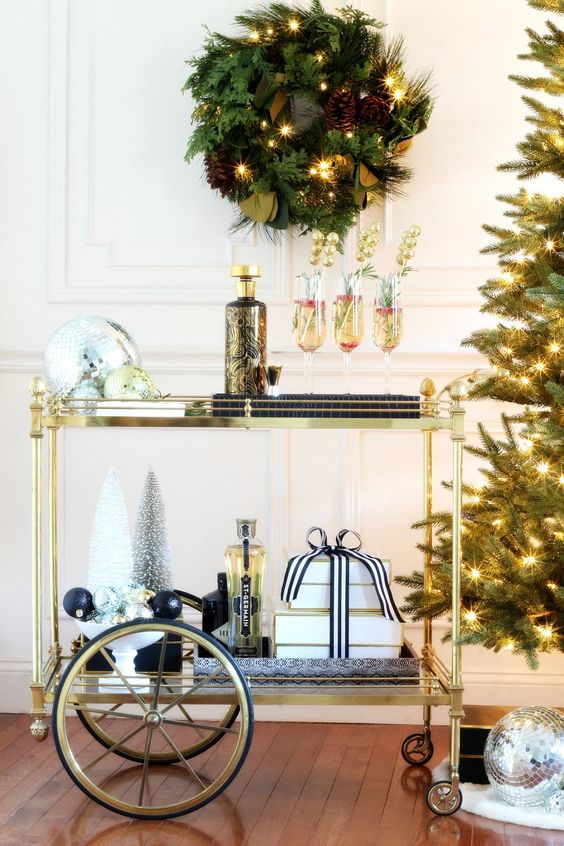 Photo: Bliss at Home
Is your taste more traditional or extravagant? Perhaps you fall somewhere outside of the basic offerings, preferring quirky holiday looks that stir up nostalgia of years past. Read on to see which aesthetic best suits you.
Viva La Glam
More is more when it comes to decking your halls. There isn't a surface in your home that is safe from garland and fairy lights. Between all of the twinkling light and festive scented candles, your entire home is aglow with a tone of lighting that is so flattering and relaxing, you wish it was socially acceptable to keep up this Christmas decor all year long.
You don't believe that a Christmas tree can have too many lights or ornaments on it, and you like to lay them both on thick. Who really wants to see any of the greenery under those lights and ornaments anyway? When choosing ornaments, you prefer more flash than fa-la-la-la-la, so you tend to keep a strict silver, white and gold color palette, featuring lots of sparkle in the form of glitter accents and crystal ornaments. Take the shimmer and shine up a notch this year and add some rotating ornament hooks to give your tree even more dimension.
Keep It Classic
When it comes to holiday decor, you like your festive adornments just like your home decor, traditional and refined. You decorate in moderation, careful not to make it too over the top. You think colored lights are tacky, preferring the warm glow of white lights on your perfectly picked Christmas tree. You carefully decorate your tree with a mix of classic ball ornaments and your favorite ornaments that you have collected through the years.
As for the rest of the house, the holiday frills are kept to a minimum, save for a little light-strung garland on the stair banister and on the fireplace mantle. For your home exterior, things are kept crisp and tasteful with a simple wreath of greenery on the front door highlighted with a spotlight and white icicle lights along your roofline in all the right places.
Retro Chic
When anyone stops by your house during the holiday season, they expect to hear the soothing sound of Sinatra crooning "Jingle Bells." And your holiday home decor, as with the rest of the decor in your mid-century modern home, goes right along with exactly what you would expect from someone with "Christmas with The Rat Pack" playing on a loop.
You scoured local thrift shops and estate sales to find the perfect vintage aluminum Christmas tree. You've been trolling flea markets for years to amass your near-complete collection of 1960s glass ornaments. Complete with bubble lights and old-school tinsel, your Christmas tree looks straight out of your favorite era.
Your holiday style may fall firmly into one of the above categories or you may blur the lines, choosing the bits and pieces from each holiday style that you love best. Either way, taking a step back to plan your holiday home look thoughtfully is key for creating a dazzling scene this holiday season.