Choosing the right material for your pool surface isn't an easy task. Here are some popular options to choose from, along with their pros and cons.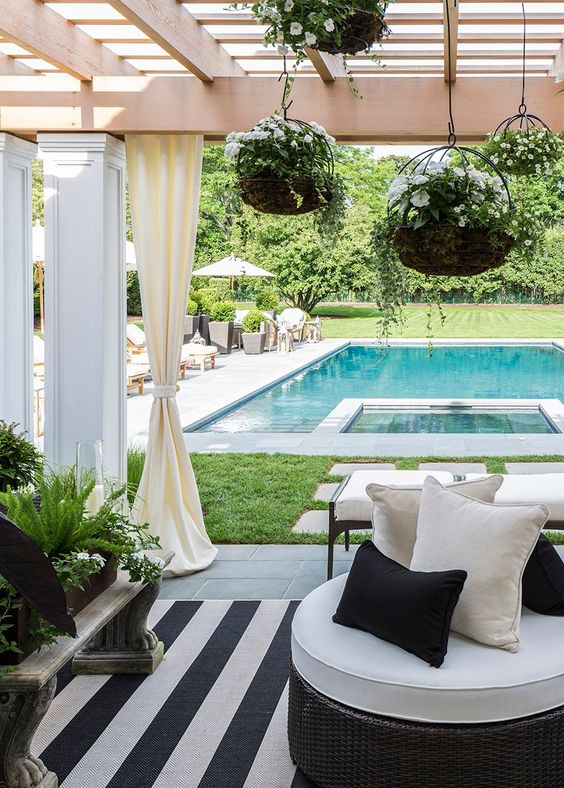 Photo: We Pick
Whether you are building a new pool or remodelling the old one, pool finish is one of the most important things to see to. The best thing you can do (if possible, of course) is to have a custom made pool which will enable you to have everything exactly the way you want. There are tons of pool design and shape contractors available in San Diego and nation wide, depending on your location. Here are some of the most popular solutions for pool finishes.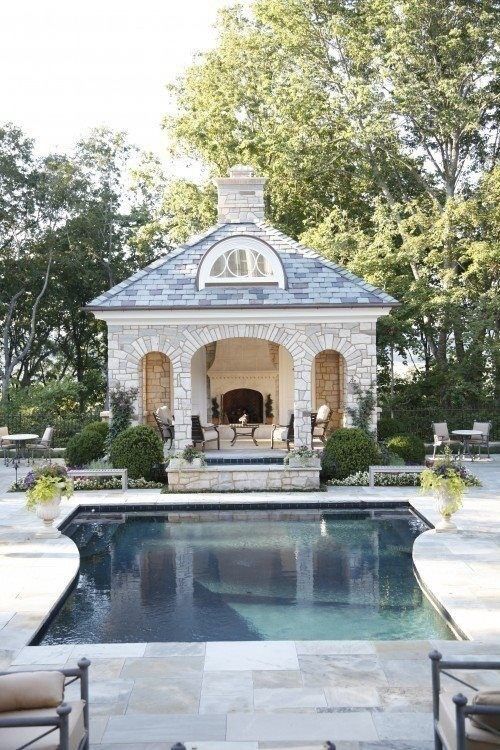 Photo: Camille Styles
White Plaster
This is one of the most common solutions. It is not the one of the highest quality as plaster is quite a porous material and isn't the most resistant to water-induced changes. It's prone to stains, bacteria growth and cracking. It's not a very great choice if you are trying to keep your pool clean. It's estimated to last seven to ten years. However, if maintained properly, it can still be a good option as it is pretty affordable and smooth. It's a mixture of water, white cement, white marble or lime stone which can be reliable and last longer than the estimated period providing a good maintenance. It really gives the smooth, classic look to your swimming pool.
Colored Plaster
If you really want your pool finish to be a certain color and still be affordable, this is the option for you. It's basically the same thing as the white plaster, but only more prone to changes, that is, the changes like unevenness and color fading are more visible. The most popular shade is medium grey as it gives water the alluring blue tinge. If you wish to add depth to the pool and increase the water's reflective quality, opt for the darker nuances of grey or black. It will create a dazzling effect as your pool will serve as a mirror of the surroundings.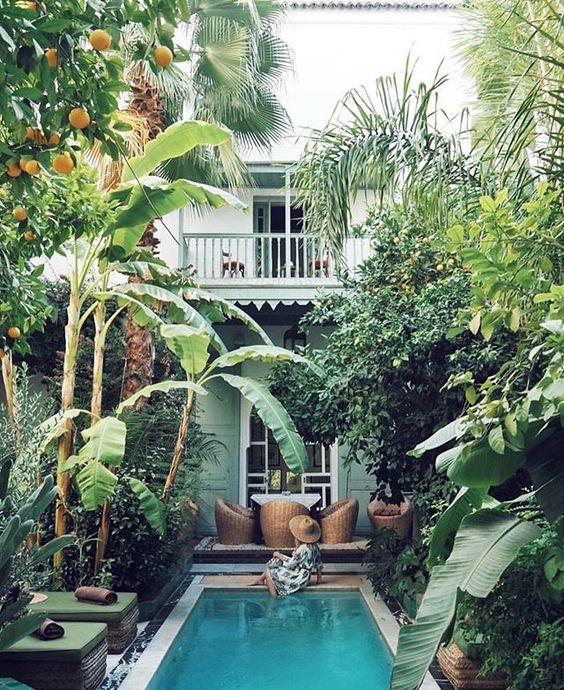 Photo: DIY Design and Decor
Quartz Tiles
If you're a fan of colors but are ready to pay a bit more, quartz is the option for you as it has quite a wide color range. It can also be combined with plaster and produce a more quality, more durable, but also more costly solution. However, it also provides more options, as it comes in different forms and when combined with white plaster; it can offer a wide range of nuances, so it's definitely worth considering. Adding quartz to plaster can extend the longevity of the pool for 12 to 20 years. It also gives the pool a classic, timeless beauty.
Pebble Tiles
This type of surface is the most durable one, it lasts longer than any other pool finish and is resistant to water chemicals. It is also quite versatile and also gives the most natural, rustic look. This finish is suitable for tropical or lagoon style pool designs. It is, however, a bit more expensive and is also quite textured, which simply may not appeal to some pool owners. Yet these drawbacks could be disregarded in comparison to overall quality and diversity.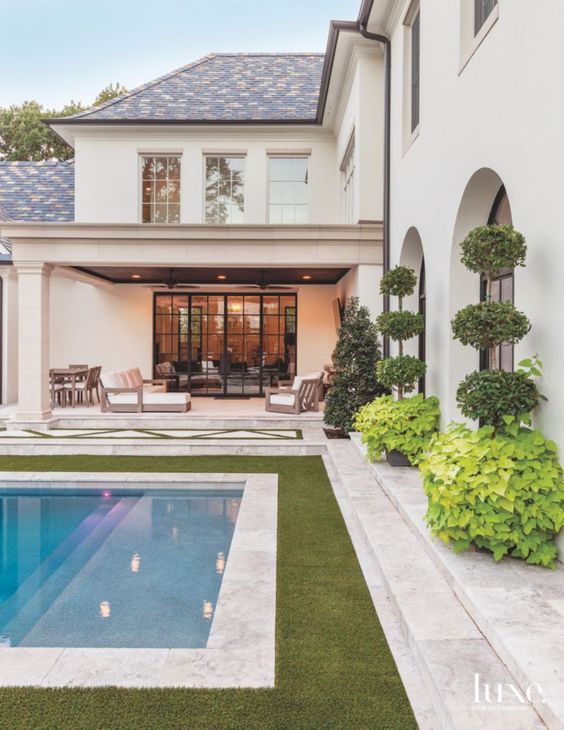 Photo: Luxe Source
Tiles
Tiles come in various colors, shapes, and dimensions, so they can fit any of your needs. They're also often slip and water-resistant and can last for quite a long time. They are a great addition to any of the previous choices as they add some dynamics to the pool look. Of course, if not maintained properly, they are prone to cracks and damage. Tiles are a smart choice if you have an outdoor pool-house fit with a washroom and a glass vessel sink. You can use the same tiles in your pool house to tie your whole look together!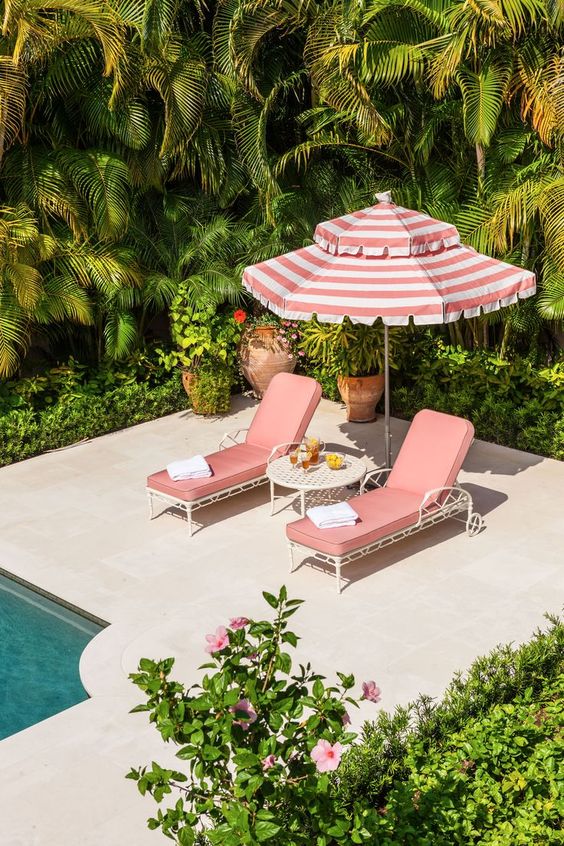 Photo: Mc Cann Design Group
Glass Bead Finishes
They will really add to the elegance and three-dimensional look of your pool. They come in various colors and really make your pool look stunning, especially in the sunlight. They are quite durable, long lasting and stain-resistant. If you prefer modern, sleek look, this is the right choice for you. There are other options, like fiberglass, but the customization options with that material are severely limited. If you are looking for a truly unique and custom pool, find a suitable partner for that project.