Try these trendy new flooring ideas that are stirring up the decorating world for 2017!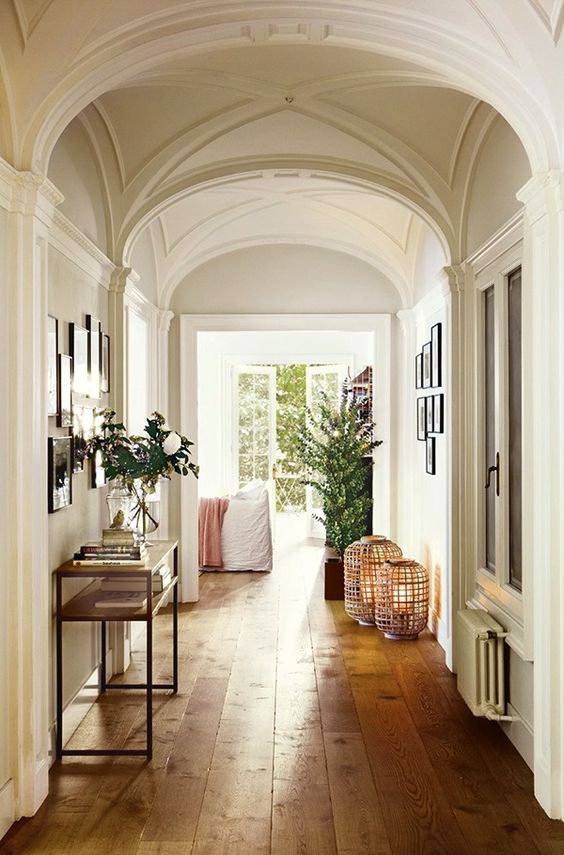 Photo: Laurel Bern Interiors
What's a better way to make a fashion-forward decorating statement than by updating your flooring? Flooring trends come and go, but this year we are seeing some beautiful styles and designs that are here to stay, at least for a while. From tile to hardwood and even vinyl flooring, designers are loving the opportunity to get creative with these awesome new materials and colors. Take a look at some of the most stylish flooring trends that really caught our eye:
Tiles that Look Like Real Hardwood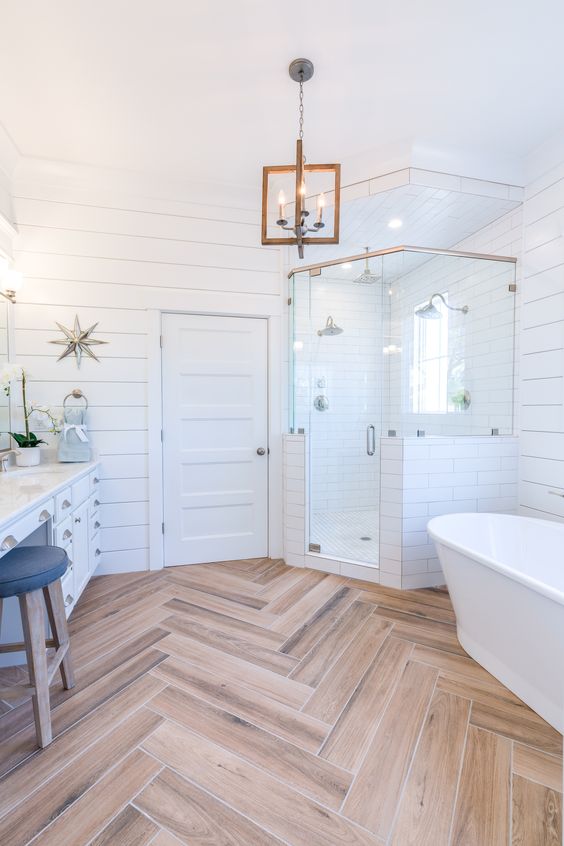 Photo: Progress Lighting
It can be tough keeping up with the all-hardwood flooring trends by installing hardwood throughout your kitchen and even bathroom! Tiles that look and even feel like real hardwood are becoming a hit trend and gaining momentum very quickly. Tiles are built to last and one of the most durable flooring options available. The fact that you can get a luxurious hardwood look to complement your existing furniture and have the durability as well is like killing two birds with one stone!
Before installing your tiles, always determine what pattern and orientation you would like the tiles to be in. Open a few boxes of tiles and temporarily lay them out in different patterns on the floor to see what looks best!
Chevron Tile and Hardwood Trend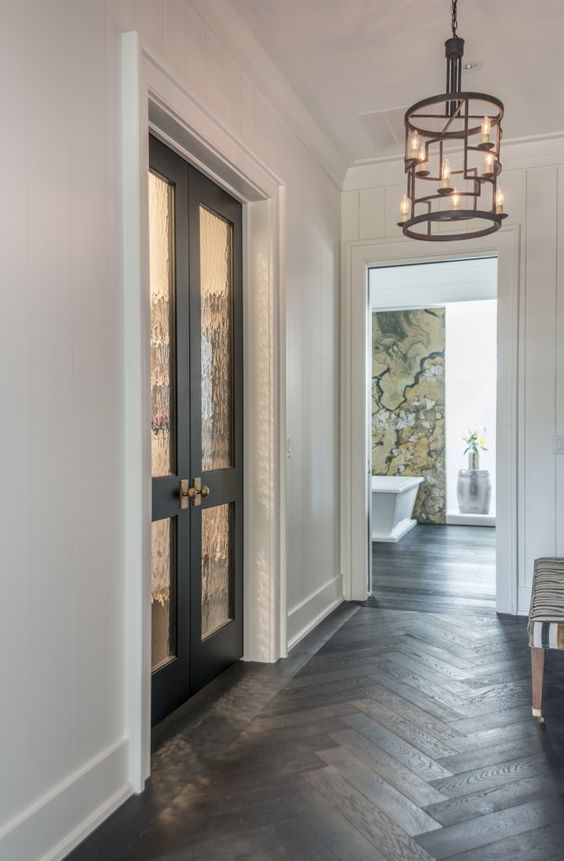 Photo: Cameron Custom Builder
If you don't know what chevron is, it's the cute zigzag pattern that has been used on everything possible the last few years from décor to fashion and household items. The chevron trend was everywhere the last few years from curtains to carpets and even wallpaper. This year, chevron has taken on another spin as designers are installing tiles and hardwood floors in a chevron pattern. It looks very cool, but make sure you have a good handyman that has the patience for a detailed pattern like this!
Suzy's Tip: I LOVE the chevron tile and wood plank trend! Install these chevron tiles in your bathroom for a very chic and updated look! Then, install brass hardware for your shower head, faucets, and vanity handles for a very sophisticated look that is Architectural Digest approved!
Affordable Vinyl Flooring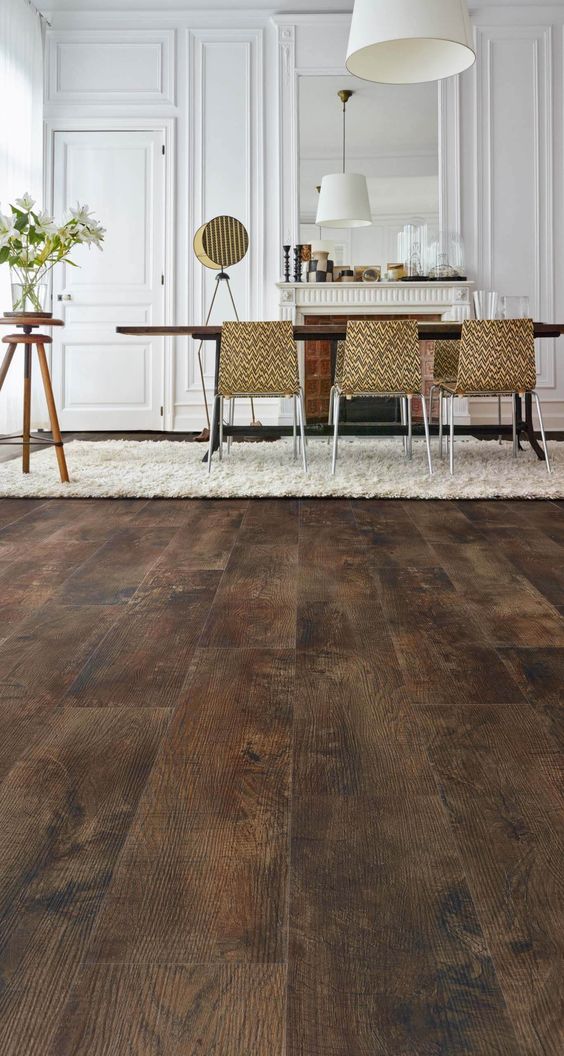 Photo: Online Vloeren Specialist
When we mention vinyl, everyone thinks of the hideous outdated linoleum that truly isn't even vinyl. These two are often confused with each other and are actually two very different products. In the last few years vinyl has really taken off and become an affordable, durable, and fashionable flooring trend. You can now buy vinyl that looks like real wood similar to the wood-like tile and laminate that is on the market today. There are also tons of minimalist vinyl floor tile designs that look amazing and are super durable even in high-traffic areas of your home.
Vinyl flooring is tough as well as very good-looking. It's really the easiest flooring material to install and also one of the cheapest flooring options on the market today. Vinyl is so thin and flexible but it's also durable enough to last you for many, many years to come. If you are hesitant on installing this in your hallway, living room, or kitchen, you can always try it out on some not so noticeable rooms like the mudroom, laundry room, and guest bathroom. Test it out and see how you like it before installing vinyl in a large room that is used daily.
Wide Plank Wood Floors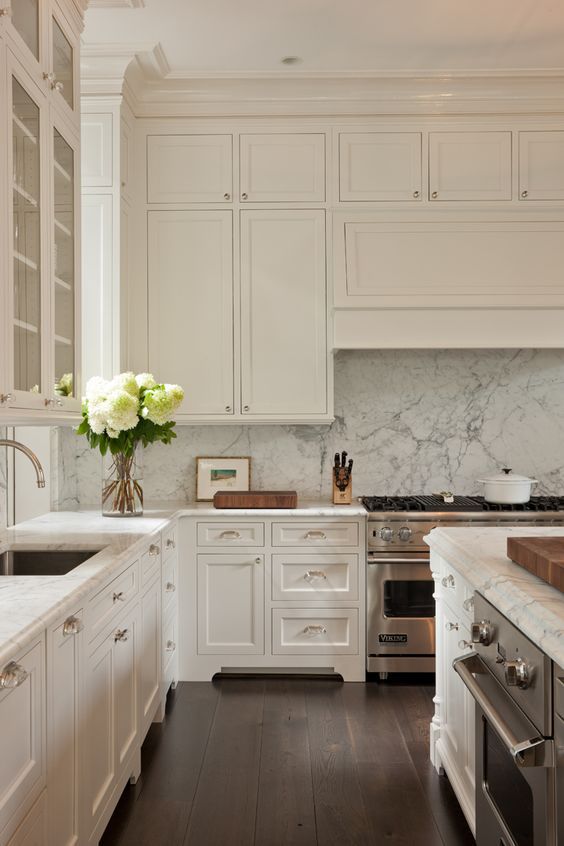 Photo: Lauren
If you are looking to make your home look bigger than it already is, consider choosing flooring that has larger planks. Long gone are the days of thin strip hardwood flooring that used to look expensive and glamorous, wide plank flooring looks elegant and very trendy. One look that I have grown to love is very dark wide plank flooring and light colored walls. This is a classic look that will look amazing for at least 10 or more years until something else becomes trendy. If you are trying to play it safe or renovating a home for sale, you definitely will not go wrong with this look.
If you are not sure which type of flooring you should purchase, consider contacting a professional for tips, advice, and help choosing the right type of flooring. For more info visit: http://www.homebuilders.construction/a/building-contractors-in-newcastle
BDB Tip: Using larger planks for your hardwood flooring adds depth and makes your space look twice the size. It's becoming a classic staple in the design world and will likely be a trendy flooring choice for the next few years to come.