Fall is one of the best times of the year to throw a party! The weather is neither too hot nor too cool, there are plenty of football games on television, and all the networks have started their new programming lineups. Find out which three outdoor parties you should throw before December arrives and exactly how you should decorate!
Pumpkin-Carving Contest
Halloween decorations have become a type of neighborhood Olympic sport in recent years, so go ahead and make it official. Invite other residents on your block to take part in a pumpkin-carving contest. This is a great event to carve beautiful pumpkins to place on your front porch for fall!
Before you get your party started, hand out a flyer that specifies the rules and underscores that the point of the party is fun, not gloating. The best pumpkin-carving contests emphasize creativity. Encourage all your attendees that, carving skills aside, they can still win admiration from their competitors with a great idea.
BDB Tip: October and November are the two most important months of the year for pumpkins thanks to two major holidays, Halloween and Thanksgiving. Consider hosting the event before one of these holidays to maximize interest in your party. You can also set up a crowdsourcing page to finance some prizes. That way, your neighbors can compensate you for any party expenses you incur. You might raise enough money to supply the pumpkins for everyone!
A Tailgate Party
Technically, this kind of party takes place at a stadium. Tailgating occurs when you sit in or around the tailgate of a vehicle, eating food you brought and possibly cooked on-site. The home version of a tailgate party works similarly. You'll invite a group of friends to come to your home and watch a game with you.
Whether you prefer college or NFL football doesn't matter. You simply need to provide tasty snacks, a comfortable sitting area, and at least one large television. Tailgate parties are wonderful outdoor events because they create a stadium atmosphere in a controlled environment. You don't have to deal with angry losing fans, either.
To decorate your backyard for this type of party, make sure you have a comfy and cozy seating area. You might also want to consider building a fire-pit to keep things interesting and cozy while watching the big game!
An Evening Cookout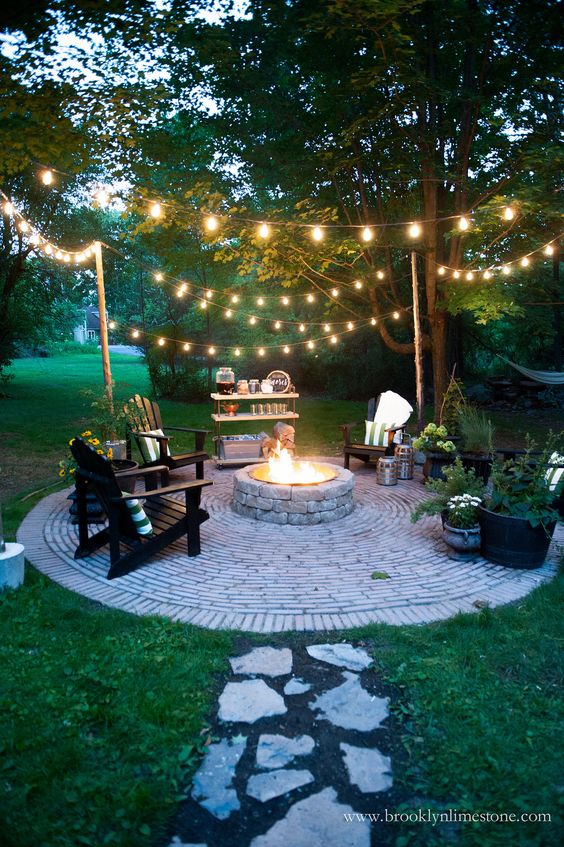 Photo: BestofDiyIdeas.com
With the glamping craze in full bloom, you won't need to leave your home to have an outdoor adventure. Instead, you can convert the exterior of your home into a functional campsite. All you need is a bit of imagination and a few elements, such as an outdoor fire pit from a supplier such as System Pavers. Why would you spend a night in the middle of nowhere when you can toast marshmallows in your own backyard?
Now you understand the genius of the fire pit. Position a few chairs around it, and you can mimic the camping experience without leaving your driveway. Plus, an evening cookout is best held during the fall months. The weather is cool enough that you won't sweat, but you also won't need to wear three layers of clothing to feel comfortable.
Fall is arguably one of the best times of year for a celebration. Invite your friends and neighbors to attend any of the events above, and you'll become everybody's favorite party host!