The bathroom may be small, but it deserves a little extra luxury. Here are 7 brilliant decorating ideas to amp up your bathroom panache!
Hang Extra Long Gold Dipped Curtains
Even if you have small windows in your bathroom, hang long, flowing curtains to make your space look big, glamorous, and luxurious. For a quick, expensive looking DIY, purchase plain white curtains and with a sponge, dab gold fabric paint near the ends. You can even splatter gold paint all over the curtains. Take a look at how its looks in this stunning bathroom:
Roll Out a Large Rug
Decorating with rugs in the bathroom isn't always common, but designers are putting more attention into bathrooms and treating them exactly the same as main living areas. A rug, especially a high pile rug makes a bathroom feel more comfortable, and luxurious. Try to purchase a rug that is waterproof and anti-slip for easy washing and for safety purposes.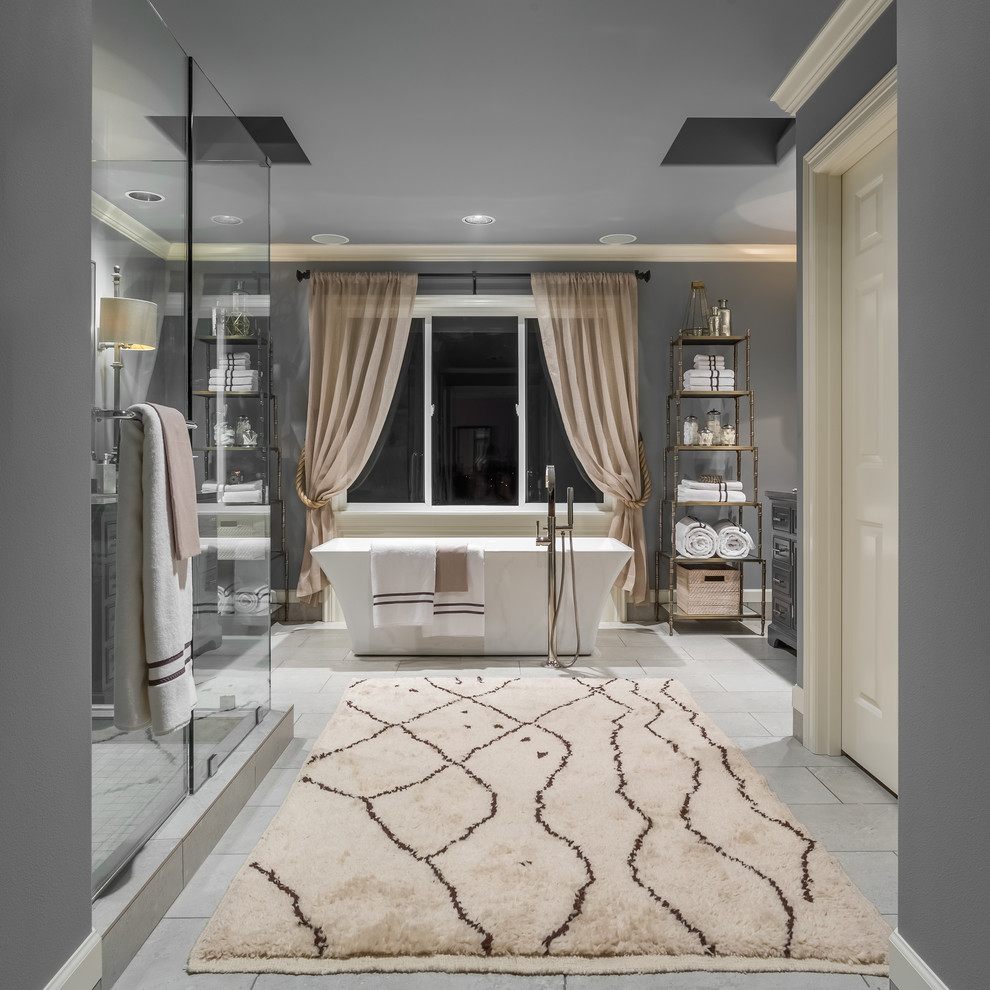 Photo: Miller Interior Design, LLC
Use Different Tiles in One Bathroom
Many homeowners think that they have to choose one type of tile for the whole bathroom. Totally false! Designers these days are playing around with multiples shades and styles of tiles to give bathrooms more depth, and style. This layered look is perfect to give your bathroom a whole new vibe. I love what Heather Garrett did with this bathroom. She chose solid subway tiles, and used a tiny tiled border, and then applied beautiful marble tiles in another section of the bathroom. How chic!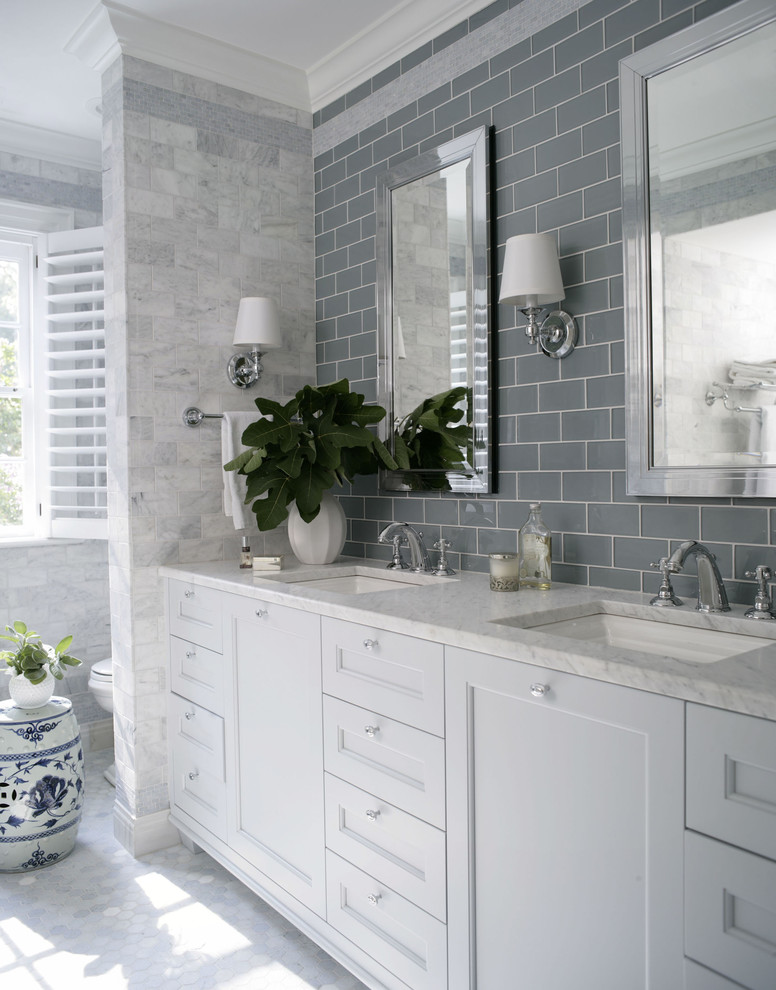 Photo: Heather Garrett Design
Say Goodbye to Contemporary and Go All Out with Tropical Wallpaper
I'm all about making spaces come to life and what's a better way than with bright, energizing tropical wallpaper. To make a knotty tropical wallpaper like this work, keep your tiles, flooring, sink, and accessories either white, cream, or off-white. Install chrome faucets and hardware like these Grohe taps and Grohe showers This bathroom literally got a new life all because of the wallpaper. What an easy way to make a huge difference!
Install Open Shelving
I'm all about making bathrooms look spa-like to melt the day's worries away and get you in the best, relaxed mood to face the day. You can build a SuperBath at home by just paying attention to detailing found in hotels, spas, and resorts. For example, these open shelves that hold bathroom decor accessories, rolled up towels, and scented candles just scream: extravagance!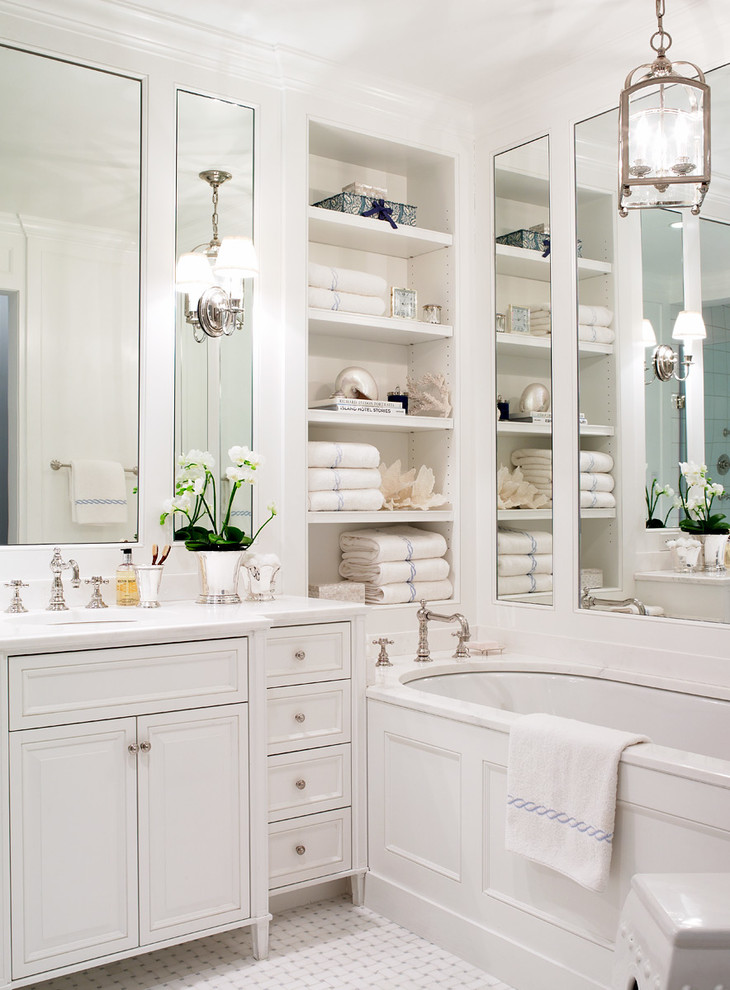 Photo: Studio 511