Switch things up this Thanksgiving and serve your big dinner outside for a change!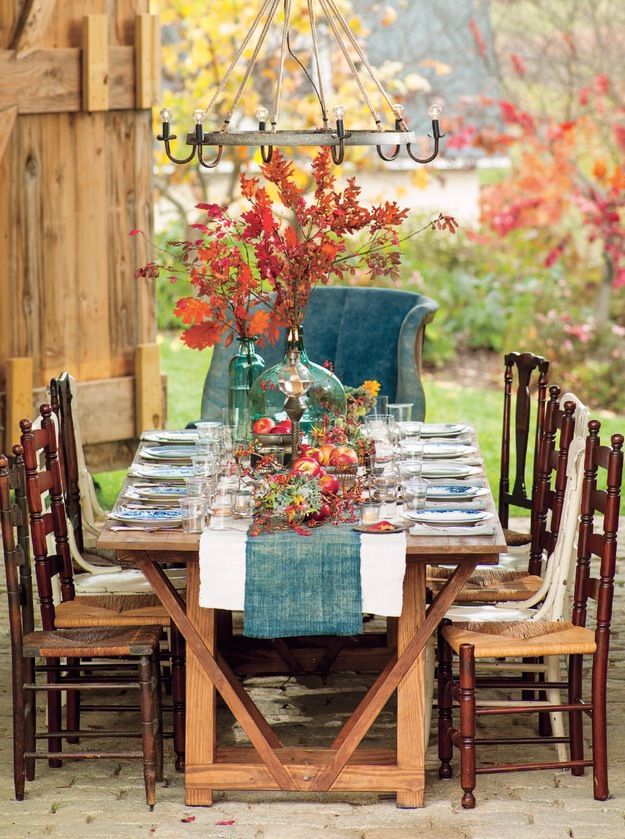 Photo: All Things Heart and Home
Most of us have put in tons of work into creating the perfect kitchen that lets us cook gourmet meals, and comfortably seat our entire family plus the guests. Our kitchens are definitely the heart of the home, but this holiday season we are looking to switch things up a bit. After all, at Better Decorating Bible we LOVE mixing things up a bit! Consider having your big meal outside, or something we like to call "dining alfresco'!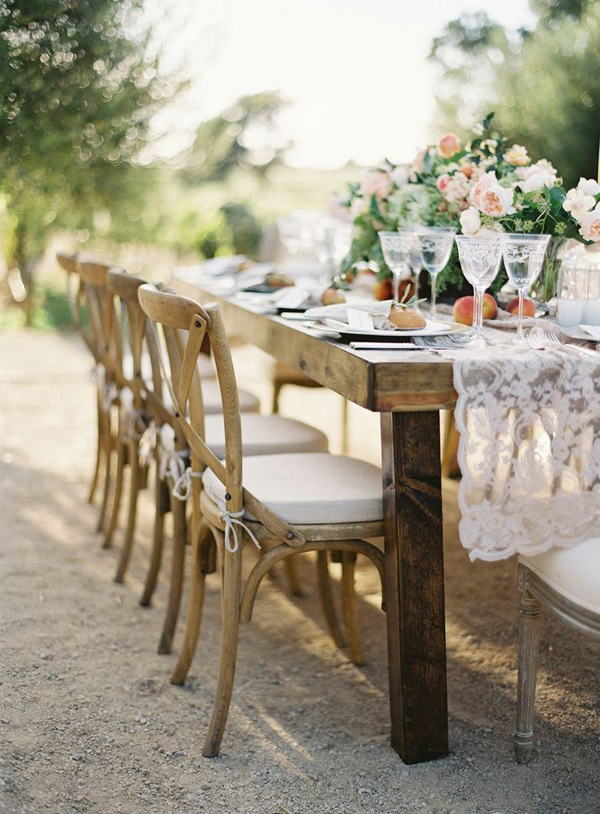 Photo: Bloglovin
Obviously for some of our readers who may live in colder climates where it is already snowing, dining alfresco isn't really an option. If you are lucky enough to live in a warmer climate like San Diego, Austin or Atlanta, creating an outdoor Thanksgiving is a great way to put a new spin on this very traditionally minded holiday.
So how do you do it? It's not like Thanksgiving is any other meal, and you definitely don't want the event to feel like an ordinary summer barbecue! Here are some tips to combine the fun and even some of the taste of summer with the beauty and bounty of a traditional Thanksgiving:
Serve Dinner on Your Deck
One of the best ways to keep Thanksgiving from feeling like any other Thursday is to make sure your guests (and the meal) have solid flooring underneath them. Eating on the ground (or at a table sitting on the ground) is for the ordinary summer weekend. Thanksgiving should happen on your deck or on a platform that you place in your yard. Make sure that whichever option you choose, that it's sturdy and has been properly finished. If you haven't refinished your deck in a while, this is a great time to get in on the teak refinishing trend that has become so popular.
Use Real Serving Ware
No paper plates, napkins, or plastic cutlery for this dinner. Everything should be served in and on real serving ware and eaten with real and solid utensils. Opt for solid colored ceramics (preferably glazed in fall colors) for the serving dishes and wooden serving utensils. Use heavy white plates and actual silver silverware for the meal. Napkins should be cloth and match the serving platters and ringed with wooden rings that match your serving utensils. This will marry the simplicity of an outdoor meal with the elegance and sophistication of a proper indoor dinner.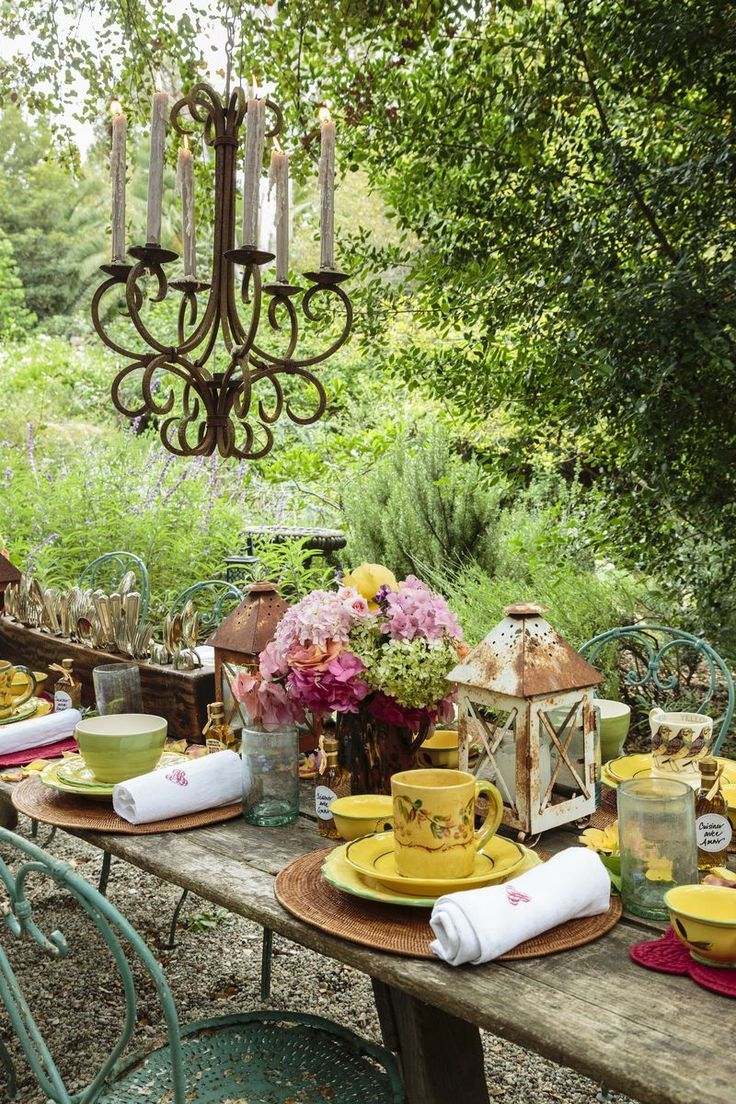 Photo: Maria Teresa Debracamonte WordPress
Use Ambience Lighting
Remember, this is late fall so you won't be able to use the sun's light to illuminate your entire meal. You also don't want to let whatever flood lighting you have for the yard act as your only light source. String up decorative LEDs – white lights only, it's not Christmas yet! Hang a few fall colored paper lanterns (look for pumpkin shapes or plain rectangles with leaves painted on to them), and don't forget tea lights for a decorative touch.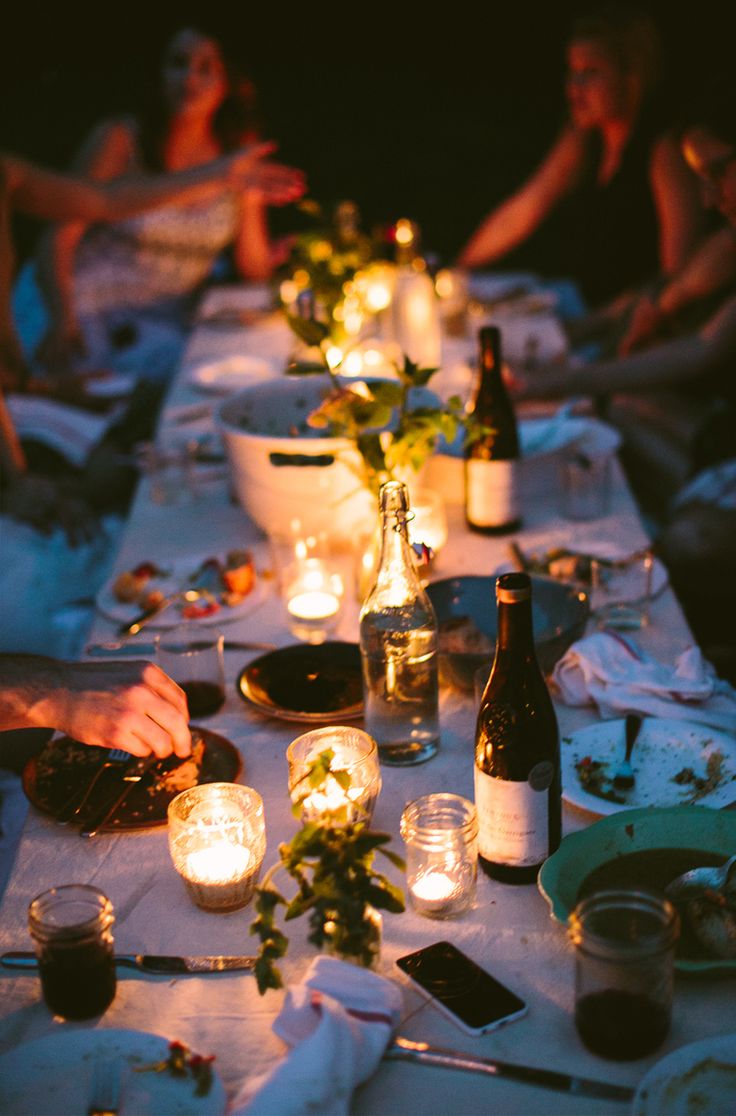 Photo: The Fresh Exchange Blog
Add a Source of Heat
You might live in a fantastically warm climate (which is what makes this outdoor meal such a good idea) but you've likely acclimated to that climate which means you're likely to feel slightly chilly when eating outdoors. Sweaters only go so far in keeping everyone warm. It is also important to have a heat source or two placed strategically close to the table to help the space feel as warm and inviting as your kitchen. Outdoor fireplaces are a great source for this if you have them. If not, a few space heaters can also do the trick (just make sure you don't overload your house's circuit breakers).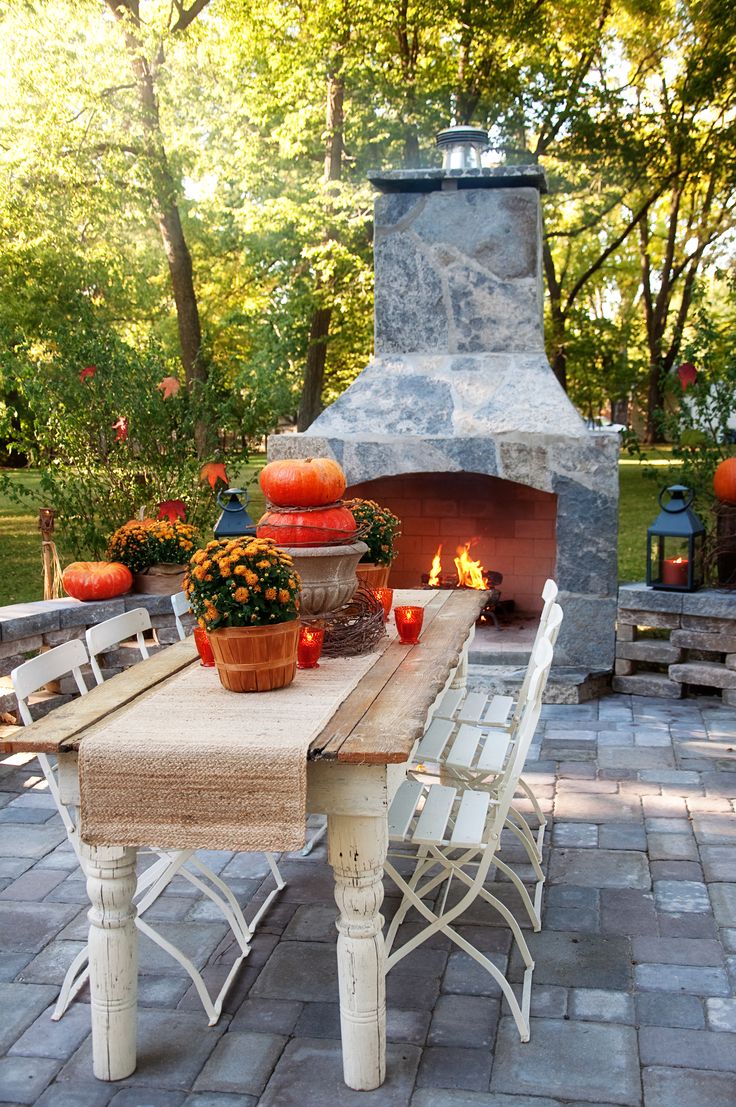 Photo: Picklee
Prepare an Outdoor Inspired Meal
You might be tempted to cook everything inside just as you would if the meal were being served indoors. After all, you've outfitted your kitchen to accommodate meals just like this one. Since you're serving outside, though, why not add some of that outdoor flair to your meal by cooking a few things on the grill? Instead of steamed and buttered vegetables, why not grill your veggies instead? Obviously you won't want to grill your entire meal, but adding some grill flavor is a fantastic way to spice up the meal and tie it in to your surroundings.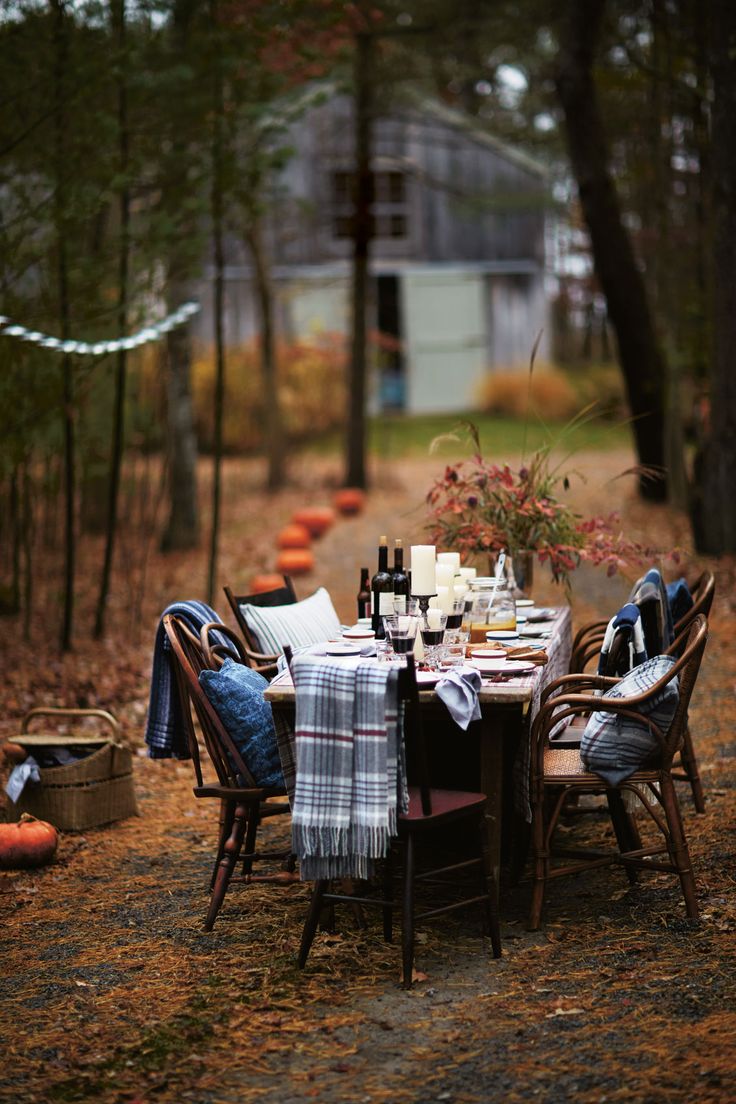 Photo: Lexington Company
Eat Dessert Around a Crackling Fire
Remember that outdoor fireplace or fire pit? Why not gather around that for dessert? You'd likely gather around an indoor fireplace for the final part of your meal, right? Provide a few extra warm blankets to help people get cozy as they enjoy their pie and steaming mugs of cider, coffee, hot toddies, whatever. It's a great way to create an intimate feeling among friends and family and bring the event to a close before everyone heads inside to fall asleep in front of the television.
There are a lot of great ways to incorporate the outdoors during Thanksgiving that aren't simply tossing a football around in the yard while you wait for the big game to start. Use the hints we've suggested here to create an outdoor Thanksgiving that is as inviting as it is elegant. Trust us when we tell you: you'll be starting a trend!