7 Steps to Your Own Kylie Jenner Inspired Glam Room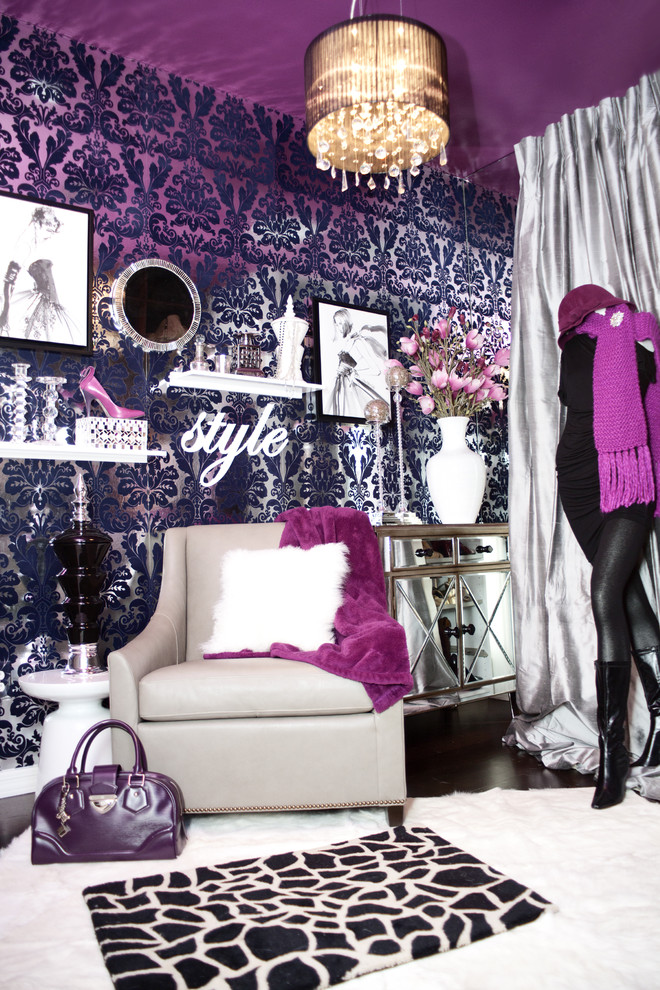 If you've ever seen Kylie Jenner's home tour of her "glam room" then you know what we are talking about when we mean a room for GLAM only. Here's how you can recreate your own glam room at home all by yourself!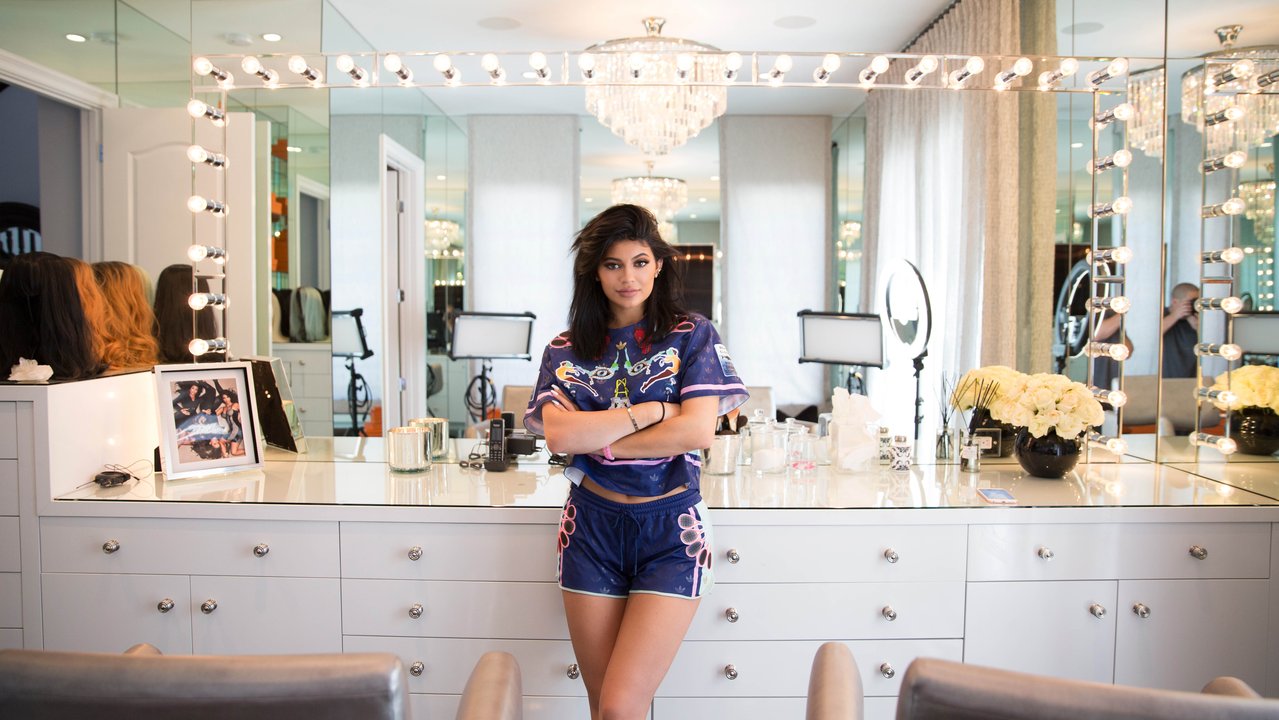 Photo: TheKylieJenner.com
1. Create a Seating Area
Every glam room MUST have a seating area. Besides, this is the room where you are going to do your makeup, pick out your outfits and also socialize with your girls. Two comfy tub chairs, an ottoman and some magazines is all you need to complete your whole space.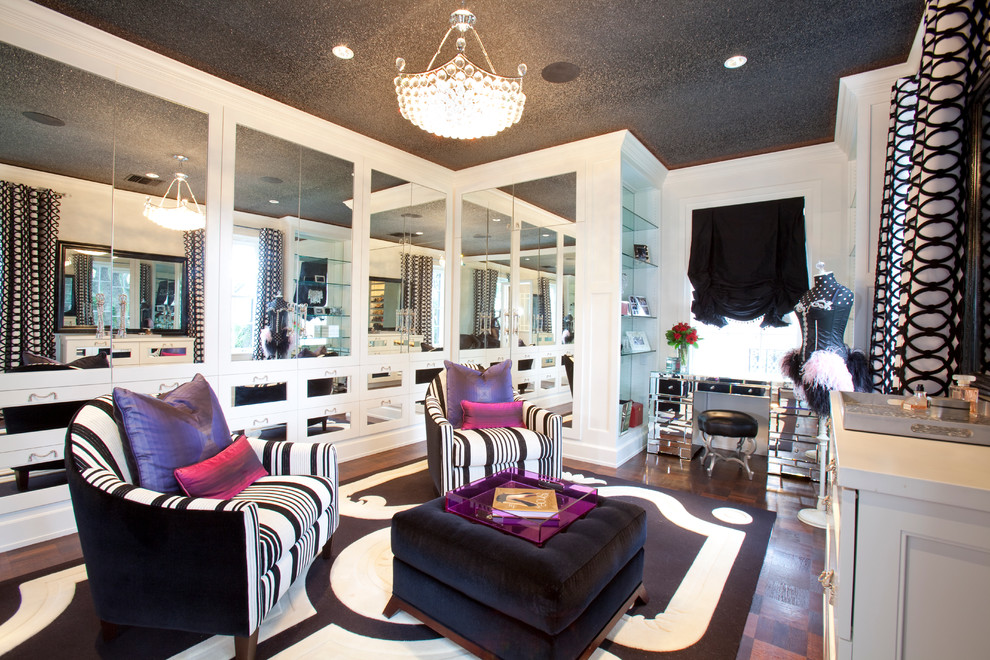 Photo: Laura U, Inc
2. Remodel Your Existing Bathroom
If you aren't fortunate enough to have a walk-in closet, or a separate room you can turn into your glam room, consider a bathroom remodelling. Wrap the walls up in mirror tiles like the ones from IB Mirror to make your bathroom look bigger than it already is. Then, install makeup lights around your mirror and make sure to install enough storage space to hold your makeup and hair essentials.
3. Use Metallic Colors and Molding
Metallic paint that has a sheen to it speaks GLAM all on it's own! In your closet, paint your dresser, shelving, and any other storage unit you may have, all in a metallic silver color. This hue is elegant and makes your closet look as if it runs for miles. Then, buy strips of molding and embellish the tops of shelves and ceilings in the same metallic silver. You would be surprised to know that you can stick molding onto IKEA bookshelves and make it look like expensive built in closet shelving. What an idea!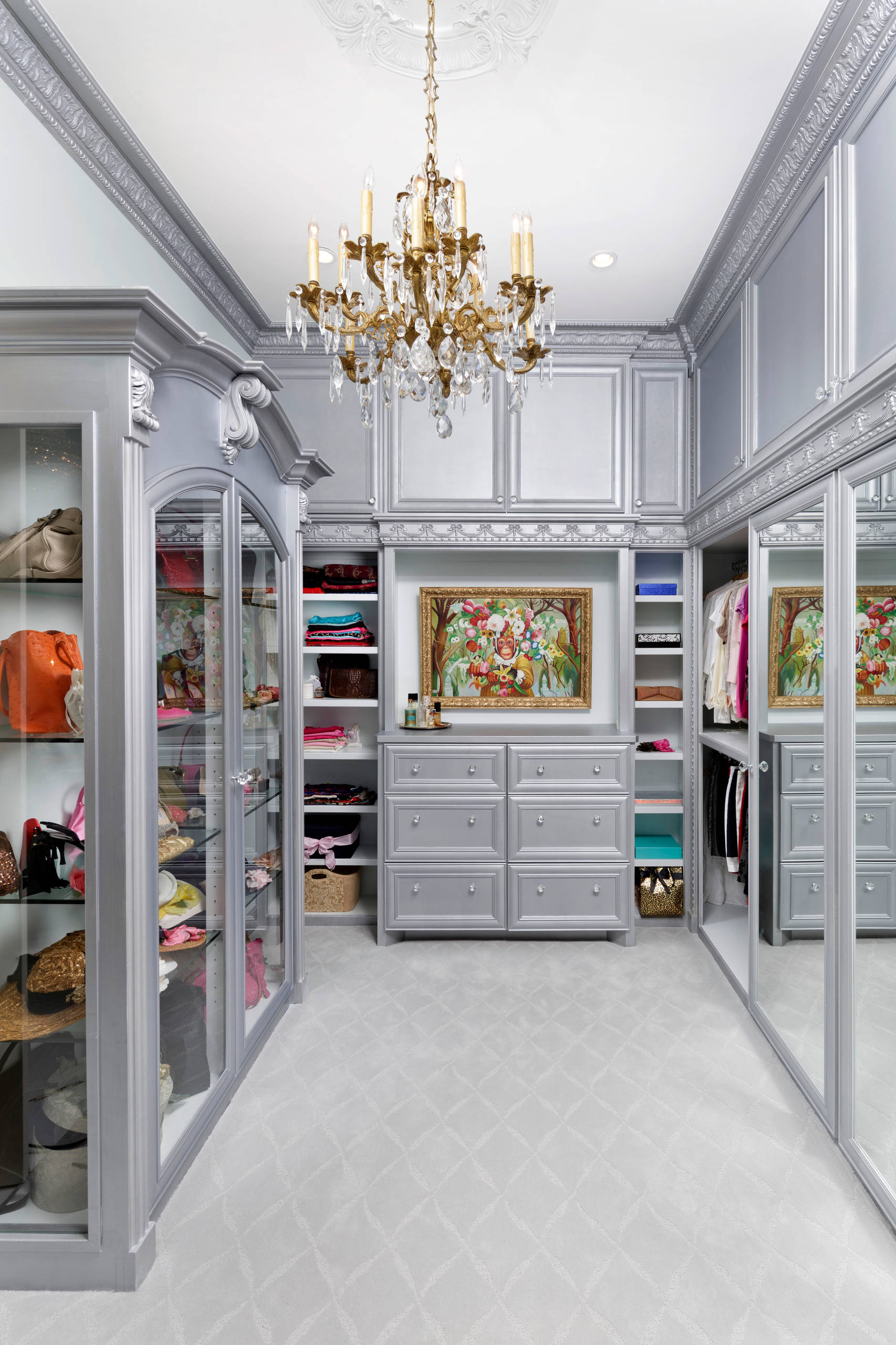 Photo: Sneller Custom Homes & Remodeling, LLC
4. Install Glass Shelving
The look you want to imitate is your own, personal mini-boutique right in the comfort of your home. Glass shelves make your handbags, shoes, and accessories look expensive and luxurious. You can easily swap your existing shelves with glass shelves. Just take a trip to your local glass cutter, tell them your shelf measurements, and then slide out your existing shelving and slip in your new glass shelves. The end result… just take a look below.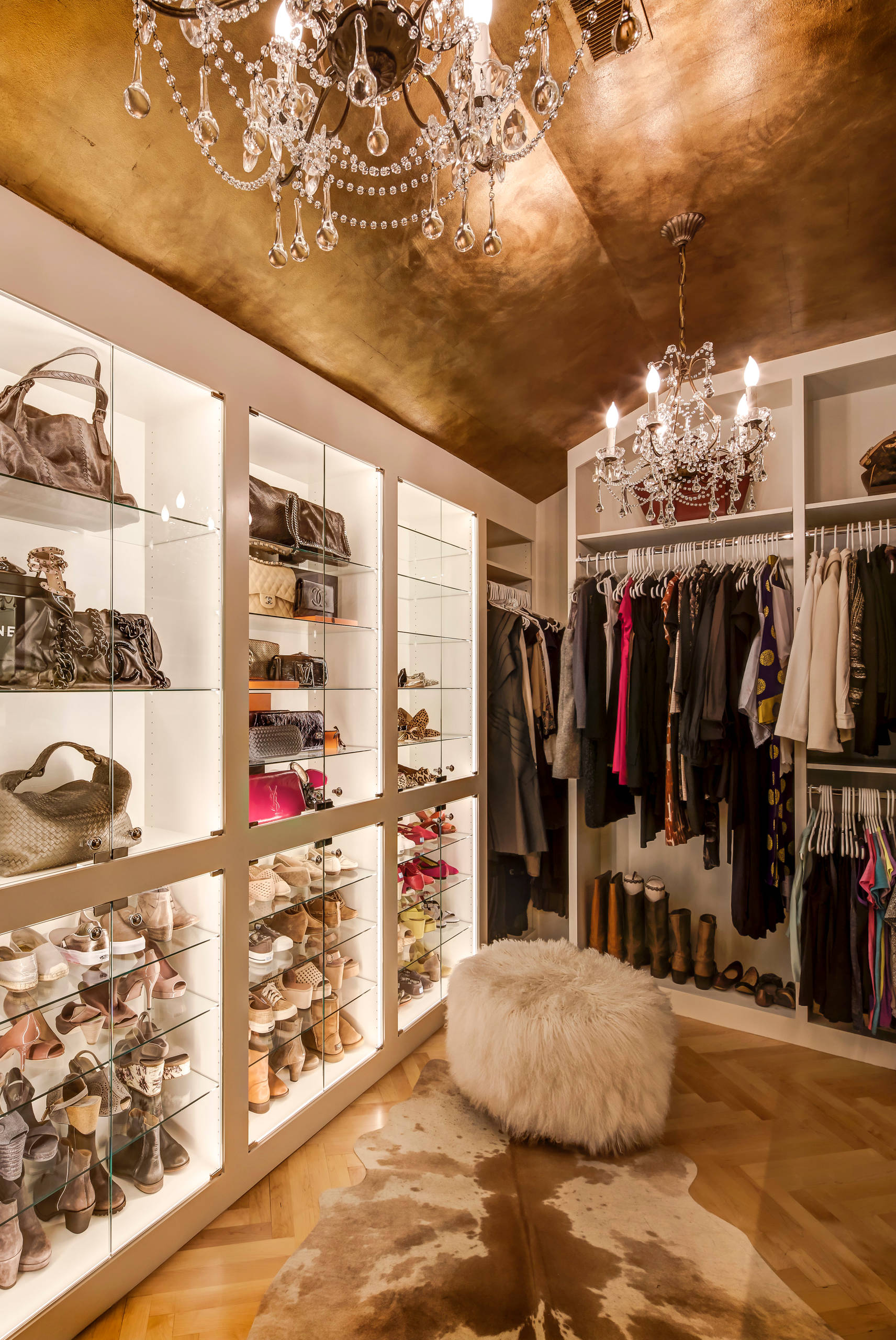 Photo: Bruce Fraiser Architects
5. Hang Photos of Fashion Icons
To gain inspiration when getting dressed or doing your makeup, hang up photos of some iconic figures you look up to. Celebrities, fashion designers, and even some up-close makeup shots make for great glam-room artwork. To make them look even more sophisticated, get them printed black and white with sleek black frames.
6. Wallpaper The Ceiling
Unexpected rushes of color and pattern coming above your head shows that this is a room to experiment and have fun! Choose a vibrant, texturized, and patterned wallpaper like this metallic rose colored damask wallpaper, and apply it right to the ceiling. The chandelier with dangling jewels, black wall color and mirrored vanity are all big statement pieces, but work together seamlessly in harmony,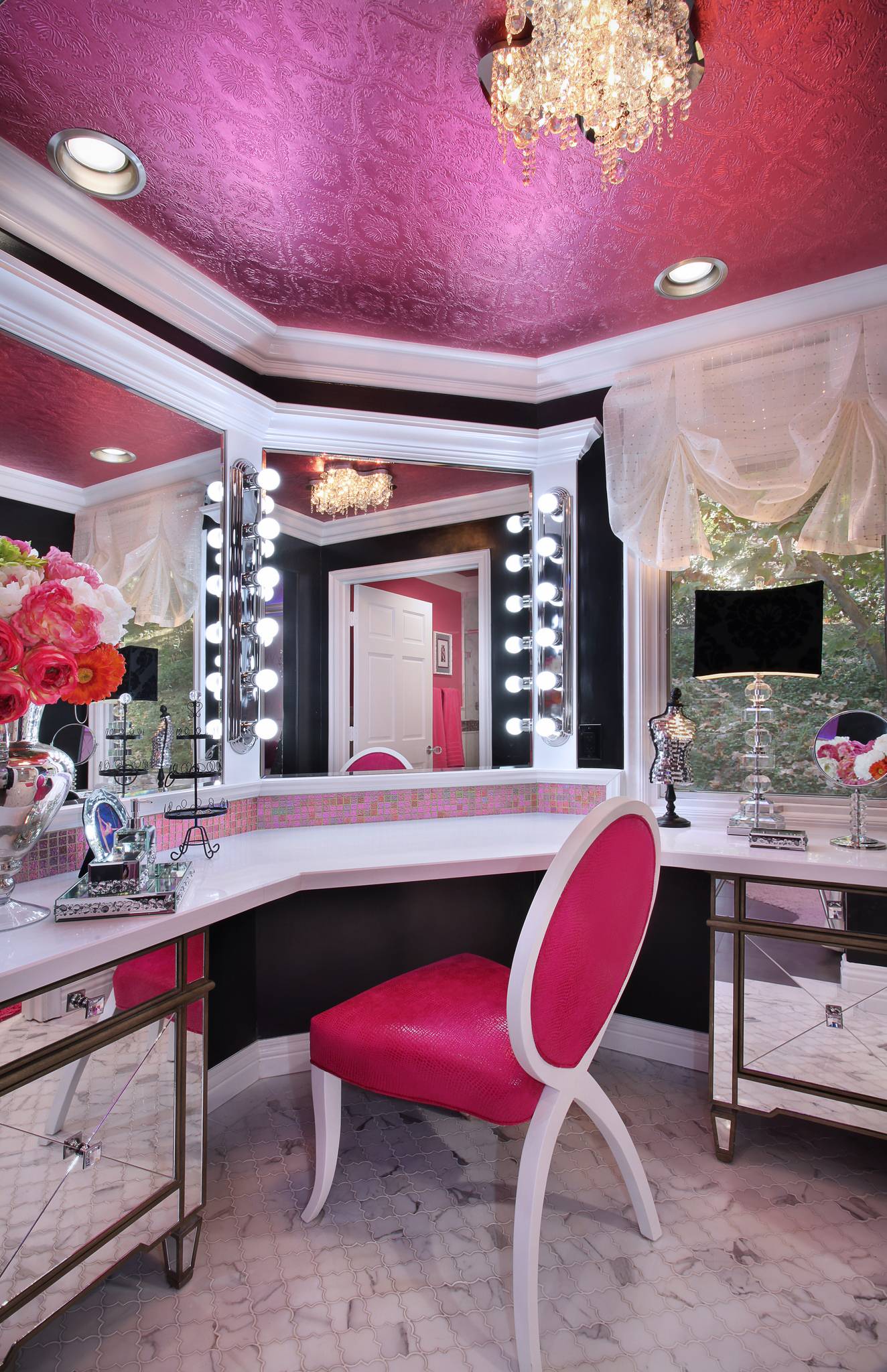 Photo: Frank Pitman Designs
7. Hang a Glamorous Chandelier
The right type of lighting really makes all the difference! To place a seal of approval on your newly decorated glam room, hang a pretty chandelier to reflect light all throughout your room. The best way to make the most of a chandelier, is to choose reflective surfaces that will make light bounce off from one corner to the next. Mirrored walls, shelving, vanities, dressers and even lacquered paint colors make all the difference.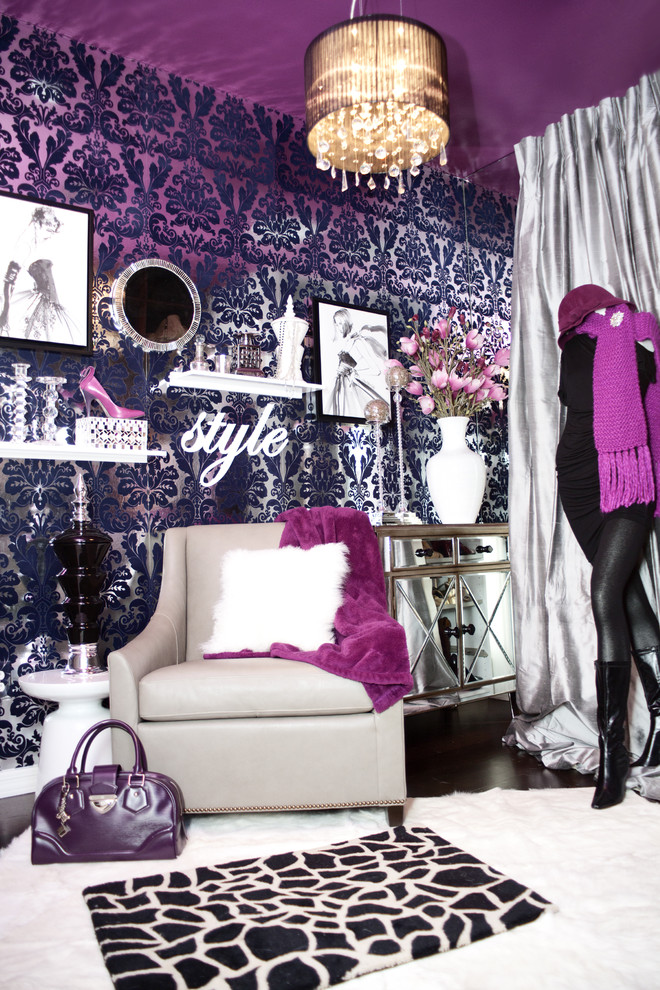 Photo: Restyle Group Interiors