Fall Decorating Roundup – The Best Ideas and Fall Home Tours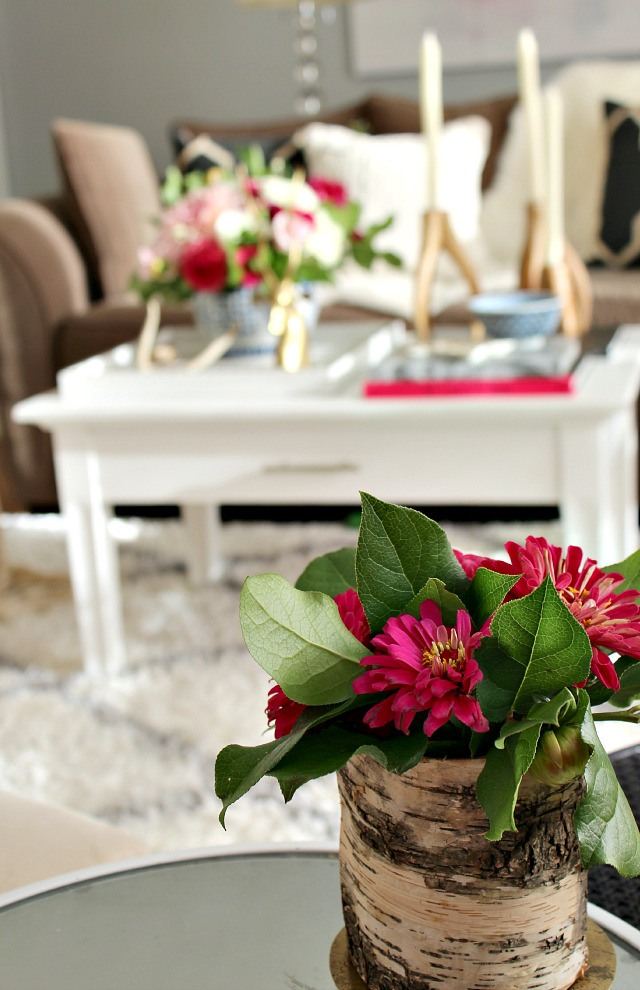 Decorating for fall and Thanksgiving is a fun way to get the whole family involved and enjoy the great outdoors! From sprucing up your dining room table, decking out your mantel, and dressing up your front porch, you can really get creative and have a blast!
What I really like about fall decor is that you can use so many things found in nature – from leaves, feathers, acorns, pine cones, pumpkins, and the list goes on! What's a better way to spend the weekend then to take a trip to the  country for some squash or pumpkin picking? I've rounded up some of the BEST fall home tours that are sure to give you some easy, and creative ideas for your own home.
Now is the perfect time to try out some DIY projects that cost you almost nothing! Take a nice walk in the woods and gather some tree bark. Glue it onto a tin coffee can and you have yourself an instant woodsy-inspired vase!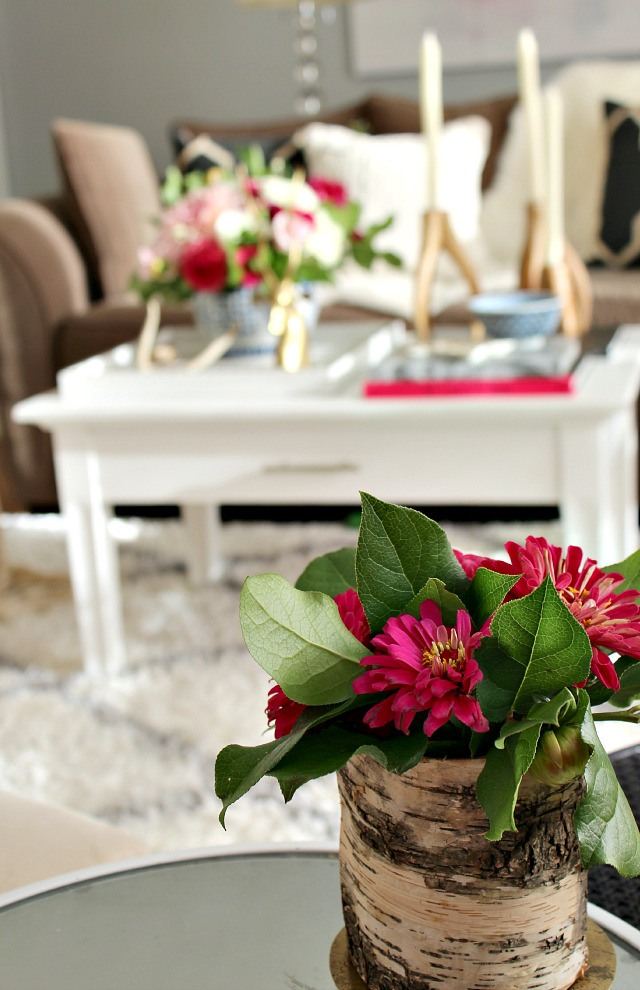 Even if you don' t use your wood fireplace, still stack the inside with a few logs or light a whole bunch of candles. This season is about staying cozy and warm so you still want to make the fireplace one of the main attractions in your home.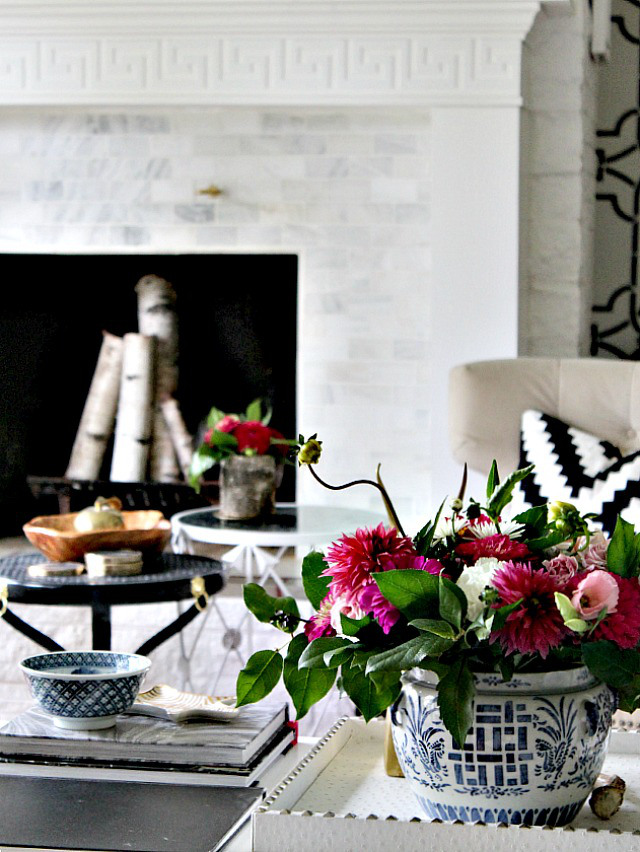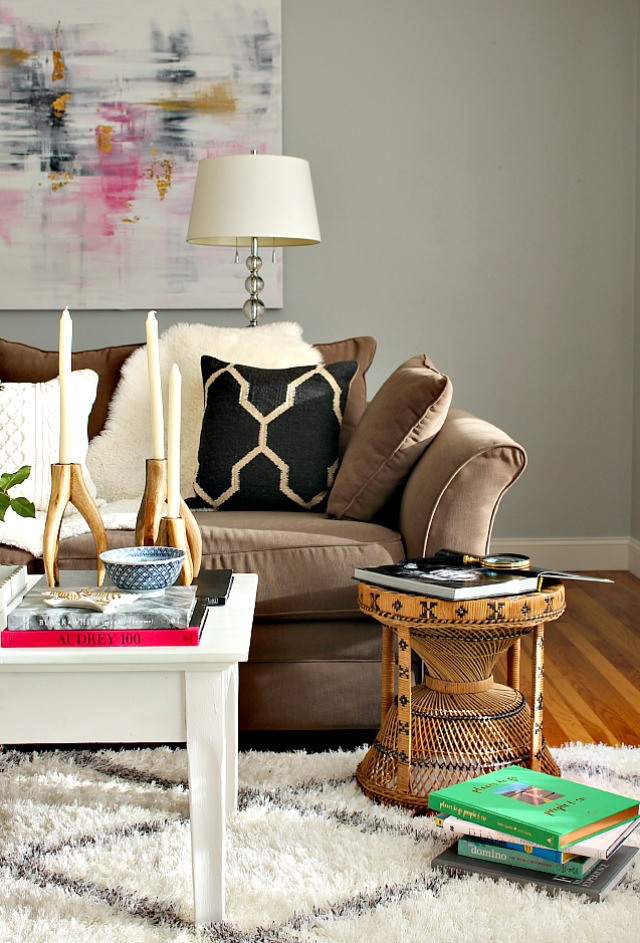 Sometimes decorating for the holidays can be a little daunting – what do you do with all your seasonal decor after Christmas? There are lots of ways you can decorate for the occasional DISCRETELY. Take a look at this living room – the signs of the season are definitely in this home – deer antlers, a sheep fur hide and a knitted pillow all scream "winter is here"!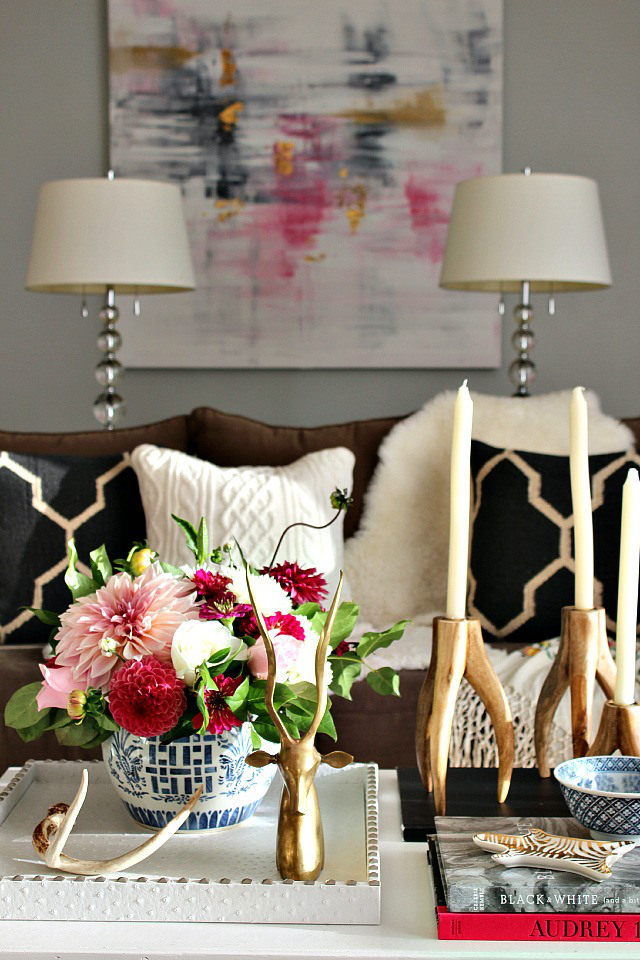 Instead of settling on a classic tablescape with brown and orange colors, this Thanksgiving brighten it up with juicy, eye popping hues like green, pink, orange and yellow. These colors are a lot more refreshing and uplifting, especially if the weather is gloomy and cold outside.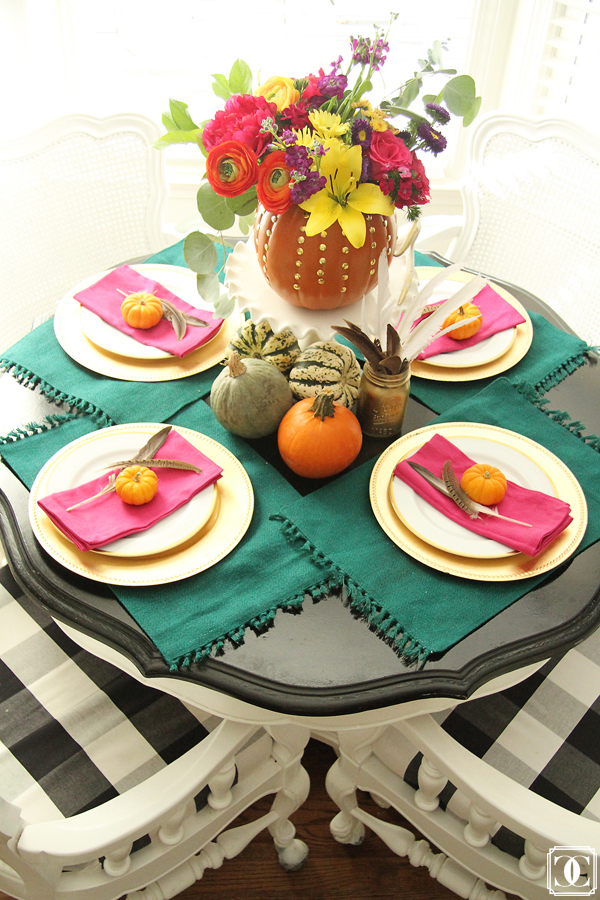 Push a few thumbtacks into your pumpkins to glam em' up! This homeowner cut the top of the pumpkin, filled it up with a nice bouquet of fresh flowers and used the thumbtack technique for a nice, natural vase that perfectly suits the season.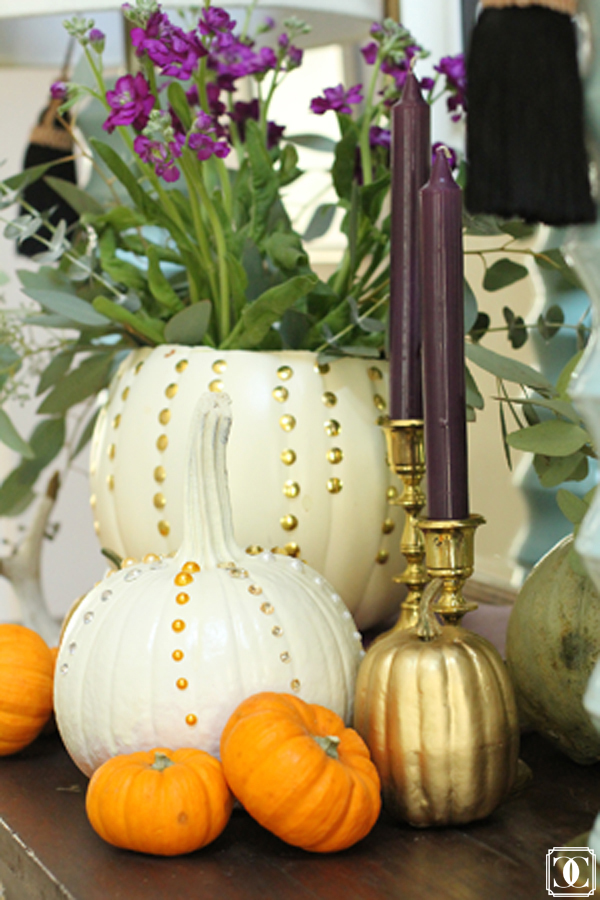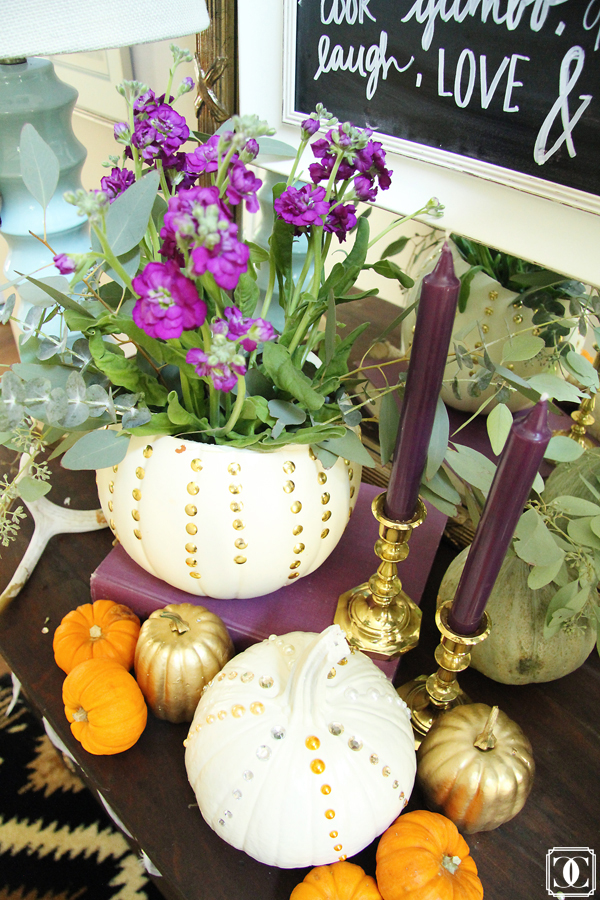 I love this idea – you can easily transition your orange Halloween pumpkins into the Christmas spirit by spray painting them in classic holiday colors like gold, cream, and even dipping the stems in some glitter! This way, you won't have to worry about your pumpkins going to waste.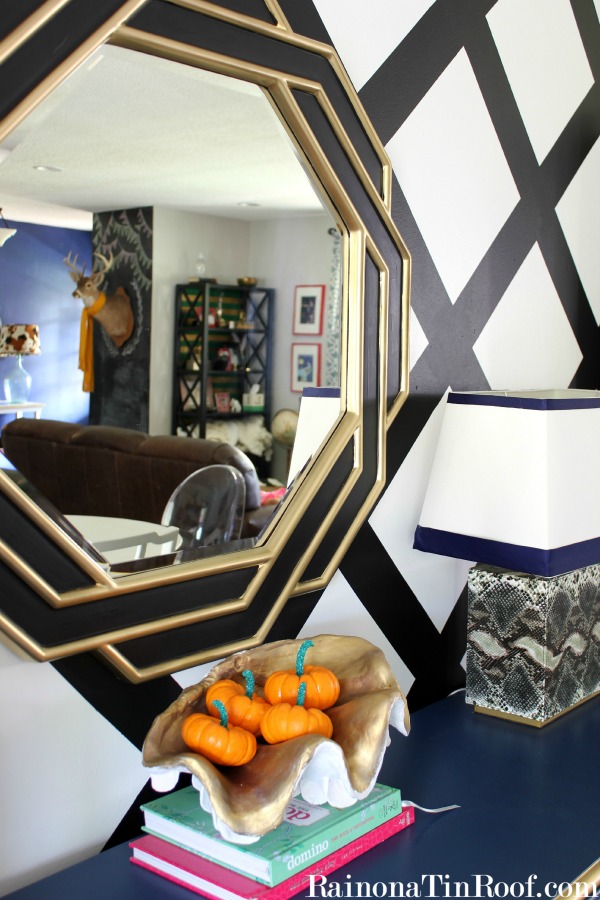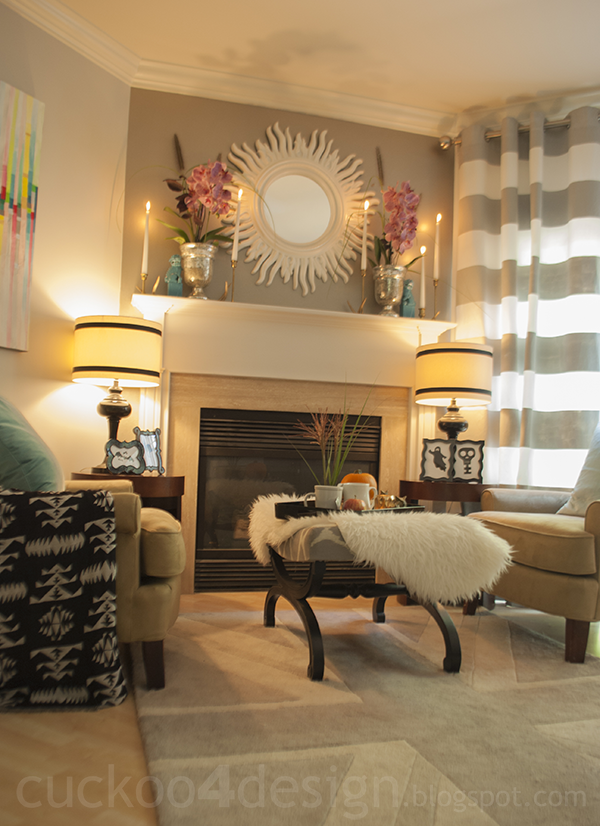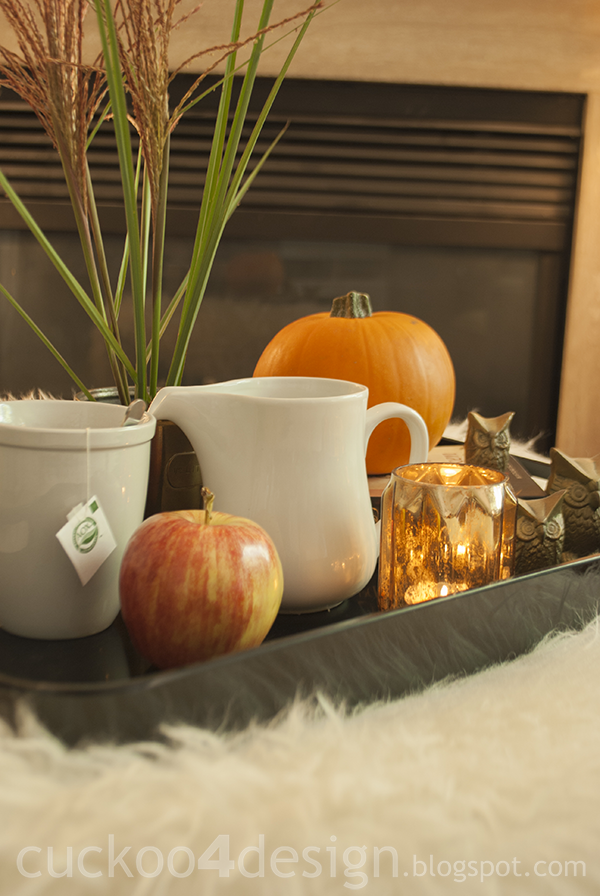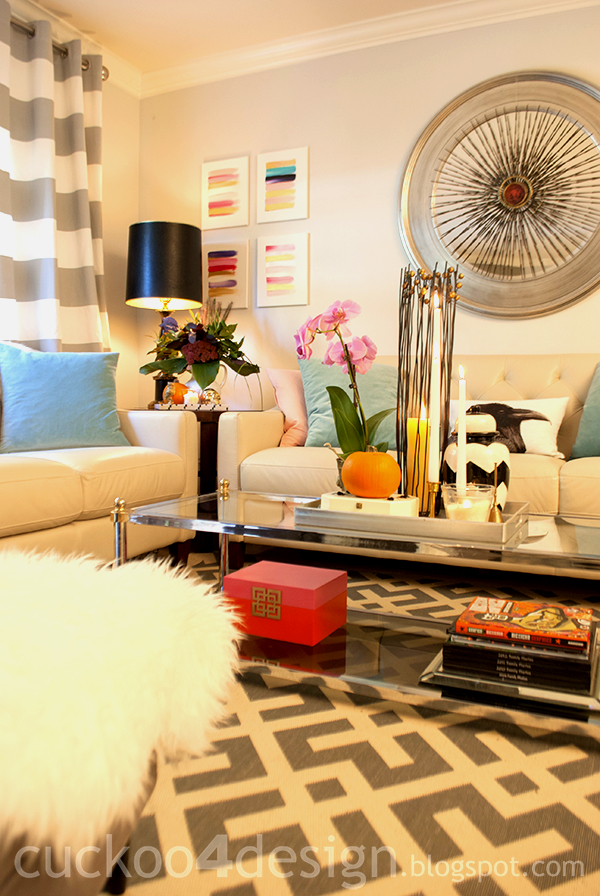 With the seasons dramatically changing these past few months, it's a shame to cover a pretty view outside. The homeowners in the below pic, completely took off their curtains to make way for a pretty view of falling leaves and snow. If you are concerned about privacy, it's best to choose something that's discrete and doesn't swallow up your windows, like the roller blinds from Swanmac blinds.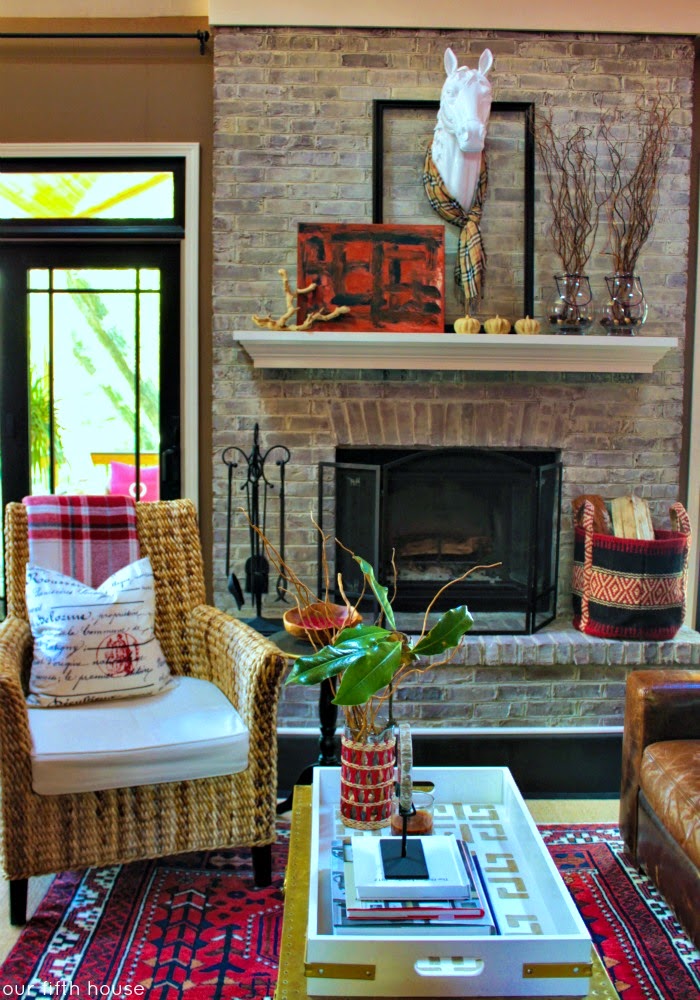 If you have deer antlers or some kind of decorative taxidermy on your wall, dress it up by tying a warm scarf around it's neck, or pop on a knitted hat. This makes a fun, comical way to dress up your decor throughout your house.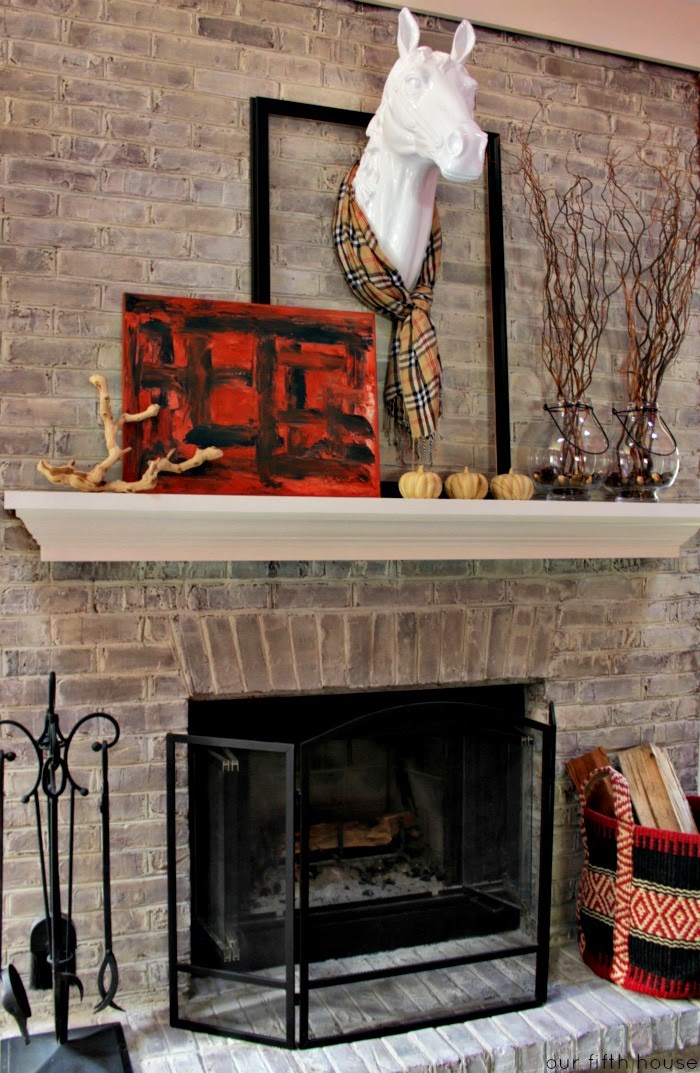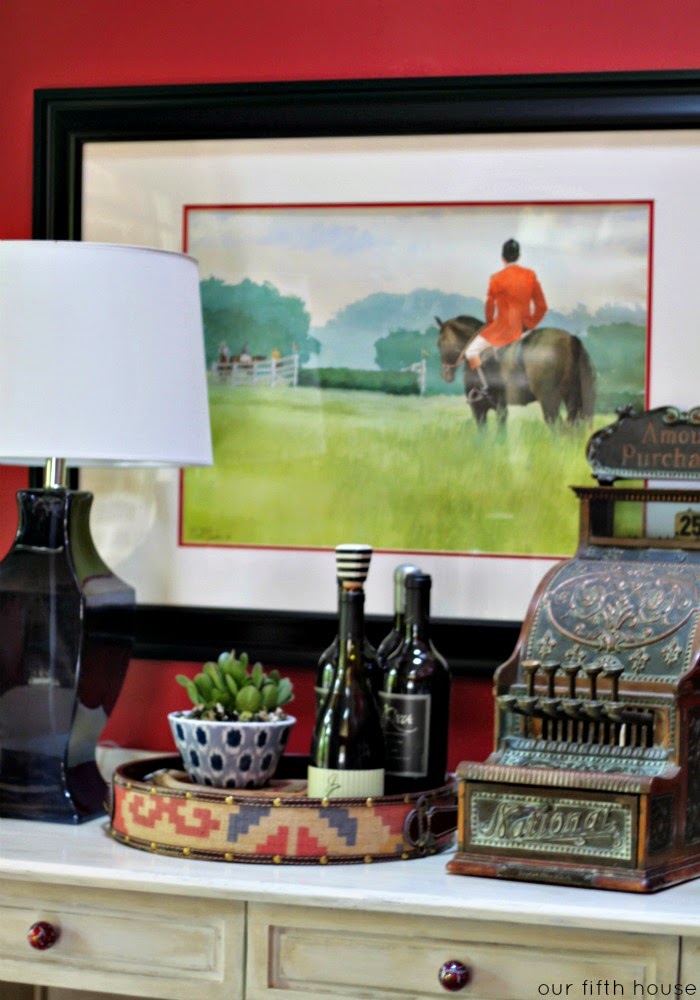 Everyone is concerned about holiday bouquets, and purchasing new pots of seasonal flowers that can be pricey and very short lived. I say use what you already have just by tweaking it up a bit! This decorative home plant got a complete makeover and looks just as ready for the holidays as those pricey store-bought plants. Just stick in a few gold-painted twigs and some glitter-painted leaves and voila!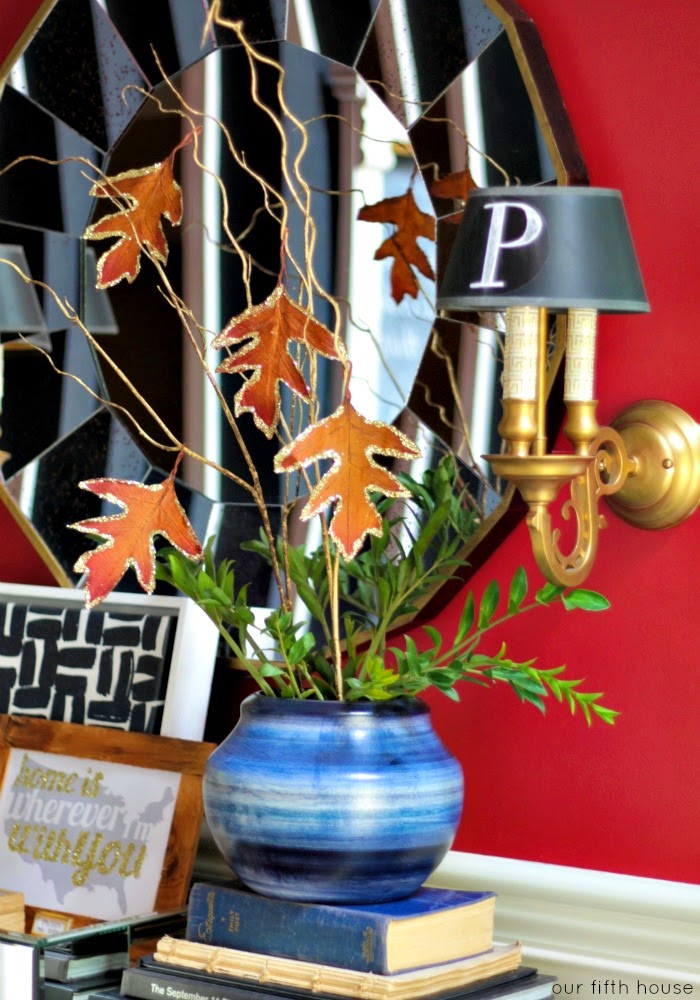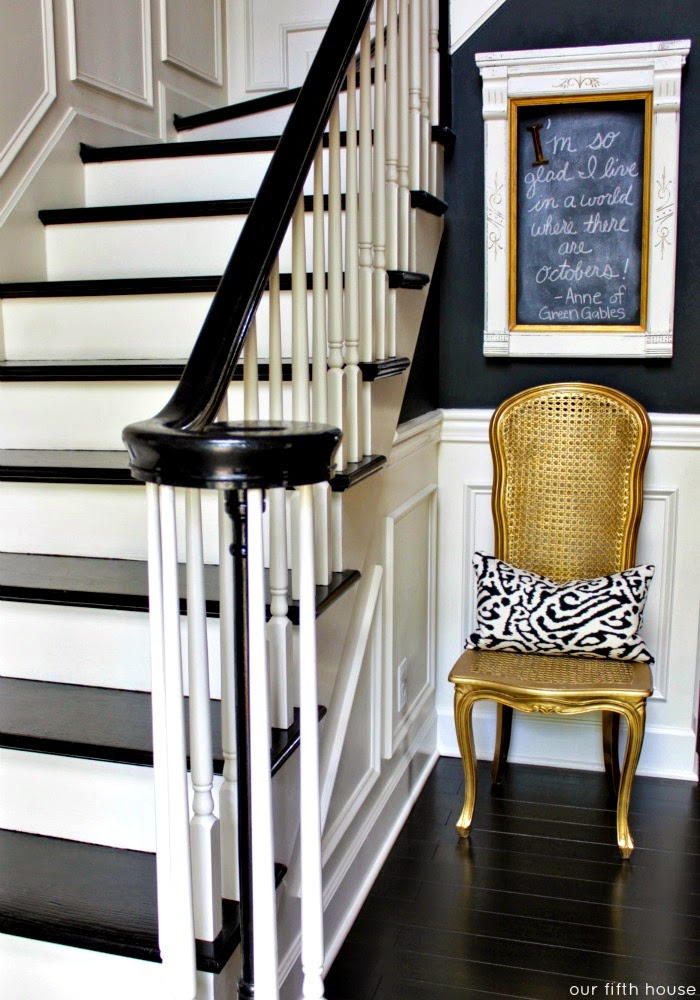 Acorns, pine cones and seasonal nuts make for the perfect holiday centerpiece decor. Sprinkle them on your coffee table trays, or on a plate filled with candles.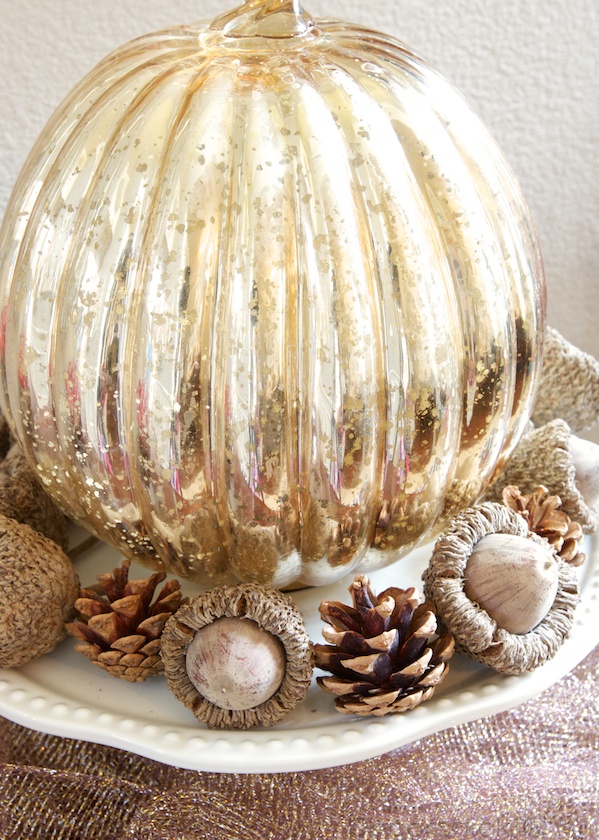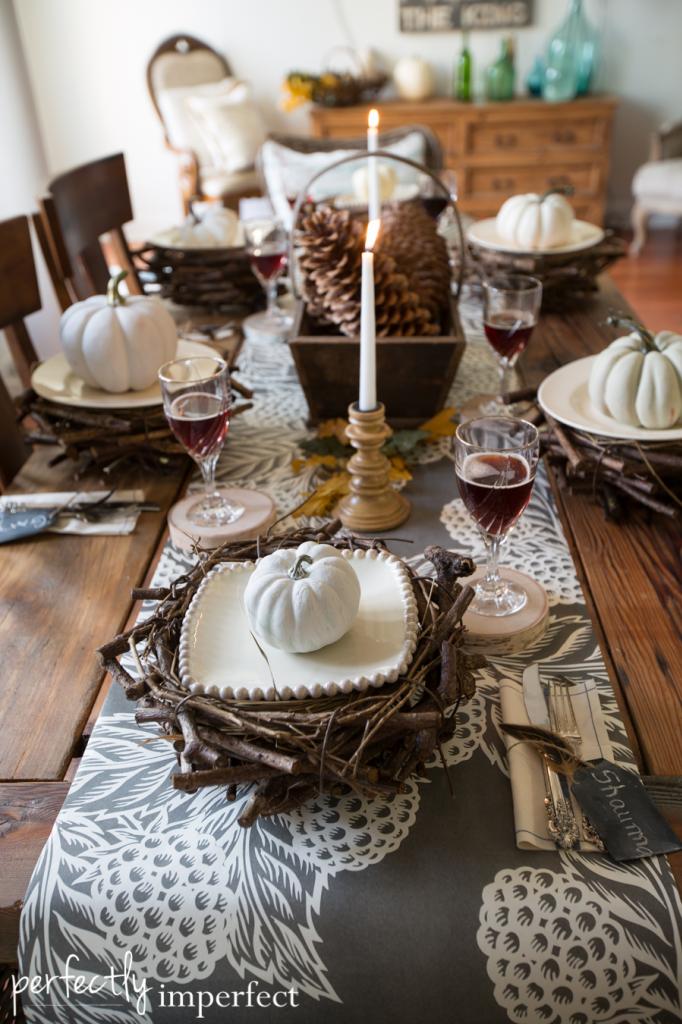 I thought this was a fun, and inexpensive way to dress up your dining table – just fill up a wooden planter with pinecones! You can also spray paint them or cover them in glitter to make them even more appealing for the holidays.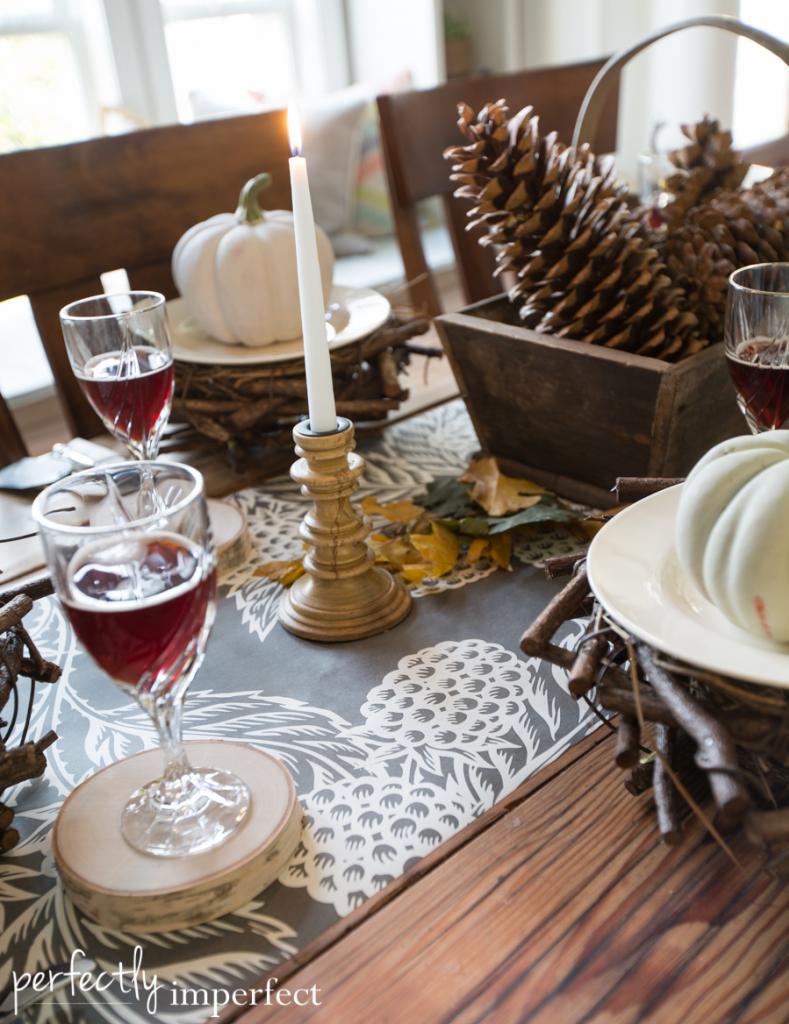 Photos: Our Fifth House, Bliss at Home, Perfectly Imperfect Blog, Cuckoo 4 Design