Summer Curb Appeal – 7 Fun Ways to Decorate Your Home's Front Porch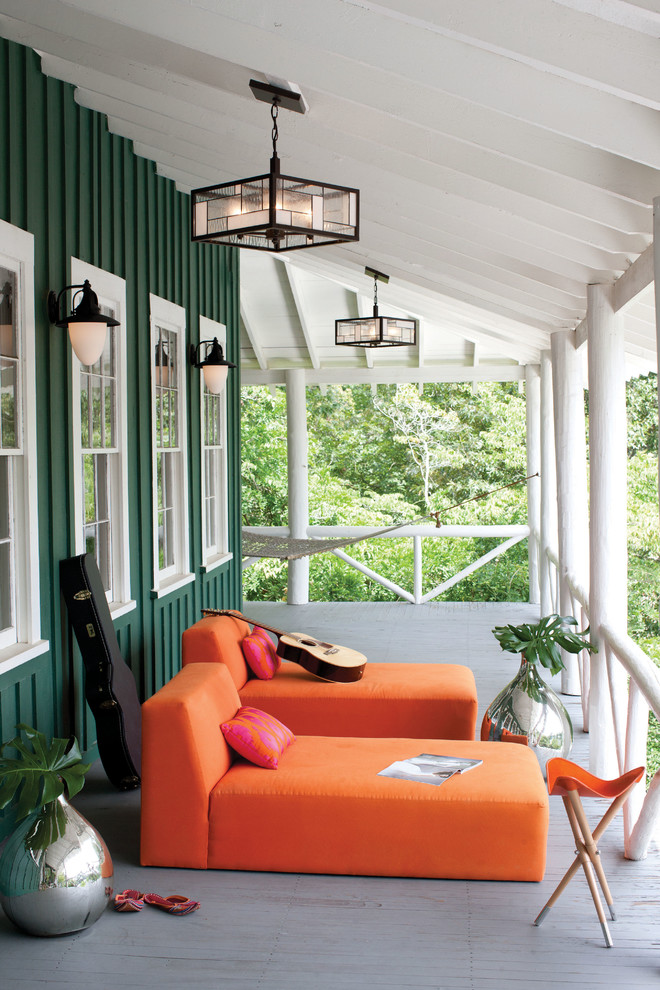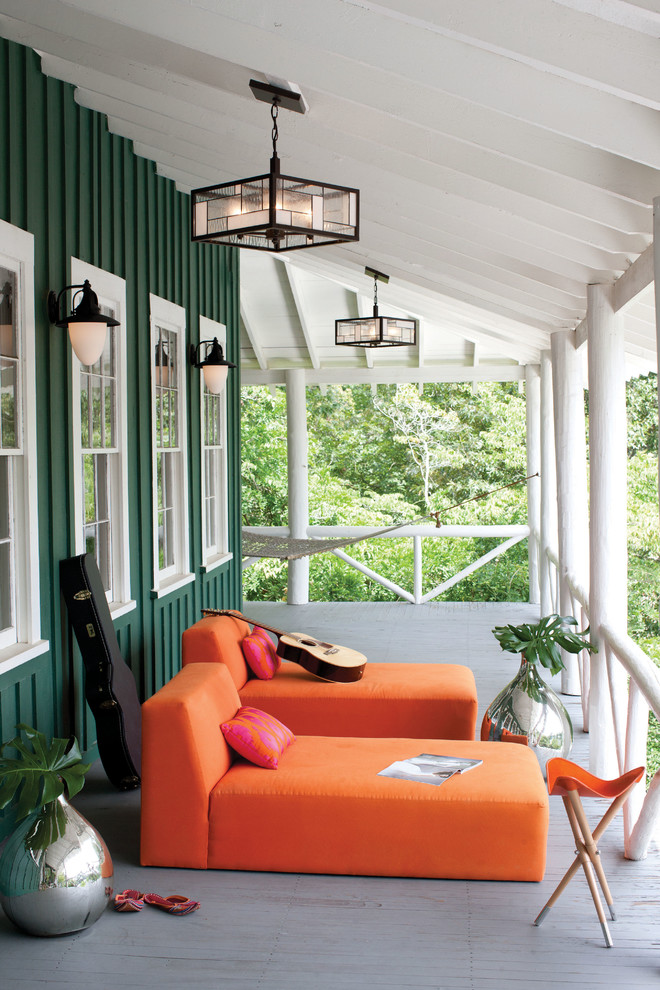 Summertime is all about spending as much time outdoors lounging around, playing, barbecuing and just enjoying the gorgeous warm weather. A great way to make the most of the summer season is to plan an additional outdoor living area. The perfect place to start is without a doubt – your front porch! Whether you are looking for an easy way to turn your curb appeal up a notch or trying to enhance your summer outdoor entertaining, try these simple ideas for a snappy porch makeover.
1. Attach Curtains to The Roof of Your Porch
If you are looking for a little privacy or just trying to find a pretty accessory for your porch, attaching curtains is a easy way to do it. They are perfect to close up in the evening or even during the day to prevent the sun's hot rays from heating the inside of your home. When purchasing your curtains, make sure they are specifically made for outdoors and are durable with a UV resistance. This way they'll last longer and won't fade so fast.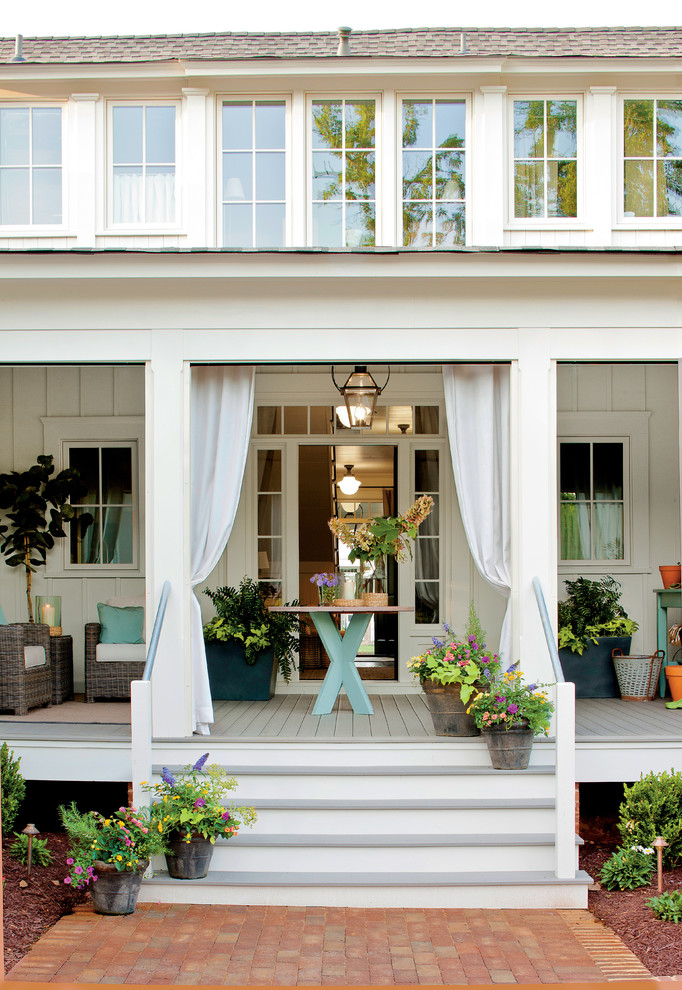 Historical Concepts
2. Add a Punch of Color with Accessories
You would be surprised at the difference a few simple accessories can make in livening up your porch for summer. Focus on the details such as cushions, throw pillows, blankets, garden urns, and even  a pretty little serving tray. With outdoor decorating you can get away with a lot since you aren't competing with wallpapers, specific types of furniture and flooring, so amp it up with juicy hues like deep blues, vibrant orange, yellow and fuchsia.
Rethink Design Studio
3. Create a Outdoor Dining Area
If you are lucky enough to have a large enough porch, set up a convenient dining area for your family and guests. It doesn't have to be anything fancy, a small café table and a few wrought iron chairs will easily do the trick. To make sure your dining area is super comfy, throw on a few plump cushions for maximum comfort and a hit of color.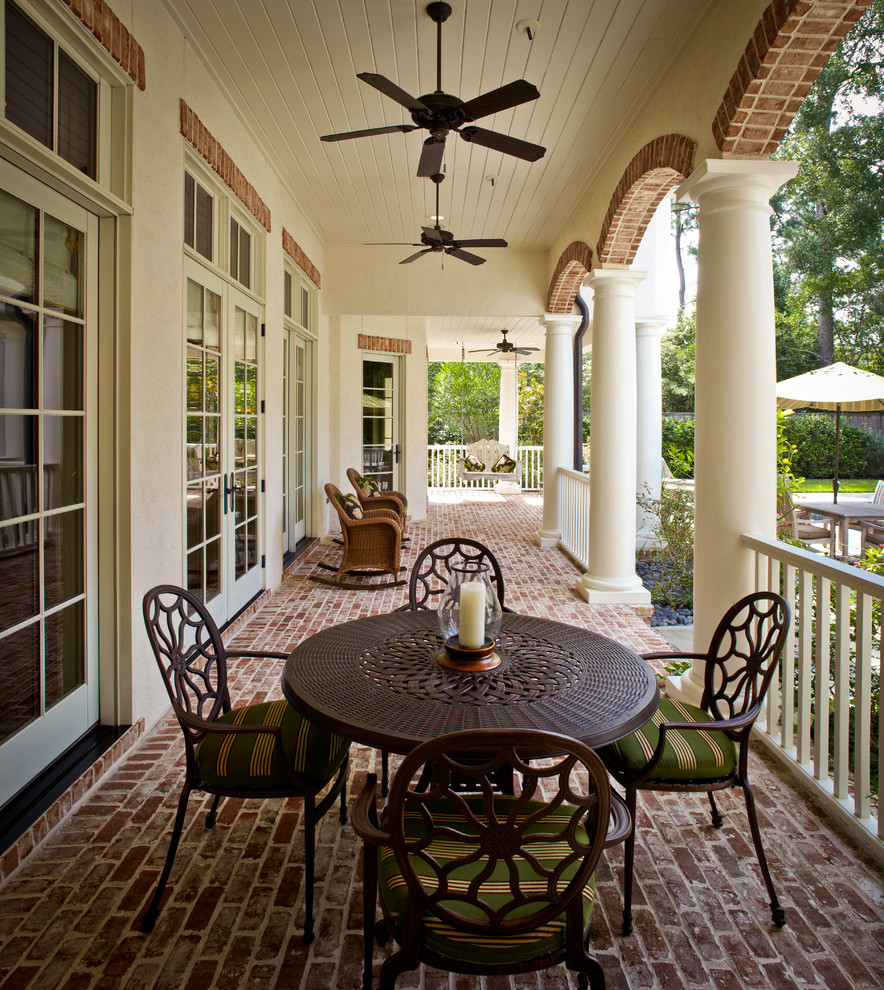 Thompson Custom Homes
4. Hang up A Comfy Swing
This is one thing everyone loves and even fights about during the summer months! A porch swing is really hard not to love and is a fun choice of seating to rock away on a summer evening or watching the life on your street. There are tons of tutorials to make your own swings from wooden palettes, or your can buy a pre-made one and attach it to the ceiling of your patio with either a tough rope or sturdy chain.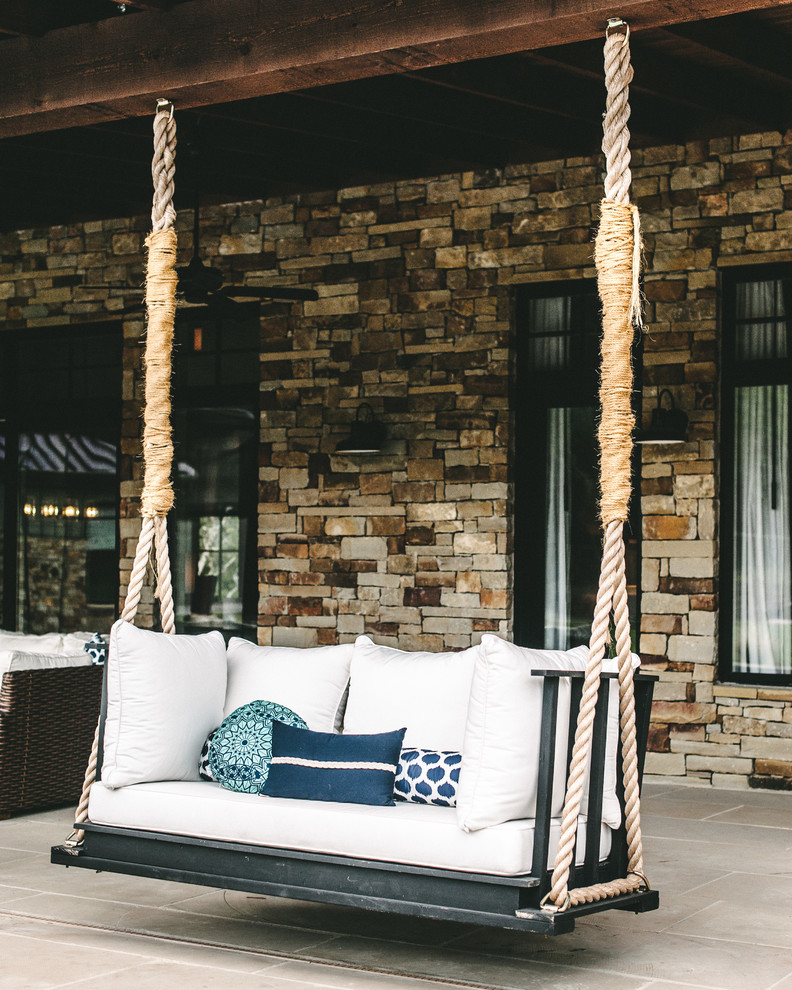 Van Wicklen
5. Re-finish Unique Yard Sale Finds
This season there is a yard sale on every corner which makes it a easy way to re-do your porch on a budget. You never know what you can find so make sure to scour garage sales for unique finds like retro patio chairs, small side tables and even urns. You can easily re-paint these with a few layers of spray paint. Take for example these whicker chairs that were given a new life with a quick layer of ocean blue paint.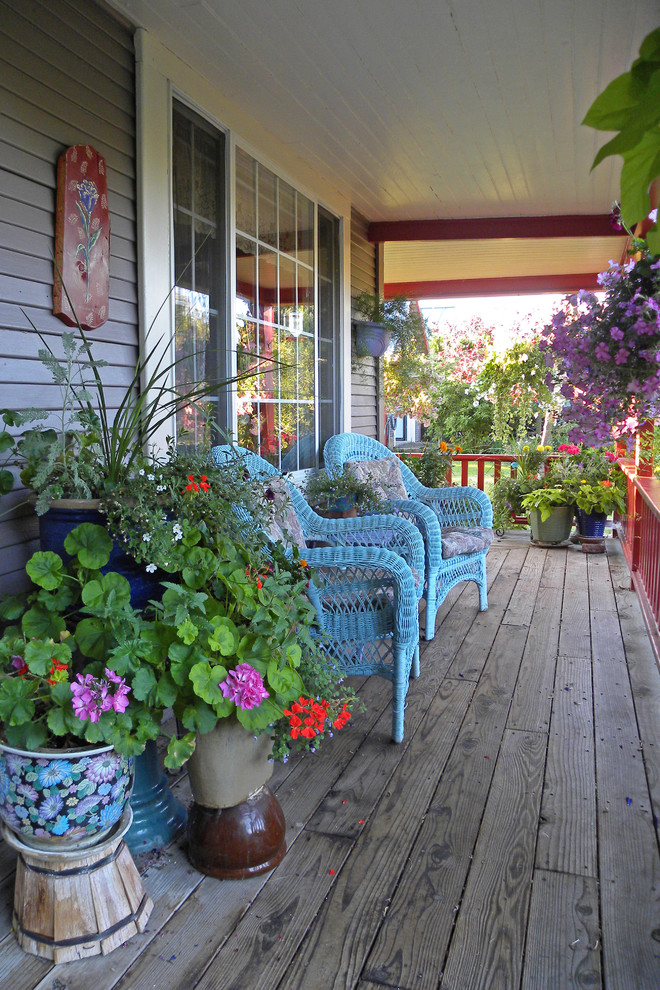 Sarah Greenman
6. Create a Place to Relax with Lounge Chairs
Invest in a couple of wooden lounge chairs for your porch for the perfect place to relax along with a great view. The sloped back and arm rest puts you in the ideal state of relaxation. Instead of purchasing cheap plastic chairs that need to be replaced every year or so, choose ones made from teak or cedar for maximum durability and easy maintenance.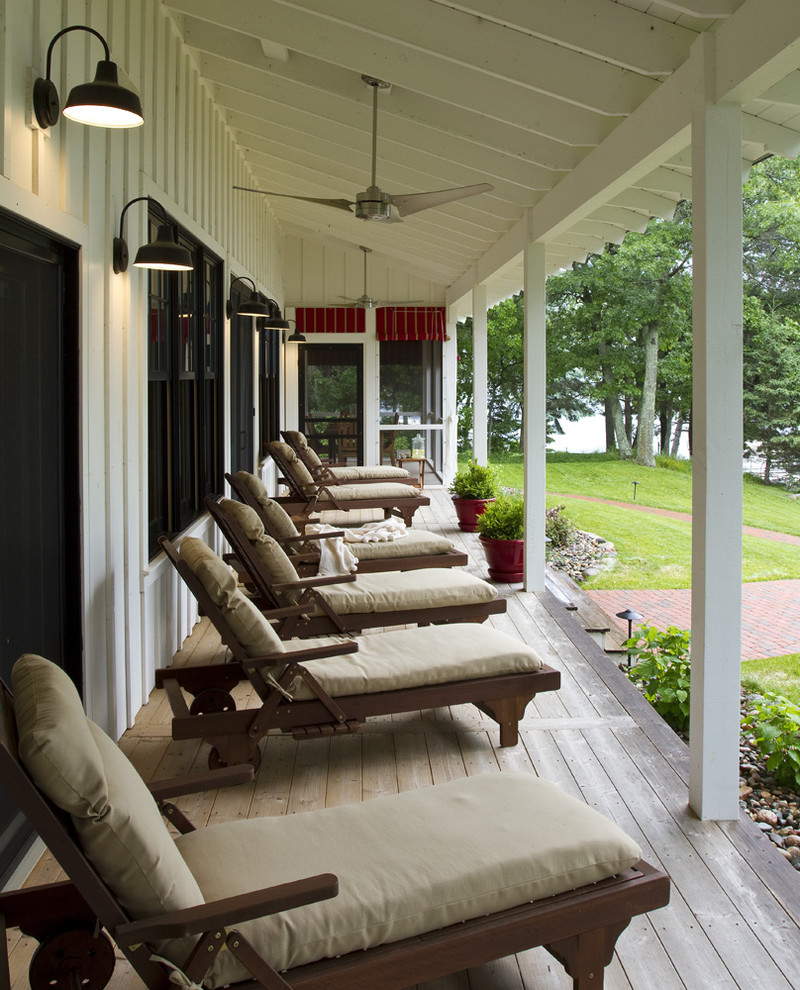 Michelle Fries Design
7. Set up a Additional Living Room
To create a additional living space on your porch is easy, and you can actually make a second living room this way. All you need to do is focus on brining the indoors out all while following a few simple rules about durability and the right materials. A woven resin patio set can withstand rain and the sun's hot rays as well as a thick outdoor sisal rug, which is ideal to be used on the porch.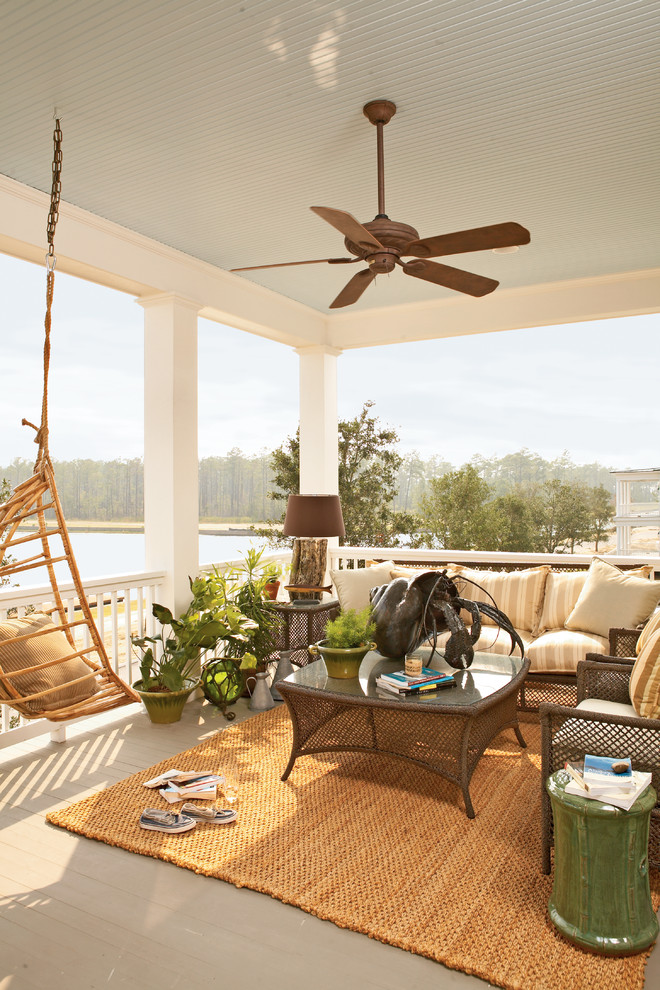 Historical Concepts
About the Author:
Legacy Lifts is a Texas-based special contractor. Legacy cargo lifts and passenger elevators are designed to withstand the elements, including winds up to 130 mph. They can even be customized to match your home's exterior.