Make your home office a hive of productivity, a haven of creativity and a private space you can call your own.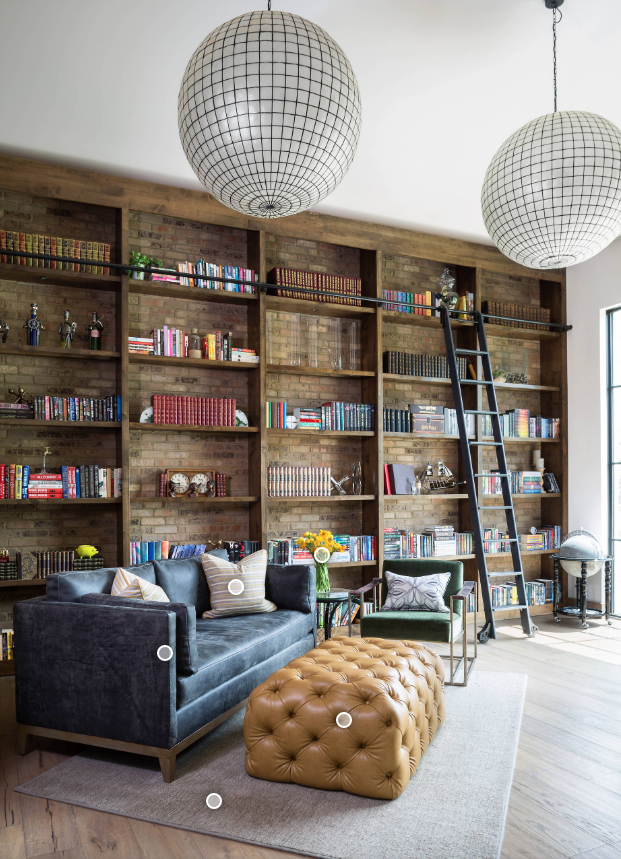 Photos via: Houzz
Creating a functional workspace that spurs productivity is often an overlooked consideration when designing a home office. Whilst your immediate priority may be time and money, the long-term reality should not be neglected. Home offices should be comfortable and designed in a way that does not hinder your performance.
Antique Desk
Vintage furniture gives a room an air of distinction and authority. There is nothing more masterful and empowering than a formidable antique desk. Capture the essence of your home office with an endearing focal point and it will provide you with inspiration and motivation to get the job done.
Tall Bookshelves
One of the issues many people suffer with when working from home is a lack of space. When you're used to working in wide open office spaces, reverting to a little corner of you house can feel claustrophobic. Tall bookshelves not only furnish you with ample storage space, they also make low ceilings appear higher thus creating the illusion of space.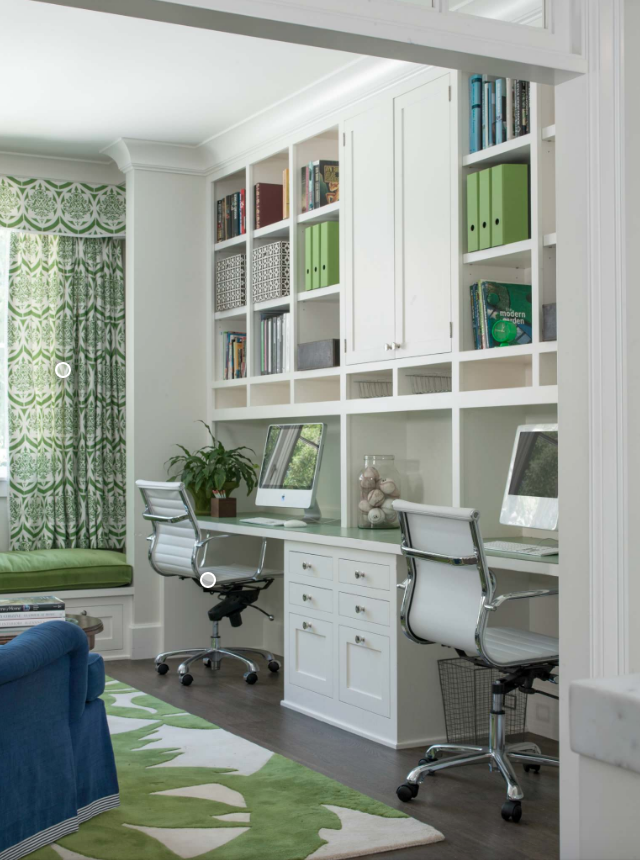 LED Lighting
There's no escaping the dark nights when working from home but LED lighting goes a long way to providing ambience and effective lighting. You might even want to think about adding elegant dimmer switches so you can control the lighting as and when needed.
Big Plants
Think beyond the windowsill and tiny desk plants by installing large pot plants in the empty corners of the room. Greenery helps to soften the decor, adds an extra dimension and improves air-quality.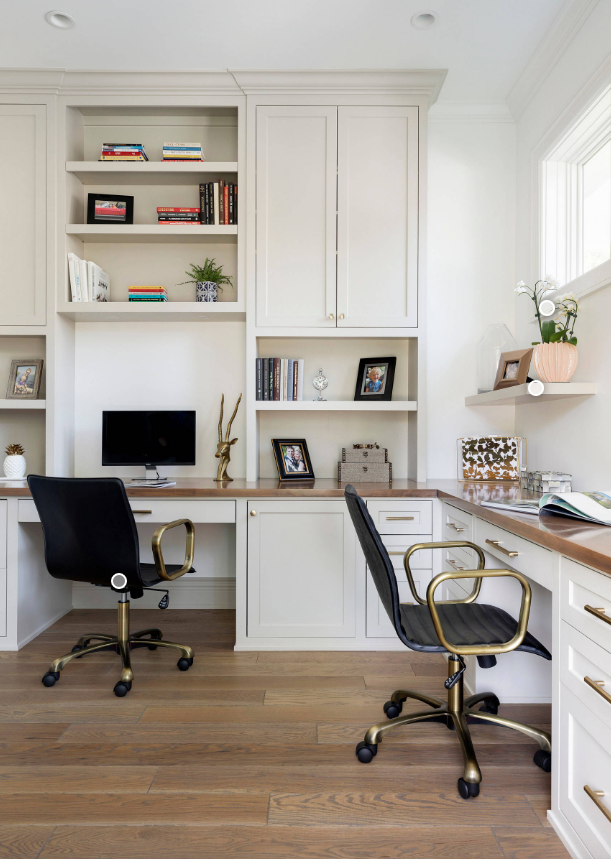 Soft Pastel Shades
A fresh coat of paint can bring new life to a room. Whilst bright colours can over-stimulate the brain, soft pastel colours in a home office are soothing and have been found to enhance productivity and concentration. 
Feel The Fragrance
Pleasant aromas make a room welcoming and enjoyable to spend time in. Why not purchase scented candles or a position a diffuser with woodland fragrances on your desk to keep your office smelling fresh and cozy.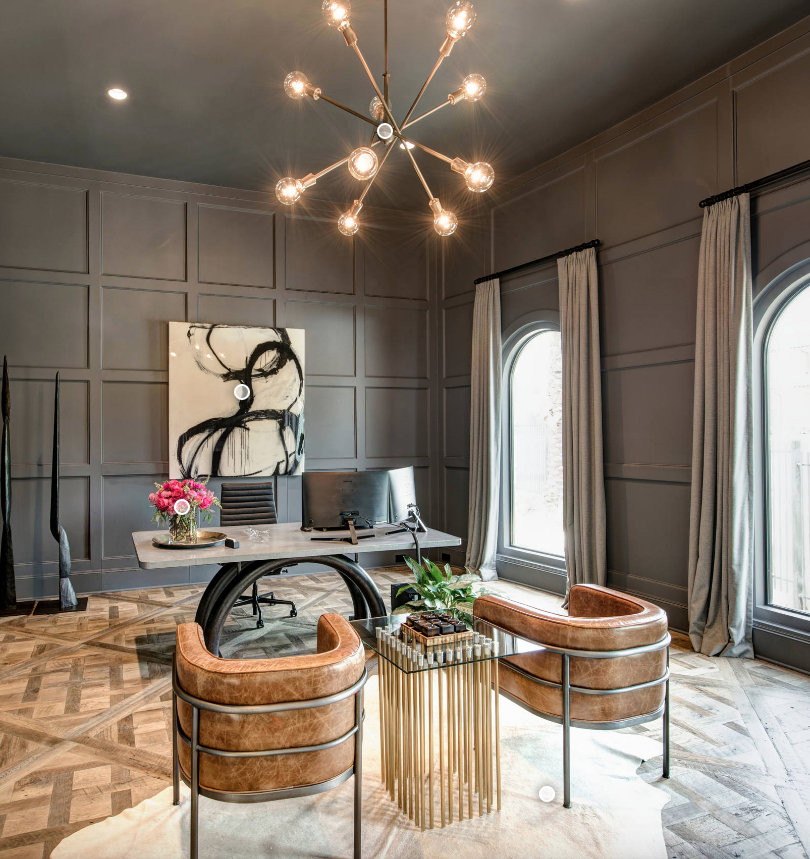 Large Windows
Natural sunlight is good for the physical and mental health. To get maximum exposure and a good dose of vitamin D, large windows in your office will enable you to feel the invigorating effects of the sun and provide you with more drive and motivation.
Floating Shelves
Desks can become cluttered and untidy pretty quickly in a home office – and clutter is not good for keeping the mind focused. Erecting floating shelves within reaching distance resolves this issue. Use them to house a paper tray, pen holder, or even to place your mug of coffee and eliminate the risk of spillages.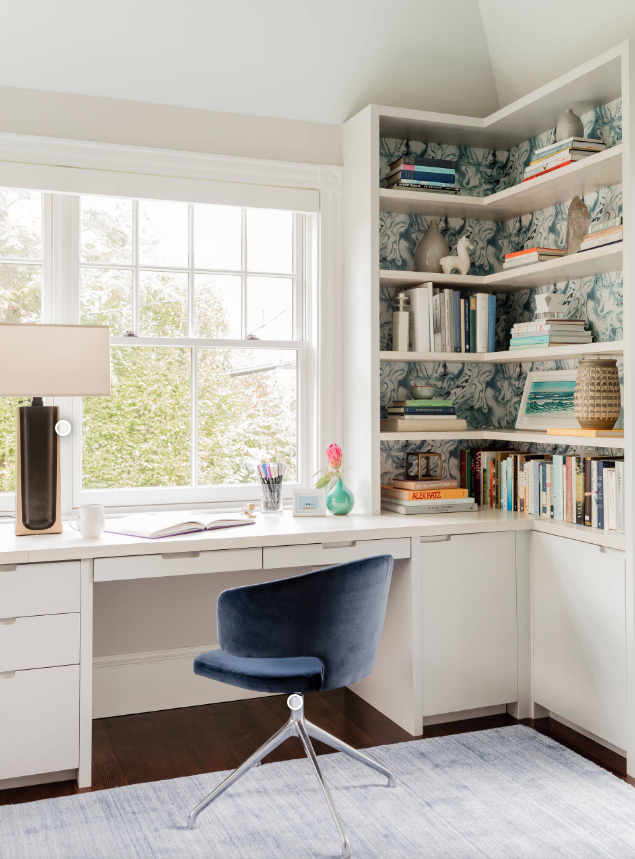 Inspiration Images
Artwork is designed to admire and inspire. Positioning inspirational images at eye-level opposite your seating or thinking area prompts you to take a moment and rest the brain – and when the mind is still for a moment, the best ideas flow into your head.
Create 'Negative' Space
To keep the mind positive, your surroundings need to feel open so that you don't feel trapped. You can do this by creating 'negative space' around important objects such as your desk and filing shelf.
Designing a home office is harder than you think, yet your place of work is conducive to your work performance. So put interior design to the top of your list of priorities instead of at the bottom.