Make regular houseplants look instantly expensive and stylish with these easy peasy ideas!
Decorating with houseplants is the perfect way to instantly bring color, and life into your home in minutes! If not done correctly, you can end up with junky looking plants in plastic containers that will completely RUIN your decorating. Making them look instantly chic is simple with these 6 decorator-approved ideas!
Dress up Your Mantel with Palm Leaves
This is a fantastic idea if you already have an existing palm tree around your home, all you need to do is cut off the leaves and place them in a vase! Palm leaves provide a beachy look and a punch of color that lasts MUCH longer than flowers. They also make such an easy mantel centerpiece. Just make sure to keep you vase filled with fresh water!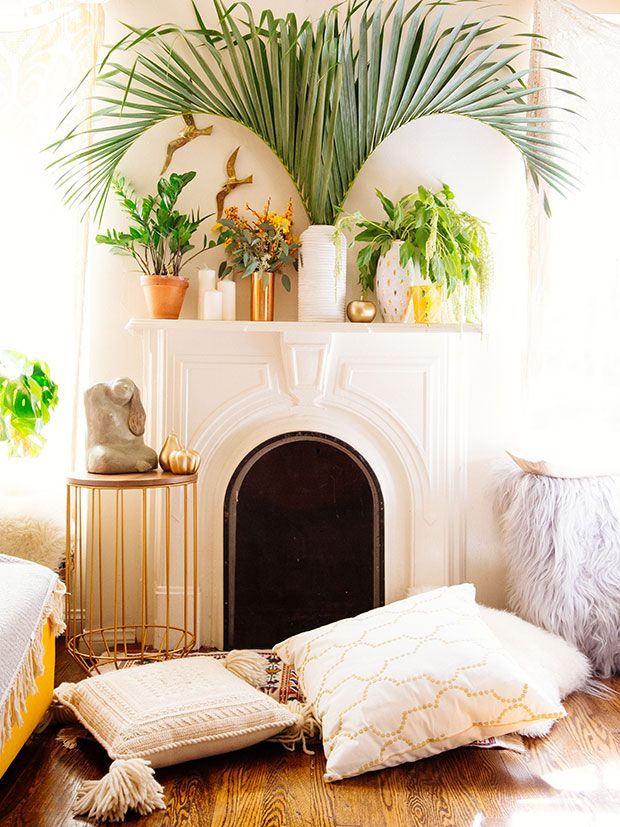 Make a Rope Planter Stand
This project will really only cost you a few bucks, all you need is some rope and a old plant container! Hot glue gun the rope all around the container in contrasting colors (depending on the color rope you can buy) and that's it! Take a look at how stylish it looks, you would never guess an old plastic container is underneath.

Dessert Style Cactus Arrangement
Every see those tiny cacti in the store and thought, what on earth would I do with that!? You can pant these teeny tiny plants in old tomato soup cans for a cute Mexican dessert arrangement or even as fun gift ideas. Place some gravel or you can even use colored gravel around the cacti to really make them pop. If you can't find cans with these funky vintage labels, you can always print them out yourself!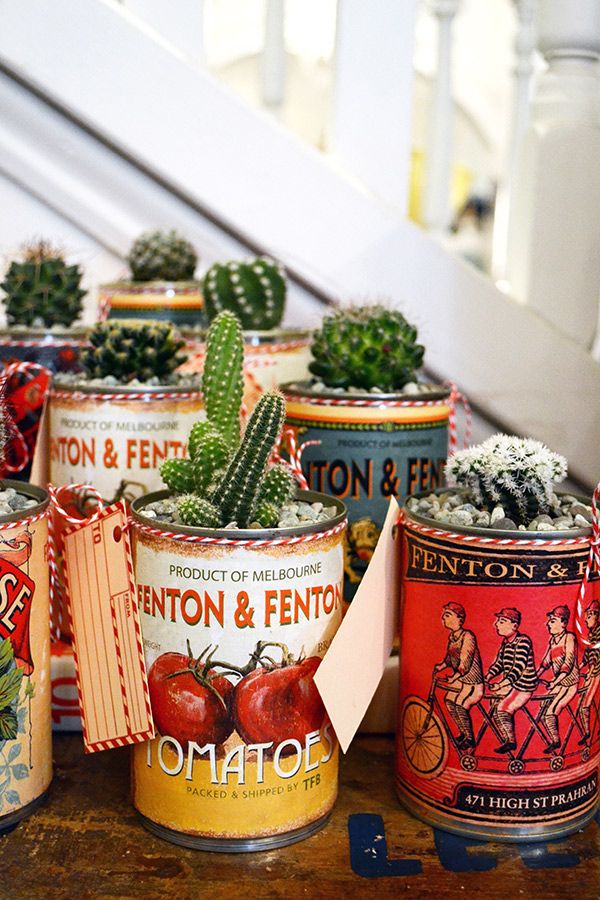 Fill a Glass Vase with Leaves
Turn plain glass vases into instant tropical floral arrangements by wrapping the inside with leaves! Palm, banana, rubber plant leaves, or any leaves that are big enough to cover the inside of the vase work fine. Arrange your floral bouquet on the inside and get ready for a lovely summer vibe! This makes also a wonderful wedding arrangement idea if you are on a budget! For my last get-together while on vacation, I actually rented plants from Gaddy's Indoor Plants which was hassle free, and I just returned them when everything was over!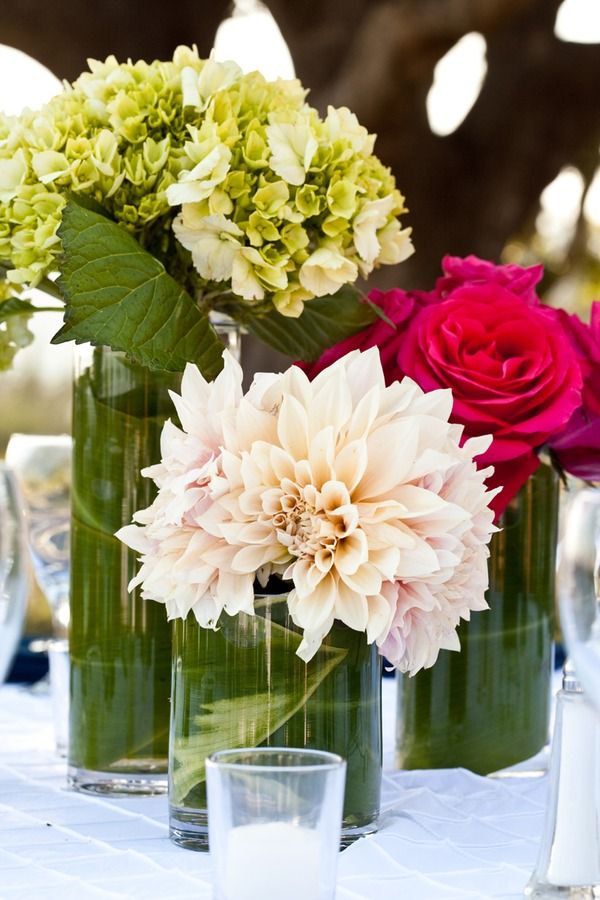 Place Branches in a Chinoiserie Vase!
Blue and white chinoiserie vases have always and WILL always be in style, so consider this an investment that will look great for the rest of your lifetime. There are actually tons of people that collect these gorgeous vases. All you need to do is collect a few pretty brances that are in blooms (you can also purchase artificial) and place them in a big chinoiserie vase. Scatter around a few smaller matching vases to make a nice centerpiece that looks so HIGH style.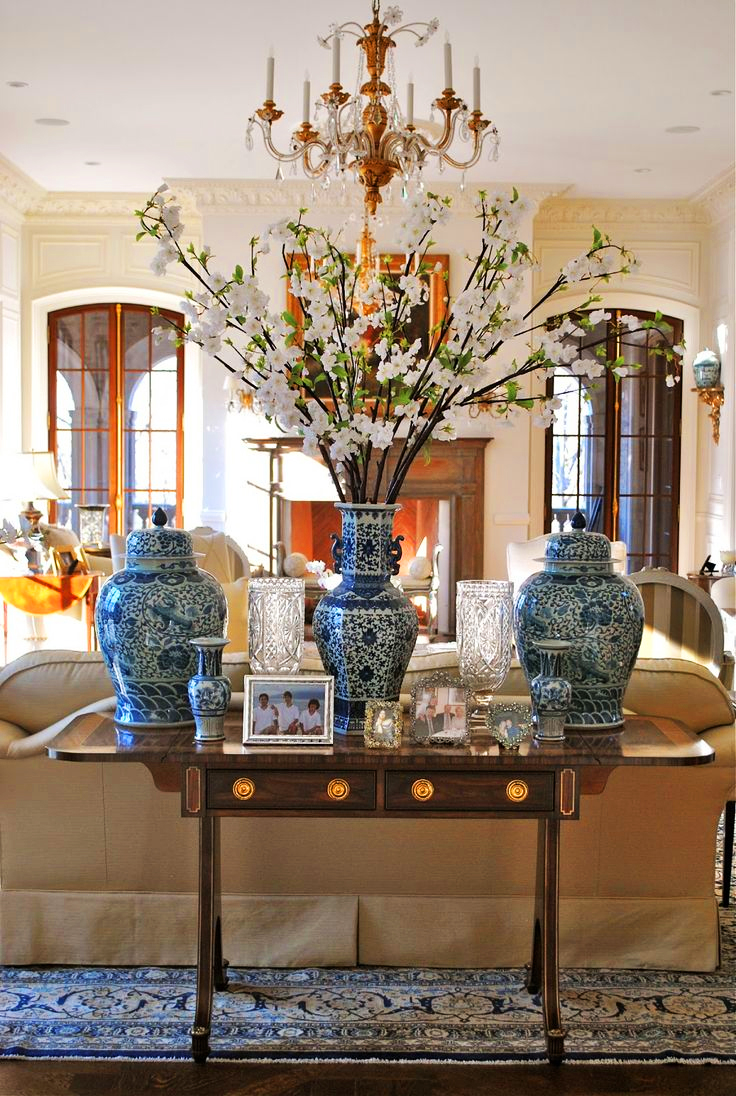 DIY Gold Dipped Vase
Give a plain glass vase a complete makeover with plain gold spray paint! Just tape off the lower half of your vase and spray paint the bottom. Voila, a complete new look that will make your bouquet look so much better!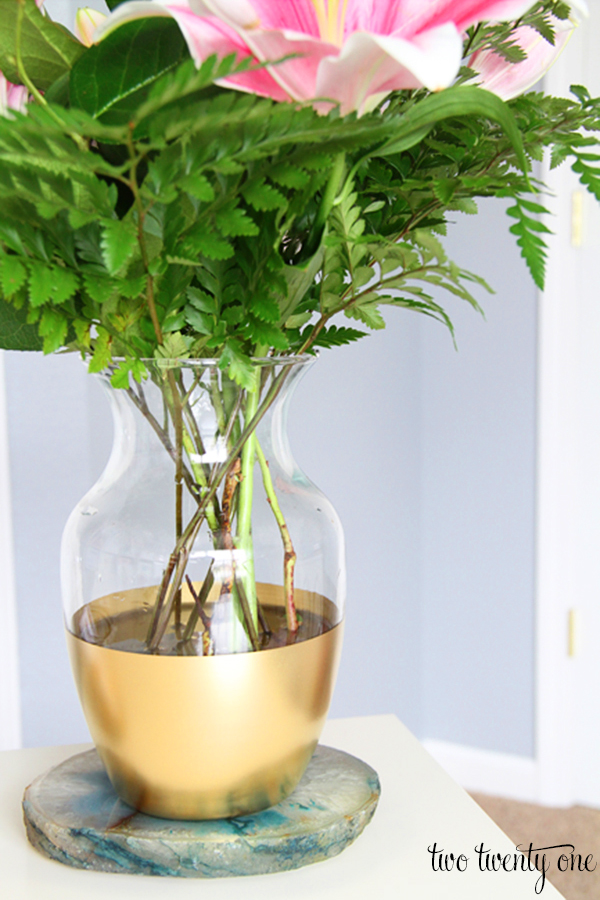 Photo: Two Twenty One