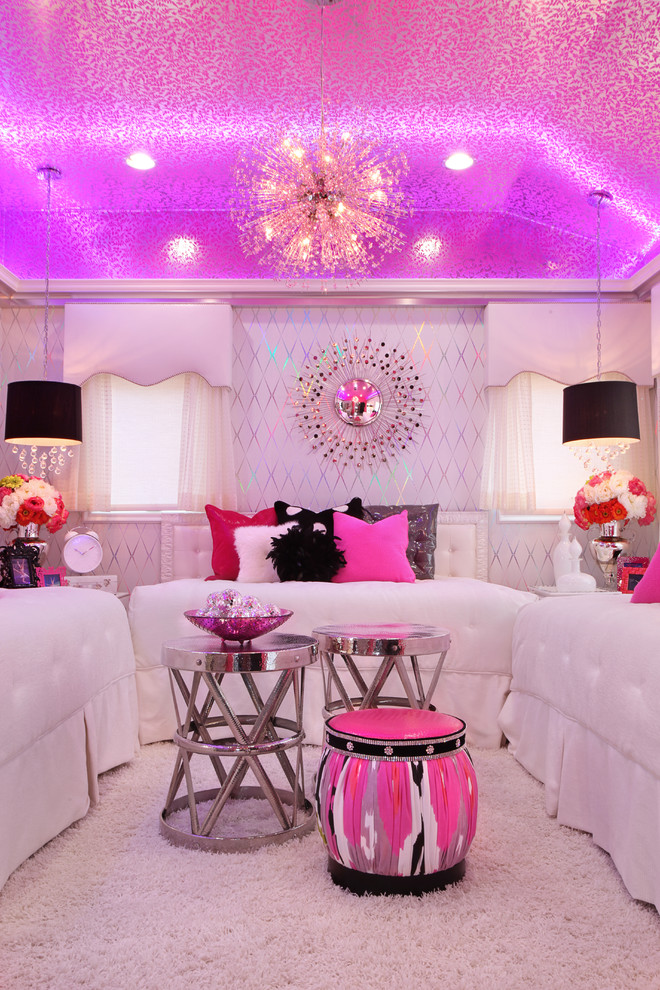 There is no better way to party than to bring the party to you! You can turn a empty space into your own home nightclub easily with a few key elements and a fun imagination! From your own bar, to a sparkling floor and flashing lights, you'll be partying all week long! Tour these fun-filled spaces, and learn how to make your own nightclub right at home!
Make a Impressive Entrance
The space that you have decided for you nightclub is most likely a neglected area of your home with not much natural lighting like your basement, or a spare room at the back of the house. Although you don't want any natural lighting, you do want a space that is lit up with the right kind of lighting as well as reflective surfaces to create a wow-ing entrance.
Sparkling chandeliers, disco balls, and pot lighting are all examples of good types of lighting. To bounce off lighting throughout your space it's important to consider the type of surfaces you are using for furniture, flooring, and walls. Mirror and glass is superb to create a disco-like effect. This wall is covered in mosaic mirror tiles which makes the entrance to the basement magical and glamorous.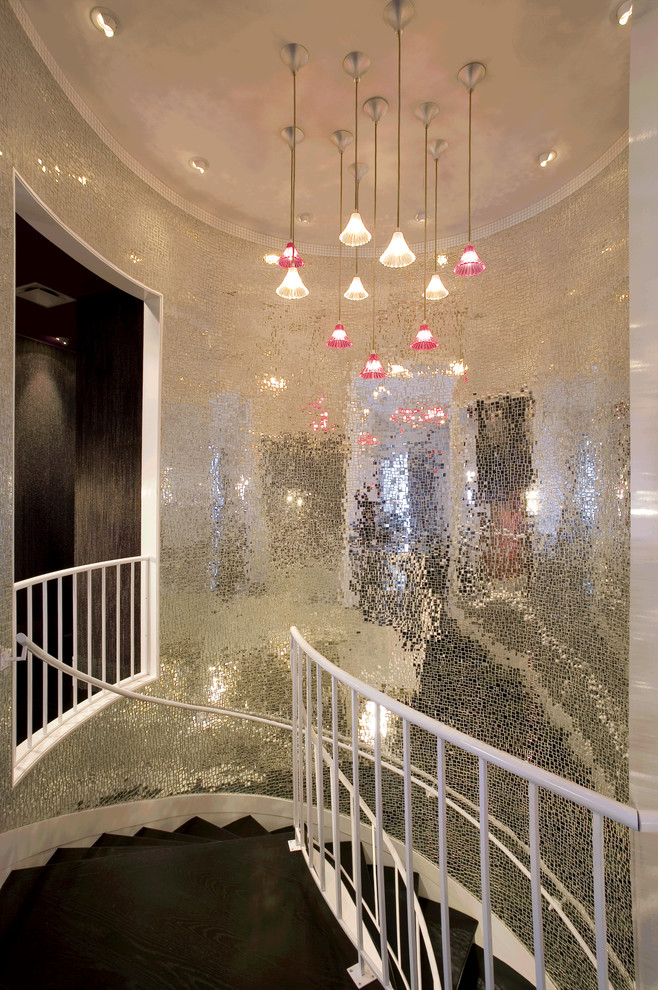 Ann Sacks
Choose Contrasting, Edgy Colors
The color palette you choose for your party area is going to be a lot different than the rest of your home. Choose dark colors like black and deep purple and mix them up with contrasting colors like China red or neon pink, orange, and green. The nightclub below is actually from Denise Richard's Los Angeles home and includes a stunning combination of colors and various textures like crystal, mirror, glass and velvet.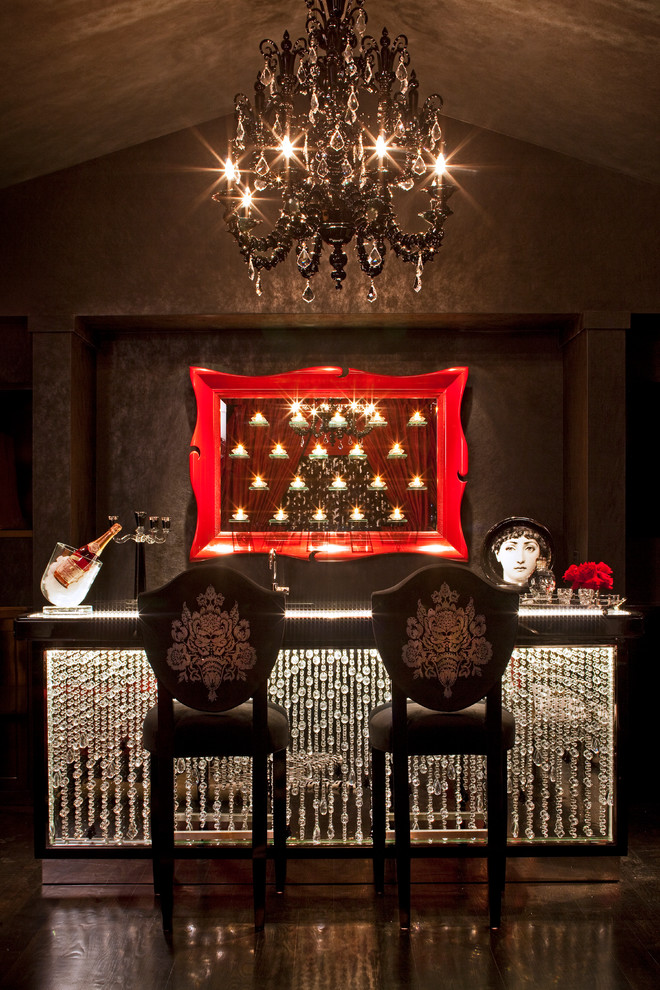 Smith Firestone Associates
Turn a Empty Corner into a Mini Bar
Turning a corner of your new night-club into a small bar is a simple project you can complete over the weekend. All you need is a small counter space, some storage and shelves to fit all  your bottles and your all set! Add finishing touches like recessed under counter lighting, and nice heavy drapes so you can easily close off your area when you aren't using the bar.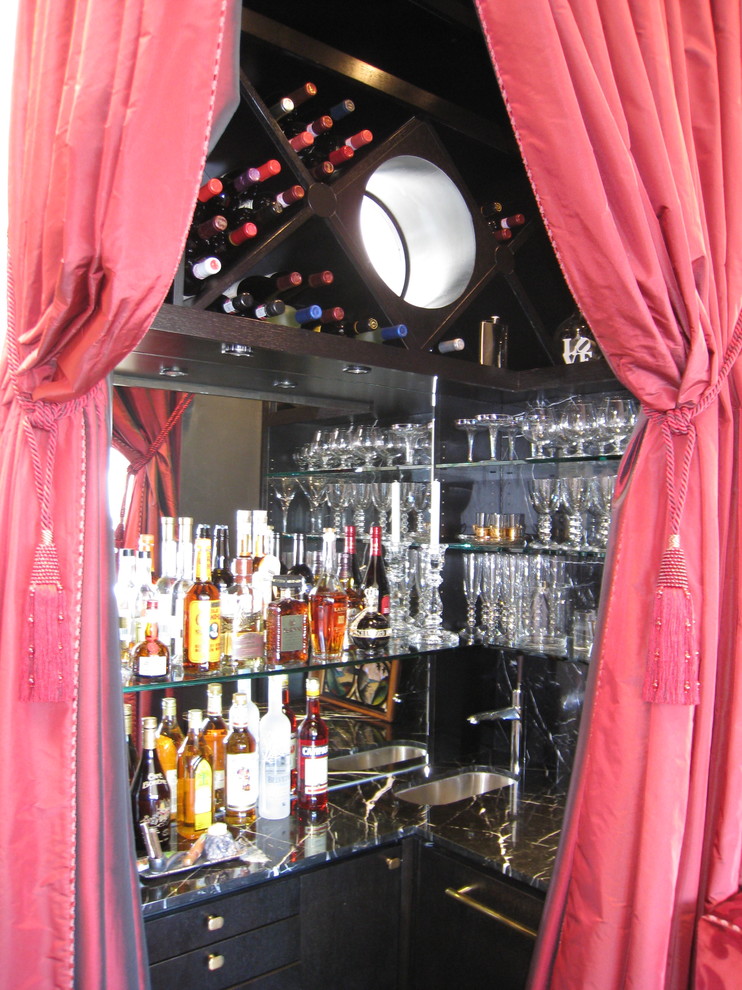 Jerry Jacobs Design
Create a Seating Area
Section off a corner for a fun, yet comfy seating area with great lighting and lots of space. You'll want to make sure that you are your guests can have a place to relax, have a drink and hang out. I love the look of making a retro style booth which is the perfect way to create  a intimate setting.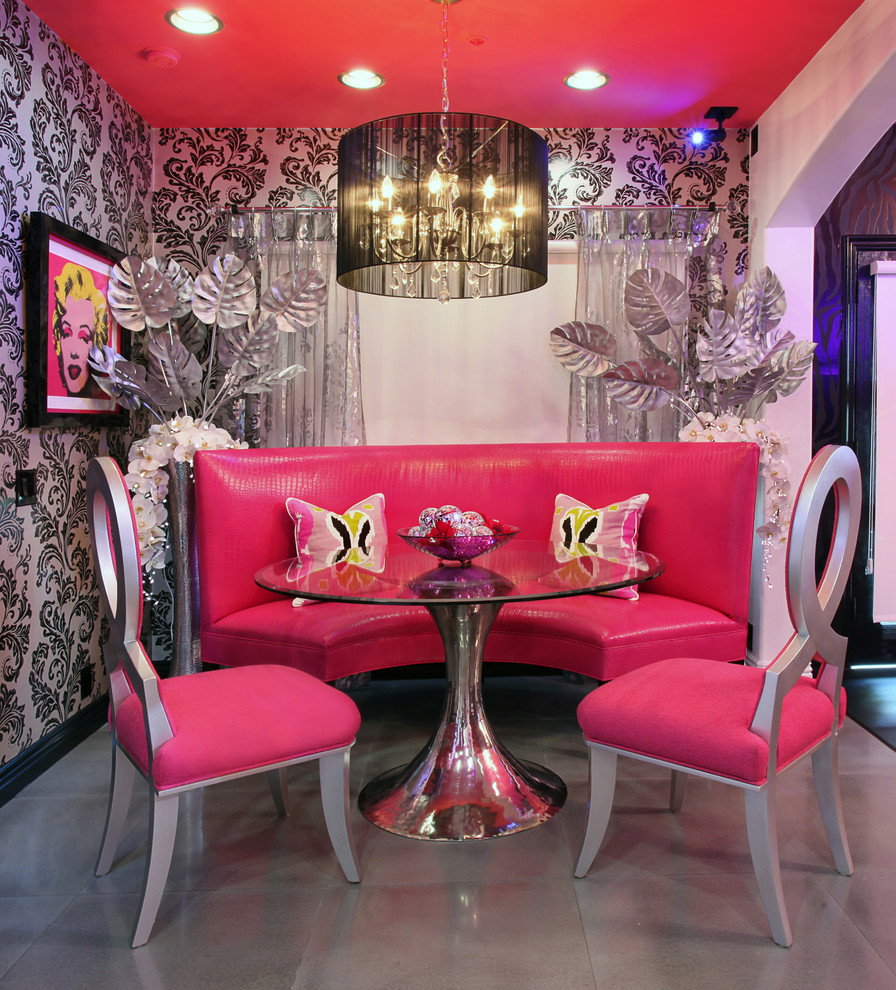 Frank Pitman
Get the Lighting Just Right
Crystal disco balls and recessed lighting are a must-have to set the right mood for your at-home nightclub. You can have dj lights on the stage area or in the corners of the room. Most people ignore lighting, but it can change the mood or feel of a room, large or small, in just a second. I love the look of this funky room which is perfect for teens, and party-goers of all ages. Take a look at the hot pink ceiling and tiger striped velvet wallpaper!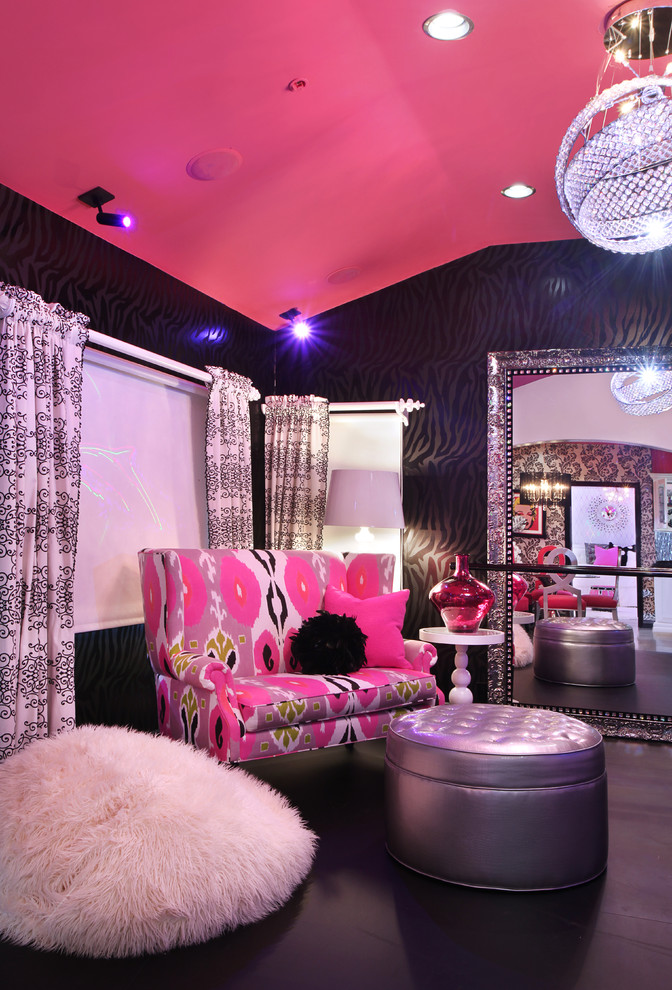 Frank Pitman
Include Funky Furniture
Partying is all about letting loose and having a good time. Your furniture picks should also be off the hook and a little quirky. Try including eye-popping colors and risque textures like hot red velvet, or glossy leather velvet sofas like the one seen below. I also really like throwing in a dash of gold like the framed art prints below.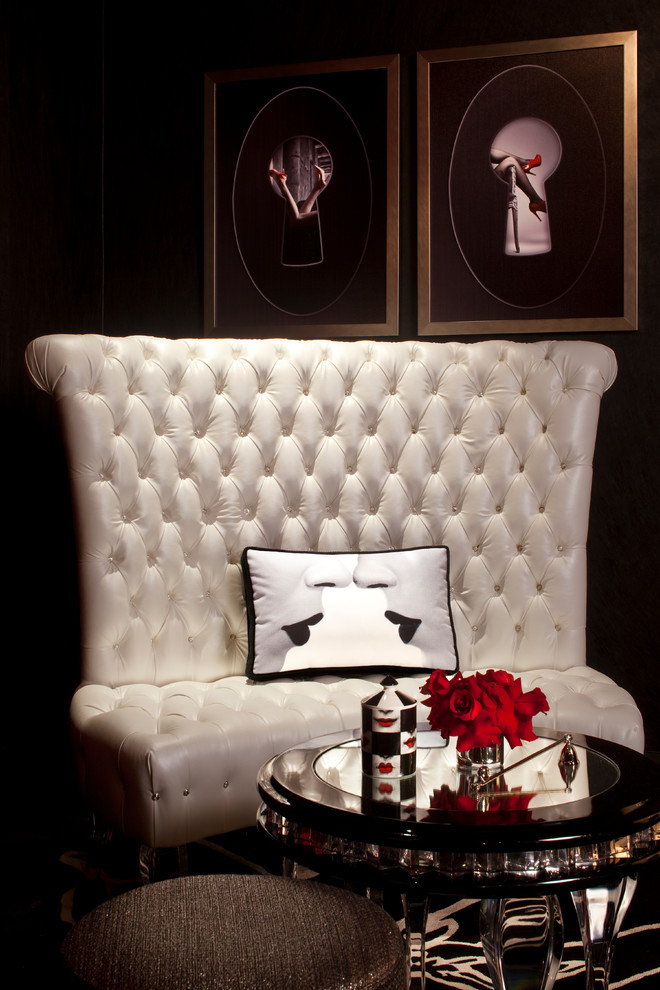 Smith Firestone Associates
Hire the Right DJ
The key to a good party is not only your decor, but the right music and a good DJ! Make sure to hire someone that fits your music style and knows exactly what you want to keep the party pumping. My favorite DJ company is Dancefloor DJ's and Events, where you don't only get a talented DJ but an all-action entertainment experience thanks to the best lighting and sound systems around. For all the latest news check out the DJing page for any future parties you may be having!