Here are 7 Ways to Decorate Your Closet like a Fashion Blogger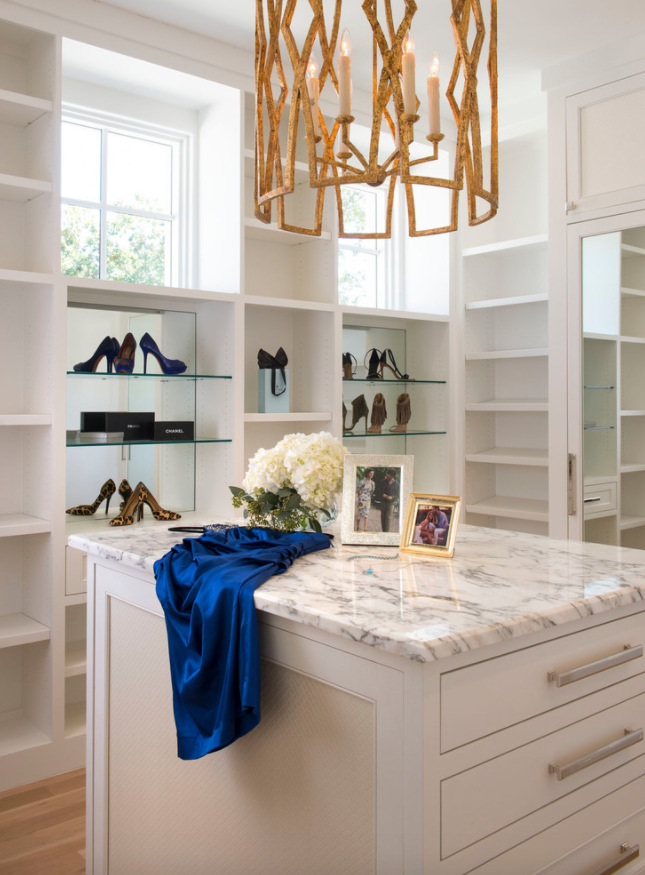 Decorate your dream closet like a fashion blogger with these glamorous ideas that will transform your space into a small boutique!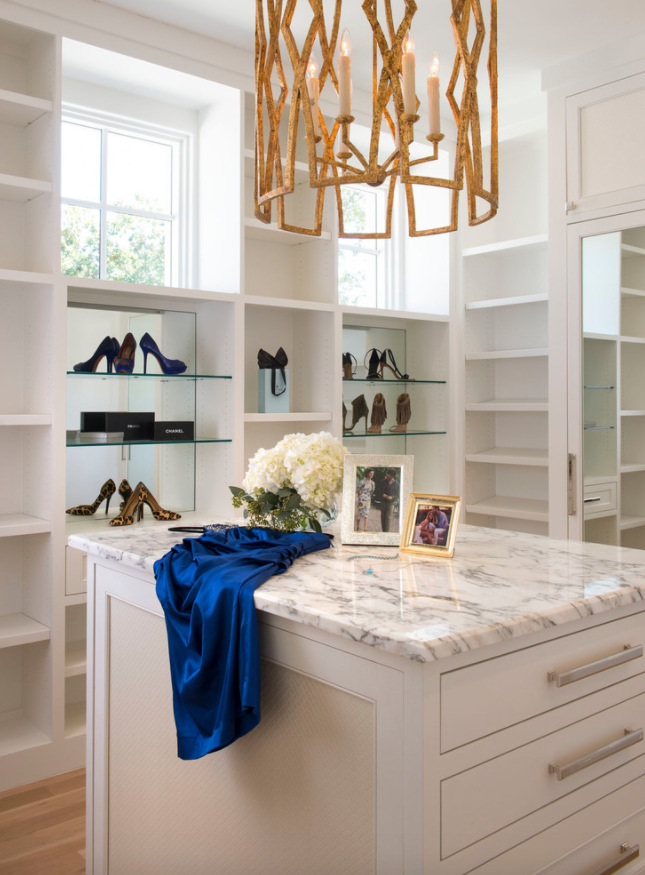 Photo: Danes Custom Homes
Don't be jealous of these luxurious closets, you can have one too by following some of our easy closet decorating ideas to transform your space. We all love to look great and feel great, but I believe it all starts with your closet. There are so many ways to make your closet feel like a high-end boutique, so that every time you get ready you'll be feeling like a diva…
Add Depth with Mirrors
If you've ever entered a home with mirrored walls, you would have noticed that it feels like it's twice the size. You can get the same feeling your closet. Since your closet is a smaller space, install mirrors behind your shelving to help reflect light and give you that boutique like feeling.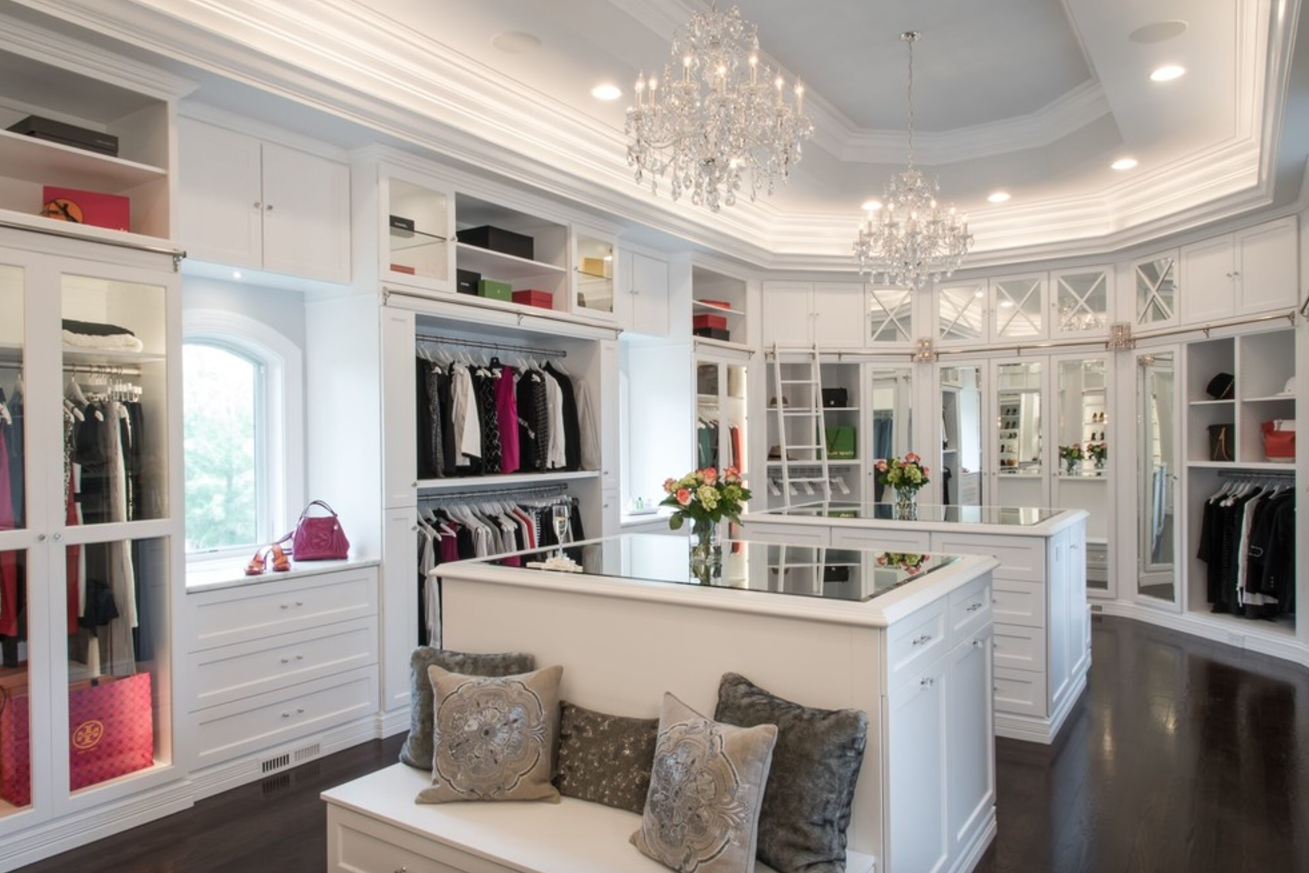 Photo: Greg Terbrock Design Build Llc
Consider Luxury Flooring
When it comes to comfort, it's all about what kind of flooring you choose for your space. We love the look of luxury hardwood flooring that's easy to clean, doesn't collect dust, and plus you can use the same flooring throughout your bedroom to give your whole space a seamless look. There are tons of hardwood flooring options for a quick update, depending on your style, and current decorating style.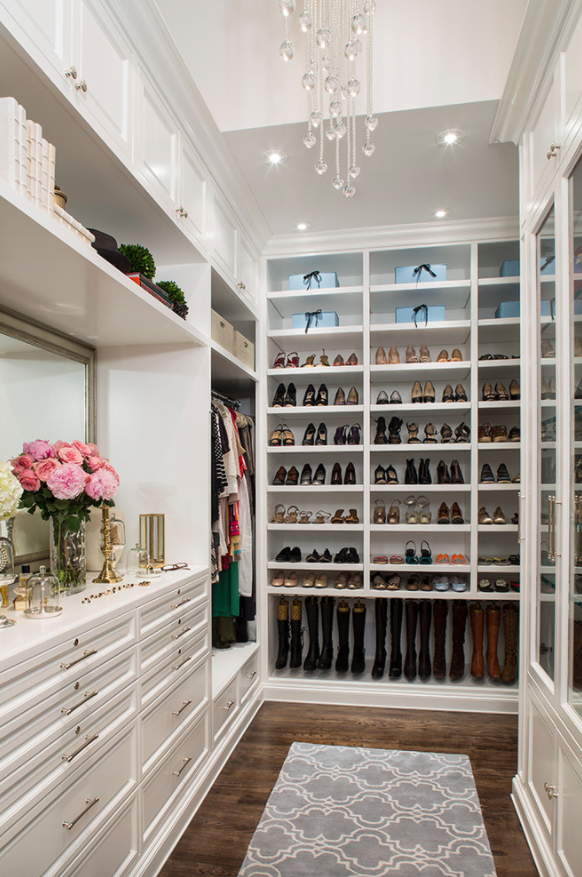 Photo: Lisa Adams, LA Closet Design
[otw_shortcode_quote border_style="bordered" background_color_class="otw-pink-background" color="#ffffff"]BDB Tip: Having carpet in your closet is a great look as well, but we personally don't like the vacuuming, and possible dust collection that comes along with it. Hardwood floors are easy to maintain and will look great for years. Want to make them sparkle? Check out these tips to make your floors sparkle![/otw_shortcode_quote]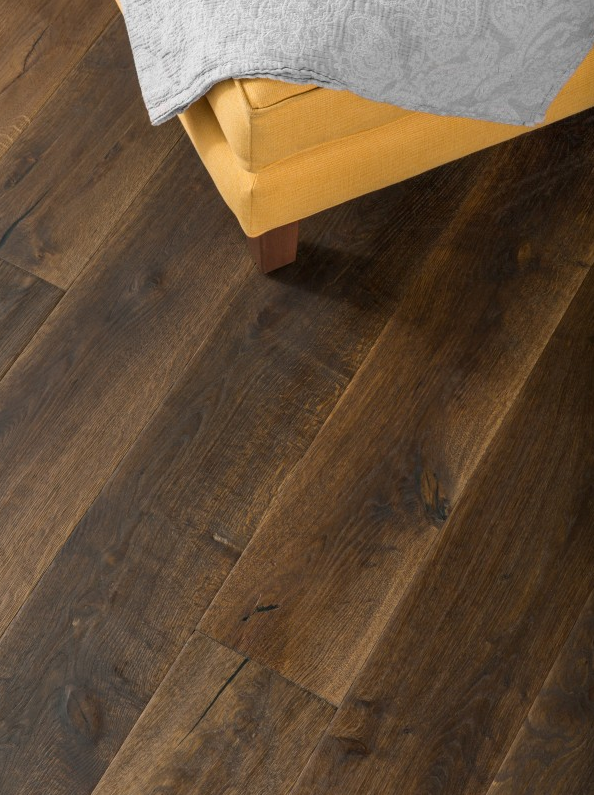 Make a Statement with a Chandelier
There is no better way to make a grand statement in your walk-in closet than with a beautiful chandelier. Plus, chandeliers aren't even that expensive anymore! You can purchase a pretty chandelier at your local home-depot for under $200. There is something about chandeliers that add a sense of sophistication to a space and set the ambience. They also reflect light throughout your whole space, making all glossy surfaces and metallic objects sparkle and look 10 times better.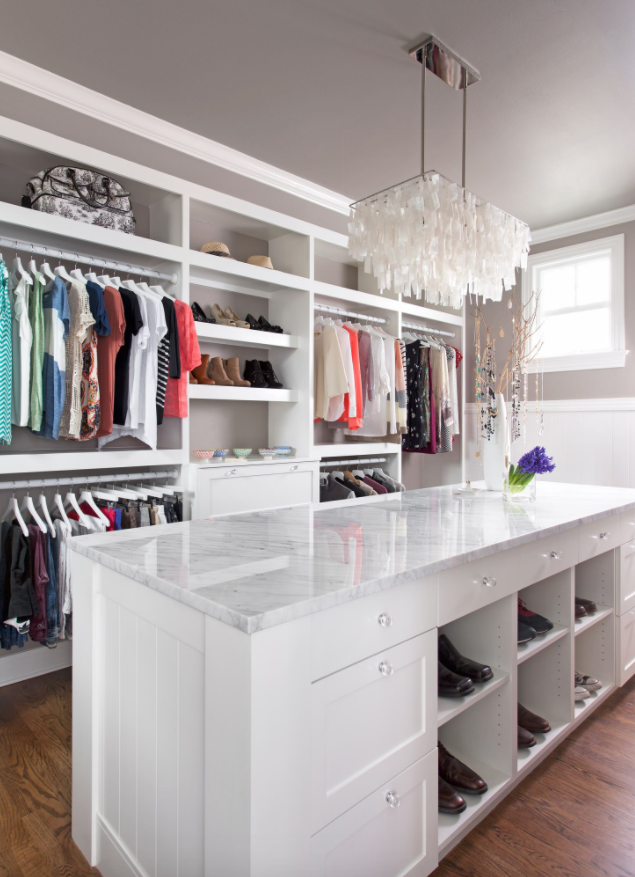 Photo: CG&S Design-Build
Color Coordinate Your Clothing
Trying to make an artful statement in your closet? Use your clothing to add color and uniqueness by color coordinating. You can use your clothing to color block, create an ombre theme, or whatever suits your décor. We love the look of color coordinating shoes and jewelry. It really gives off a boutique-style vibe and makes getting ready to go out, twice as fun!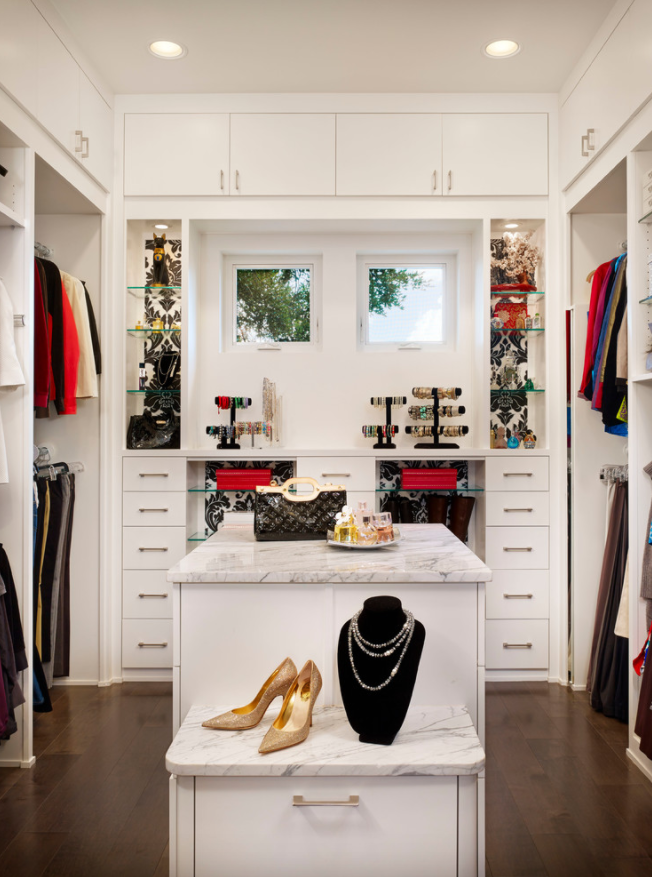 Photo: Spaces Designed, Interior Design Studio LLC
[perfectpullquote align="full" cite="" link="" color="#f50f50″ class="" size=""]Suzy's Idea: If you want to add some extra color to your closet, consider decorating with colorful floral wallpaper and placing it behind your closet shelving. This is an ingenious way to sneak in some color without having too much clashing and over-kill.[/perfectpullquote]
Install an Island
Even if you have a small closet, you may be able to fit in a convenient closet island. Islands are a great way to add some extra storage to your closet where you can store your sunglasses, jewelry, scarves and more. They are also a great place to display some framed pictures to add a personal touch to your newly decorated space.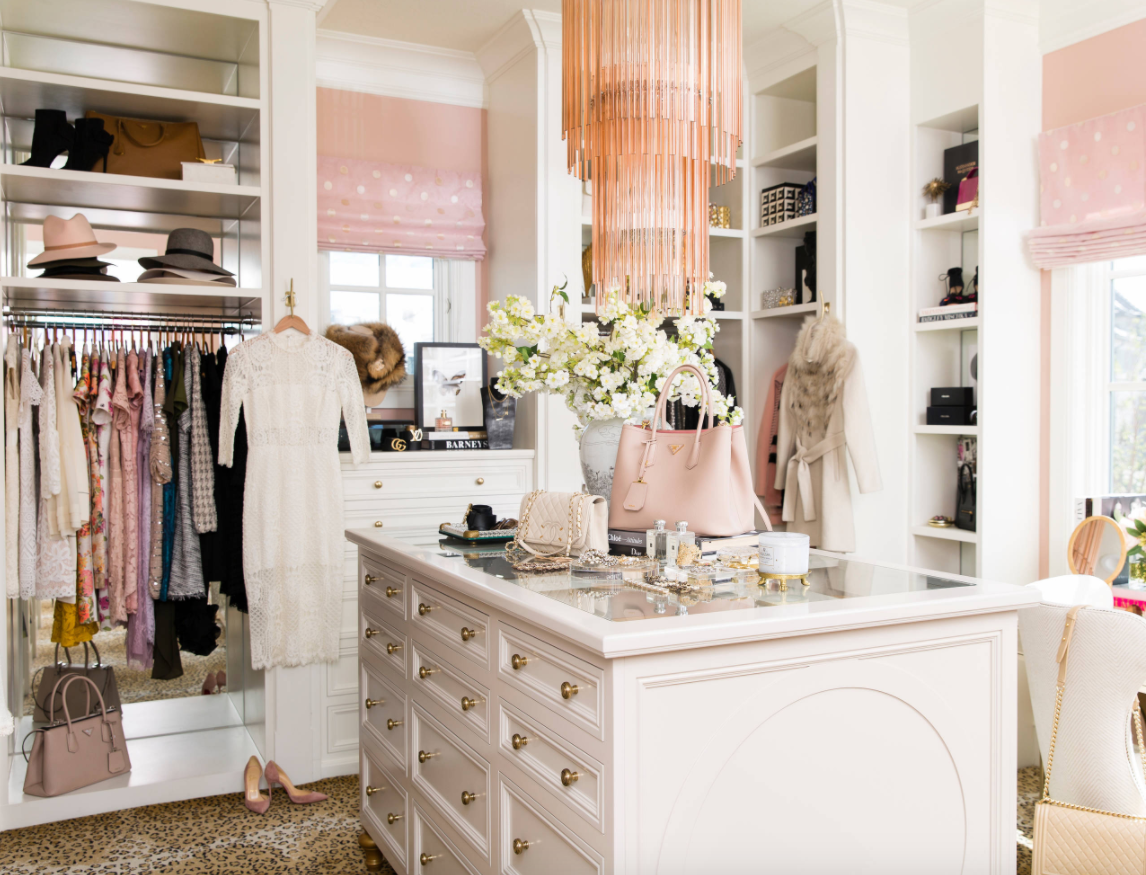 Photo: Alice Lane Home Collection