6 Trendy Deck Decorating Ideas for Spring + My Monochrome Stripe Addiction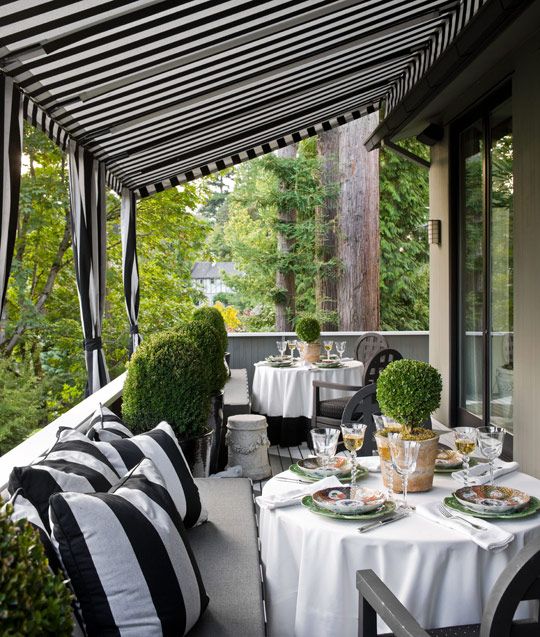 Let your deck take center stage this spring full of warm, fun evenings with our 7 stylish deck decorating ideas that include monochrome stripes:
Spring is quickly approaching meaning we are going to be spending much more time enjoying the outdoors and warmer weather. It's definitely time to make your ideal outdoor living area such as your deck, a place to relax, entertain and have fun – in style! Black and white stripes are definitely one of my most favorite trends that look CHIC and CLASSY used in outdoor decor. Take a look at 7 of my most favorite deck decorating ideas using monochrome stripes:
1. Add Elegance with Monochrome Stripes
My favorite trend EVER for outdoor decor? Black and white stripes of course! If you are trying to make your deck look preppy, elegant, and classy, decorate it with black and white stripes. Either for a gazebo cover, umbrella, pillows, cushions, tablecloths, or outdoor rug – use black and white stripes to make it scream THIS IS VOGUE.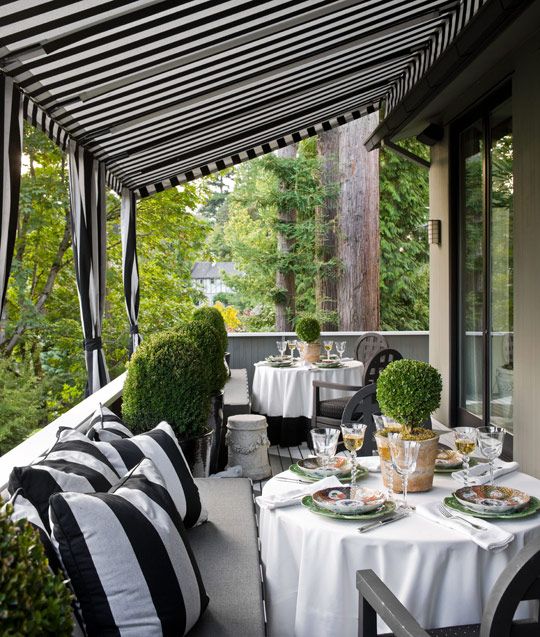 Photo: Simple Details Blogspot.hr
2. Hang Monochrome Curtains for Privacy
This homeowner made their pergola a little more private by adding black and white curtains. These look so on POINT when tied back at the sides, they make your deck almost look like an expensive, exotic resort! Even if you have a gazebo or an actual built in roof for your deck, you can also add in these curtains to give it some oomph.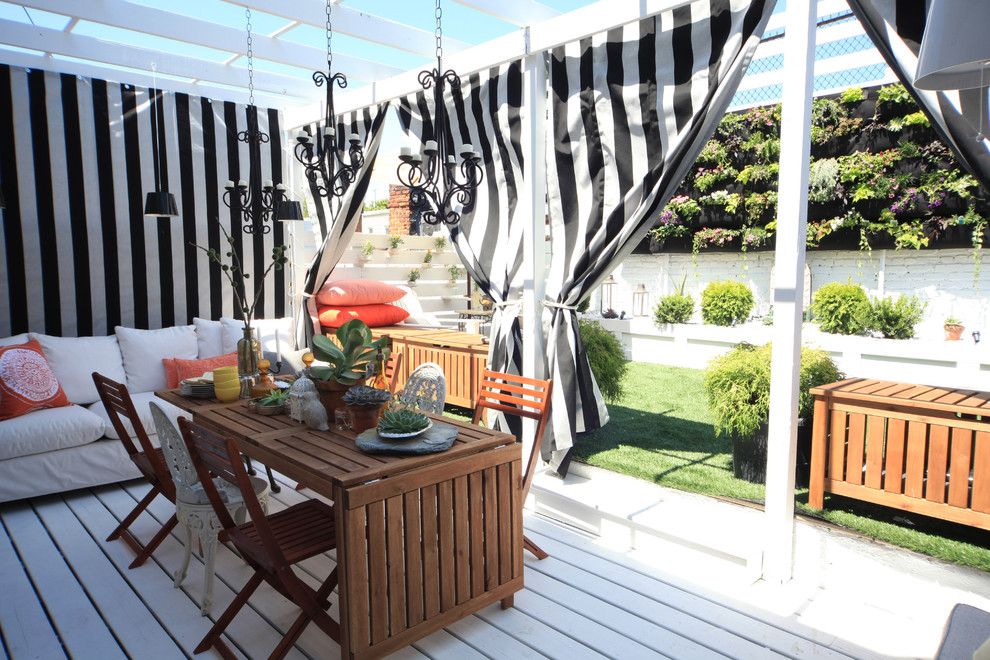 Photo: Apartment Lifestyle.net
3. Make a Private Black and White Striped Cabana Hut
Now this is something I call a at-home GETAWAY! Make an extension to your deck (we recommend using durable composite decking) lead to a private cabana hut with a bed inside for some a relaxing, romantic place to enjoy your afternoon or candle-lit evening! Now really, how gorgeous is this?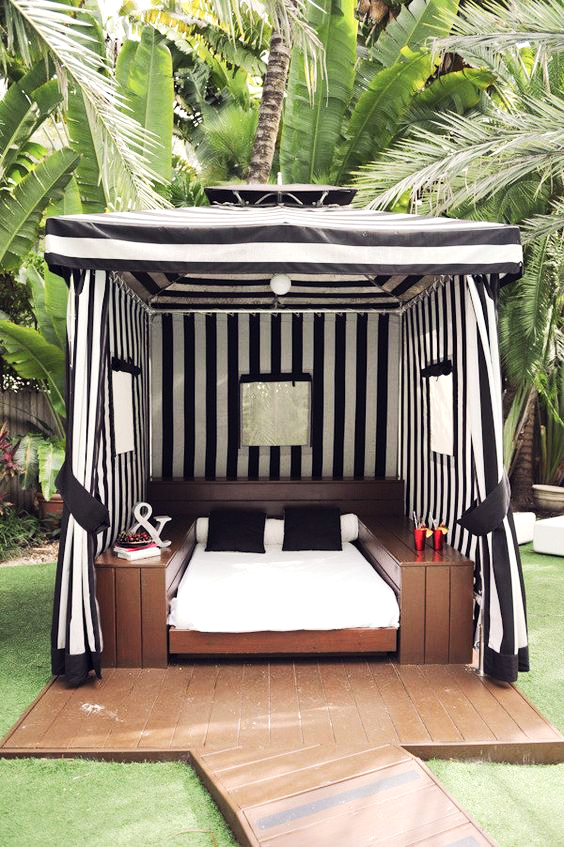 Photo: Style me Pretty
4. Bring a Bland Corner to Life With A Sleek Striped Sectional
This photo proves that you truly don't need to have a large deck to create a glamorous-looking outdoor feel. Create an intimate hangout in an unused corner of your porch with a sturdy wrought iron sectional with ofcourse – monochrome stripes.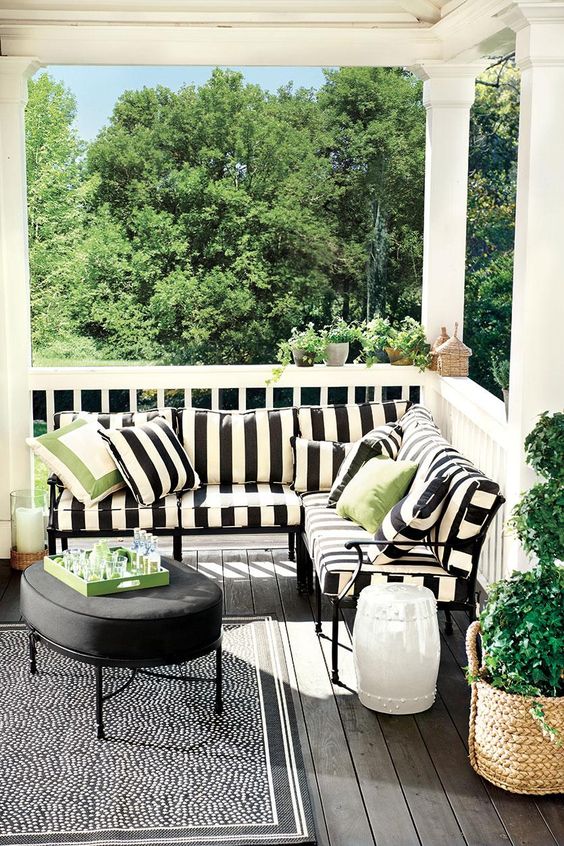 Photo: HowtoDecorate.com
5. Lounge By the Pool With Black and White Striped Lounge Chairs
Sit by the pool and relax in STYLE with monochrome striped lounge chairs. To keep up with your preppy theme, use grey or black outdoor furniture and black accessories like your umbrella or gazebo fabric cover. Then, whip out a black can of spray paint and spray all your plantar pots in black to match.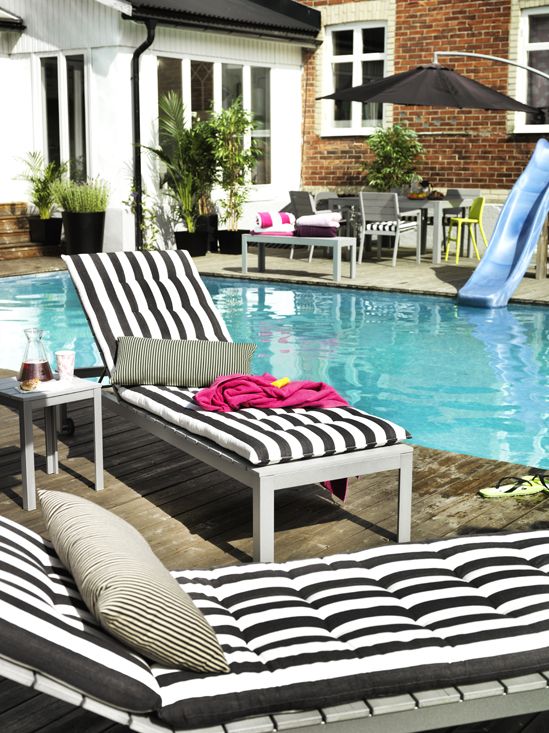 Photo: Blog Stylizimo
6. Create a GLAM Space With A Striped Tent Pavillion
One lucky blogger Dolores Arabian received this GORGOEUS tent pavillion from Z Gallerie. This place has some of the most beautiful home decor items. No wonder Kylie Jenner was spotted in there buying furniture and decor accessories for her new home. You can place a tent pavilion like this on you deck and top it off with a pretty chandelier to make the space inside even more romantic.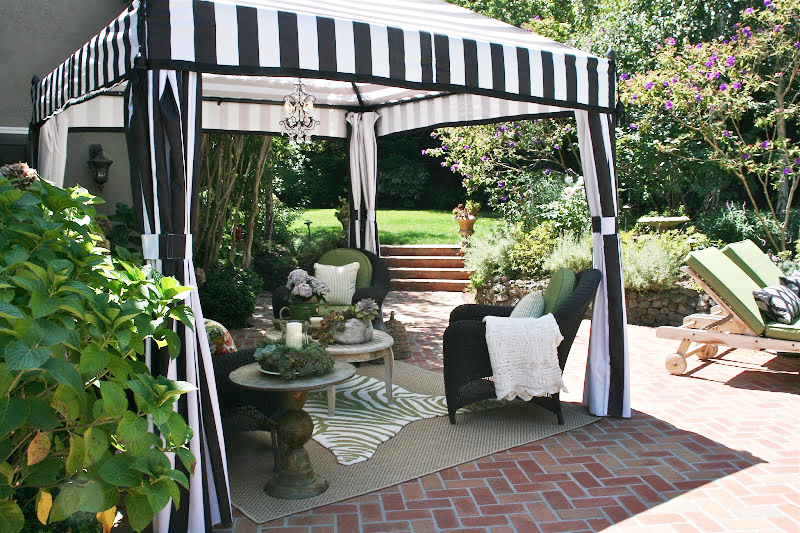 Photo: Vignette Design