The Hottest Kitchen Trends for 2016 – This is Exactly What Designer's are Currently Obsessed About!
Let's kick off 2016 with some of the most talked about kitchen trends of the year!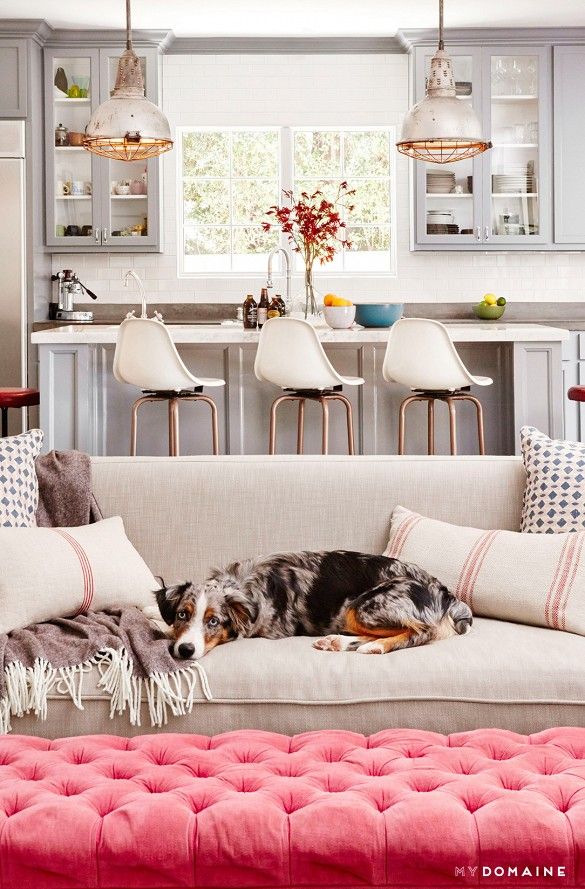 Photo: My Domaine
We are happy to be partnering with kitchen worktop specialist, Mayfair Granite that have compiled some of their predictions for what will be a BIG hit in kitchens for 2016. Lets have a look:
Large-format Flooring and Luxury Vinyl
The flooring in your kitchen is just an important as the cabinet design, appliances, and lighting. This year, we are seeing a huge trend in large format tiles. These larger tiles mean less grout lines leading to a much cleaner and sleek look.
Vinyl flooring has come a long way since the peel-and-stick stuff from the 1970s and will also be a popular choice this year. Luxury vinyl combines the high quality realistic look of hardwood or stone with the durability of vinyl making it a natural fit for the kitchen.
Smart Storage
People have been trying to de-clutter their kitchen cabinets since they were invented. Over the past few years advances in technology and design now mean that every space is used to its full potential. From a range of clever storage solutions to adjustable shelving, you can have your kitchen built to your specific needs.
Open Shelf Cabinets
Open shelving is also predicted to be big in 2016, and why would hide your beautiful dishes, glasses and cookware away in expensive cabinets anyway. Open shelving can help to increase your storage options, increases the amount of light in the room and produces a sense of space, perfect for smaller rooms.
Photo: Gallerie B
Luxurious Worktops
Granite and Quartz worktops have always been a popular choice for the kitchen due to their durability and quality look. Advances in production and cutting techniques now mean that granite and quartz worktops are more affordable than ever and can easily be fitted into your kitchen. Dark greys and blacks are trending right now, perfect for creating a luxurious look.
Colorful Sinks
Much like kitchen cabinets, sinks are trending away from basic white and stainless steel. Bright and vibrant colors now coming onto the market are a great way of adding a splash of color to a neutral kitchen or to create an eye-catching focal point.
Bold Appliances
People rarely move beyond standard colored kitchen appliances, tending to go safe with either white, black or stainless steel. All of that is going to change this year, as people introduce colorful cabinets and sinks to their kitchens. Bright, vibrant colors are bang on trend for 2016, allowing people to show off their individualism and their appliances in style.