How to Get Started With Your Kitchen Remodel – 10 Commonly Asked Questions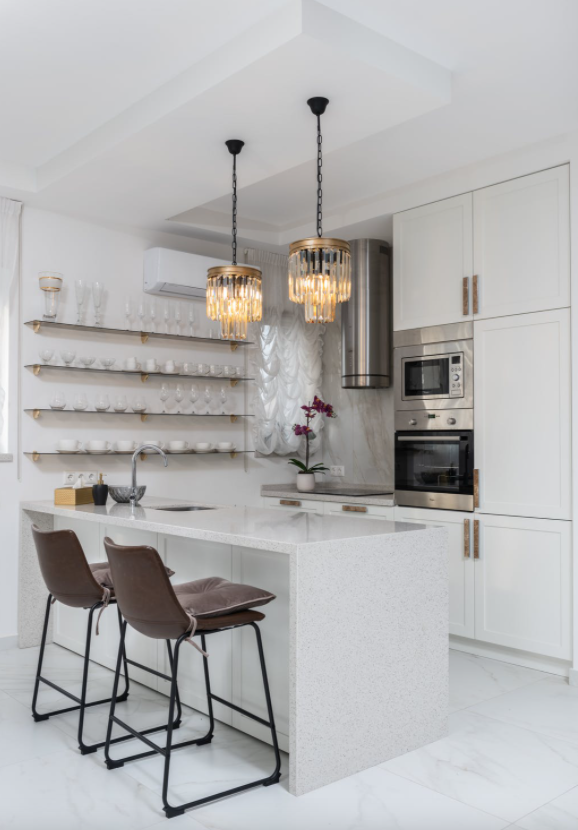 Kitchens are one of the most functional rooms in the house, making it a great place to create memories with your family and friends!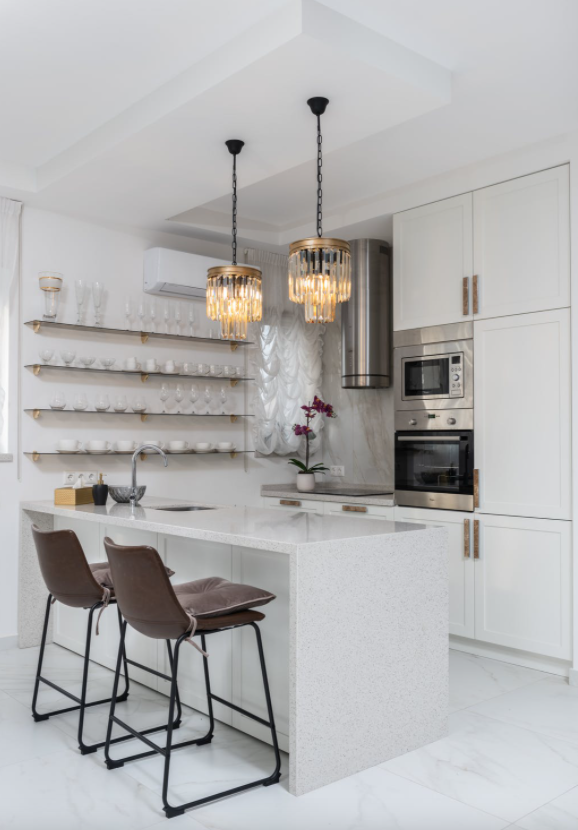 Photos By: Stock Images
Because of this, redesigning your kitchen can be one of the most satisfying remodels in your home. Although there are many factors involved in the process, remodeling your kitchen does not have to be stressful! If you're looking to upgrade your outdated kitchen with a luxury kitchen design, you've come across the right article. Here, we'll dive into 10 commonly asked questions about remodeling your kitchen.
1. How Much Does a Kitchen Remodel Cost?
Ultimately, the total cost of a kitchen remodel depends on a variety of factors. Are you looking to change out the cabinets, counters, floors, or appliances? Are you doing the remodel yourself or with laborers? The size of your kitchen will determine how much material is needed and ultimately affect the total costs.
Additionally, the cost of a kitchen remodel can cost more based on a particular area, and prices can vary state-to-state. According to HGTV, the cost of remodeling your kitchen in the South tends to be cheaper than kitchen remodels in the North and West – a major kitchen overhaul costing as much as $20,000 less in the South. All things considered, basic kitchen remodels can start around $4,000 and hike up to $50,000+, depending on how upscale the new design is.
2. How to Plan a Kitchen Remodel
One of the most important steps in planning a kitchen remodel is outlining your budget – how much can you afford to spend? Your budget will determine how extensive your kitchen remodel will be, therefore helping you plan out every detail.
Additionally, if you've decided to hire laborers to demo and remodel your kitchen, they will come prepared with blueprints and a plan of action. However, if you're DIYing your kitchen remodel project, you will have to create a step-by-step process on your own. A complete kitchen overhaul typically includes,
* Demolition
* Renovation
* Installation
* Plumbing/electrical work
* Painting
* Cleaning

3. How to Design a Kitchen Remodel
One of the most exciting parts of remodeling your kitchen is designing it! You can brainstorm kitchen designs by using apps like Pinterest and Instagram to gather ideas and inspiration. Additionally, take a trip to your local home improvement store to view the different types of tiles, paint, countertops, counters, and cabinets. Alternatively, you can hire a professional interior designer, who can handle the bulk of the process for you.
4. Do You Need a Permit to Remodel a Kitchen?
Permits are not required for small projects like replacing things like counters, floors, and the like. Tearing down or replacing drywall does not require a permit either. However, projects that include replacing or adding doors, windows, ductwork, and electrical and plumbing fixtures DO require a permit. Check with your state's laws and building regulations for more information.
5. How Much Value Does a Kitchen Remodel Add?
Remodeling your kitchen can add to the overall market value of your home. If you ever decide to sell your house, know that a large majority of buyers consider functional remodels an important factor when purchasing a property. Typically, your ROI is 50%-60% percent of your budget. For example, if you spend approximately $70,000 on an expansive kitchen remodel, you can expect about a $35,000 boost in market value. However, small kitchen remodels turn a much larger ROI – anywhere from 75% to 80%, truly giving you a bang for your buck.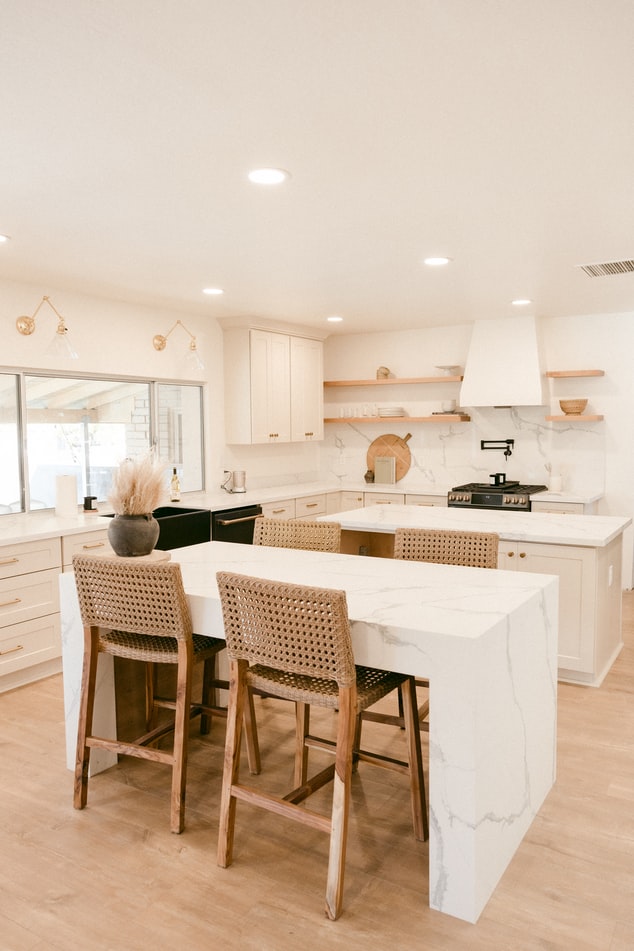 6. How to Budget For a Kitchen Remodel
How involved your kitchen remodel is will determine how much you will need to budget. It is important to honestly evaluate how much you can afford to spend and outline a strict budget. Here are a few helpful tips on budgeting for your kitchen remodel:
1. Outline your budget & stick to it!
2. Determine the cost breakdown.
3. Put aside emergency money in case of the unexpected.
4. Factor in the costs of staying at a hotel and/or eating out.
5. Keep track of expenses in a spreadsheet.
6. DIY some of the small projects to save money!
7. How to Save Money on Kitchen Remodel
Kitchens can be one of the most expensive rooms to remodel. Thankfully, there are ways you can save money during the process. For example, you can DIY many projects in the renovation process. Some more simple processes like installing a new sink or painting the walls can be something you do on your own to avoid extra costs. You can also consider buying counters, cabinets, and appliances second-hand on online marketplaces or garage sales. Lastly, keeping the kitchen layout the same will help you avoid any costs involved with altering the structure of your kitchen.
8. What Is The Most Expensive Part of a Kitchen Remodel?
One of the largest expenses when it comes to remodeling your kitchen is replacing the cabinets. New cabinets can cost upwards of $15,000 but if you're looking to give your cabinets a new look without replacing them, you can always consider giving them a fresh paint job and replacing the hardware. Appliances and countertops can also be very costly – ranging anywhere from $6000 to $8000.
9. Where to Start When Remodeling a Kitchen?
Remodeling a kitchen can seem daunting at first, but breaking down the process into steps makes it much easier. The scope of your project also determines what your initial steps look like. If your kitchen remodel requires demolition – these steps give you a good place to start:
1. Pack up all your cookware, plates, silverware, and kitchen decorations
2. If you're demoing, disconnect any electrical wiring and/or plumbing that can get in the way
3. Remove countertops, cabinets, backsplash, flooring, and trim in that order!

10. How Long do Kitchen Remodels Take?
Because some kitchen remodels are more extensive than others, some projects can take longer to complete. However, if you call in the pros, having extra hands on deck will help you meet your project deadline much faster. Typically, a small kitchen remodel can take anywhere from 6-8 weeks. A complete overhaul of a medium or large kitchen can take anywhere from 2 months to 5 months total.
Conclusion – How to Get Started With Your Kitchen Remodel
The kitchen remodeling process can leave you with many questions. However, doing your research ahead of time can take a lot of pressure off. Mapping out your plans, blueprints, and budget will make things a lot easier, and hopefully, these 10 commonly asked questions paved the way for an efficient and easy kitchen remodel.