Decorating an apartment or condo is difficult even for expert designers. We've scoured the web for some tried-and-true tricks that will make your condo feel more like a home and look a whole lot better.
Use Short Hung Lighting Fixtures
Every designer's goal is to make an apartment look bigger than it really it. There are tons of tricks of the trade to achieve this and one way is to opt for lighting fixtures that are hung short, or close to the ceiling. It's tempting to hang a pretty light fixture, but make sure to hang it close to the ceiling to make it visually look taller than it really is. You can also opt for recessed lighting throughout your apartment and then hang bolder statement pieces like in the middle of a living room, at the entrance, and over a dining table.
Photo: JWS Interiors
All Eyes on the Fireplace
A fireplace makes a fantastic focal point and an ingenious way to make it stand out even more is to stretch it right to the ceiling. Use mirror tiles or a glass mosaic to embellish around your fireplace and then all the way to the ceiling.
Break Up Full-Length Windows
Most modern condos today are graced with full-length windows like the newly built jasper condos in milton. These windows can be intimidating, so a great way to anchor them is with a table and sofa in front. To make your space look more intimate and private, hang full length blackout drapery to frame the window and give you some more privacy.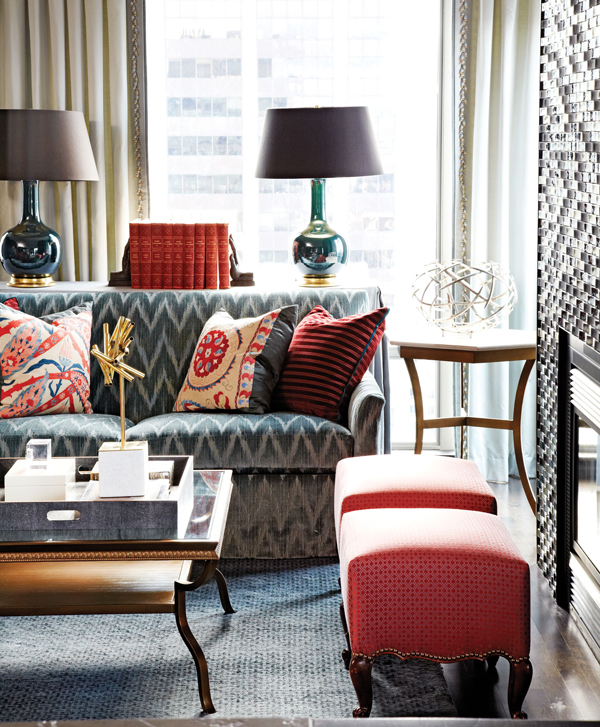 Photo: Chatelaine
Use Multi-functional Bar Carts
Bar carts were a big hit the past few years and I don't blame people for liking them so much, they truly ARE handy! Most condos are tiny so you really have to improvise. A bar cart has so many uses and can be used in place of a kitchen island to hold dishes, roll it over to the living room when you have guests to double as a secondary coffee table for drinks and snacks. You can also use it in the bathroom to hold towels, or in the hallway as a stand for your plants or even as a bedside night table.
Mix and Match Textures
Decorating a condo is all about making it feel cozy, comfortable, and homey. You can make your place feel more inviting by mixing and matching different types of textures when it comes to your walls, furniture, flooring, and accessories. This leather couch is warmed up with lambs fur pillows and a fur throw. You can also add texture to the walls with faux stone finishes or textured wallpaper.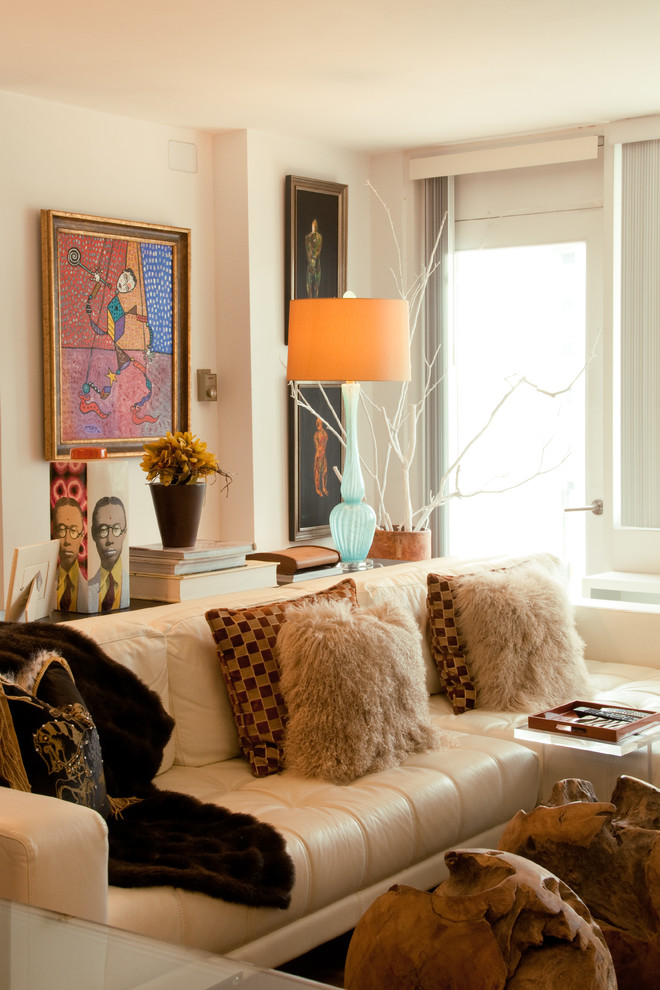 Photo: Wesley-Wayne Interiors