Do you want to add a touch of glitz to your home? Crushed velvet has recently been a popular material for adding a sense of elegance to bedrooms!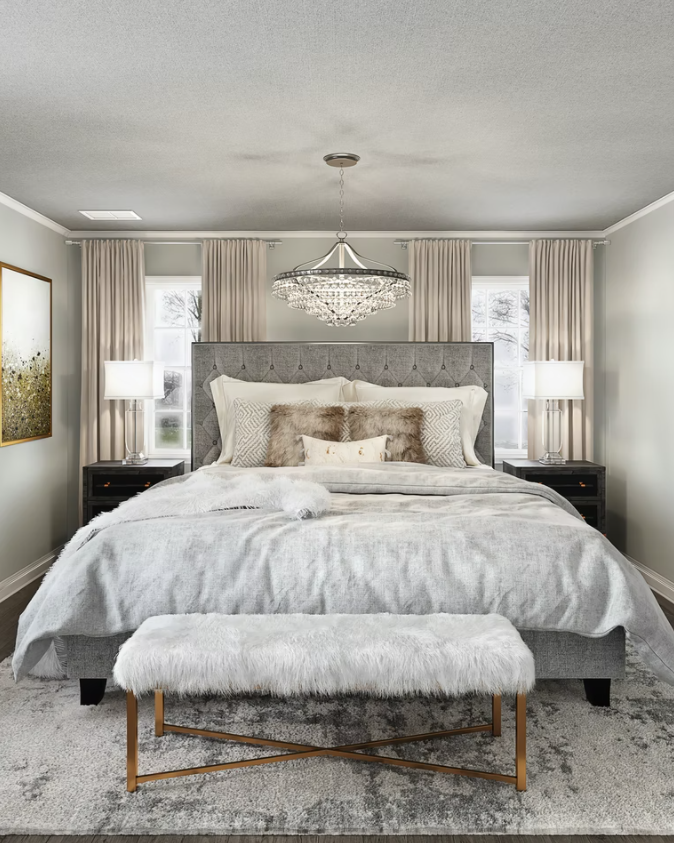 Photo By: Unsplash
So why not compliment your decor with Hugo & Sons crushed velvet beds. The crushed velvet material has a unique sheen and goes with almost any bedroom design. Crushed velvet material gives a touch of opulence to your bedroom and pairs well with mirrored furniture for a polished look. This is the best choice for you if you want your bedroom to be full with glitz and beauty.
The lovely fabric allows light to naturally reflect off the cloth, resulting in a spectrum of colors to reflect; this contributes to why the crushed velvet bed would be the ideal focal point.
The fabric is extremely easy to keep due to its nature, making it ideal for anyone who want a bed that doesn't require any maintenance. Hugo and Sons crushed velvet beds are usually a good choice because they are guaranteed to last for years!
Tips to Complement Your Crushed Velvet Bed
Your bed is the focal point of your room, and you can make it stand out by covering it in high-quality velvet fabric. Velvet has always been connected with aristocracy. However, the days when this fabric was only intended for and utilized by the wealthy are long gone. Velvet bed fabric is now available to everyone at a price that is commensurate with its high quality, but not as expensive as gold. Crushed velvet, for example, is a variety of this fabric that appears lovely and rich.
Crushed velvet beds look best when paired with a high-quality mattress from Hugo & Sons, which you can easily get online. Choose a premium mattress with the highest quality materials and craftsmanship. There's even a luxury mattress with hand-crafted details, deep comfort layers, and a height that's higher than typical. Crushed velvet mattresses are available in an irregular patterned form that catches the light, catches the eye, and exudes opulence.
Because a velvet bed frame adds a lot of drama to your home, buying high-end bed covers and pillowcases is one of the greatest ways to compliment it.
Why Buy a Velvet Bed Frame?
Both traditional and contemporary bedrooms can benefit from the spectacular elegance and grandeur of velvet beds. Velvet beds are luxuriously soft to the touch, highly comfy, and may bring warmth and texture to your bedroom.
Hugo & Sons has a fantastic selection of hard wearing velvet fabrics for their upholstered bed frames, ranging from subtle pastels and neutrals to bright, vibrant tones. Silver-grey and blush pink velvet upholstery textiles are the most popular.
Bring Luxe to your Bedroom
Of course, the size of your bedroom and whether you choose a conventional or contemporary design bed frame will influence where you find your ideal completely upholstered velvet bed frame. Choose a king size or super-king bed frame with a deep buttoned headboard with the option to replace the buttons with Swarovski crystals for traditional lush glamour. The short, dense pile of velvet will catch the soft bedroom lighting beautifully, and the sparkle of the crystals will catch the light beautifully. Crushed velvet beds by Hugo & Sons are a stunning focal point for a luxurious modern bedroom.
For contemporary plush charm, choose a silver-grey velvet bed with a high panel headboard for ultimate luxury with a modern touch. Their Worcester Bed features a gorgeous towering headboard that will instantly add a touch of modern grandeur to any bedroom.
Hugo & Sons, as professionals in bed manufacturing and unique interior design projects, are always delighted to assist their customers in achieving the right ambiance in just a few simple steps. All you have to do is inquire if you can't discover the appropriate upholstery fabric to inspire you. They're always available to ensure you have a wide range of options and complete trust in each piece of premium bespoke furniture you purchase from us.
Crushed Velvet, however, is one of the most sumptuous velvets available, at least in our opinion. Crushed velvet is created by pushing the fabric in a variety of directions, which is commonly done automatically while the fabric is still wet. Crushed velvet's unique production technique provides it a shiny and welcoming appearance and texture, making it a velvet lover's dream come true when incorporated into a bedroom set.
Expertly hand carved from natural mahogany comes this delightful antique style bed. Finished in featuring distinguished ornate detailing with a decorated Crushed velvet fabric buttoned headboard and footboard, this bed is ideal to add a touch of elegance and style in your bedroom today.
Final Thoughts
Crushed velvet is a stunning material. Simply told, it provides your bedroom the much-needed sparkle it requires. If you incorporate it into your bedroom, you will be surrounded by luxury. The material is really easy to keep clean and maintain, and it looks wonderful from every perspective. The crushed velvet substance reflects natural light so brilliantly. If you're seeking for a handmade bed that you can customize, Hugo & Sons' crushed velvet bed set stands out. Choose the ottoman bed with under-bed storage if you have a tiny room and need an ottoman bed to maximize your bedroom space.