Bring the world to your doorstep with the décor must-have of 2018 – vintage maps! Find out how Ted's Vintage Maps is making this possible by bringing 300-year-old maps back to life!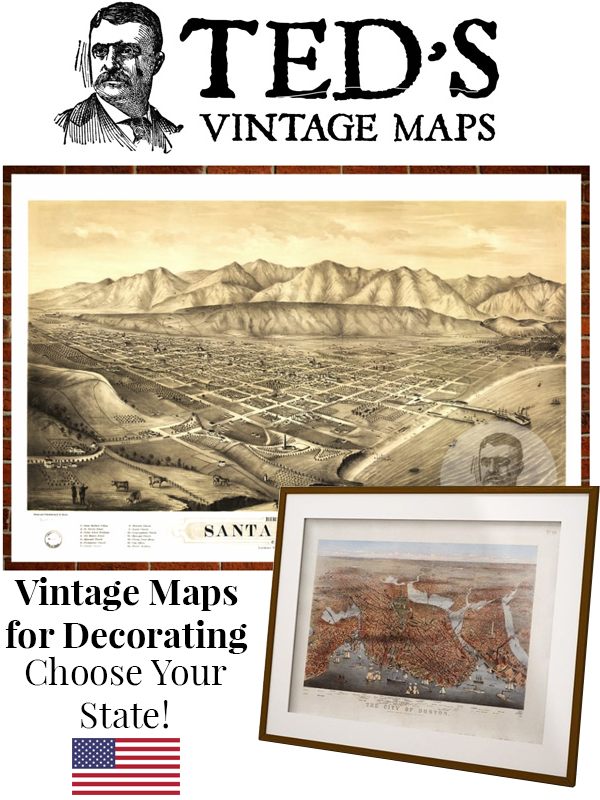 Decorating with old maps has never been more popular for 2018, and we love the fact that it's super easy to do this thanks to companies like Ted's Vintage Maps. Based in South Dakota, Ted's Vintage Maps are a small, family-owned business that has a passion for history and graphic design. Scourging the United States for maps that are mostly over 300 years old and restoring, recoloring, and making them available to hang up on our walls – is absolutely amazing!
Ted's Vintage Maps are high-quality reproductions printed on state-of-the-art printers in super-high resolution with perfect detail and clarity. You can order than in very large sizes, and most of them are common sizes that allow you to easily find the perfect frame. Their store has literally hundreds of maps of states from California, New York, Massachusetts, Illinois, Tennessee, Colorado, and many more! You can choose your state and order a map from the 1900s or even older as a great conversation piece in your home!
Here are some of their most popular maps. Which one is your favorite?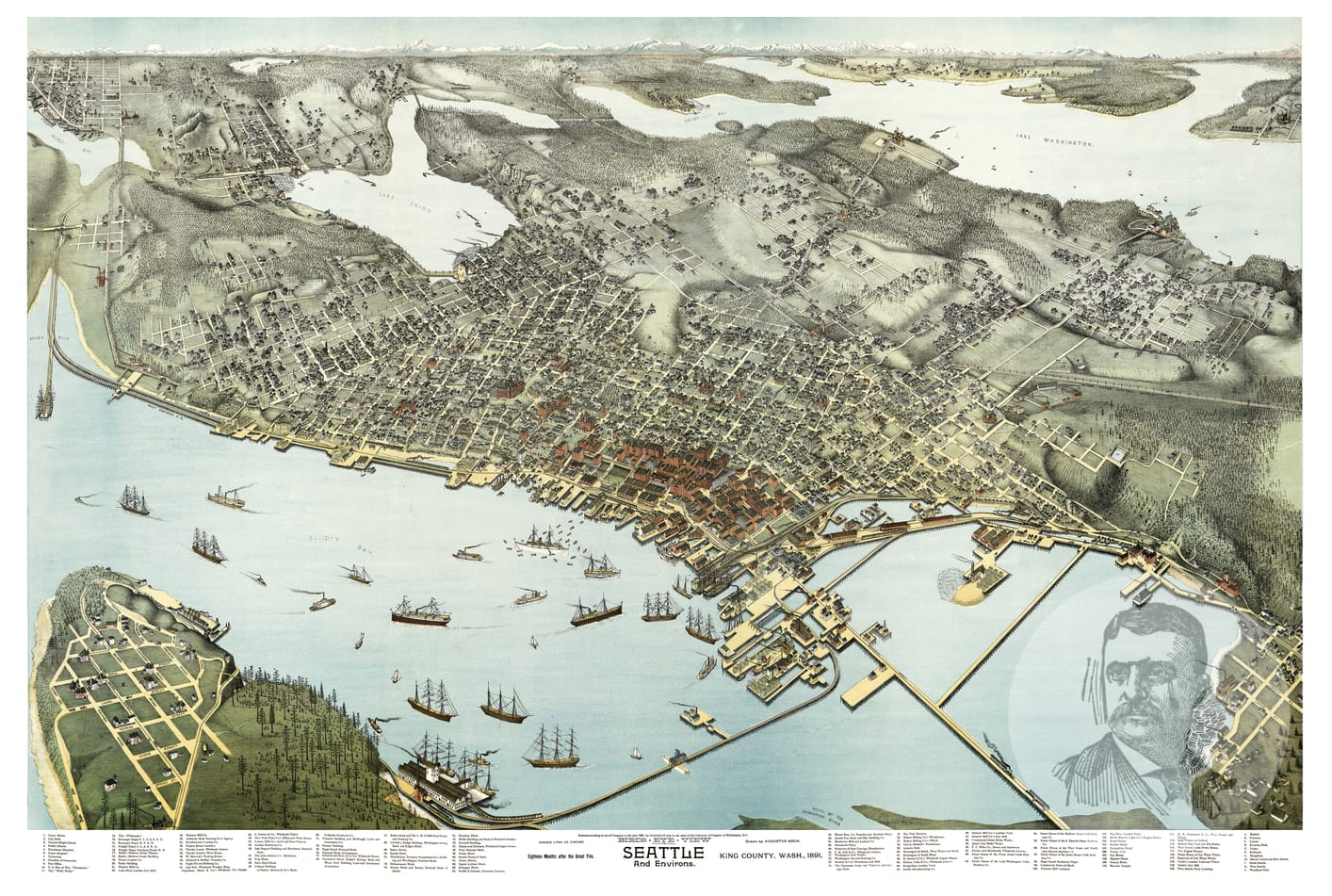 Seattle, WA Historial Map – 1891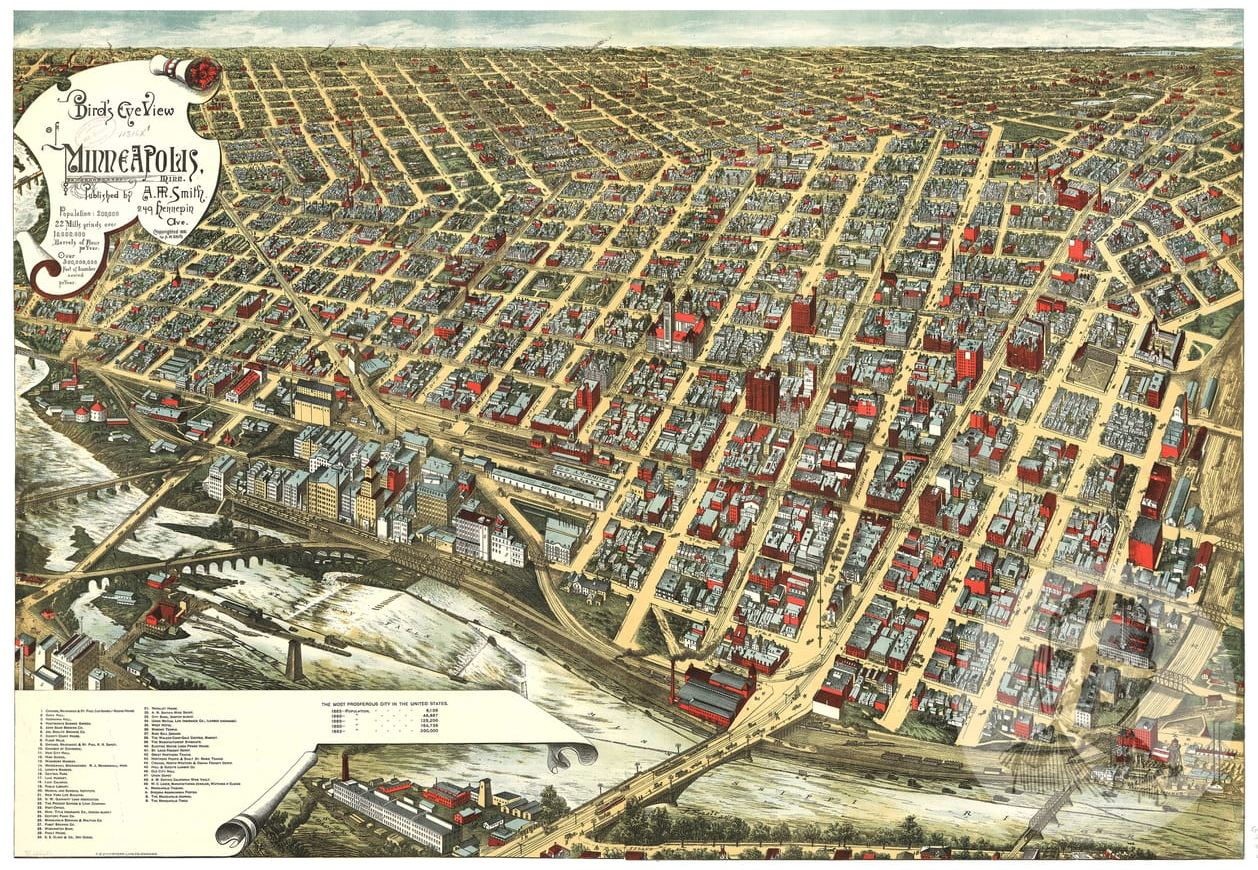 Minneapolis, MN Historical Map – 1891
Decorating with vintage maps has become a popular design trend due to sites like Etsy. Ted's Vintage Maps is the only seller that actually puts maps through a digital restoration process and brings the maps back to their original, intended quality. They are printed using museum-quality paper and archival ink, which can last for decades. You definitely cannot get something like this from Etsy! There are currently more than 400 vitnage maps available in their shop, but they hope to add 1,000 more to their inventory this year.
Not sure how to decorate your home with a vintage map? This beautiful living room looks amazing with a wall covered in them! They are perfect for every room in your home and add a state-of-the-art design feel. Take a look: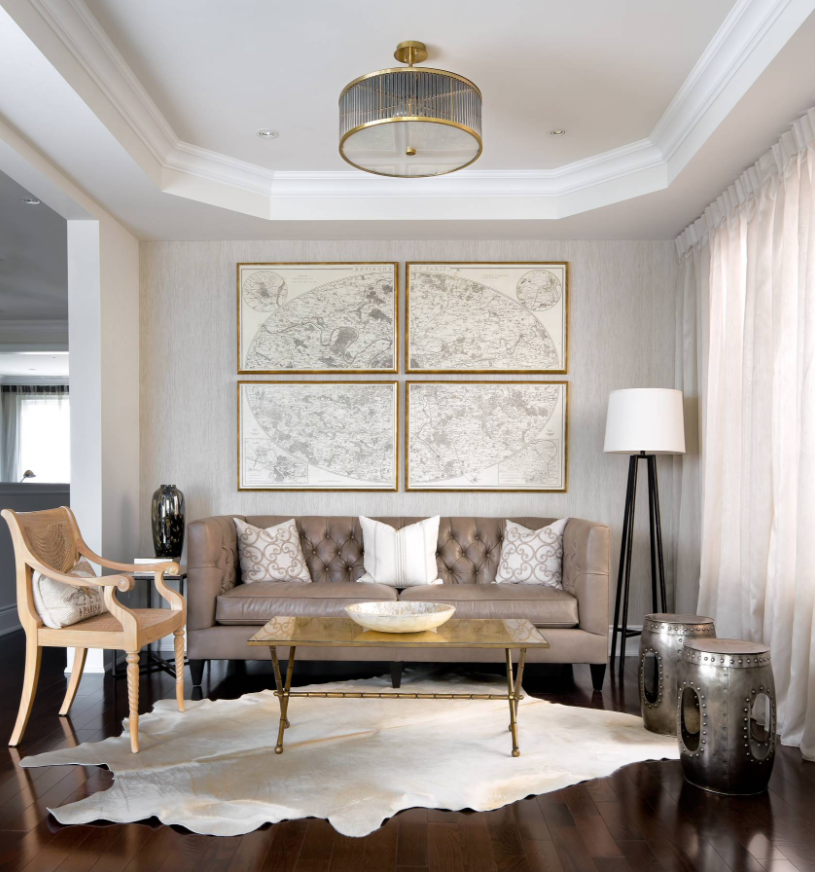 Photo: Yanic Simard
The map below, and probably one of our favorites is from 1909 in Los Angeles, click here to be able to zoom in and see the full details!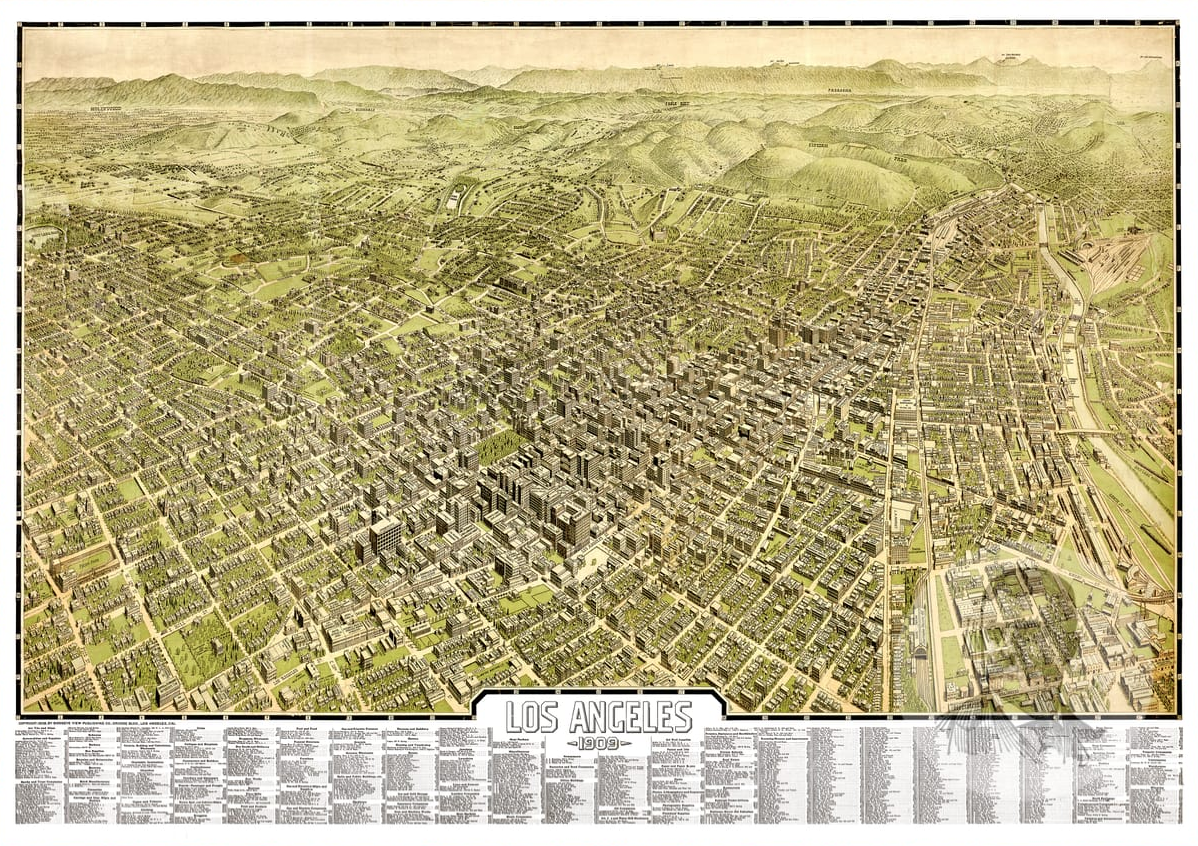 I am personally a huge fan of decorating with maps since it can create a sophisticated look that no other artwork can. If you like old-world style décor, or even like a monochrome, polished look, maps can create this type of ambience for you without too much effort. Framing maps in simple, sleek black or gold frames is a glamorous way to add some classiness to your living room, home office, or even a grand foyer.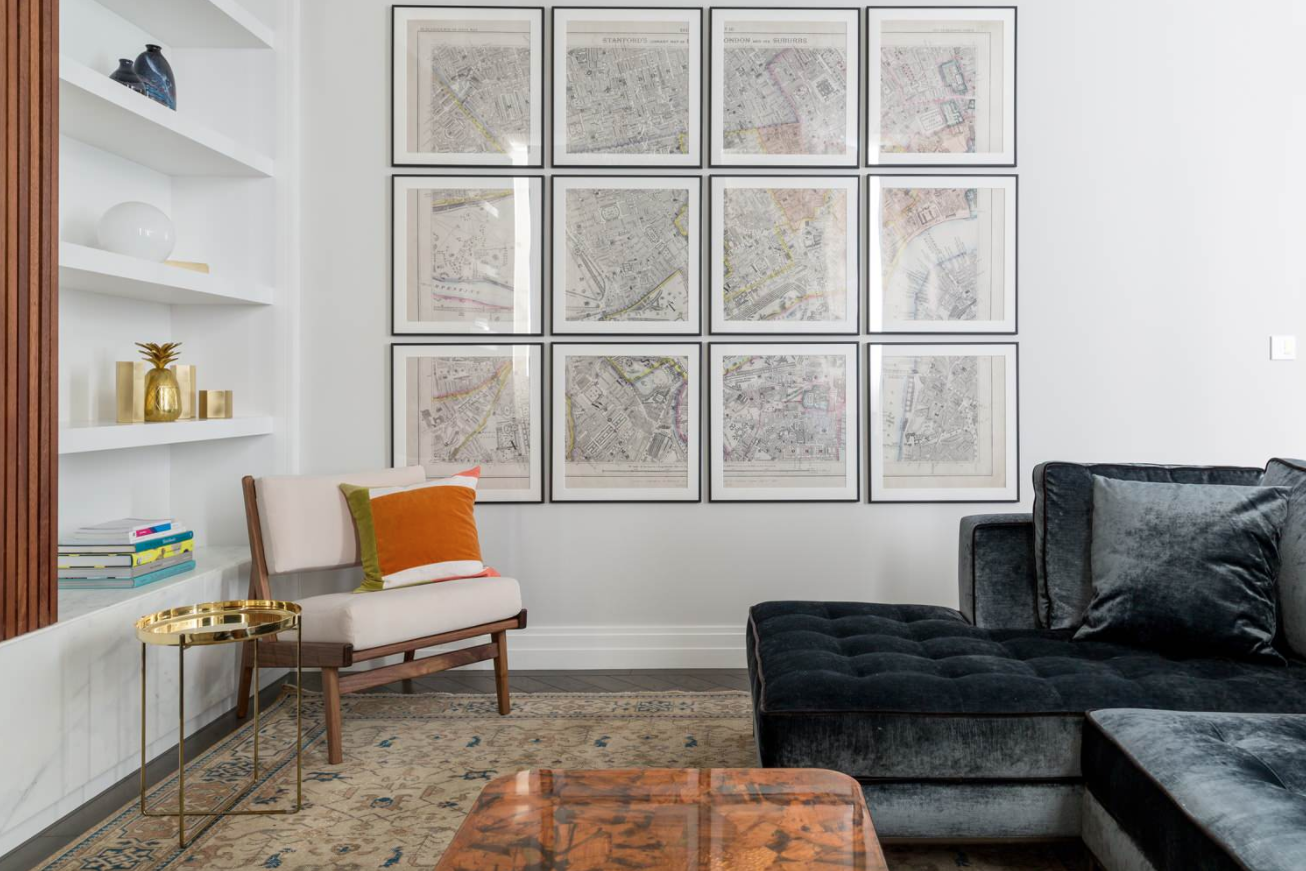 Photo: The Makers – Houzz
Ready to shop for vintage maps? Check out Ted's Vintage Maps and browse through their inventory of rare and restored maps from the United States.
Click here to start shopping!