Learn how to spring-clean your home by de-cluttering, organizing, and so much more to create a blank canvas for a fresh new décor look this spring!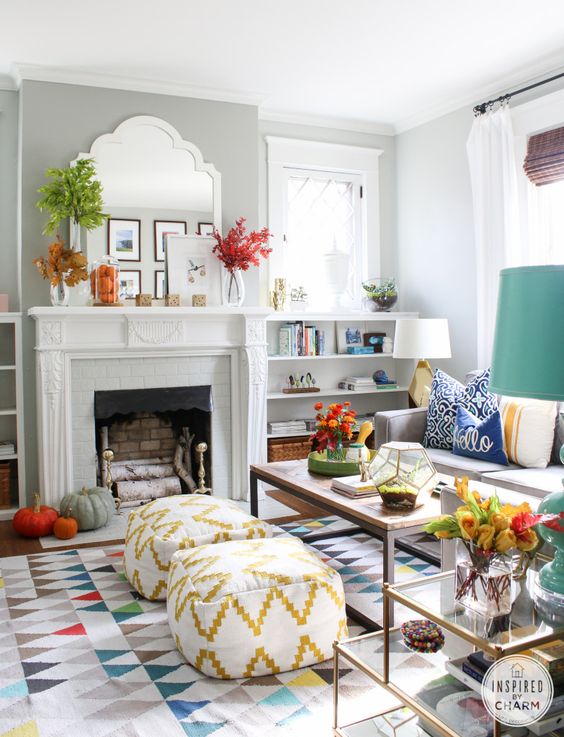 Photo: Inspired by Charm
Spring is upon us, and do you know what that means? It's time for spring cleaning! While cleaning might not be the first thing that pops into your head when you think of the season best known for pleasant weather and gardening, it is time to dust off your shelves and shed those unnecessary winter layers nevertheless.
If, like most people, you do not find the idea of cleaning to be especially thrilling, you can add a little twist to the process to spice it up a bit. Decluttering is good for the soul, and a tidy home is a happy home. In addition to downsizing your closet and getting rid of the boxes in your garage that have been there since you moved in, spiffing up the place can be an opportunity for you go-getters and do-it-yourselfers. Why not downsize, clean, remake, remodel, and revamp your home this season? This is the ideal opportunity to add those special, personalized touches to your home that you have always wanted but never got around to doing. Don't think of it as spring cleaning; think of it as a spring home makeover!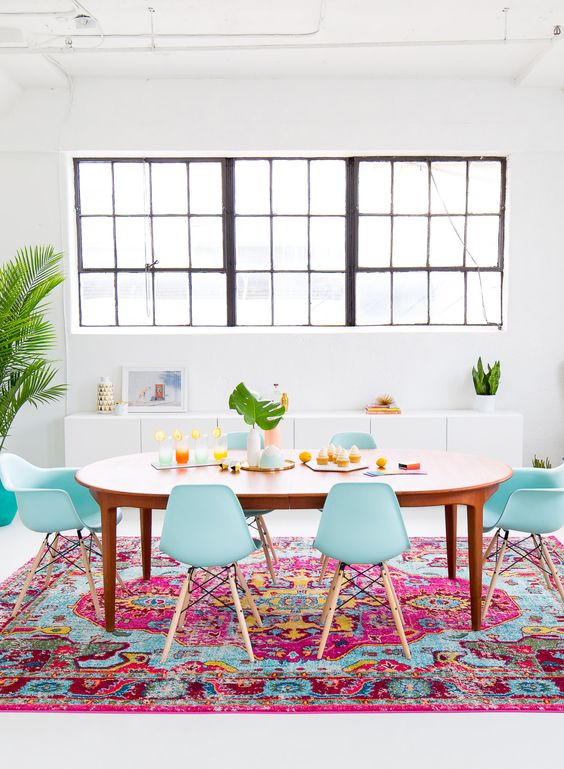 Photo: Sugar and Cloth
Here are some great ways you can declutter your home through fun DIY projects that can make all the difference this season.
Organize your Cleaning Supplies
If you like to have things organized and easily accessible and you are a dirt and grime cleaning machine, this quick DIY project can save you time and keep your cleaning supply arsenal tidy.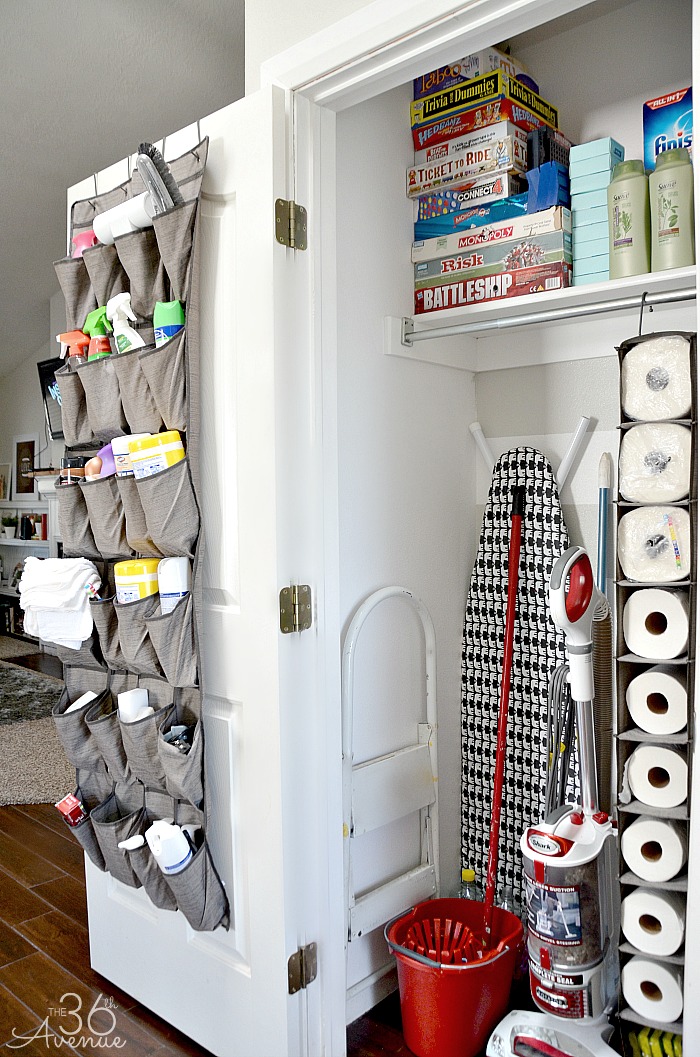 Photo: The 36th Avenue
Many people store their cleaning solutions and gear in a closed cabinet – often under the kitchen sink – in one giant leaning tower of cleaning supplies. You can easily declutter your cupboard with one simple tool: a tension rod. Get a rod that extends across the width of your cupboard and make sure it fits snuggly. Now you can hang your cleaning spray bottles along the rod, freeing up the space below for gloves, sponges, and other supplies.
Set up Some Peg Boards
This next DIY project is easy and extremely versatile, and all you need is a peg board. Peg boards can clear up tons of space in your home, from organizing your kitchen essentials to making a great spread for your crafts.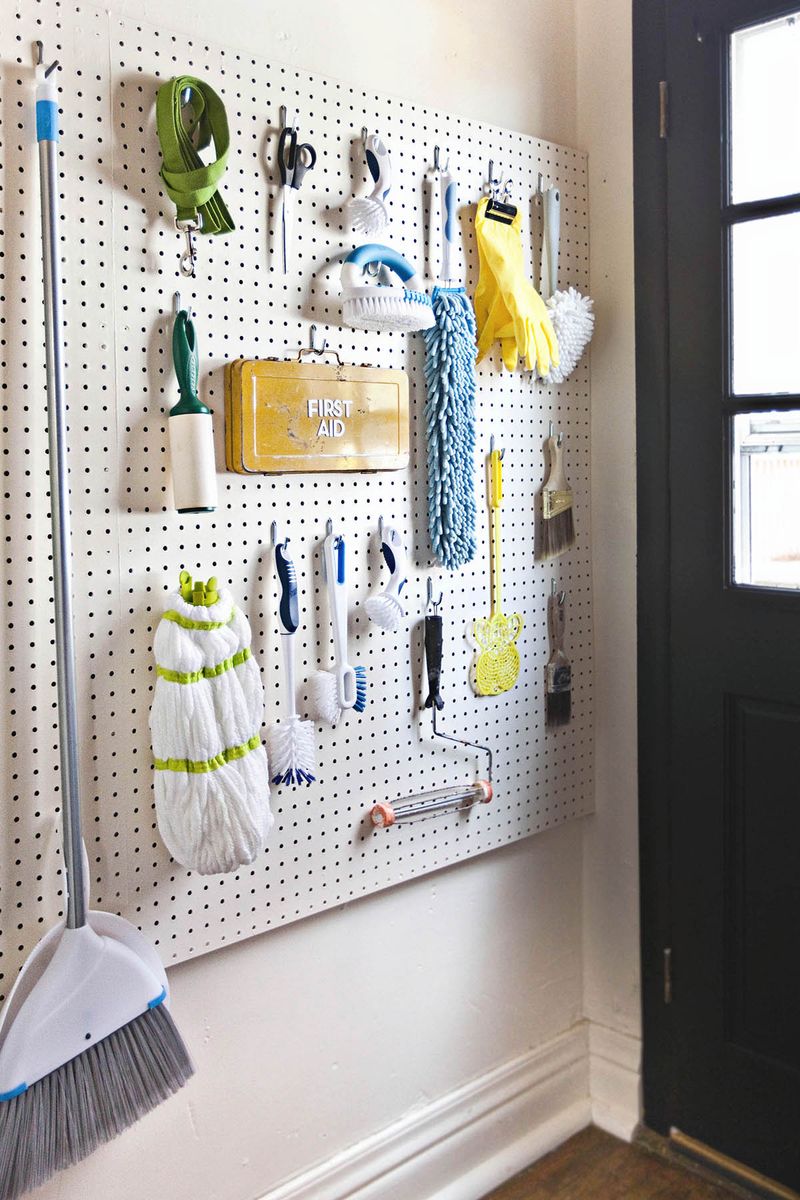 Photo: Homedit
A peg board allows you to hang hooks or pegs in any arrangement for any project. One great use for the peg board is as a drying board. Place the peg board in your kitchen, over the sink, or over a small shelf to catch water, and hang your hand-washed dishes there to dry.
Consider Window Shutters
Are you tired of your annoying blinds that let too much light in at night and collect dust that is frustratingly difficult to clean? If so, shutters are the solution! Tremendously popular across the pond, they have not yet caught on here in the States.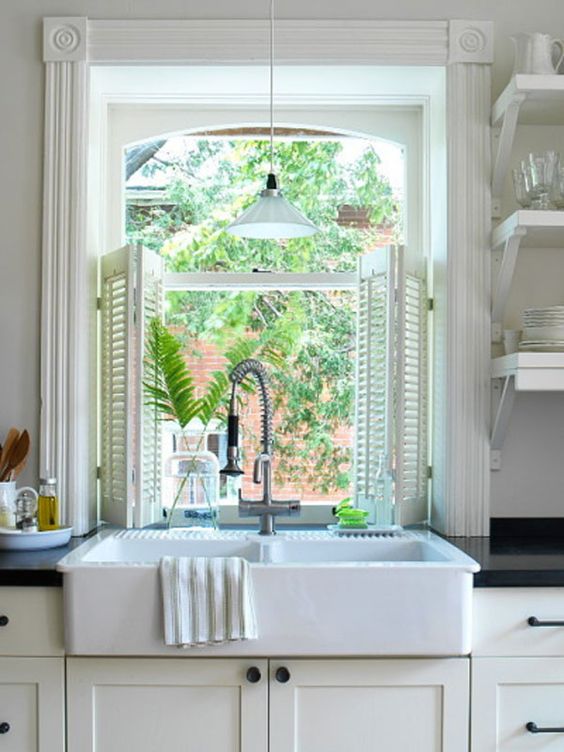 Photo: CovetLiving.com
You might think that trading your blinds for shutters would be cumbersome, but with shutters readily available, making the swap is a perfect spring cleaning activity. Installing full height shutters is quick and easy, and it can make future cleaning a breeze!
Downsize Your Closet
Do you have clothes you like but rarely touch? Do you think about giving them away, but somehow they clutter your closet year after year? Here's a fun closet downsizing experiment to try that requires no additional supplies.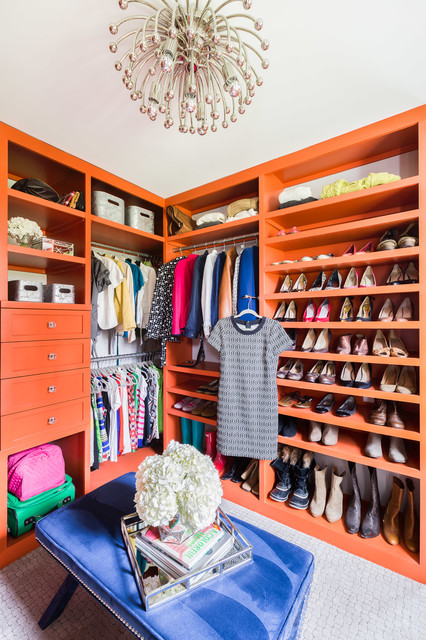 Photo: E.L Interiors
Turn all your hangers backwards in your closet. Once you wear an item, turn the hanger the right way. Give away any clothing item that is still on a backwards hanger one year from now. This is a simple and effective way to say goodbye to those items you never wear anyway!
Repurpose Old Hangers
Are you left with any old hangers with pants clips after clearing your closet? If so, take those plastic hangers and reuse them with this simple DIY project. Remove the clip portion of the hanger and use it as a chip clip! You can use these clips for many purposes, but if you like to keep your snacks nice and fresh, this is the perfect little clip to snap onto any bag of tasty treats.
With these helpful hints, you can take charge of your spring cleaning this year. Do not be afraid to get rid of the old and make way for the new. Try some of these projects and any other DIY projects you can think of to declutter and organize your home. Let's make this year's home improvement season a home run!