Make your home your own with some of these uber glamorous home-renovating ideas that will make your guests scream wow!
We put SO much love into our homes, so it's not surprising that many of us develop the property improvement bug. With thousands of fabulous and easy DIY projects on the web, it makes us want to try everything to make our homes look the best. Even when you move into a brand new space, it's rare to think that everything is perfect – there's always something you can do to put your mark on it. And if this is your home for years, changes can be made as your kids grow up and your tastes evolve.
Since summer is one of the perfect times to start a home reno project, we've searched the web for some of our favorite inspirational ideas. Check them out:
A Balcony Pergola Retreat
If you have a large balcony, deck, or patio, installing a pergola is a smart way to create a magical atmosphere and transform your outdoor space. Pergolas create shade, add ambience and are perfect for climbing plants and wrapping twinkle lights around. Roll out an outdoor carpet, arrange comfy looking outdoor furniture and you're on your way to paradise. No vacation time? No worries, this will be your own at-home outdoor retreat.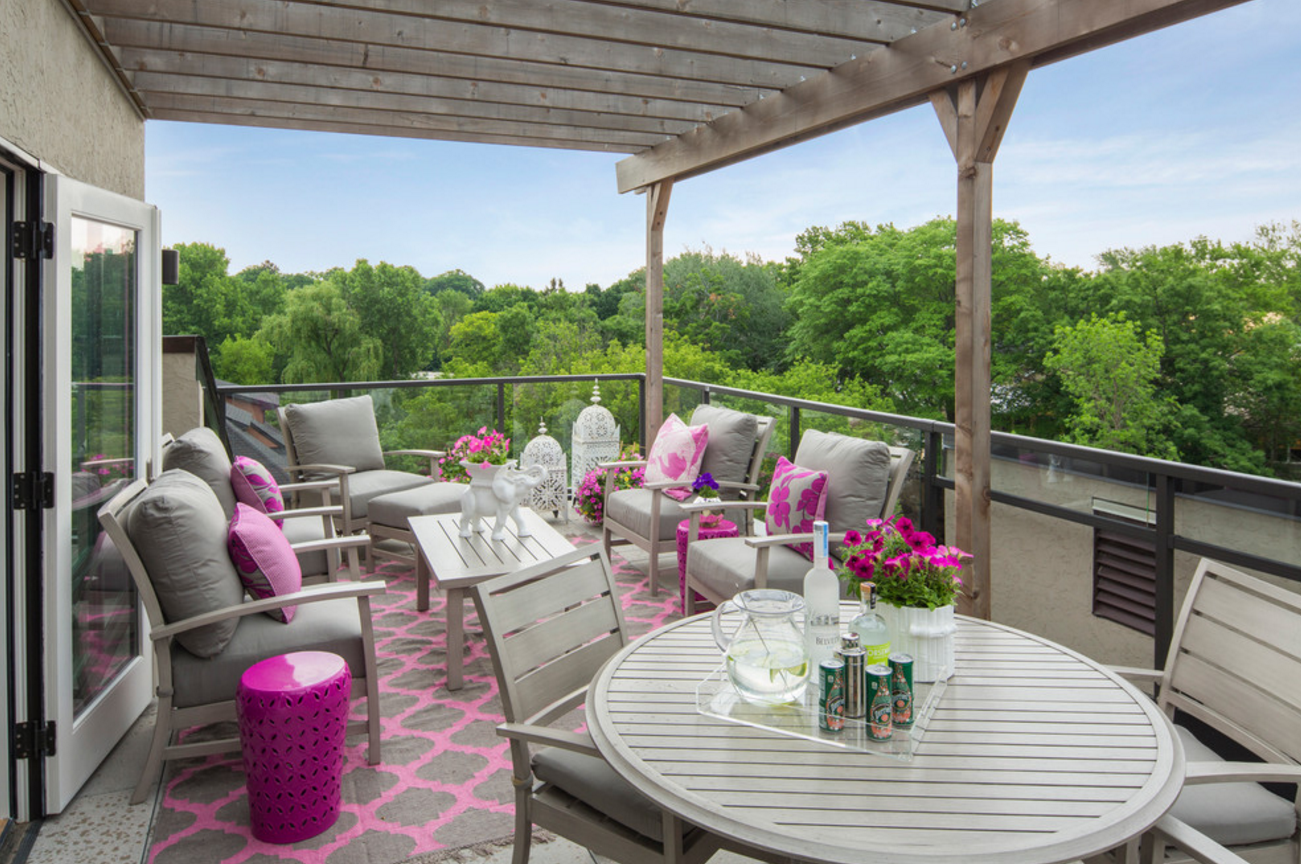 Photo: Lucy Interior Design
Powder Room Makeover
A powder room or guest bathroom is a easy home reno project that makes a big impact. You want your guest bathroom looking it's best to give off a great impression to visitors. Not to mention, it's a fun place to decorate! If you have your eye set on a expensive wallpaper, no worries you won't need to buy much of it anyways. Choose some new pretty light fixtures, a glamorous looking mirror and some shiny new cabinet hardware and you've got yourself a bathroom reno in a snap!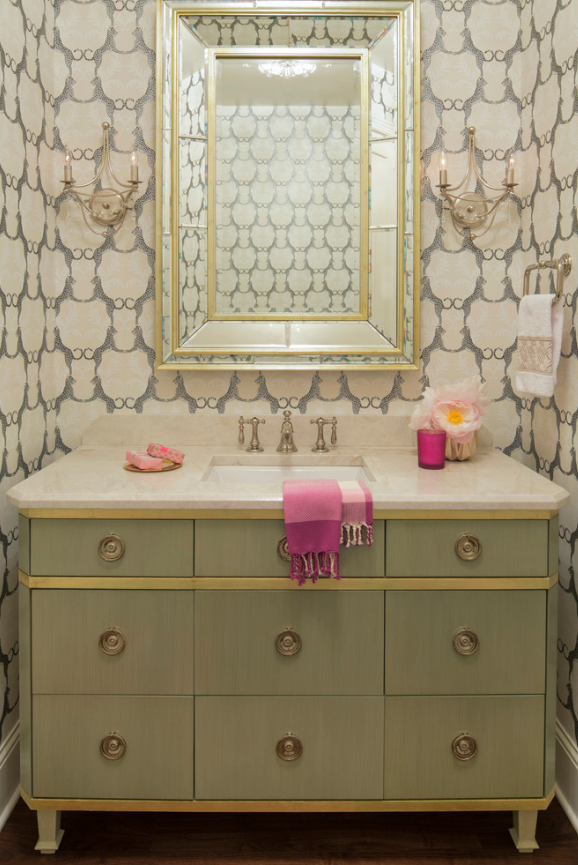 Photo: Lucy Interior Design
Easy Mirrored Kitchen Backsplash
Ever since debuting in the kitchen of Kris Jenner on Keeping Up With The Kardashians, mirrored backsplashes have been all the rage. We LOVE this look, and it's a super easy way to give your kitchen some instant glam-factor. This kitchen reno project is simple – order mirrored tiles and stick em' on. Find a few tutorials online to help you along the way, but this is definitely a project you can tackle yourself.
In an interview for HiPages, celebrity home renovator Cherie Barber shared some of her top tips for people planning renovations to sell their homes. According to Cherie, the way the bathroom or kitchen is designed and fitted can often be the clincher when it comes to selling a property. So if you are planning on selling your home, the kitchen is definitely one place to plan your next reno!
Create Your Own Glam Room
Glam rooms are every girls must-have! If you are blessed enough to have a spare room or even a bigger sized closet area or bathroom, you can create your own glam room. Full with a mirrored wall, makeup lights, makeup chair and all of your diva essentials, you will leave your home feeling like a celebrity, ever time.
Install a Wall Unit
Wall units are a practical, and stylish way to display your books, artwork, prized possessions, and sneak in some much needed storage space. Believe it or not, but you can create your own wall units using Ikea bookshelves. Look up: "wall unit Ikea hack" and you'll see what I mean! For a fraction of the cost, you can make your own customized built-in wall unit. If you plant to sell your home, this can also be another high-point to boost it's value. Wall units are expensive, and if you can cheap out on your own customized version you'll save lots of money in the long run!
Dress Up Closet Doors with Molding
Add some glam to plain closet doors with cheap molding! You can buy this strip molding at your local Home Depot and cut it to form any shape you like. Just glue it on and paint your whole doors in a classic white color for some serious glam on a budget!
Under Stairs Storage
Take advantage of every square foot of your home, even under your empty stairs! Under stairs is the perfect place where you can install convenient storage space that is practical and out-of-the-way. For example, if you're short on storage space, you could get creative with the space under the stairs and turn it into a series of pull-out cupboards, where you can store anything from children's toys to the family shoe collection. Alternatively, add a built-in bookcase to the side of the stairs to create a mini-library.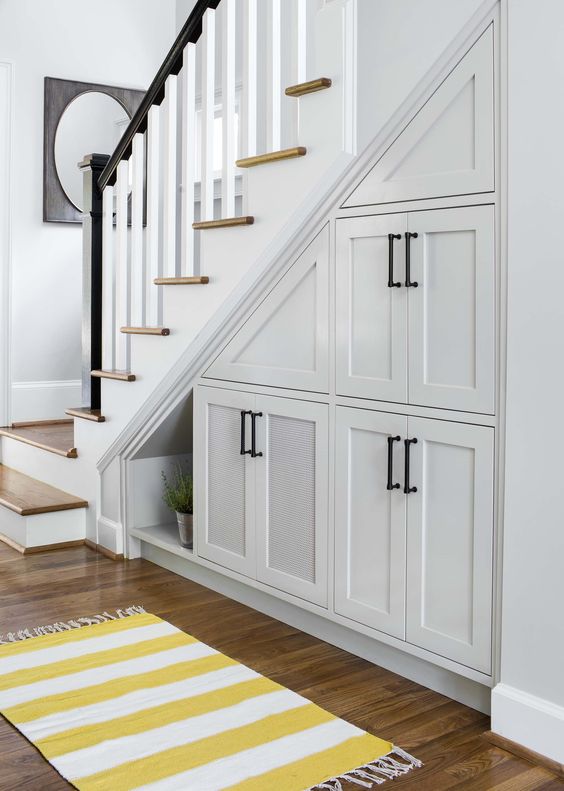 Photo: Terracotta Design Build
BDB Tip: Before your start your home reno, make sure to plan out all of your costs and set a time frame. And when you get to the point of refurbishing and need expert help, source local tradespeople through sites such as HiPages. Make sure to use the site's search function to filter down just the person who will help you for the job you need done.