Home Tour: Palm Beach Mediterranean Mansion Shines for 2015!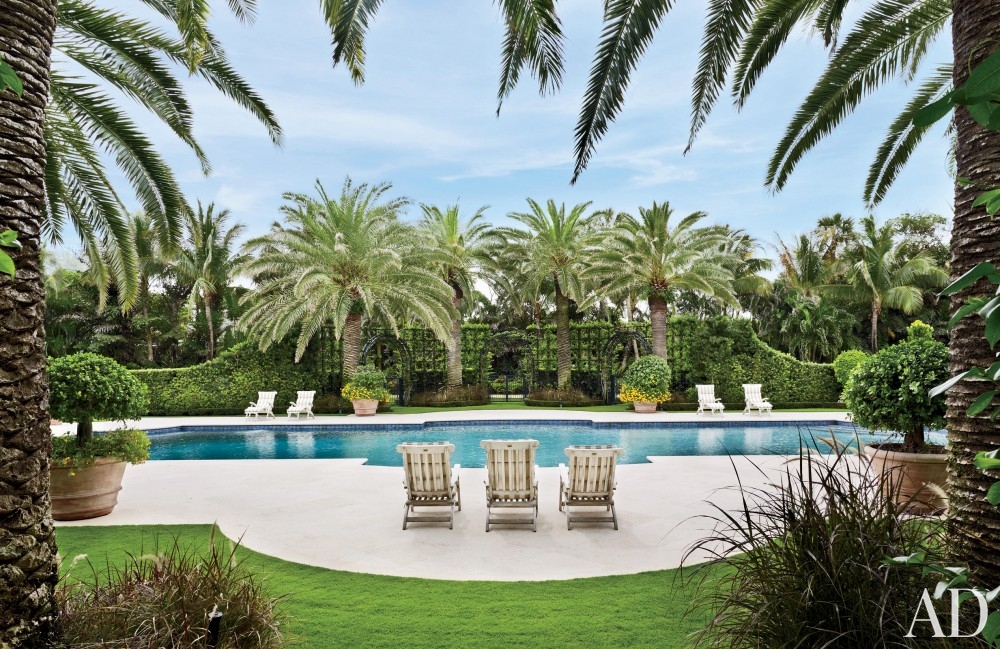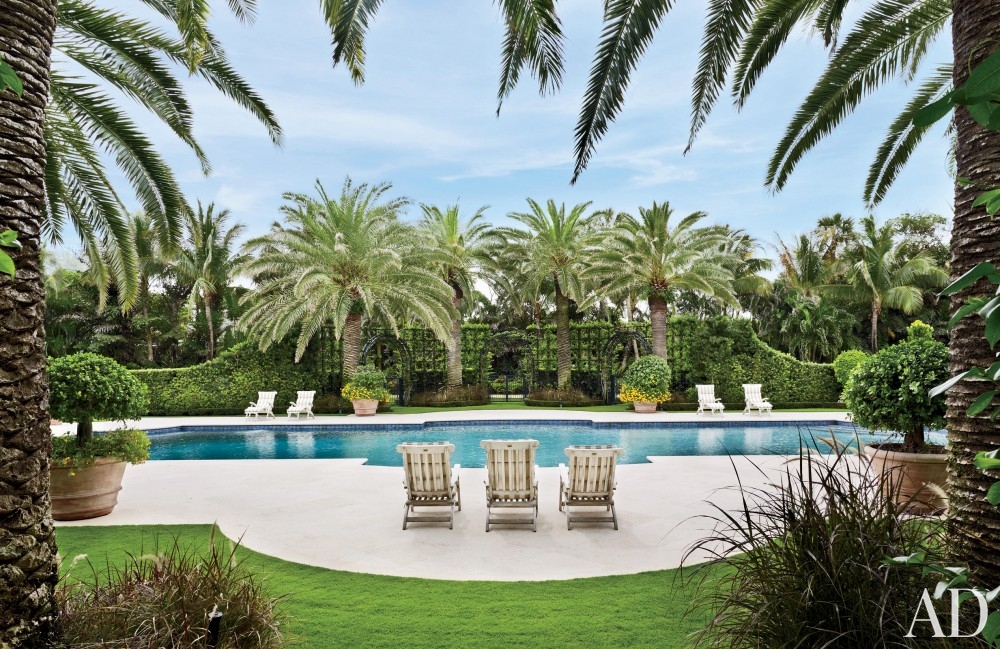 Welcome to 2015! It's time to start off the year with another gorgeous mansion find – this Palm Beach Florida home decorated in a Mediterranean style that makes you feel like you're in Tuscany! Forget cold muted hues and warm up to this beauty with our quick sneak peak tour. Lets get started:
This Florida home was re-decorated by David Easton and given a complete makeover which restored it to its former glory. The home was looking to be in bad shape and needed some urgent TLC. The rolling green lawn is enough to draw us right up to it's doors!
To keep things interesting, a chess set was designed in a patch of grass.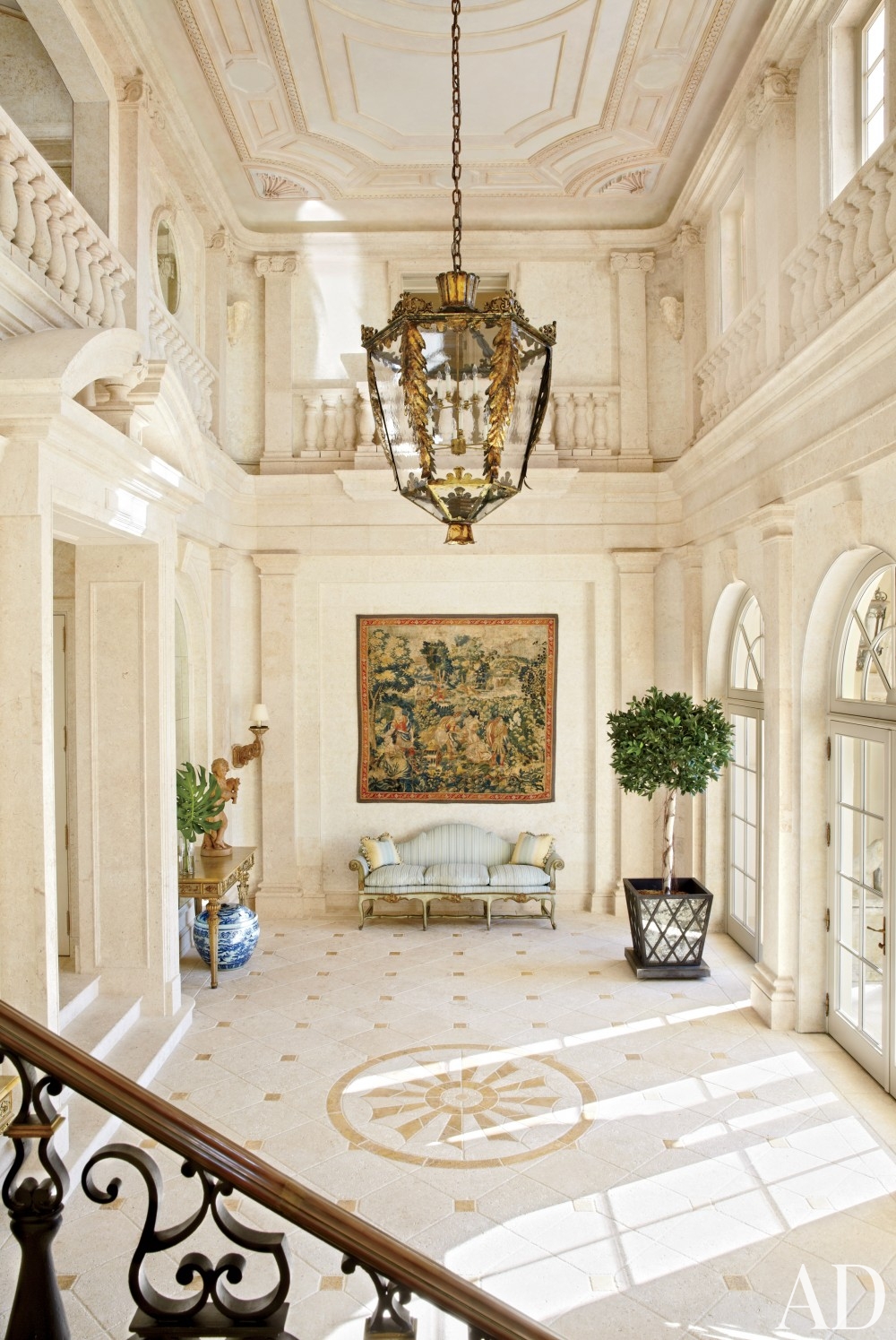 The entrance into the circa 1920's mansion is super inviting and full of light. Tall windows, high ceilings and an open-to-below from the second floor provides lots of airflow especially in such a hot sticky climate. The moldings give off a medieval style vibe, making the 16th century Flemish tapestry the perfect centrepiece to this stunning foyer.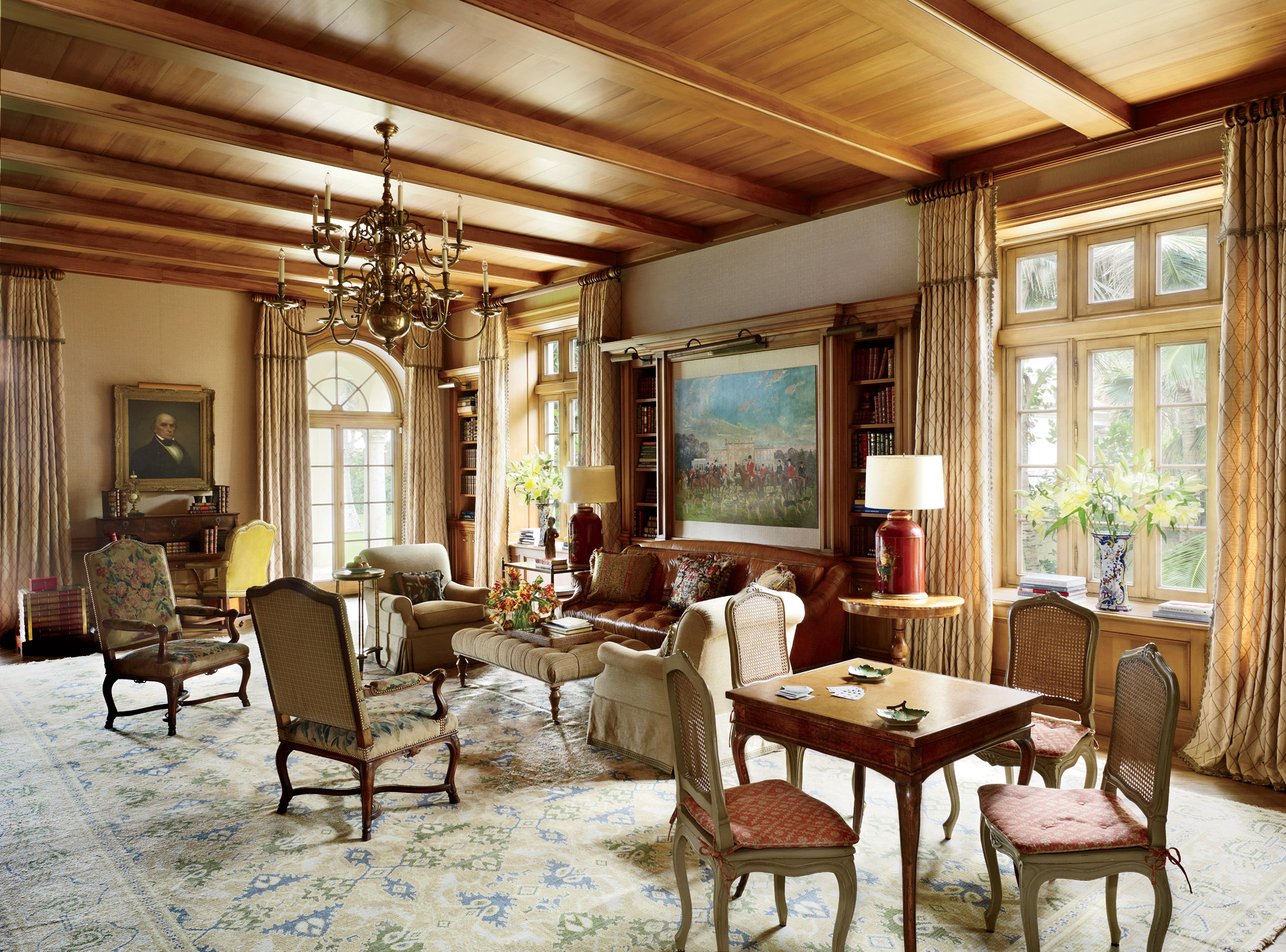 Near the entrance of the home, a game room, office, and library in one is conveniently located. The furniture was selectively chosen with some pieces being Italian Rococo to stick to the home's decorating theme.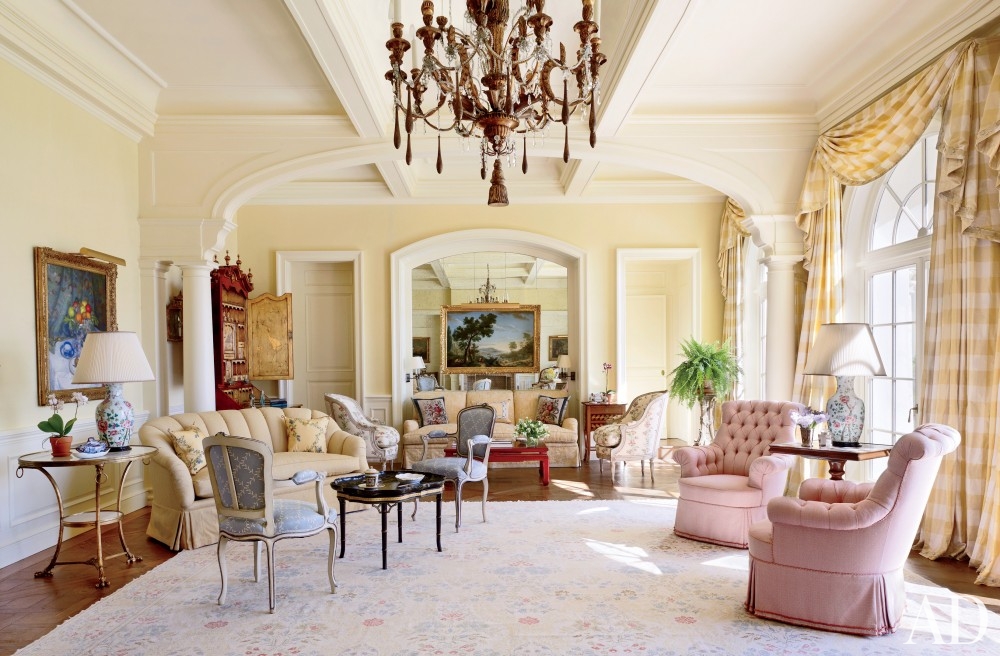 I LOVE this sunny room! A great trick to bring in loads of light into a room is to use a light buttercream yellow color on the walls – it works miracles! The soft yellow checkered curtains are also a nice touch as well as the Louis XVI bergeres chairs from the 1880's.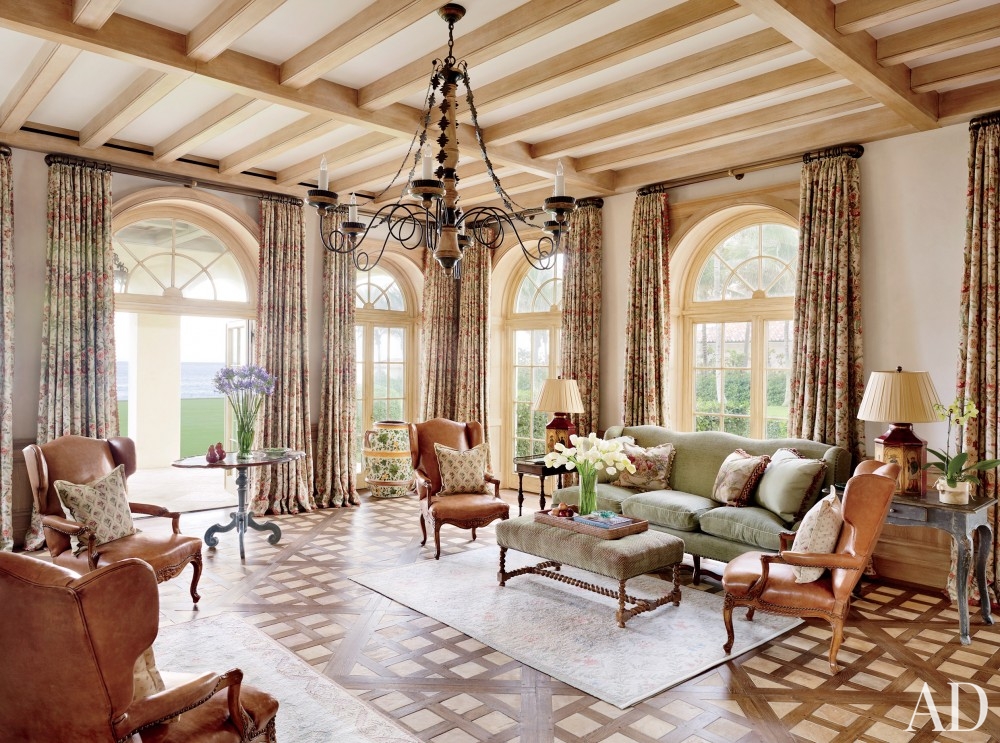 The family room is nice and cozy with a country style color scheme – brown and green was the perfect choice.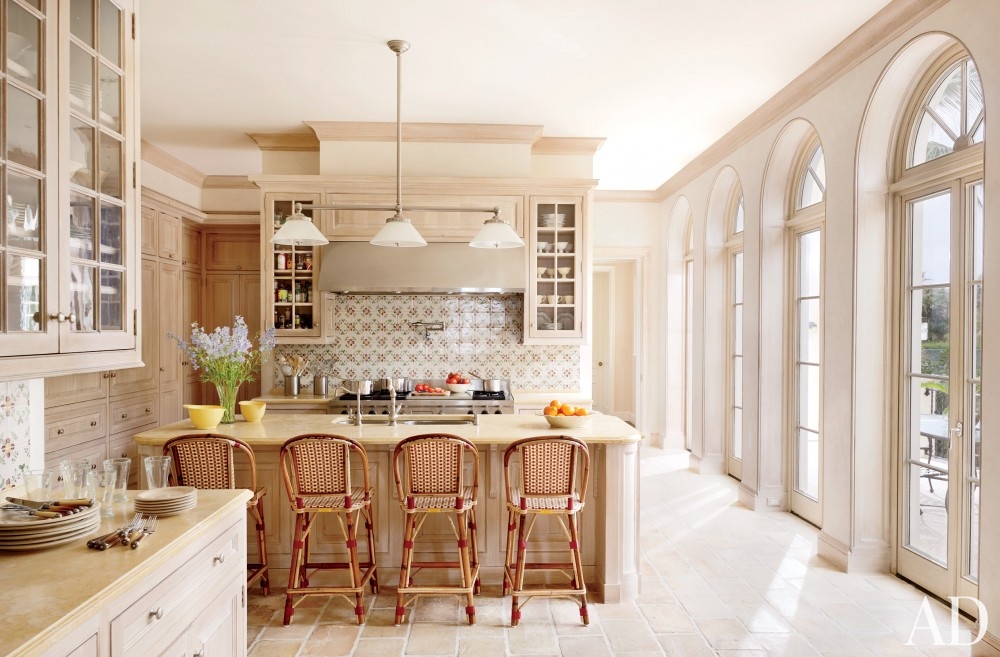 Surprisingly, the kitchen is not THAT big as you would expect it to be in such a large home. It still, serves the purpose and features a convenient breakfast bar with woven caffe-style bar stools.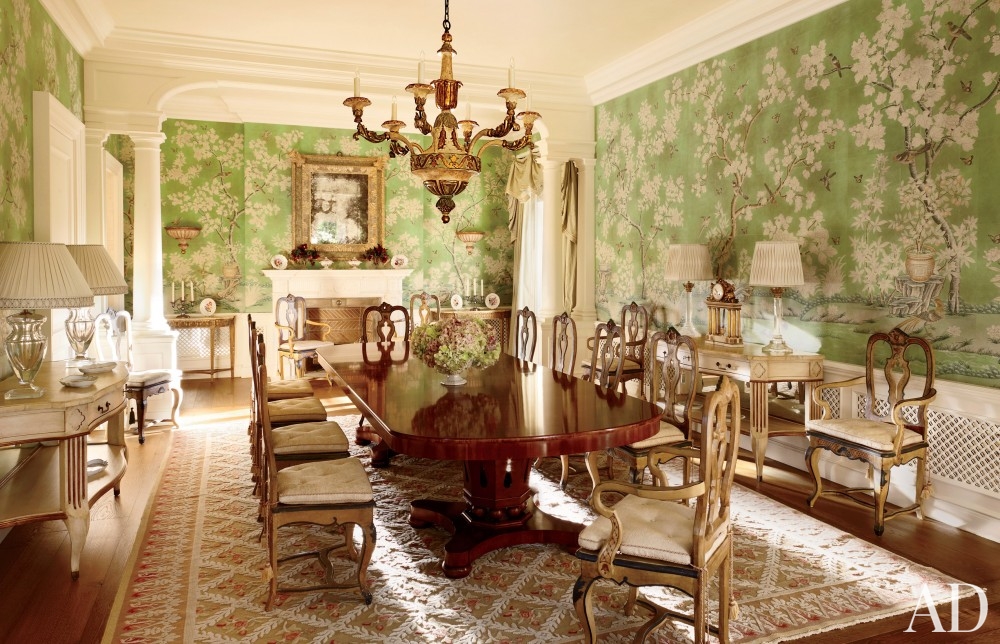 Walls wallpapered in green chinoisere print make the dining room look even more formal and classy. The rich cherry table makes a serious piece of furniture that looks not only rich, but super impressive. The dining room is usually a high-traffic area especially during the holidays or special events, so the designers opted for engineered oak flooring. This makes a great choice to ward off scratches and water damage.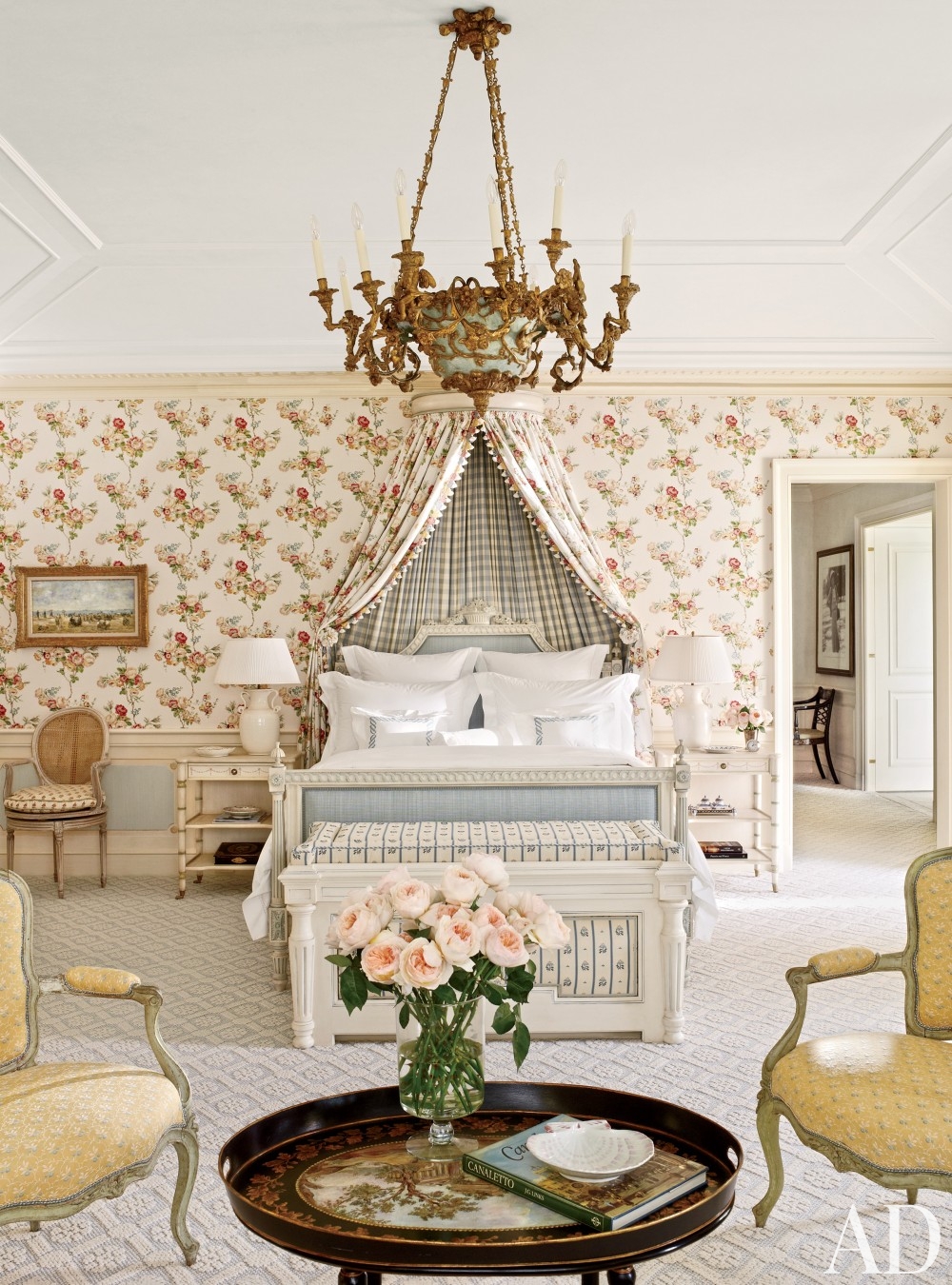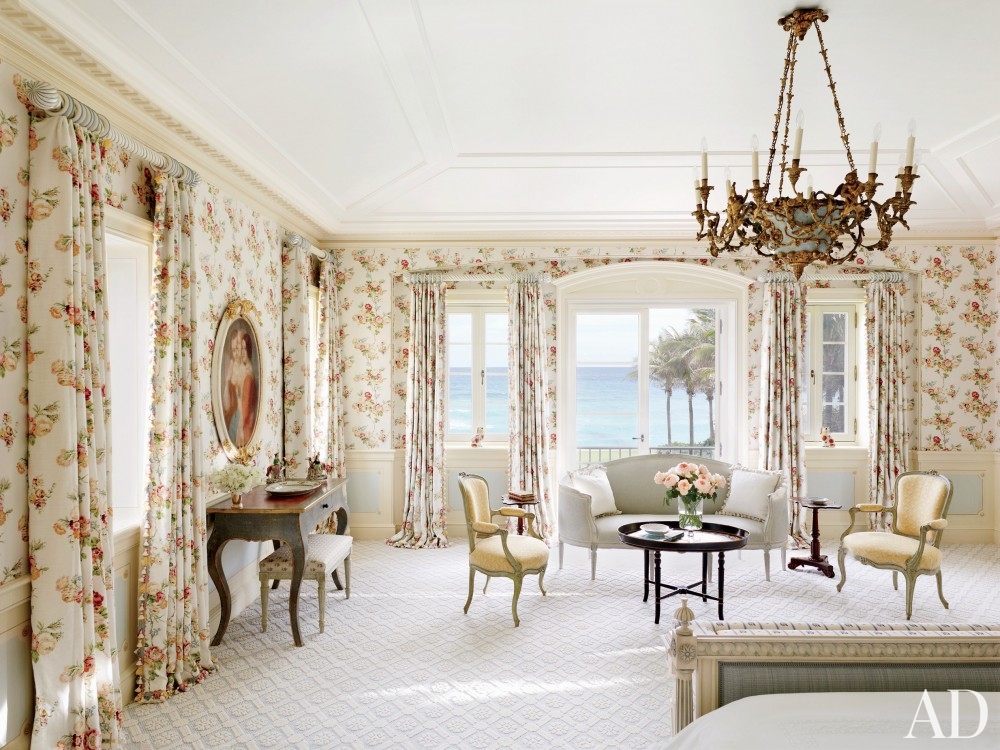 The bedrooms are just as pretty as the rest of the home – focusing on light floral prints and delicate wall colors. The blue ceiling reminds me of my own bedroom only this one is a super light shade which makes it so much more airy and refreshing. The dark lacquered engineered flooring is a nice contrast to the light walls. Also, check out that killer gold gilded sunburst mirror!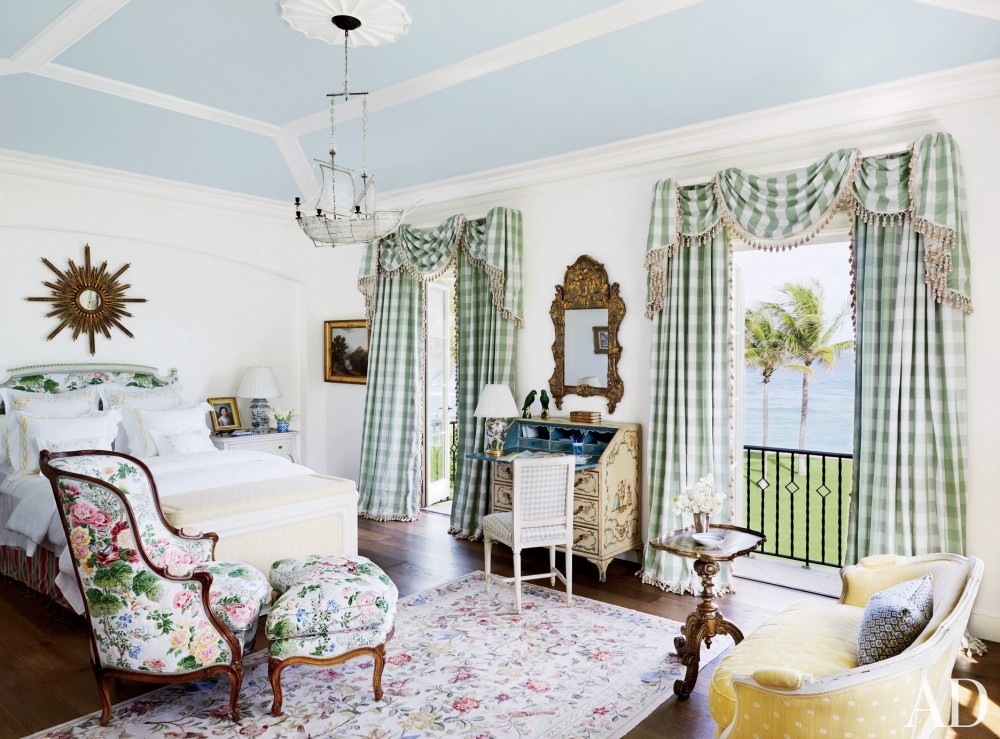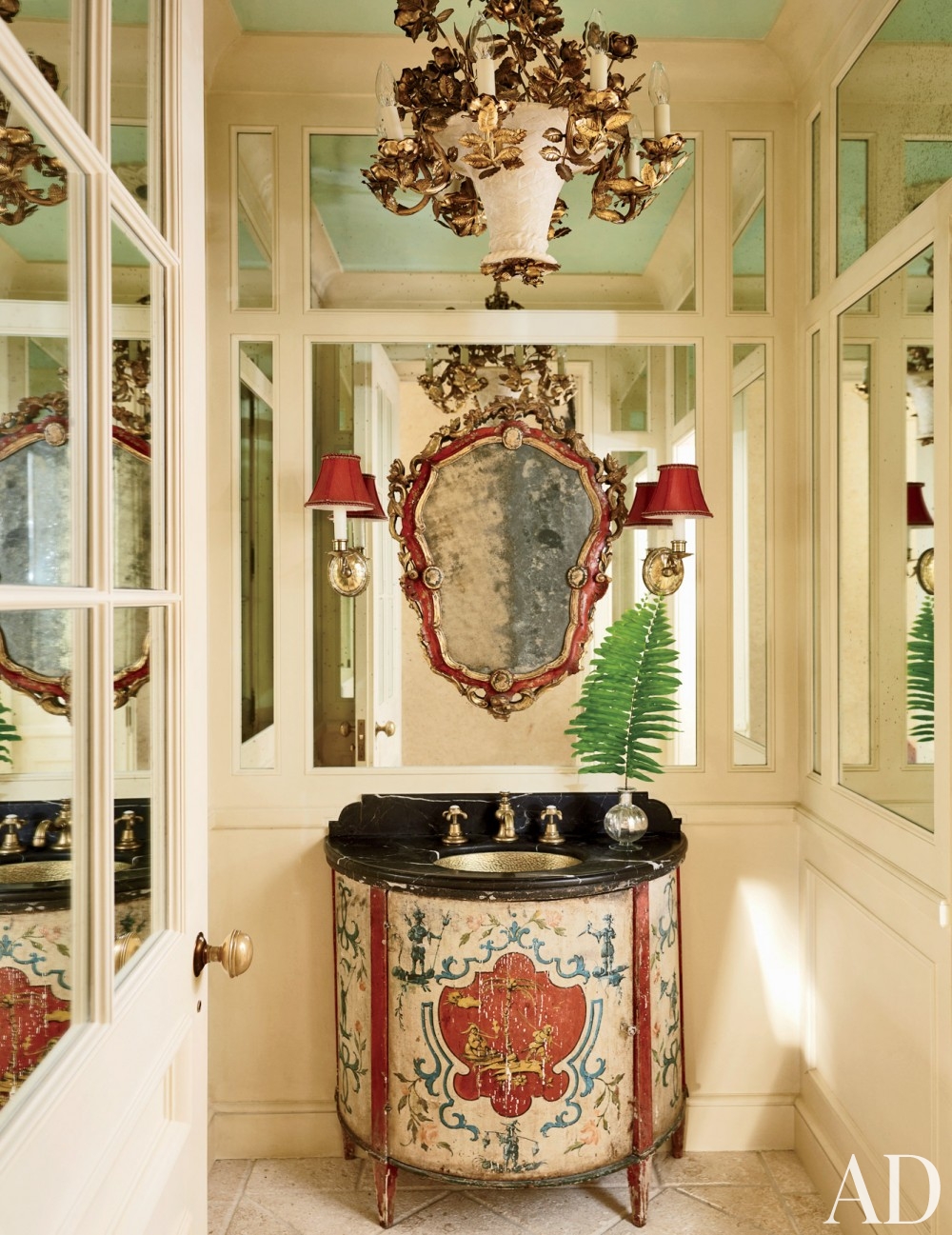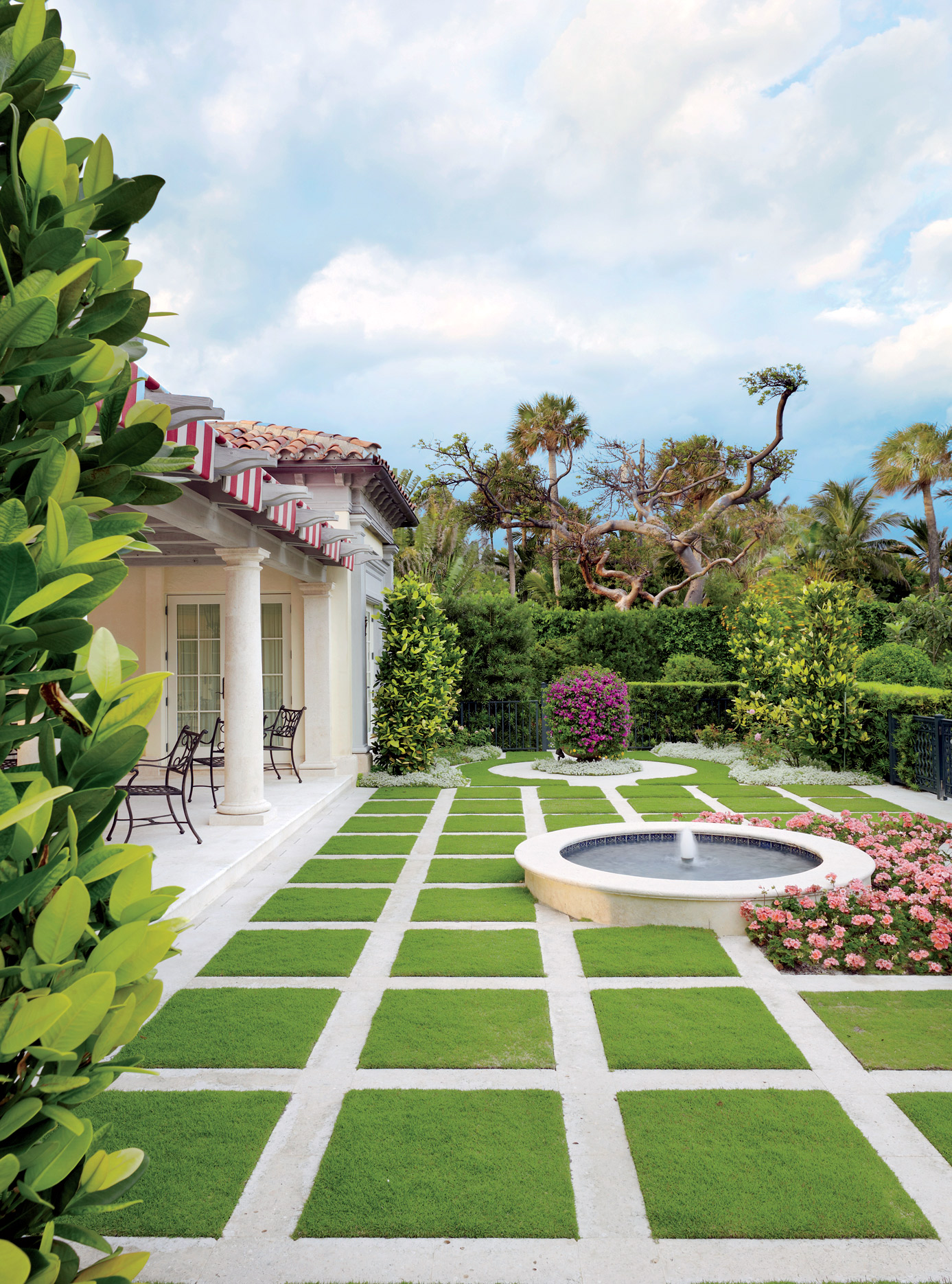 A pretty stone fountain makes a nice focal point in the tennis pavilion's terrace. The landscaper added a nice touch with grass tiles making it the perfect way to break up the surrounding cement.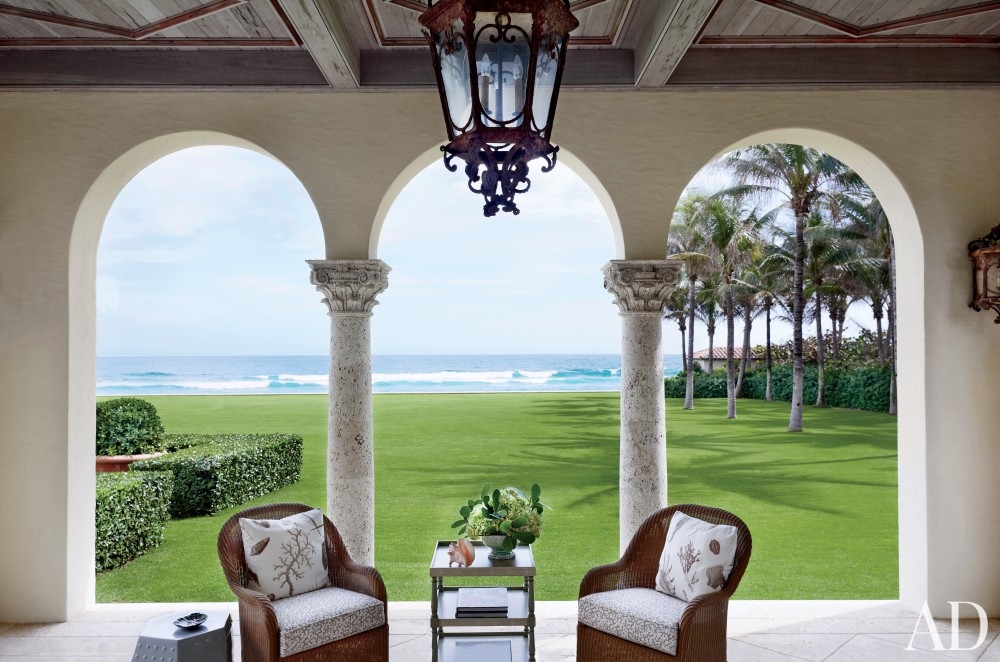 This isn't the back terrace, this is actually a private loggia for the library! It makes the perfect place for kicking back with a cold lemonade, and a good book. Cheers!